How to Compress 4K Video from GB to MB with No Quality Loss
4k video format has quickly taken over the world of cameras, mobiles, streaming services, desktops, and TVs. An increasing number of users are taking GoPro, iPhone, DJI, Sony, Canon, etc. to record 4K video for an immerse experience in the image sharpness and vivid color contrast 4k brings. However, there is a cost of everything, and for 4K video, it's storage.
Free Download WinX to Reduce 4K Video Size by up to 90%!
WinX HD Video Converter Deluxe - An innovative 4K video compressor with size and quality perfectly balanced!
Accept any oversized 4K/1080p high frame videos, no matter they are shot by phone, GoPro, DJI, Canon, Sony or JVC.
Downscale 4K to 1080p/720p, change codec (e.g. H.264 to HEVC), frame rate 120/60FPS to 30FPS, bit rate, etc to downsize video.
Compress videos for faster uploading to whatsapp/Ins/YouTube, easier playback or storage with 98% quality kept!
Table of Contents
Part 1. Why Do We Need to Compress 4K Video?
Do you know how much space does 4K video take up? File size various based on parameters of camera or phone. But there is a consensus the video files obtained with a 4K camera are particularly large. Here is the detailed video file size of 4K footages taken with various cameras.
| | | | | |
| --- | --- | --- | --- | --- |
| Camera | Codec | Frame Rate | Bitrate | File Size/Hour |
| GoPro Hero 9 | HEVC | 60fps | 100Mbps | 43.94GB |
| DJI Air 2S | HEVC | 60fps | 150Mbps | 65.91GB |
| Sony A7S III | XAVC HS | 60fps | 200Mbps | 87.89GB |
| BMPC 4K | Prores (HQ) | 23.976fps | 880Mbps | 318GB |
The large-sized 4k video will chew up your storage space, slow down uploading speed, making video emailing a damp squib, and pose many other problems. That's why you need a 4K video converter to downsize video for easier uploading, playing, storing.
Although 4K UHD video enjoys crisper and sharper image on big screens, the problems caused by oversized 4K videos spur you on reducing 4K video file size on edge. Let's go through what makes you so eager to decrease 4K video size.
Playing 4K video requires high on processor, RAM and graphic memory, and most hardware is incompatible with 4K video codec - HEVC, which will lead to errors like choppy playback, 4K HEVC not playing, overheated computer, high CPU usage, video lags, etc.
If you are used to producing 4k contents regularly, you risk quickly saturating the storage space of your camera or mobile phone. Some computer hard drive, USB, or any other storage media may be formatted not to store video larger than 4GB. If you're willing to store a large-sized 4K footage to such memory card, say FAT32, you do need resize video to make it smaller than 4GB.
Added to this are the problems relating to 4k processing. Some video editors have no access to 4K, especially the older versions. And even if you have imported 4K to Premiere Pro, Final Cut Pro X, etc., it takes forever to render or export 4K videos.
Many users reported sharing oversized 4K video is extremely slow and even stuck during the upload process. Also, don't forget that most social sites like Facebook impose file size limits on the video. This is also true to messaging and emailing. You're always suggested to compress 4K video for whatsap, email, messagers and so on.

Related Guide: Complete 4K video errors and solutions >>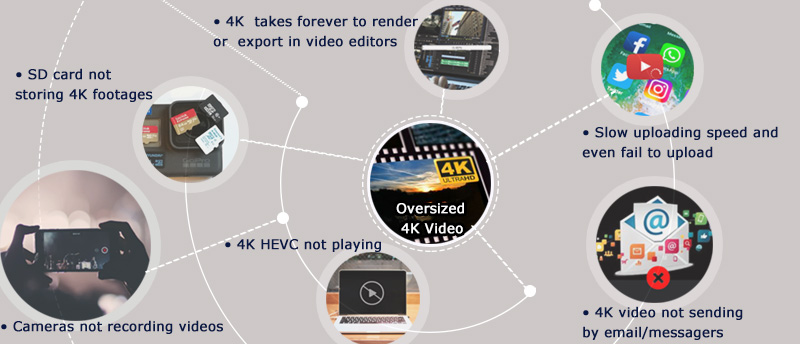 If you are prone to downsize 4k video so that it takes up less space or is transferred and shared easily and quickly, you can try the following video compression software.
Part 2. What is the Best 4K Video Compressor?
First thing to consider is the intuitive interface that makes it no hassle to find every task related to compression. It facilitates you with multiple outputs for diversified needs, choose the size, resolution, codec, and more at your disposal. Go for the tool that is able to finish the 4k video compressing at an ultrafast speed with high quality.
WinX HD Video Converter Deluxe is absolutely the best 4K video compressor that is able to make 4K/HD video much smaller than original. It accepts any 4K videos taken with iPhone, GoPro, DJI drones, 4K camcorders, downloaded from online site, or ripped from 4K Ultra HD Blu-ray discs, and optimally reduces 4K video size by up to 90% with a good balance among size, quality and speed.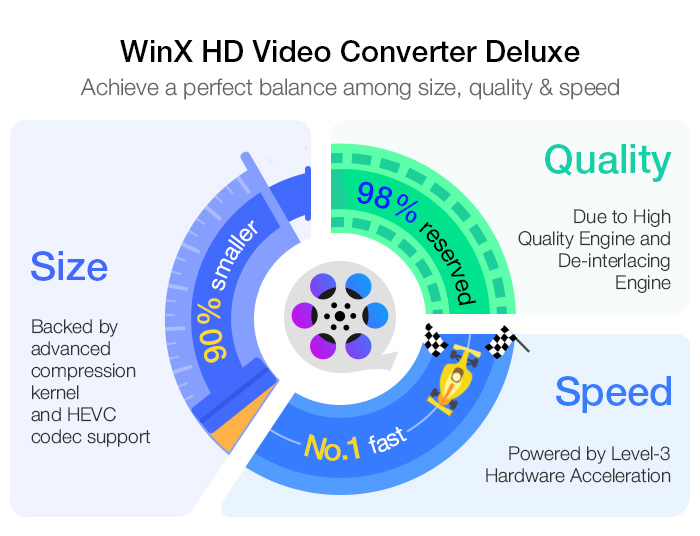 Besides, built in 370+ video & audio codecs, WinX supports to convert and compress any 4K, HD or SD videos to HEVC, H.264, MP4, AVI, WMV, MKV, iPhone, Android, Xbox, PS5/4, Apple TV and 420+ profiles. Now free download to give it a whirl!
How Much GB Can WinX Reduce after 4K Video Compression?
To get an intuitive and clear understanding of WinX's video compression ability, we've made a test for how much GB WinX HD Video Converter Deluxe can reduce when transcoding 4K MOV AVC to MP4 HEVC, downscaling 4K to 1080p, and in both ways.
Items

Source 1: GoPro 4K footage

Output 1: HEVC 1080p

Source 2: The Revenant AVI video

Output 2: MP4 HEVC

File Size

81.5MB

8.87MB

2.05GB

231MB

Length

10 seconds

10 seconds


2h 26min

2h 26min

Format

MP4

MP4

AVI

MP4

Resolution

3840x2160p

1920x1080p

720x304p

720x304p

Frame rate

30fps

30fps

23.97fps

23.97fps

Video/Audio codec

H264

HEVC

XVID

HEVC

* Computer specs: Intel® Core(TM) i7-8700K CPU @ 3.70GHz 3.70 GHz, 16GB, NVIDIA GeForce GTX 1080, 64-bit Windows 10
From the above, it's obvious that GoPro 4K video size is reduced by up to 90% when transcoding AVC to HEVC and lowering resolution from 4K to 1080p. And after compression, there is no apparent quality difference on my Windows 10 desktop. That is to say, if you downscale 4K to 720p, it's definitely feasible to compress 1GB to 100MB for playing on portable devices, uploading to online sharing sites or sending by emails, messagers etc.
Part 3. How to Do I Compress a 4K Video without Quality Loss?
Now, you're able to shrink 4k video to smaller size at your will with all available methods, namely convert 4K H.264 to HEVC, lower the high frame rate of 4K videos, downscale 4K UHD to 1080p/720p, change 4K video bit rate, aspect ratio, crop the video frame size, or trim the length of video. Here you will learn how to reduce 4k video file size in accordance with your ultimate goals.

Free download 4k video compressor on Windows 10 or lower


Free download 4k video compressor on macOS Big Sur or lower
Step 1: Load Oversized 4K Video.
Open up WinX HD Video Converter Deluxe and load your large-sized 4K videos with a click on +Video button or through drag and drop. You're able to import multiple oversized 4K UHD videos for a batch compression.
Step 2: Choose Output Format & Custom Compression Settings
1. To upload 4K UHD video to social media platforms
If you're willing to upload 4K video to YouTube, Facebook, Instagram, Whatsapp, check the best video upload settings:
Whatsapp settings: Convert 4K video to MP4 (h.264+aac), and make sure your video is smaller than 16MB. Take iPhone 4K HEVC at 30fps as an example, a 5 second video will be easliy around 15-20MB. Thus you're suggested to change resolution to 1080p/720p, or split the long video into several clips to reduce the file size.
YouTube settings: Go the same step to convert 4K to MP4 (h.264+aac) and drop 4K resolution to 1080p. Then tweak the parameters to meet the YouTube recommended upload encoding settings: 16:9 aspect ratio, 1080p 24/25/30fps at 8-10Mbps, or 1080p 48/50/60fps at 12-15Mbps, maximumly 128GB and 12 hour length.
Facebook settings: Convert 4K video to MOV/MP4 format in h.264+aac codec, downscale 4K to 720p, change video frame rate to 30fps and trim video shorter than 25 minutes.
Instagram settings: Transcode oversized 4K video to MP4 (h.264+aac), compress 4K to 1080p, tweak video to 30 frames per second, crop video frame size in 1:1 or 16:9, and trim the video maximumly in 60 seconds (< 4GB).

Related guides: Shrink video for Whatsapp, Compress 4K video for YouTube, Reduce video size for Instagram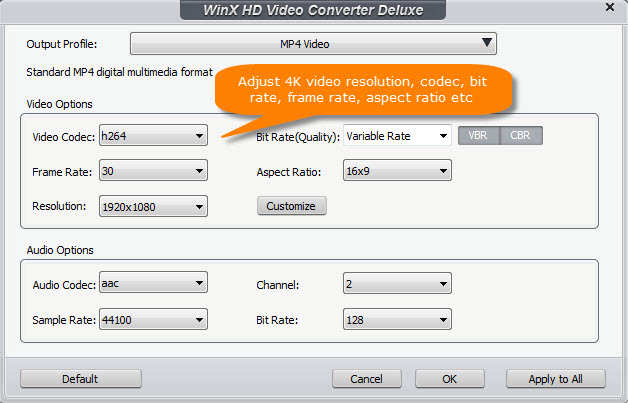 2. To play 4K video on underpowered hardware or portable devices
An Output Profile window pops up automatically, go General Profiles > MP4 (h264+aac) > Done to convert 4K MKV to MP4, AVI to MP4 etc. This not only addresses 4K format incompatibility issue but also makes 4K video smaller with H.264 codec. Next, you need click on the gear-shaped Settings button, and choose 1920×1080 or 1280×720 from the drop-down Resolution menu to downscale 4K to 1080p/720p playing on media players, iPhone, iPad, Android, Apple TV, Xbox One, PS4, HDTVs etc.
By the way, if your device is compatible with HEVC codec, you can convert 4K H.264 to HEVC for even 50% smaller size.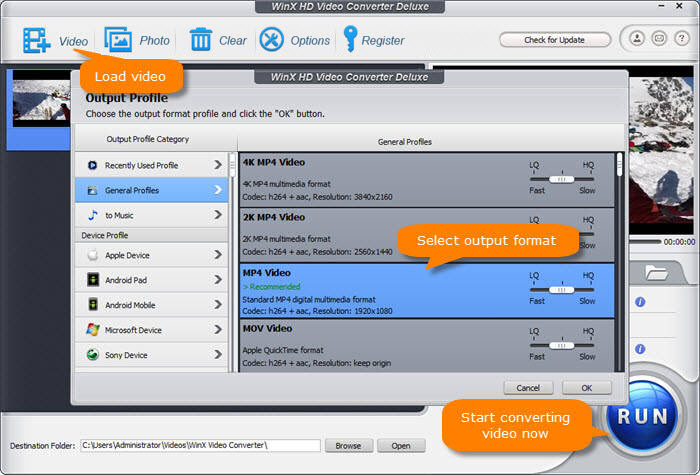 3. To send 4K videos by email
Go General Profiles > HEVC > Done to convert H.264 to HEVC, which will reduce the video file size by half. To make video smaller for email, you can lower the video quality by change video resolution from 4K to HD and even SD, and click scissors-shaped Edit button to trim the video length to output a 25-50MB video for email.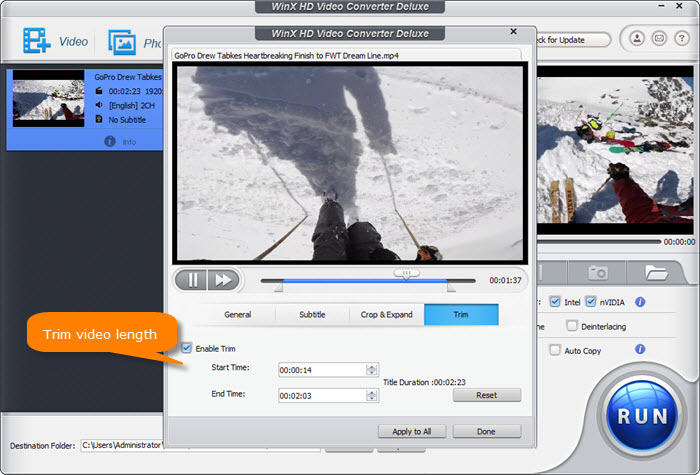 4. To store 4K video in cloud services or SD cards
Still, transcode 4K video to MP4 HEVC and lower the 4K video frame rate from 60fps to 30fps. Of course, if you're about to run out of your cloud services or SD card storage space, you can lower the 4K video resolution to HD/SD, or cut video length to minimize video size. For example, Dropbox offers 2GB of space for free, and each Google account owns 15GB free storage space on Google Drive.
Note: FAT32 file size is limited within 4GB, please make sure your 4k video is compressed to that size if you need to transfer and store in a fat32 drive.
Step 3: Compress 4K File Size Now!
Before beginning, you can tick on the boxes of Use High-Quality engine and Deinterlacing to enhance the output video quality, and make sure Intel/nVIDIA Hardware Accelertor option has been checked to boost 4K video compression speed 47X real-time faster (if your computer has built with hardware accelerated graphic cards).
Then, tap RUN button to start resizing 4K videos immediately. Once done, you're able to play 4K freely on any devices, upload oversized video to YouTube/Facebook/Instagram etc., send large video by emails, Whatsapp, messagers, or store bulky 4K videos in a relatively small space. You can click here for the detailed guide to reduce video file size >>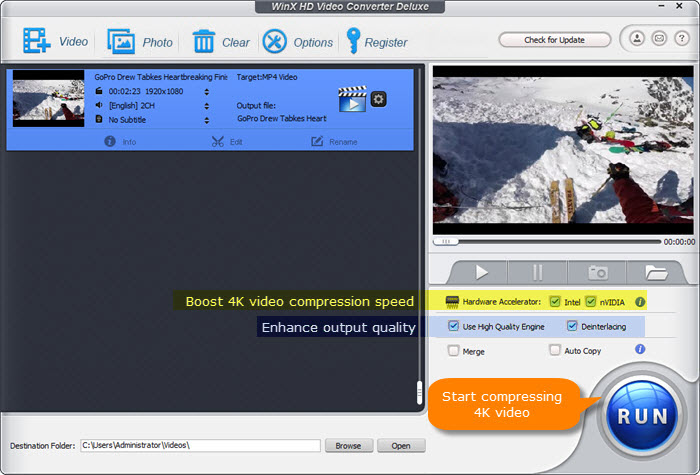 Video Tutorial: How to Compress 4K/HD Video with WinX HD Video Converter Deluxe
Part 4. Is Online Video Compressor Good for 4K/Oversized-video Compression?
To make 4K oversized videos smaller, a great number of users are trying online video compressors for its convenience and ease to use. While things are not always going as expected. Sometimes, you can't even add 4K video to the online tool due to file size constraints. Moreover, users are more commit to the desktop 4K video compressor rather than online video compressor after a pros-and-cons comparison.
Items

Online Video Compressor

Desktop Video Compressor

Pros

No need to install 3rd-party software or plugins
Easy-to-use with straightforward UI
Free

No file size limit
Fast speed with GPU accelerated
Shrink video to smallest, high quality
All formats/codecs supported, incl. HEVC
Batch compression is available
Give you full control over the codecs, resolution, bitrate, frame rate, etc.
100% safe and clean

Cons

File size limit, usually < 500MB
Network and bandwidth required
Require a lot of time to upload
Long-time compression and poor quality
Limited video format supported
Unsafe with trojan, adware or malware
Deliberately store your data on the server

Extra space required to install software
Multiple steps needed
Part 5. FAQs for 4K Video File Size Reduction
1. Does compressing 4K video reduce quality?
Absolutely yes. Any video transcoding will result in quality loss. It's all about balancing. Incapable 4k video compressor software or online tool will heavily reduce 4K video file size at the cast of degrading image quality. But capable one such as WinX Video Converter, by courtesy of advanced compression kernel, will strike a balance between a file size you can handle and a quality you accept. You will lose a bit in resolution but if the file is not intended to be read on a 4k compatible screen, the differences will be invisible to the eye.
2. Why is my exported 4K video larger than original after editing?
Remember the original source video is already compressed. If you unpack it while editing then repack it with essentially zero compression (100% Quality) then of course it will be much larger. You can't add image quality by giving it less compression after the fact. But you can reduce the edited large 4K video size by up to 90% while keeping almost original quality with a Free Video Converter.
3. Why exporting 4K video takes so long?
4K video is large and requires high on your hardware system. If it takes hours to export a 4K video with just minutes, maybe your processor is insufficiently powerful for encoding 4K footage at the rate you expect, GPU accerlation is not enabled or your 4K video is encoded for a huge frame size. you're suggested to try WinX HD Video Converter Deluxe to convert 4K video format or compress 4K video size.
4. How do I compress a 4k video with Handbrake?
Handbrake is a well-known video transcoder that can shrink the file size of 4K significantly. You can just click File under Source Selection > load the 4K source by clicking Open > choose where you want to save the compressed 4k video by clicking Browse > Name the file and click Save. Under the Output Settings, I recommend MP4 X264 with a crf value around 16, which does a good job of preserving the character of grain.