How to Compress 4K Video from GB to MB No Quality Loss
4K Ultra HD video is available widely from camera to streaming services, mobile to desktops, game consoles to HDTVs etc. An increasing number of users are using Sony, Panasonic, Canon camcorders, GoPros, DJI drones or mobiles etc. to record 4K videos for an immerse experience in every detail of 4K UHD. However, 4K video with enhanced image sharpness and vivid color contrast also means big file size.
Do you know how much storage space for an hour of 4K footage? Check the huge 4K video size per hour when recording with iPhone XS, GoPro HERO7, Mavic 2 Pro and Blackmagic Production 4K. Large-sized 4K video will chew up your iPhone space (esp. for 64GB iPhone 12/mini model); slow down uploading speed; make video emailing a damp squib... That's why you need a 4K video compressor to resize video for easier uploading, playing, storing and editing.
Free Download WinX to Reduce 4K Video Size by up to 90%!
WinX HD Video Converter Deluxe - An innovative 4K video compressor with size and quality perfectly balanced!
• Accept any oversized 4K/1080p high frame videos, no matter they are shot by phone, GoPro, DJI, DSLR, Canon, Sony or JVC HD camcorder.
• Downscale 4K to 1080p/720p, change codec (e.g. H.264 to HEVC), frame rate 120/60FPS to 30FPS, bit rate, etc to downsize video.
• Compress videos for faster uploading to whatsapp/Ins/YouTube, easier playback or storage on mobile devices with 98% quality kept!

Strapped for time? Click one of the links below to jump straight to your most interested part.
Part 1: Why You Need to Shrink 4K Video
Although 4K UHD video enjoys crisper and sharper image on big screens, the problems caused by oversized 4K videos spur you on reducing 4K video file size on edge. Let's go through what makes you so eager to decrease 4K video size.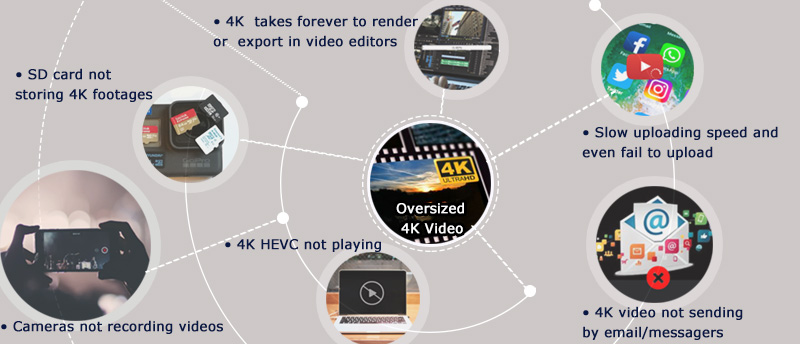 4K video playback requires high on processor, RAM and graphic memory, and most hardware is incompatible with 4K video codec - HEVC, which will lead to errors like choppy playback, 4K HEVC not playing, overheated computer, high CPU usage, video lags, etc.
Some 4K video editing software has no access to 4K, especially the older versions. And even if you have imported 4K to Premiere Pro, Final Cut Pro X, etc., it takes forever to render or export 4K videos.
The file size of videos uploaded to social platforms are strictly limited, and many users reported sharing oversized 4K video is extremely slow and even stuck during the process.
4K video is too large for emailing or instant messaging either directly or as an attachment. You're always suggested to compress 4K video for whatsapp, email, messagers and so on.
4K/HD videos can easily get mobiles and the memory card of a digital camera full, which will stop you from recording anything on iPhone, iPad, Android smartphones or tablets, digital cameras etc.
Some SD cards of digital camera are formatted not to record or store videos larger than 4GB. Thus, if you're willing to store a large-sized 4K footage to such formatted memory crad, you do need resize video to make it smaller than 4GB.
Part 2: Which is the Best 4K Video Compressor?
WinX HD Video Converter Deluxe is absolutely the best 4K video compressor that is able to make 4K/HD video much smaller than original. It accepts any 4K videos taken with iPhone, GoPro, DJI drones, 4K camcorders, downloaded from online site, or ripped from 4K Ultra HD Blu-ray discs, and optimally reduces 4K video size by up to 90% with a good balance among size, quality and speed.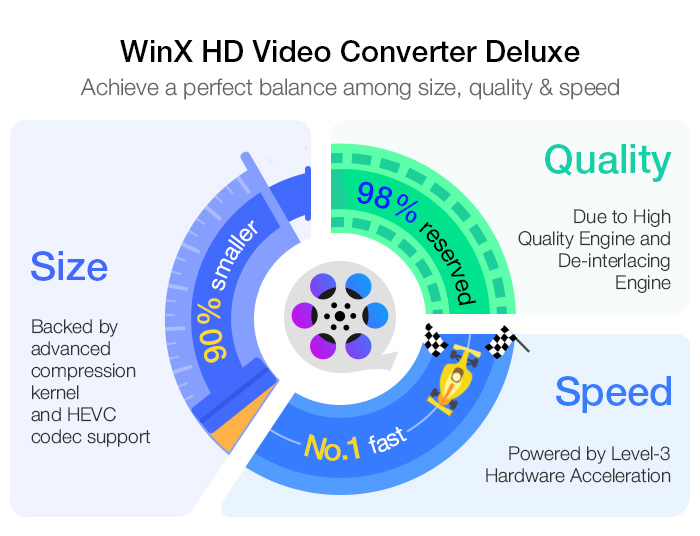 Besides, built in 370+ video & audio codecs, WinX supports to convert and compress any 4K, HD or SD videos to HEVC, H.264, MP4, AVI, WMV, MKV, iPhone, Android, Xbox, PS5/4, Apple TV and 420+ profiles. Now free download to give it a whirl!
How Much GB Can WinX Reduce after 4K Video Compression?
To get an intuitive and clear understanding of WinX's compression ability, we've made a test for how much GB WinX HD Video Converter Deluxe can reduce when transcoding MOV AVC to MP4 HEVC, downscaling 4K to 1080p, and in both ways.
Items

Source 1: GoPro 4K footage

Output 1: HEVC 1080p

Source 2: The Revenant AVI video

Output 2: MP4 HEVC

File Size

81.5MB

8.87MB

2.05GB

231MB

Length

10 seconds

10 seconds


2h 26min

2h 26min

Format

MP4

MP4

AVI

MP4

Resolution

3840x2160p

1920x1080p

720x304p

720x304p

Frame rate

30fps

30fps

23.97fps

23.97fps

Video/Audio codec

H264

HEVC

XVID

HEVC

* Computer specs: Intel® Core(TM) i7-8700K CPU @ 3.70GHz 3.70 GHz, 16GB, NVIDIA GeForce GTX 1080, 64-bit Windows 10
From the above, it's obvious that GoPro 4K video size is reduced by up to 90% when transcoding AVC to HEVC and lowering resolution from 4K to 1080p. And after compression, there is no apparent quality difference on my Windows 10 desktop. That is to say, if you downscale 4K to 720p, it's definitely feasible to compress 1GB to 100MB for playing on portable devices, uploading to online sharing sites or sending by emails, messagers etc.
Part 3: How to Compress 4K Video Size Fast without Quality Loss?
If you're troubled with huge 4K file size while playing, storing, editing and uploading 4K UHD videos, this 4K video converter will get everything solved after easy steps for 4K video compression.

Download WinX HD Video Converter Deluxe on Windows 10 or lower


Download WinX HD Video Converter Deluxe on macOS Big Sur or lower
Now, you're able to reduce 4K video file size at your will with all available methods, namely converting 4K H.264 to HEVC, lowering the high frame rate of 4K videos, downscaling 4K UHD to 1080p/720p, changing 4K video bit rate, aspect ratio, cropping the video frame size, or trimming the length of video etc. Here lists the best suggestions to reduce 4K video size in accordance with your ultimate goals.
Step 1: Load Oversized 4K Video.
Open up WinX HD Video Converter Deluxe and load your large-sized 4K videos with a click on +Video button or through drag and drop. You're able to import multiple oversized 4K videos for a batch compression.
Step 2: Choose Output Format & Custom Compression Settings
1. To upload 4K UHD video to social media platforms
If you're willing to upload 4K video to YouTube, Facebook, Instagram, Whatsapp, check the best video upload settings:
Compress video for Whatsapp: Convert 4K video to MP4 (h.264+aac), and make sure your video is smaller than 16MB. Take iPhone 4K HEVC at 30fps as an example, a 5 second video will be easliy around 15-20MB. Thus you're suggested to change resolution to 1080p/720p, or split the long video into several clips to reduce the file size.
Compress 4K video for YouTube: Go the same step to convert 4K to MP4 (h.264+aac) and drop 4K resolution to 1080p. Then tweak the parameters to meet the YouTube recommended upload encoding settings: 16:9 aspect ratio, 1080p 24/25/30fps at 8-10Mbps, or 1080p 48/50/60fps at 12-15Mbps, maximumly 128GB and 12 hour length.
Resize 4K video for Facebook: Convert 4K video to MOV/MP4 in h.264+aac codec, downscale 4K to 720p, change video frame rate to 30fps and trim video shorter than 25 minutes.
Reduce video size for Instagram: Transcode oversized 4K video to MP4 (h.264+aac), compress 4K to 1080p, tweak video to 30 frames per second, crop video frame size in 1:1 or 16:9, and trim the video maximumly in 60 seconds (< 4GB).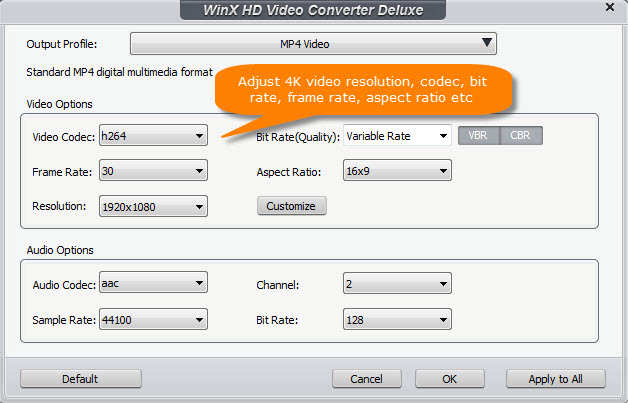 Learn more about up-to-date social media video specs 2021 >>
2. To play 4K video on underpowered hardware or portable devices
An Output Profile window pops up automatically, go General Profiles > MP4 (h264+aac) > Done to convert 4K MKV to MP4, AVI to MP4 etc. This not only addresses 4K format incompatibility issue but also makes 4K video smaller with H.264 codec. Next, you need click on the gear-shaped Settings button, and choose 1920×1080 or 1280×720 from the drop-down Resolution menu to downscale 4K to 1080p/720p playing on media players, iPhone, iPad, Android, Apple TV, Xbox One, PS4, HDTVs etc.
By the way, if your device is compatible with HEVC codec, you can compress MP4 H.264 to HEVC for even 50% smaller size.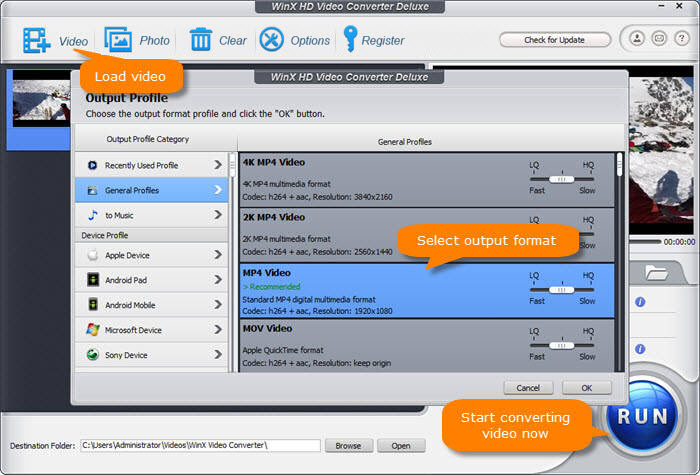 3. To send 4K videos by email
Go General Profiles > HEVC > Done to convert H.264 to HEVC, which will reduce the video file size by half. To make the video smaller for email, you can lower the video quality by change video resolution from 4K to HD and even SD, and click scissors-shaped Edit button to trim the video length to output a 25-50MB video for email.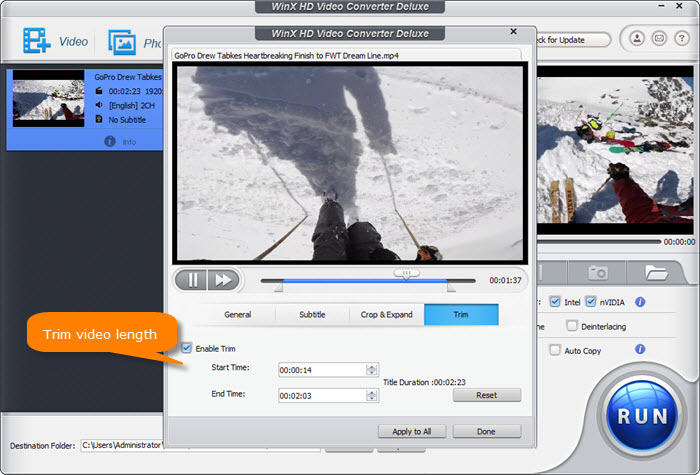 4. To store 4K video in cloud services or SD cards
Still, transcode 4K video to MP4 HEVC and lower the 4K video frame rate from 60fps to 30fps. Of course, if you're about to run out of your cloud services or SD card storage space, you can lower the 4K video resolution to HD/SD, or cut video length to minimize video size. For example, Dropbox offers 2GB of space for free, and each Google account owns 15GB free storage space on Google Drive.
Step 3: Compress 4K File Size Now!
Before beginning, you can tick on the boxes of Use High-Quality engine and Deinterlacing to enhance the output video quality, and make sure Intel/nVIDIA Hardware Accelertor option has been checked to boost 4K video compression speed 47X real-time faster (if your computer has built with hardware accelerated graphic cards).
Then, tap RUN button to start resizing 4K videos immediately. Once done, you're able to play 4K freely on any devices, upload oversized video to YouTube/Facebook/Instagram etc., send large video by emails, Whatsapp, messagers, or store bulky 4K videos in a relatively small space.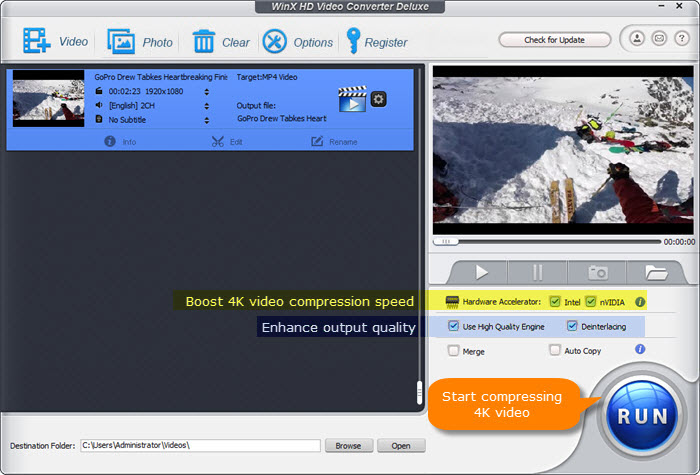 Video Tutorial: How to Compress 4K/HD Video with WinX HD Video Converter Deluxe
Part 4: Is Online Video Compressor Competent Enough for 4K/Oversized-video Compression?
To make 4K oversized videos smaller, a great number of users are trying online video compressors to reduce 4K video file size for free without installing any softwares or plugins. While the fact comes that things are not always going as expected. Sometimes, you can't even add 4K video to the online video compressors since 4K video size usually goes beyond the upper limit it requires. Moreover, users are more commit to the desktop 4K video compressor after a pros-and-cons comparison with online video compressor.
Items

Online Video Compressor

Desktop 4K Video Compressor

Pros

• No need to install 3rd-party softwares or plugins
• Easy-to-use with straightforward UI and on-page guide
• Free

• No size limit
• Fast speed with GPU accelerated
• Shrink video to smallest size, high quality reserved
• All video formats/codecs supported, HEVC included
• Batch compression is available
• 100% safe and clean


Cons

• File size limit, usually < 500MB
• Network and bandwidth required
• Long-time wait
• Limited video format supported
• Lower compression ratio, poor output quality
• Not safe enough, with adware or malware

• Extra space needed to install 3rd-party software
• Multiple steps needed to compress 4K videos
• Not free

Part 5: FAQs for 4K Video File Size Reduction
Q1: I'm desperately trying to import 4K 60 fps videos from my Gopro Hero 6 to Final Cut Pro X with sadly no results. I have patiently waited that H.265 codec was available, but since it is, I still cannot import my videos. When I'm dropping a file (MP4) directly in the project folder, timeline, whatever, I get error message which says that file is not compatible. Anyone knows how to make this working?
A1: H.265 is not supported in FCP until the release of 10.4. Maybe you're using an eariler version of FCPX. You can both upgrade FCPX to the latest version, and transcode H.265 to H.264 to be compatible with the current version with a HEVC video converter.
Q2: I recorded 11:32mins of 4k-60fps-130Mbps which takes up 10.2gb and once ive placed it into shotcut, added a 6 second into video and exported it all. my final file size for the 11:38min clip is now 46.7gb! the video quality is exactly the same as the original which is fine but that file size is ungodly!
A2: Remember the original source video is already compressed. If you unpack it while editing then repack it with essentially zero compression (100% Quality) then of course it will be much larger. You can't add image quality by giving it less compression after the fact. But you can reduce the edited large 4K video size by up to 90% while keeping almost original quality with a free video converter.
Q3: I made a 4K video with LX100, edited a bit with the Adobe Premiere Pro. It looks fine when I play it on the computer but the quality has become very bad after uploading to the youtube. Do I need to export from Premiere Pro using some specific settings?
A3: Actually, there's not a lot you can do if the footage looks good on your computer to begin with. Youtube will recompress the hell out of your 4K video. The only thing you can do is to adjust video to cater to the YouTube recommended video upload encodings.
Q4: I am a complete Premiere newbie, so I am still learning how to do this, but even I know that a 3 minute 4K video should not take 24 hours to export.
A4: Maybe your processor is insufficiently powerful for encoding 4K footage at the rate you expect, GPU accerlation is not enabled or your 4K video is encoded for a huge frame size. If you're planning to convert 4K video format or compress 4K video size, you're suggested to try WinX HD Video Converter Deluxe for a fast 4K video conversion and compression without quality loss.
Free Download WinX HD Video Converter Deluxe to Have A Try!