How to Compress Video for Web for Faster Uploading
How fast should a webpage load? Theoretically, the sooner, the better. To be specific, the ideal webpage loading time for mobile device is 1-2 seconds and that for computer is 3-4 seconds. The case is different when there are videos on your webpage. Videos on webpage will lengthen webpage loading time, which might result in loss of traffic.
To speed up webpage loading time, you can optimize your webpage code (like remove useless JavaScript), simplify webpage structure and use new-gen picture format JPEG 2000, JPEG XR, WebP instead of PNG, JPG. More importantly, compress video size for web faster loading! How to make video smaller for web? Read on:
3 Ways to Compress Video File Size for Web
Way 1. Convert Video Codec & Format to Compress Video for Web
Video codec and format decide the fundamental size of a video. Currently, MP4 and WebM are the best video formats for web. WebM is full compatible with Chrome and Firefox browsers while MP4 is accepted by all browsers. Thus, MP4 is the first choice for web.
In terms of video codec, H264 and HEVC are recommended. If your video is up to 4K Ultra HD and larger than 1GB, HEVC is the best codec.
To convert your video MKV, MTS, MOV, AVI, AVCHD, etc. to MP4 H264 or HEVC, try WinX HD Video Converter Deluxe!
Downsize 8K/5K/4K/2K video with at least 50% size off and ZERO quality loss once you change video codec to H265 (HEVC).
90% compression ratio to let GB be MB thanks to intraframe and interframe coding algorithms and entropy encoding.
Convert any video (370+ input formats/codecs supported) to MP4 (H264/H265), WebM for web faster loading.
Virtually NO quality degraded by courtesy of High Quality engine and de-interlacing engine.
[Tutorial] How to Convert Video to Smaller-sized Format/Codec for Web
Step 1. Free download this video compression software and install it on your macOS or Windows. It's 100% safe, clean and virus-free, no bundled 3rd party software, Trojan virus or malware.
Step 2. Tap "+Video" button to load your videos, bulk conversion available. A full array of input formats are supported, MP4, M4V, MKV, MOV, AVI, FLV, WMV, MTS, HEVC, VP8, VP9, H.264...
Step 3. Choose HEVC as output codec if your video size is beyond GB, for HEVC is famous of high compression efficiency. HEVC will compress your resulting file with at least 50% size off while keeping untouched quality. If your video size is within 500MB, H264 is also a nice option.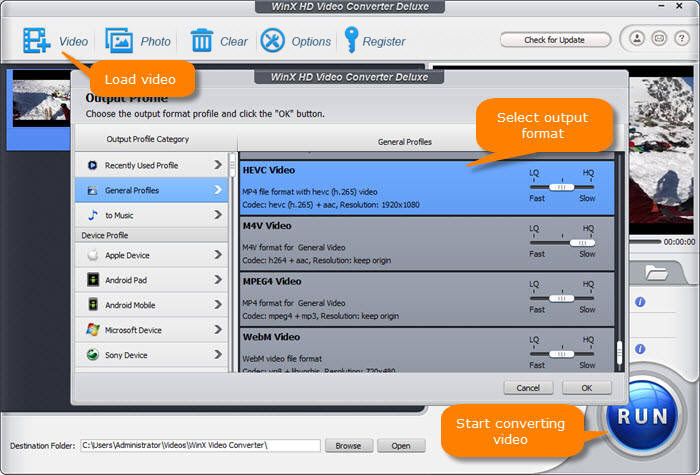 Step 4: Tap RUN to begin transcoding video to MP4 HEVC codec at GPU hardware accelerated speed. The resulting file quality will be 1:1 copied from original video, no visually difference. Check if the output file size meets your demand. If not, do as follows to further reduce video file size.
Way 2. Trim Video Length to Reduce Video Size for Web
WinX HD Video Converter Deluxe is also well-designed with certain video editing features to further shrink your video size. Enable Trim feature to cut unnecessary footages off video, crop video to remove black borders and disable surplus audio/subtitle track to compress video.
Trim Video: on the home screen of WinX, find "edit" icon with a scissor-shaped icon on video info bar and click it to activate it. Then, you can directly move the slide bar to lock the length you wanna keep. Or insert the specific start time and end time as it shows in the below image.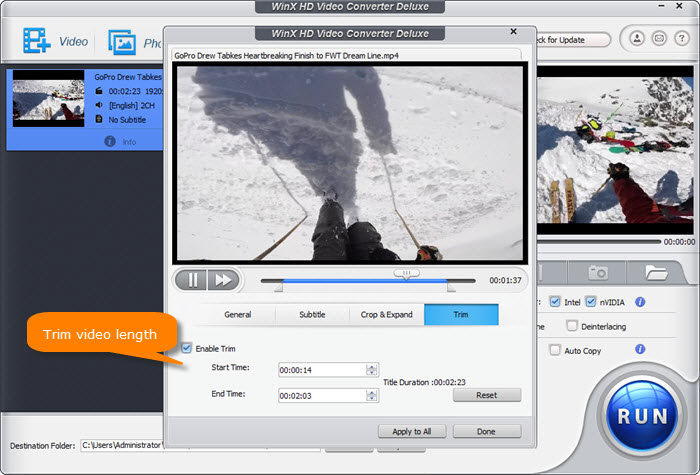 Crop Video: enable "Crop & Expand" option if you need to remove black borders or adjust video image size. The compression knack of cropping feature is narrow, no significant effect in size reduction.
Audio/Subtitle track selection: for video container formats like MP4, AVI, MKV, they're able to contain more than 1 audio or subtitle track. Head to home screen > locate at video info bar and opt for your desired audio and subtitle track. Disable superfluous tracks to compress video. Click to see detailed video resizing tutorial >>
Way 3. Lower Down Parameter Settings to Downsize Videos for Web
Higher parameter settings bring larger video size. WinX HD Video Converter Deluxe knows your concern and offer your way - adjust parameter settings, covering from resolution, bit rate, frame rate to aspect ratio, audio channel. Nonsense aside, tweak your settings now!
On the video info window, tap the gear-shaped Settings icon to activate the setting window. Parameters degradation will damage your quality to certain degree. Please properly adjust them and strike a good balance between size and quality. Generally speaking, , lower frame rate from 120FPS/60FPS to 30FPS, and adjust bit rate. These will further compress your video at high compression ratio. Keep in mind that do not lower down them too much. Or the small size will come at the price of poor quality.
Resolution: compress 4K to 1080p, 720p or 2K to shrink file size.
Bit rate: two standards for bit rate: CBR and VBR. For smaller file size and minimal reduction in quality, choose VBR.
Frame rate: lower frame rate 120FPS to 60FPS, 60/50FPS to 30/25FPS to efficiently compress video footage.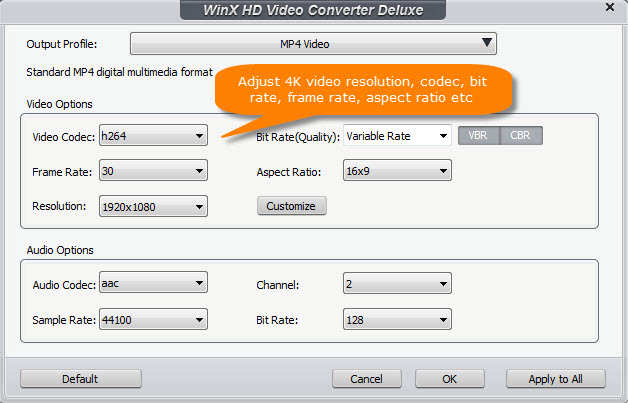 After the above compression steps are done, your video (even more than 1GB) can be efficiently compressed to MB and suitable for web faster loading. If the video still slows down your webpage loading time, please write a lazy-loading js to make video loading later than text. Anyone who has better solution to speed up a webpage with video, is welcomed to share with us your idea via contact us

.