How to Reduce Videos to Smaller than 8MB for Sending on Discord
A lot of people complain that the Discord 8MB file size limit is way too small. You can't even send a 30 second iPhone recorded video, can't send a 10 minutes speech recorded from phones or cameras. Upgrading to the paid Discord Nitro unlocks the 8MB limit to 50MB. No matter you are using Discord or Nitro plan, you have to compress video size for sending via Discord from time to time. Here are two ways to reduce large file size to 8MB for sending on Discord.
Way 1. Compress Video to Bypass Discord 8MB Limit without Losing Quality Desktop
WinX HD Video Converter Deluxe is a professional video compressor for Discord. It can compress videos from GB under 8MB for sending to Discord with 47x faster speed than online tools. High-quality engine and optimized algorithms make the quality lossless. No max 500MB file size limit, you can compress videos 1GB, 2GB, 4GB, 1TB, and larger for sending to Discord. Follow guide below to get started.
Pros
Much faster video processing speed and more efficient compression algorithm.
No noticeable quality loss thanks to HQ engine and compression algorithm.
No 500MB file size limit, you can compress 1GB, 4GB, and larger.
Cons
Require software download process.
Step 1: Free download the video compressor for discord, install it, then run the program on your device.
Step 2: Click the "+Video" button on the main window and choose the video you'd like to compress to load. The load process can complete immediately. The tool supports 8K, 4K, 1080P HD, 720p, MP4, MKV, MOV, AVI, HEVC, VP9, H.264, HEVC, and more.
Step 3. Choose the way you want to reduce video file size to 8MB for uploading to Discord. To compress video, you can choose a more efficient video codec like HEVC, cut video length, lower video audio bitrate, etc.
1. Choose an efficient video and audio codec format for a smaller size, for example, convert 4K H.264 to H.265. Once the video is loaded successfully, an Output Profile window shows up, choose HEVC (H.264 has better compatibility), and click the OK button to close the window.
Tips: Discord supported video audio formats - MP4, MOV, Webm, MP3, OGG, WAV.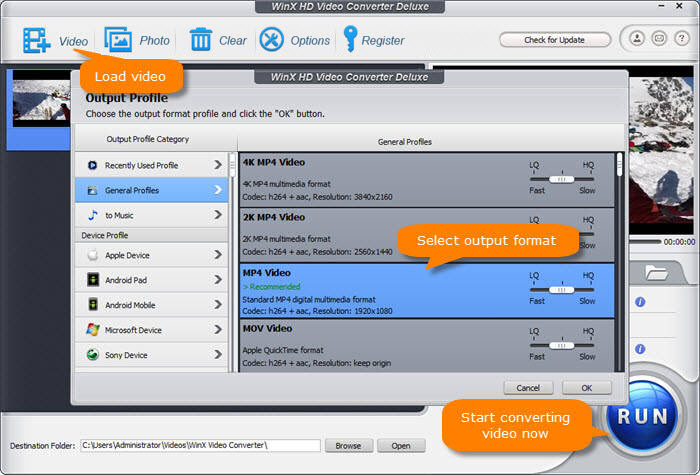 2. Shorten video length and cut out unwanted parts to reduce video size without losing quality for Discord. Click the Edit button under the video info section, click the Trim button to enable trimming function. Select "Enable Trim", drag the slider to the video section you want. Click the Done button to save the trimming.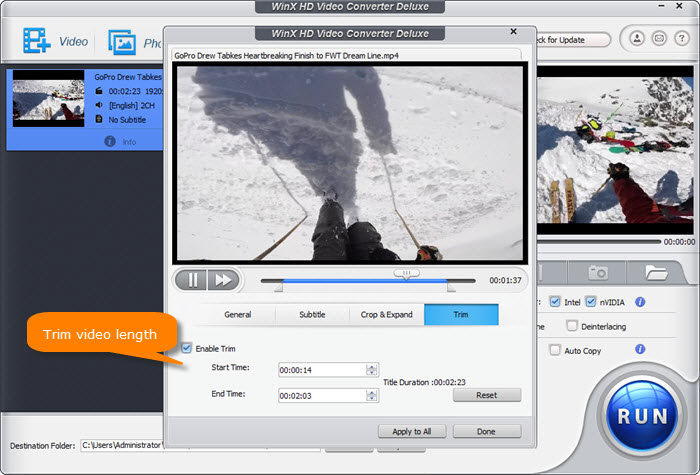 3. Lower down video bitrate. On the video info window of the video compressor for Discord, click on the gear-shaped Settings button and video audio parameters setting window pops up. Decrease video bitrate to get smaller file size for Discord. If you don't know what bitrate you should change to, lower down video resolution. Converting video resolution will changing bitrate.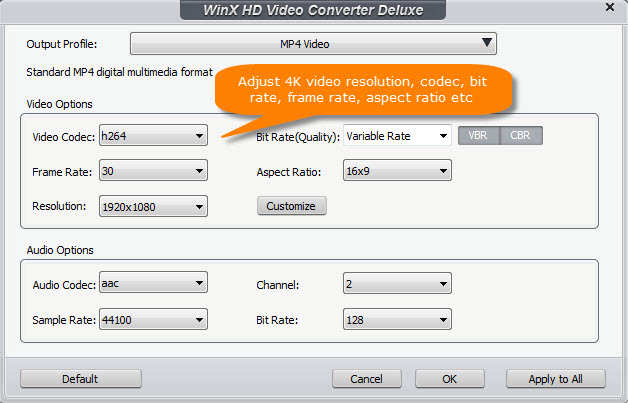 Step 4: Click the RUN button to begin compressing video file size for sending to Discord. The video compression speed also depends on your computer hardware configuration.
Way 2. Reduce Video Size to 8MB Free Online for Discord with 8mbvideo
There are tons of free online video compressor services that can be used to reduce large video file sizes for sending to Discord. 8mbvideo is designed for compressing large videos from GB to MB, which is suitable for Discord. The compressed video quality is not good and the video uploading process is slow. Use the steps below to cut the video size down to smaller than 8MB for sending to Discord. Check for more detailed review of 8MB Video Compressor.
Pros
easy-to-use
High compression ratio (100MB is compressed to 20MB)
Cons
Bad video quality
The very slow uploading process
No video or audio parameter settings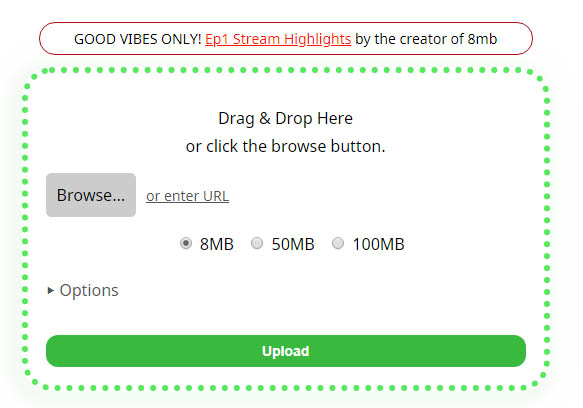 Step 1: Open the 8MB Video Compressor website on your device.
Step 2: Click the Browse button and select a source video to upload. The uploading process is very slow. It took 20 minutes for me to upload a 48MB video.
Step 3 (optional): Click the Options drop-down icon to show more video and audio settings. You can remove all sound to get a raw video for smaller video size, check the Skip the first part and the last part of the video to trim the video. Select Auto-download when done and the compressed video will download to your device automatically without clicking the video URL. You can skip this step if these options are useless for you.
Step 4: Choose the video file size you want. 8mbvideo offers 8MB, 50MB, and 100MB. 8MB is recommended when compressing videos for sending to Discord due to the Discord 8MB file size limit. My 45MB video was reduced down to 5MB.
Step 5: Once the compression process completes, a compressed video link appears. Click the compressed video link, enter the file name, and save it to your device for sending to Discord later.
Summary: if you care about Discord video quality and video compression speed, WinX HD Video Converter Deluxe is recommended. 8mbvideo is not a bad choice when you don't want to download desktop software and the video image quality is not important.