Discord File Size Limit 8MB? How to Bypass Discord File Size?
How big of a file is you can upload to Discord?
Discord file size limit is 8MB for regular users and up to 50MB for Discord Nitro Classic subscribers and 100MB for Nitro users. If you want to bypass Discord file size limit, say sending videos on Discord bigger than 8MB or 100BM, you need to compress videos for Discord.
Discord is very popular voice & messaging app for gamers to chat during gaming, as well as a platform for individuals to create school club, gaming group and art community to find friends and communicate. If you are trying to upload videos to Discord, you may receive error message like "Your files are too powerful!" As the maximum file size of a Discord video is 8MB for free users, you even can't share an 11 seconds 720p video. So, how to increase Discord video size limit? Paying for Discord Nitro to get 50MB/100MB limit and compress a video from GBs to MBs are two main solutions.
Compress GBs to 8MB for Uploading to Discord – Recommended
WinX Video Converter can act as a Discord video compressor to help downsize the large videos like 4K/1080p files to 8MB or 50MB or 100MB for uploading to Discord successfully. Fast and highest quality reserved.
Part 1. Why Can't Send Videos on Discord over 8MB?
Discord sets video upload limit to 8MB for regular users, but you can upgrade to Discord Nitro Classic ($4.99/month or $49.99/year) for up to 50MB or Discord Nitro ($9.99/month or 99.99/year) for up to 100MB file size. Why does Discord limit the file size? Of course, making money is one reason. The other one is to help reduce server loading burden, as it is said that Discord stores at least 150 million files per day which will occupy a huge cloud storage without doubt. So, 8MB limit for a single file is quite reasonable as Discord isn't a real file and video hosting service.
Whatever, you are the person who is influenced directly. Based on the fact, how to increase the maximum video upload size of Discord? For example, how to send 1GB movie or a 4K video on Discord? Below is the most ideal method.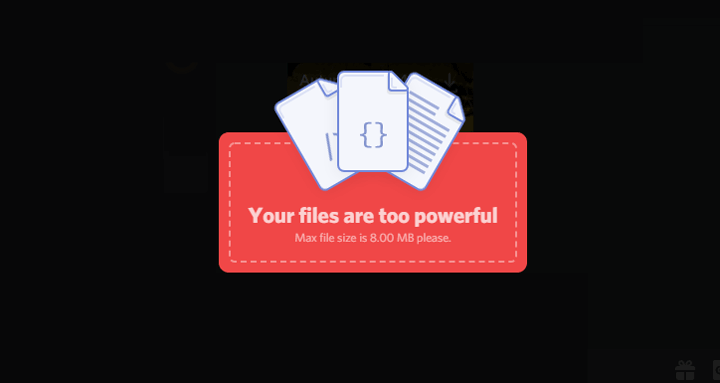 Part 2. How to Send Large Files on Discord without Nitro?
Even if you pay for a Discord Nitro plan, you can only get maximum Discord file size up to 100MB. However, the size of a 30-second iPhone recording might be larger than 100MB. So, reduce video size from MBs or GBs to 8MB is the right way to bypass Discord file size 8MB limit.
Here, you can get a step-by-step guide to compress large videos for uploading to Discord with WinX Video Converter. WinX Video Converter is a professional video compressor and converter with industry-leading technology to help reduce file size of any 1080p/4K/8K videos fast and in super high quality. After testing, it can compress a video by 40% - 90% without visual quality loss. To be more specific, you can reduce the file size of The Revenant (2015) AVI movie from 2.05GB to 331MB.
Step 1. Free download WinX Video Converter, install and launch it on your computer.
Step 2. Click on "+ Video" on the main UI to add your video you want to send to Discord.
Step 3. When the "Output Profile" window pops up, simply choose the correct video format that Discord supports.
Discord supported file formats: MP4, WebM and MOV.
Discord supported video codec: H.264. H.265 is not supported currently.
Step 4. Set the parameters that determine the size of a video.
After choosing the output format, you can switch the quality from HQ/Slow to LQ/Fast.
Click Settings to adjust video resolution, aspect ratio, bite rate and frame rate.
Click Edit button to crop and trim the unwanted parts or black bars from the sides.
Step 5. After that, click Browse button to select a destination folder and hit RUN to compress video to 8MB for uploading to Discord.
Check how to use 8MB Video Compressor to compress video size to 8MB for Discord.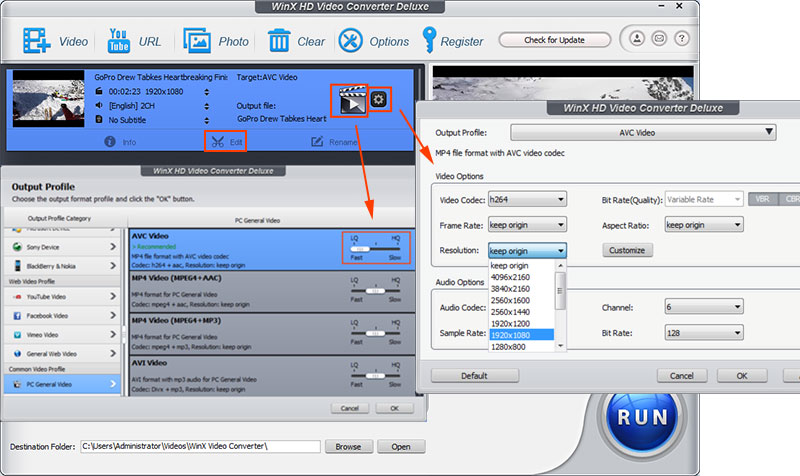 Part 3. Frequently Asked Questions
1. How big of a file is Discord?
8MB file size limit is for regular Discord users. You can upgrade to Discord Nitro Classic ($4.99/month or $49.99/year) for up to 50MB or Discord Nitro ($9.99/month or 99.99/year) for up to 100MB file size.
2. How do I bypass Discord file size limit?
To bypass Discord 8MB limit, you can pay for Discord Nitro Classic or Discord Nitro plan. But if your video size is more than 100MB, you have to compress it first WinX Video Converter.
3. How do I upload more than 8MB in Discord?
To send videos on Discord larger than 8MB, one way is to get Discord Nitro Classic or Discord Nitro plan, and the other way is to compress videos with a Discord video compressor.
4. How to send videos on Discord?
On computer: Simply enter into the channel you want to send the video to > click "+" icon at the Discord messaging bar and select the video you want to send > click "Upload" to upload the video to Discord > after that, people can watch the video.
On iPhone or Android: On the Discord app, hit the username of your friend who you want to send a video > click on the picture button at the bottom of the message list to access to your photo gallery > choose a video to send.