8MB Video Compressor: Compress Videos from GB to 8MB
8MB Video Compressor, launched in 2020, is a good free online video compression service. It is designed to fix the error "your files are too powerful" for Discord users when sending videos bigger than 8MB to Discord. 8MB Video Compressor allows users to compress max 2GB videos to 8MB for Discord free online, requiring no registration. Is 8MB Video Compressor safe to use? How to compress video to 8MB free online using the service? Find answers below.
Quickly Compress Videos from GB to 8MB without Losing Much Quality
Here's a much powerful alternative to free online 8MB Video Compressor, WinX HD Video Converter Deluxe.
It reduces video file size from GB to 8MB without noticeable quality loss, thanks to its built-in high quality engine.
The tool processes videos at least 47x real-time faster than 8MB Video Compressor, with support for GPU acceleration.
It can compress videos up to 90% size reduction, via transcoding video format, adjusting resolution, bit rate etc., trimming, etc.
No file size limits, 2GB, 4GB, 2TB, or even larger. 100% clean and safe.
Part 1. 8MB Video Compressor Review: Pros and Cons
Pros:
Ease of use
Clean design, No ads
Great compression ratio - compress videos under 8MB
Cons:
The uploading is very slow
Output quality may be poor
8MB Video Compressor Features Overview
Compress videos to 8MB for Discord, to 50MB/100MB for YouTube, Instagram, etc.
Upload video from your device or upload a video URL to compress.
Trim video by setting to skip the beginning and the end of the video clip.
Much faster than other free online video compressor for Discord.
Totally free, no popping up ads, no redirects, no malware.
8MB Video Compressor is designed to compress videos to 8MB for Discord free online. It offers 3 output file size options, 8MB, 50MB, and 100MB. Smaller file size means worse video image quality. The free online video compression service is clean, with no ads, no popping-ups. Currently, the file size limit is 2GB, which is quite generous, compared to other free online video compressors. However, similar to other free online tools, the video uploading process can be deadly slow. The output video quality is not satisfying. Some unexpected errors may appear.
Part 2. How to Reduce Videos Under 8MB using 8MB Video Compressor
Step 1. Open 8MB video compressor website, you should see the Upload File...button. Click the Upload File... button, a video file upload window will pop up.
Step 2. Click the Browse button to specify a folder and choose the video you'd like to compress. Or copy and paste a video URL to compress. Choose output video file size, 8MB, 50MB, or 100MB. Many users choose to compress videos from GB to 8MB free online for sending to Discord. Click the Options drop-down icon for more settings, such as sound removal, trimming, auto download, etc. The video upload speed can take a long time.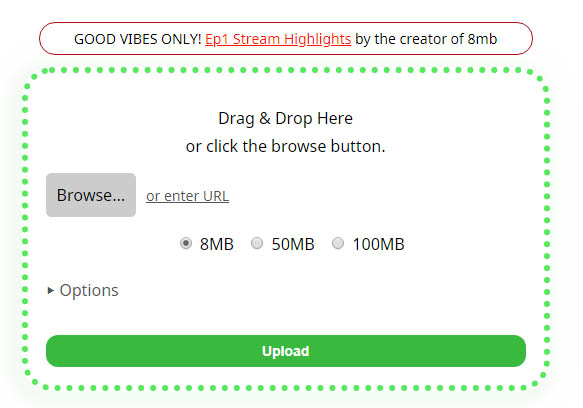 Note: It's annoying that a weird error always occurs during the video upload process. The error says "There was a problem uploading files. Try again? This error was unexpected. Please report this as a bug using the links below."
Step 3. Click the Upload button to start uploading the video. When the uploading process finishes, download the compressed video from 8MB video compressor website. All videos are permanently deleted from the 8MB video compressor server after 20 minutes.
Part 3. 8MB Video Compressor Alternatives
8MB Video Compress easily reduces video size down to 8MB. However, it doesn't convert video formats and compress images for Discord. If you want to quit the service or the video you've uploaded to 8MB Video Compressor is larger than 2GB.check the following alternatives to 8MB Video Compressor. They have more video file compression and conversion features.
compressvideo.io
Compressvideo.io automatically compresses the video you upload. It accepts MP4, MKV, MOV, WebM, and many more. The 8MB Video Compressor doesn't have much additional features. It only offers a resize option to resize and reduce the video width. To get better video quality (larger file size), choose Low compression level. The max video size it accepts is 500MB. Commonly, it reduces the video size 20%-50% off.
CloudConvert
CloudConvert a go-to 8MB Video Compressor alternative. It supports video, audio, ebbok, image, presentation, and other types of media files, meaning that the service can work as a video compressor as well as image compressor for Discord. CloudConvert also converts video files for Discord. You can use CloudConvert for free for up to 25 video conversions or compression a day.
YouCompress
YouCompress is a media file compressor much powerful than 8MB Video Compressor. The online-based free file compressor can compress MP4, MOV videos, PNG/JPG/GIF files online free for Discord. The compressed video won't have watermark on it. It may take a long time to upload a video larger than 100MB.
Part 3. 8MB Video Compressor FAQs
Is 8MB Video Compressor safe and legal?
Yes. 8MB Video Compressor service is safe to use. Most free online video compressor services are safe. 8MB Video Compressor promises that videos users upload are deleted permanently after 20 minutes, or after being downloaded for the first time. The source code, or whatever runs 8MB Video Compressor in the background is not public. There's high chance that it uses FFmpeg. As long as they are not distributing the binaries, they are not in violation of the GPL or LGPL, then it's legal.
How long is 8MB of video?
It depends on the video codec and compression standard. 8MB is around a 36s of 1,800kbps 720p video. Discord has a max file size limit of 8MB for users who don't have Discord Nitro. Many videos recorded by iPhone can be easily larger than 8MB. So many non-Nitro users choose 8MB Video Compressor to reduce video size online down to 8MB for Discord for free.
How do I reduce the MB size of a video?
You have several ways to reduce a video to MB. You can shorten video length, lower down video bit rate and frame rate, use a more efficient video codec to encode the video, etc.
Can 8MB Video Compressor compress images?
No. 8MB Video Compressor doesn't work as image compressor for Discord. If you need to compress images for Discord, you have to resort to other online image compressor such as TinyPNG, PNG Compressor, Image Compressor, CloudConvert to name a few. You can use such online image compressors to compress images for Discord.