8MB Video Compressor: Compress Videos from GB to 8MB
8MB Video Compressor, launched in 2020, is a good free online video compression service. It is designed to fix the error "your files are too powerful" for Discord users when sending videos bigger than 8MB to Discord. 8MB Video Compressor allows users to compress max 2GB videos to 8MB for Discord free online, requiring no registration. Is 8MB Video Compressor safe to use? How to compress video to 8MB free online using the service? Find answers below.
Quickly Compress Videos from GB to 8MB without Losing Much Quality
Here's a much powerful alternative to free online 8MB Video Compressor, WinX HD Video Converter Deluxe.
It reduces video file size from GB to 8MB without noticeable quality loss, thanks to its built-in high quality engine.
The tool processes videos at least 47x real-time faster than 8MB Video Compressor, with support for GPU acceleration.
It can compress videos up to 90% size reduction, via transcoding video format, adjusting resolution, bit rate etc., trimming, etc.
No file size limits, 2GB, 2TB, or even larger. 100% clean and safe.
Part 1. 8MB Video Compressor Review: Pros and Cons
Pros:
Ease of use
Clean design, No ads
Great compression ratio - compress videos under 8MB
Cons:
The uploading is very slow
Output quality may be poor
8MB Video Compressor is designed to compress videos to 8MB for Discord free online. It offers 3 output file size options, 8MB, 50MB, and 100MB. Smaller file size means worse video image quality. The free online video compression service is clean, with no ads, no popping-ups. Currently, the file size limit is 2GB, which is quite generous, compared to other free online video compressors. However, similar to other free online tools, the video uploading process can be deadly slow. The output video quality is not satisfying. Some unexpected errors may appear.
Part 2. How to Reduce Videos Under 8MB using 8MB Video Compressor
Step 1. Open 8MB video compressor website, you should see the Upload File...button. Click the Upload File... button, a video file upload window will pop up.
Step 2. Click the Browse button to specify a folder and choose the video you'd like to compress. Or copy and paste a video URL to compress. Choose output video file size, 8MB, 50MB, or 100MB. Many users choose to compress videos from GB to 8MB free online for sending to Discord. Click the Options drop-down icon for more settings, such as sound removal, trimming, auto download, etc. The video upload speed can take a long time.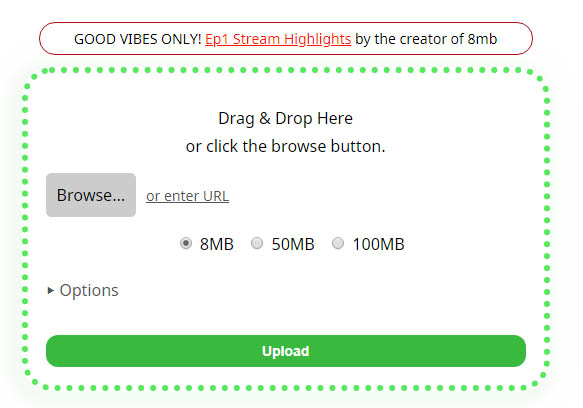 Note: It's annoying that a weird error always occurs during the video upload process. The error says "There was a problem uploading files. Try again? This error was unexpected. Please report this as a bug using the links below."
Step 3. Click the Upload button to start uploading the video. When the uploading process finishes, download the compressed video from 8MB video compressor website. All videos are permanently deleted from the 8MB video compressor server after 20 minutes.
Part 3. 8MB Video Compressor FAQs
Is 8MB Video Compressor Safe?
Yes. 8MB Video Compressor service is safe to use. Most free online video compressor services are safe. 8MB Video Compressor promises that videos users upload are deleted permanently after 20 minutes, or after being downloaded for the first time.
How long is 8MB of video?
It depends on the video codec and compression standard. 8MB is around a 36s of 1,800kbps 720p video. Discord has a max file size limit of 8MB for users who don't have Discord Nitro. So many users choose 8MB video compressor to reduce video size down to 8MB for Discord.
How do I reduce the MB size of a video?
You have several ways to reduce a video to MB. You can shorten video length, lower down video bit rate and frame rate, use a more efficient video codec to encode the video, etc.