How to Reduce Video File Size by OVER 90% without Losing Quality
Big video size makes it hard to share on web, upload to Cloud services, or store on portable devices. For example, it may take hours to upload an HD footage to YouTube. You can't send a homemade video through Gmail smoothly when it exceeds 25MB file size. The hard drive or phone gets occupied soon with 4K recordings. Given this, it is necessary to downsize the video to fit size limitations, thereby fasten transmission speed and save more storage space. How to reduce video file size without losing quality?
Looking for an Optimal Solution to Reduce Video Size without Losing Quality?
Try HD Video Converter Deluxe, an excellent video file size reducer that is able to reduce 8K/4K/HD or any other big-sized videos with an optimal balance in size, quality and speed.
Reduce video file size by over 90% without noticeable quality loss thanks to the advanced compression kernel and high-quality engine.
Reach a 47X faster speed when processing large 4K/8K video compression by using Hardware Acceleration. No CPU overuse.
Change video to a more efficient codec HEVC, H.264, reduce 4K to smaller 1080p/720p, lower bitrate/frame rate, etc.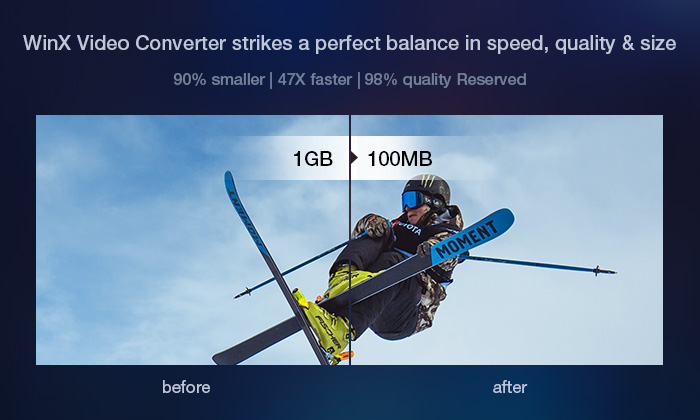 Part 1. What Are the Factors Affecting Video Size?
Video file size is a measure of how much data a video contains or how much storage it consumes, expressed in data size units, like bytes, kilobytes, or megabytes. It has something to do with codec used for compressing data, video length, bitrate, together with frame rate and resolution. The following formula explains clearly how these parameters play a big role in video file size.
Video File Size = (video bit rate + audio bit rate) x video length/8
Bitrate = frame size x frames Rate (fps)
Frame size = resolution x colour depth
1. Video bit rate
Bit rate, measured in bits per second, is the most important factor that determines the video size. The higher the bit rate, the larger the file size and the better the video quality will be. If you want to reduce video file size, you can drop the bit rate to a degree. But note that heavy bitrate reduction may lead to unwatchable looking. Preferably, 8-12Mbps is recommended for a 1080p video and 35-68Mbps for a 4K file.
2. Duration
It's easy to understand that longer video means more data and larger file size. So, by shortening the video length, you can reduce the size of your video without losing quality. Most video compression tools offer the video cutting or trimming option. Check the best MP4 cutters.
3. Video codec
Codec is another factor affecting video size. It determines how efficiently the video data is reduced, thus a video encoded in different codecs will output different sizes. E.g. to get the same video quality, H.265 encodes a more compressed video that is half the size of H.264. Both AV1 and VVC are also effective for 4K content. AV1 achieves 9.5% bitrate savings over HEVC while VVC reaches 40% improvements.
4. Video resolution & frame rate
Video resolution and frame rate (image frames per second) have an impact on video bitrate, which indirectly affect the file size. Because higher resolution or frame rate means more pixels and frames. This means more data required but crisper image quality. But there are some notes:
Only changing video resolution but not changing the video bit rate isn't likely to improve the video quality.
Video format/container doesn't affect video size. For instance, MKV (H.264) is not likely larger than MP4 (H.264).
Frame rate can affect video smoothness. So it's not advised to change it to shrink video size.
Best Practice: Optimal Video Settings for Uploading and Playing

Container Format

MP4

Codec Format

H.264, the best choice to store data with smaller size and higher quality and is supported by most devices.

Video Bitrate and Resolution

8Mbps (1080p 30fps)

Common suggestions: 1080p 60fps (12Mbps), 720p 24-30fps (5Mbps), 4K 24-30fps (35-45Mbps), 4K 48-60fps(53-68Mbps).

Video Framerate

24-60fps

24fps is a standard for the web, most TVs, and films.
30fps is a good option for smart phones, Instagram, Live TV and sports.
60fps is commonly used for slow motion.

Aspect Ratio

16:9, preferrably for YouTube, HDTV, widescreen and more.

4:3 for SDTV and computer display.
9:16 for YouTube shorts, Ticktok, IGTV, instagram story, Snapchat, and more.
1:1 for Tiktok, Instagram Post, Facebook, and more.
If you need to change video size & dimensions, click here to resize video without losing quality >>
Part 2. How to Reduce Video File Size without Losing Quality
Part 2.1. How to Reduce Video Size on Windows (10)
Understanding factors affecting video size helps you know how to reduce large video size without losing quality. To cut down video size, it's recommended to resort to some desktop free video compression software or video file size reducer software, such as HD Video Converter Deluxe. Follow the steps below to reduce video size on Windows without losing quality.
Before the detailed steps, here you'd better know the maximum file size of different social platforms or email services required for uploading or sending. Check the table bleow for more detailed information.
Maximum Video Size for Social Sites and Email Services

Instagram

Whatsapp

Twitter

Facebook

Tiktok

Email

YouTube

File Size

Max 4GB

Max 16MB

512MB

4GB

Max 72MB-500MB

Max 10MB-25MB

Max 128GB
Steps to Make Video Size 90% Smaller on Windows without Losing Quality
Step 1. Convert Video to Smaller Formats
Use the following steps to reduce video file size from GB to MB without losing quality via top video size reducer, HD Video Converter Deluxe. If you haven't the software installed, free download, install it now and get started with steps below.
Import videos. Click the +Video button on navigation bar of the video size reducer to import the HD/4K Video that you want to reduce.
Select Output Format. Go to General Profiles category and select MP4 Video (h264+aac) if you hope it can be accepted by more devices/websites or HEVC Video (MP4 file format) if you need higher quality and has a computer powerful enough to handle HEVC.
RUN to shrink video size. Tap browse button to save video and RUN button to reduce video file size without losing quality.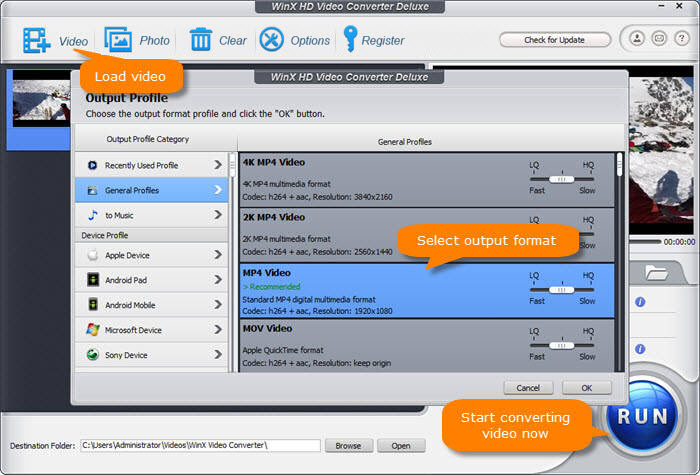 Step 2. Adjust Resolutions, Bitrates, and other Parameters
Lower Resolution. Click on Settings -> Video Options -> Click the drop-down menu of Resolution -> choose a lower resolution, preferrably 1080p or 720p -> OK. Down-converting video resolution is a feasible way to fix many 4K related errors.
Reduce Frame Rate. Click on Settings -> Video Options -> click the drop-down menu of Frame Rate -> choose lower framerate, (don't lower fps less than 24) -> OK.
 Reduce Bit Rate. Click on Settings button -> Video Options -> Bit Rate (Quality) -> choose VBR -> choose a bit rate option that is lower than the original / manually set the data of Bit Rate to a smaller one (5-8 Mbps) -> OK. Note: 1. HEVC codec will lower bit rate automatically. 2. The reduction of bit rate may result in quality degradation in varying degrees.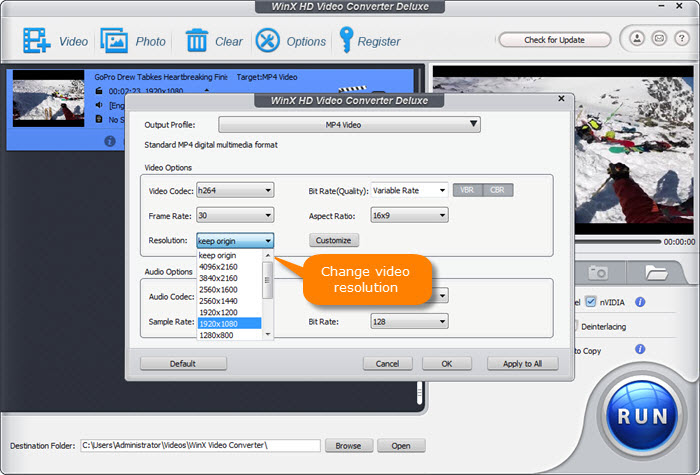 Step 3. Cut Unwanted Parts from the Video Clips
Not every frame of video should be preserved. You can discard title sequences/epilogue which presents movie title, production, casting or filming titbits, and About Author segment of videos downloaded online. This versatile video file size reducer enables you to trim video and cut out unwanted parts by setting start time and end time to capture the most valuable clip to reduce video size without losing quality.
Cut video. Tap Edit -> Trim -> Check "Enable Trim" -> adjust the Start Time and / or End Time to shorten the video duration -> Done
Crop video and adjust aspect ratio. Tap Edit -> Crop & Expand -> Enable Crop -> Crop Original -> Choose Crop LetterBox, 16:9, 4:3 or 1:1.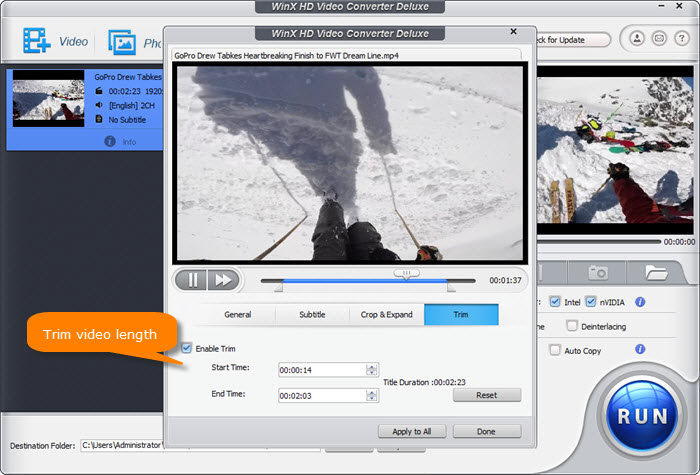 Video Tutorial: 3 Steps to Reduce Video File Size without Losing Quality
Part 2.2. How to Reduce Video File Size on Mac?
To make video size smaller on Mac, the built-in Mac apps can work as free video size reducer. For example, iMovie and QuickTime Player. Both apps provide the ability to shrink the video size when exporting. For example, to reduce video size on Mac with iMovie:
Drag your video to iMovie and edit your movie in iMovie as usual or go to Step 2 directly.
Go to File > click on the Share button > select File.
Use the dropdown menus to pick video resolution, quality, and compression. You can check the reduced file size of different settings on the interface. If you're satisfied with the estimated output size, click Next to start to downsize.
Also check: How to Reduce Video File Size in Adobe Premiere Pro.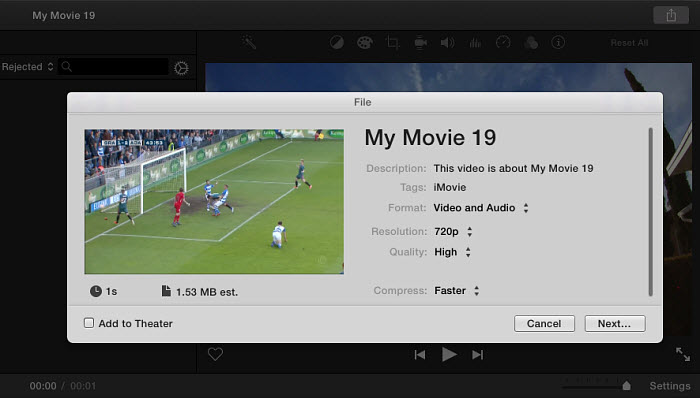 Note: The steps to reduce video file size with QuickTime player are quite similar. You're able to select the output quality and size. With Mac apps, you don't have too much control over the output video.
If you want to reduce video size with more flexible settings on Mac, try the open-source Video Converter such as Handbrake. It's more efficient to make large video files smaller without noticeable quality loss. Users can reduce videos size to advanced formats like H.265, H.264, VP9, VP8, MPEG4, etc., choose desired compression quality, adjust the video resolution, video bitrate, audio bitrate, etc.
How can I reduce the file size of a video without losing quality on Mac?
Download the Mac video file size reducer and open it. Click the Source button to select and load your video.
Under the Peset, you can select presets for general, web, devices, etc. at different resolutions. The lower resolution and faster speed you select, the smaller size will be but with lower output quality.
Under the Summary tab, select a format from MP4, MKV, and Webm. For smaller size, choose MP4 for wider compatibility and Webm if you need to upload the video to the web.
Next, in the Video section, change the Video Encoder among H.265, H.264, VP9, VP8, etc. Lower the Constant Quality to 1-2 RF to make the video smaller.
Once finished, click the Dimensions button and then you can crop off unwanted portions and adjust the resolution to further shrink the video size. After all the adjustments, click Start.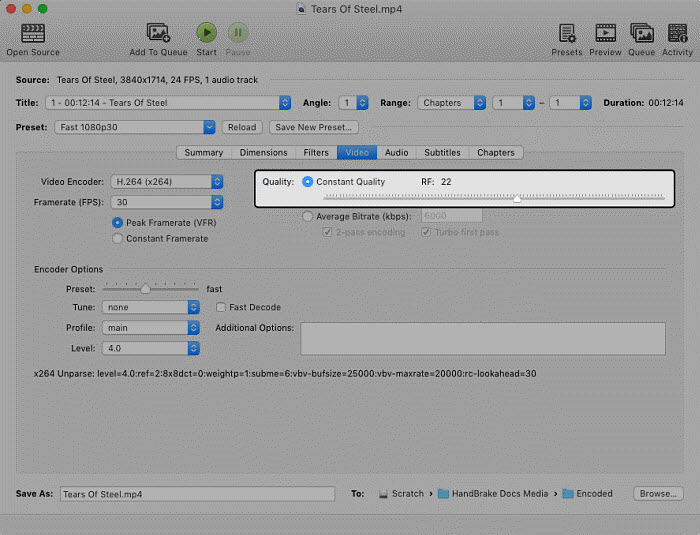 Part 2.3. How to Reduce Video Size on Android?
If you need to downsize videos for quick upload to Whatsapp, Instagram, TikTok, other social media apps, or send to email, you may want to do it right on your mobile. Search on Google App Store, you can find many video size reducer apps for Android. Some of the famous ones include Video Compress app, Video Compressor app, Video Compressor Panda, Videos & Movies Compressor... They are the best choice when you want to reduce video file size for playback on mobiles on which you can hardly notice the quality loss.
Also read: How to Compress Video Size with VLC Media Player.
How do I reduce the size of a video on Android?
Below we'll take the video file sizer reducer app as an example to show you how to reduce video size without losing quality on Android:
Download and install the app on your phone. Then open it.
Choose the album that contains the video you want to reduce on your mobile. Then select and load the video.
Once the video is loaded, you can see the options to reduce, rotate, play, extract mp3, and share. We select Compress Video.
Now there are different resolutions with estimated output file sizes. You can select from the ready options to downsize video size to 90%, 80%, 70%, etc. as you need. Or you can manually adjust the video resolution and bitrate until you're satisfied with the size and quality.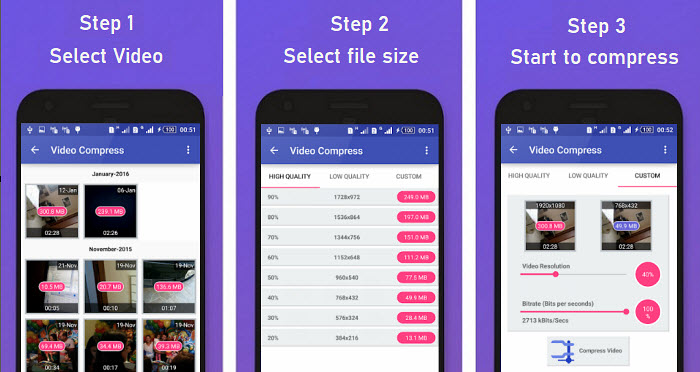 Part 2.4. How to Make Video File Size Smaller on iPhone iPad
To reduce video file size for emailing, or sending to Whatsapp, iMessage, Facebook, Instagram on iPhone iPad, Video Compress - Shrink Vids app is recommended. With the app, you can easily reduce 4K video size to 1080p, 720p, or convert 1080p to 720p, 480p for much smaller file size. Video Compress - Shrink Vids allows you to customize video resolution and bitrate, preview image quality, and disk space. It also works with 4K videos recorded by iPhone iPad. A wide range of presets is offered to downsize videos for iPhone iPad, covering from 1080P HD to 360p. Here's how to use Video Compress - Shrink Vids on iPhone iPad.
1. Get the video file size reducer app for iPhone iPad from App Store. The App requires iOS 11.4 or later on iPhone iPad. It's only 15.7MB.
2. Open Video Compress - Shrink Vids free video size reducer app on iPhone or iPad. Tap + to choose a video you want to reduce size. You can choose a single video, multiple videos, or a video album to load.
3. Customize video bitrate using the bitrate slider bar and choose a preset. Lower bitrate means smaller file size but worse video quality. There are lots of preset options,
Full HD 1080p (1920x1080 Pixel)
HD 720p (1280x720 Pixel)
HD 540p (960x540 Pixel)
480p (640x480 Pixel)
360p (480x360 Pixel)
The original video size and estimated video size are displayed on the window. Choose a preset, tap CONTINUE, and follow its instructions to completes the video reduction process.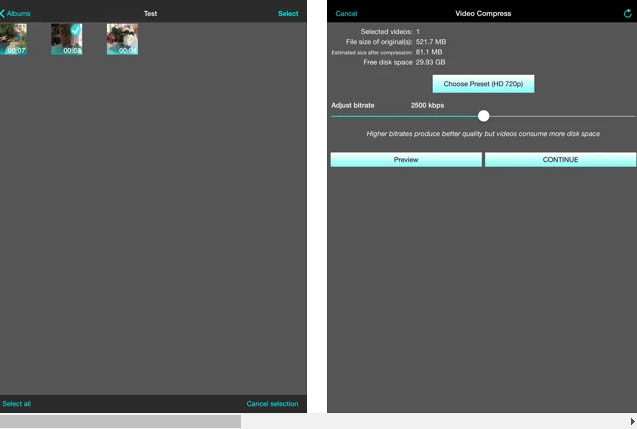 Tips for Making Videos Smaller on iPhone iPad
If you want to record videos on iPhone or iPad with a smaller file size, use the following steps.
Go to Settings on iPhone or iPad. Choose Camera.
Tap Record Video and you will see different video resolution and frame rate options.
Choose lower video resolution and frame rate, such as 720p HD at 30 fps instead of 4K UHD at 60fps, for decreased video size.
Part 2.5. How to Reduce Video File Size Free Online
It's very easy to cut down video size for Whatsapp, YouTube, Instagram, Email, etc. thanks to free online video compressor tools. For example, Clideo is a very easy to get started needless user guide. The top-rated free video reducer software has a nifty and well-designed interface, allowing users to downsize video files up to 500MB for free. The downside of Clideo is that the max video length that its free version accepts is 60 seconds and the uploading process takes a long time to finish. The compressed video files have a Clideo watermark. To remove the watermark, you need to update to its advanced version. Use the following steps to reduce video file size free online with Clideo.
Open Clideo website. Choose a video file from iPhone, Android, Windows, or macOS. You can also upload video files from your Google Drive or Dropbox, or paste a video URL from YouTube, Facebook, Instagram, etc.
Wait for the uploading process to complete. The uploading may be time-consuming, just be patient. The time it takes also depends on the source video file size and your internet connection speed.
Download the compressed video to Google Drive, Dropbox, or your device. When the compression process finishes, you'll be told the compression ratio.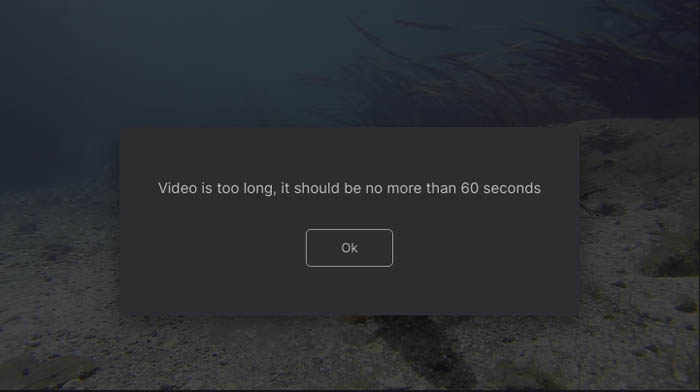 Part 3. FAQs on Reducing Video File Size
1. How to reduce video file size without losing quality
To shrink video without losing quality, you can zip your video files. Cutting out unwanted parts is also a way to reduce video file size without losing quality. There's quality loss when video codec format is changed, video bitrate is lowered, and transcoding is involved.
2. How do I make a MP4 file smaller
There are several ways to make a MP4 video file smaller: re-encode the MP4 video using a more efficient codec format such as HEVC, H.264; lower down the MP4 video bitrate and resolution; shorten the MP4 video length, trim out unwanted video parts. Click and learn how to compress and reduce MP4 video size freely >>
3. How to reduce video size on Windows 10
You can make video smaller on Windows 10 using free online tools or video compressor software for Windows 10. Free online tools have file size limits and slow video uploading speed, but it's easy to use. Free video compression software for Windows 10, HD Video Converter Deluxe, is recommended. It provides an easy way to reduce video file size on Windows 10 with little quality loss and 47x faster video compression speed.
4. How to reduce video size in windows movie maker
In Windows Movie Maker, import the video you'd like to compress, perform the video editing task, trim out unwanted parts for smaller file size, then create custom settings before output, choose for email under Settings drop-down list, and the video size should be reduced.