How to Compress Large Video Files for Email
Any seekers who are eager to compress large (GoPro/Sony/iPhone) video for email without losing quality will be satisfied with the below guide.
I have a trouble in attaching a video to Email. It either times out the attaching process or says the file is too big. How can I compress the video file to send via email?
I have a GoPro video that is too large to email to a friend. How do I compress it that can be emailed?
I take a video with my HD camcorder and I want to send it to my friends via Email. My video is more than 100 MB but Yahoo email only allows to attaching 25MB or less file. Anyone help me compress the video for email?
The failure of video attachment and time-consuming video uploading are common scene during video Emailing. This is because every email provider has a maximum email video file size. It is necessary to reduce video file into smaller size or convert HD/4K video like MKV, M2TS to a format with higher compression efficiency. This post comes for this reason, walking you through simple steps to compress video (4K) from GB to MB for emailing on Windows (10/11)/Mac, as well as iPhone Android.
Method 1. Compress Video for Email on Mac/Windows with Video Compressor
HD Video Converter Deluxe - professional video compressor for Windows 11/10/8/7. Mac version is available, as well.
Compress MP4, MKV, FLV, MOV, etc. videos up to 80% size off with intraframe & interframe coding algorithms.
Trim videos, crop to remove black borders, lower resolution/frame rate/bit rate, etc. to reduce video size for email from 1GB to 10MB!
Visually NO quality loss by dint of High Quality Engine and de-interlacing engine, 98% quality reserved.
Advanced Level-3 GPU HW acceleration tech, alongside with computer powerful hardware configurations, to compress 8K/4K/1080p MP4/MKV video for email at GPU accelerated 5X faster speed, no app freezing/crash or CPU overheating/overuse issues.
How to Compress Videos for Email Without Quality Loss?
The best way to compress video for email is to convert videos, especially HD/4K videos (MKV, M2TS, H.265/HEVC) which have large sizes far beyond limitation of email attachment, to best video formats for email with the most appropriate size. The best video compression software is a perfectly useful to compress or convert 4K/HD/SD videos to MP4, AVI, WMV for email reading 47x real-time conversion speed and keeping good quality.
The following guide will lead you to compress a MP4 video file for email on Windows PC. .
Step 1. Import MP4 video. Launch the video compressor for Email and import MP4 video file by clicking "+ Video" button.
Step 2. Compress MP4 video for email. The output profile dialogue pops up the moment video is added into convert list. Select General Profiles category and tap MP4 Video with codec h264+aac or HEVC+aac. MP4 (H264) has better compatibility than MP4 (HEVC) while the latter one has higher compression ratio than H264.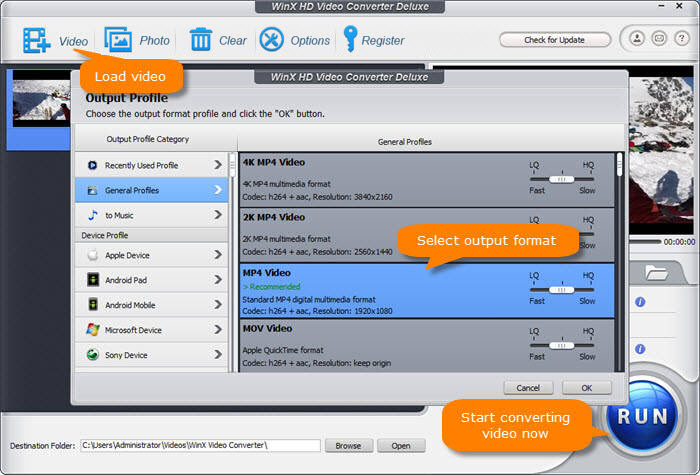 Step 3. Adjust parameters to make video smaller for Email.Click setting icon to access the dialogue for parameter adjustment. Besides video format, resolution and frame rate are two primary elements affecting video size. Change resolution from 1280x720 HD to standard definition 640x480 which is the most common resolution of video for iPhone, iPad, Android, Windows Phone, YouTube, Facebook and more. Then, Cut frame rate to 23.97 or 25 (general 30/29.97 fps). You can also set lower bit rate, sample rate for audio to get a smaller size if it needn't to deliver a pretty good quality.
>> Check how to convert and compress 4K to 1080p with minimal quality loss...
Step 4. Run to compress video for email. Click Browse button to save the compressed video to destination folder and tap RUN button to start compressing video for email.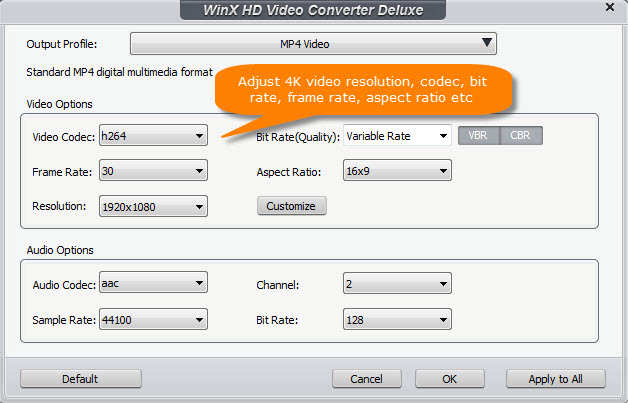 The resulting file can be reduced from GB to MB for email (maximumly 90% size off) with zero quality loss, which can Email to your friends more quickly. By the way, the same applies to compress video for Whatsapp, Facebook, Instagram sharing.
Part 2. How to Make Video Size Smaller for Email by Zipping
On windows or macOS, you can compress videos to much smaller size for faster emailing by zipping. It's easy, fast and your videos quality remains the same. When emailing, select Attach File, identify the video you'd like to attach, right click the video or video folder and click Send to - zipped folder. Send the zipped attached file. Done. To unzip the video file or video folder, open the compressed video for folder, then drag the video file or folder from the compressed folder to a new location. Alternatively, you can zip videos or video folders before emailing.
How to Send A Video That Is too Large on Windows
On Windows 11
Open File Explorer on Windows 11. Open the folder that contains the video files to compress for email.
Click the New menu button and select Compressed(zipped) Folder.
Rename the filename for the zip folder and press Enter. Choose the files and folders to zip for email.
Copy and paste or directly drag and drop any video files you want to make smaller for email to your new zip file on Windows 11.
On Windows 10/8/7
Right click the video file or folder you'd like to compress for Email.
Select Send to > Compressed (zipped) folder on your Windows 10 PC.
Put all the video files you'd like to compress into one folder if you have multiple video files to make smaller for email.
On Mac
Control click the video you want to compress for email, choose Compress from the shortcut menu.
If you compress a single video, the compressed video file has the .zip file extension. Now, you can send a video larger than 25MB for email. Video files or folders in GB can be compressed to MB.
Suggested Reading => How to Highly Compress Video Files with 7-Zip
Part 3. How to Make Video Smaller for Email with iMovie on Mac
iMovie editing features can be used to compress videos to smaller file size for email. It enables users to split long videos to separate clips and cut out unwanted clips from your video. This way won't decrease your video quality. It's a good way to go to use iMovie to lower down video resolution/quality, adjust video and audio parameter settings before exporting. You can downscale 4K to 1080p/720p to get smaller video size for faster emailing. Medium option is recommended to keep a good balance between video file size and quality. Use steps below to compress video for email with iMovie.
Open iMovie on your computer, click My Movie and choose the video file you want to compress to import.
Select the portion or the clip you want to save and click the"+".
Start compressing the video size for email by selecting "File > Share > Email >Small" to make video file size smaller for email.
Check more: how to use iMovie to compress video for email on macOS.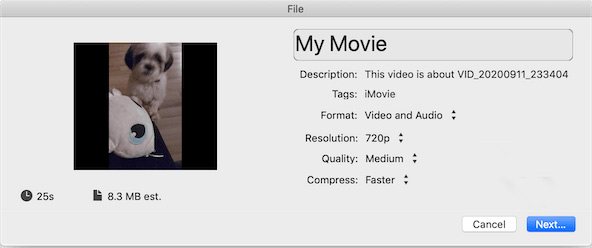 Part 4. How to Compress Videos for Email on iPhone iPad Android
The specific operating steps of reducing video size are much of muchness, no matter your operating system is Windows, macOS or mobile iOS Android. You can trim out unwanted video clips for smaller size for email on iPhone, iPad, or Android. The triming won't decrease video quality. Steps may vary on different models. It's also a good way to make video smaller for email on iPhone iPad via maildrop. Here's how to do so.
iPhone/iPad
You can email a large video via iCoud through maildrop. Locate the large video you'd like to email and press the share icon.
Press the mail icon, when you send your email with large video attachment, you will get a notification saying that your attachment is too large.
Tap Use Mail Drop to send your video that is too large. The receiver can download the video from their email.
Needless to hunt high and low for iPhone video compressor applications, we recommend the most simple online compressors for your iPhone recordings size reduction without extra installation to consume your 64GB space. Check guide on compressing video on Android to see the best apps for Android to resize 8K/4K videos from GB to MB for smooth yet fast Emailing thereon.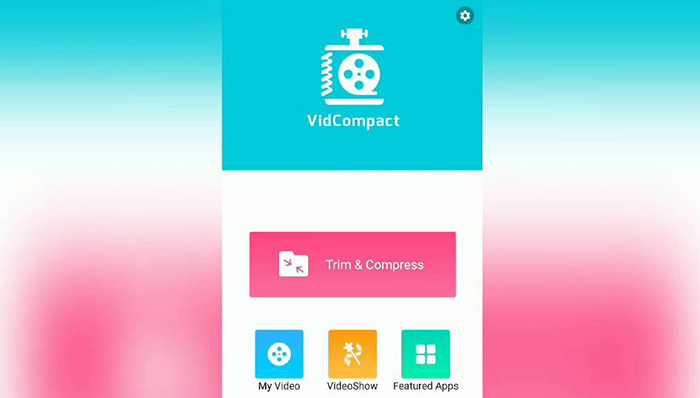 Android
There's another trick to make video much smaller for email on Android - send a temporary video link. The photo gallery app on Android has a built-in feature allowing you to generate a video link for sending. Here's how to make video smaller for email on Android without losing video quality.
Open photo gallery app. Tap Gallery > Photos or Google Photos.
Locate the video you want to compress for email.
Long-press the video. Choose Share.
You can share the video link or copy the video link for email.
Part 5. Email Video That Is too Large using Cloud Services
If you want to send large video files, cloud services are also good choices. Dropbox, Google Drive, One Drive, Box, and other similar cloud services make it easy to share large video files. First, upload the video file to one of the cloud service that you have an account, then, share the generated link by email with your friend or families. Here we take Dropbox as an example to walk through how to send videos that is too large via Dropbox. With Dropbox, you can create a video link to send video files up to 100GB via email.
Log in with your Dropbox account.
Locate the file or video folder you'd like to compress for email and click the share icon.
Select can view from the dropdown options, click Create to create a video link or select Copy link if the video link has been created.
Paste the video link copied to your clipboard into an email.
On your computer, the steps to make video smaller for email via Dropbox are a bit different.
Open the Dropbox folder in Finder on Mac or File Explorer on Windows.
Right-click the video file or folder you'd like to make smaller.
Click Share, select Create link.
Paste the copied link into your email with much smaller file size. In this way, you can send videos up to 100GB.
Part 6. Compress Video Files for Email Free Online
There are many free but limited online video compressor to choose, such as YouCompress, ClipChamp, Clideo, to name a few top-rated online video compressor for email. Refer to top free online video compressor review to get more detailed information. It's quite easy to compress video for email online. Note that most online video compressor only accepts video files smaller than 200MB or even 100MB for free members. Follow the steps below to compress videos to 20-25MB for email using VEEd.IO free online video compressor.
Step 1. Open VEED.IO Video Compressor page. Click the blue Choose Video button.
Step 2. On the popping up page, click Upload a File and specify a video file to upload to compress for email. Or Drag and drop the video here. The upload process may take a long time to finish.
Step 3. Set the video compression ratio for email.
Step 4. Download the compressed video for email.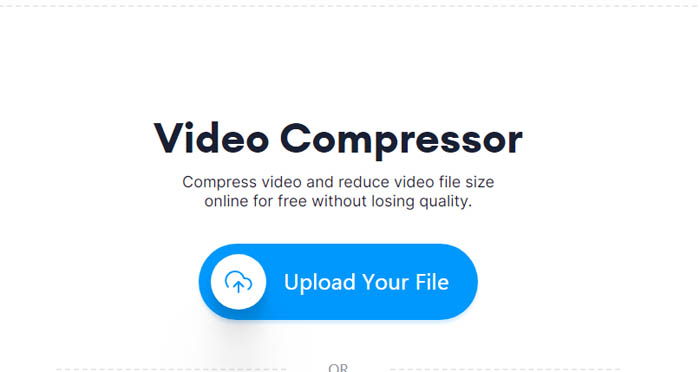 Part 7. FAQs about How to Make Video Smaller for Email
1. What is the best video format for email?
Email servers are not captious to limit video formats you upload, but strict on file size requiring you to pick out the best video formats for email to make process of attachment and transmission more efficiently.
MP4 (MPEG4/H.264) is the most compatible video format supported by almost all players and portable devices with compact file size and lower data rates but retaining a level of quality becoming the perfect format for uploading to email which limits size of attachment. And, H.264 is a preferred choice for it is more efficient and delivers crisper images than MPEG4.
AVI (DivX) and WMV, Microsoft native formats, are the better choice for Windows users in email. AVI (Divx) offers faster compression speed, support for multiple languages and high image quality, while WMV video has smaller size and can be made in a simpler way.
2. What is the video size limit for Gmail, Outlook, Hotmail, etc.
Gmail: 25MB. Outlook: 20MB. Hotmail: 10MB. Yahoo Mail: 25MB. AOL: 25MB, Zoho Mail: 2MB.
3. How can I send a video file that is too large via email?
You have several ways to send large video files via email: via zipping, Cloud services, video compressor programs, iMovie, etc. Quality won't be decreased by zipping, cloud services way, and professional video compressor programs like HD Video Converter Deluxe can also guarantee good quality. Online video compressor is the worst way to go due to safety and performace issue, and 200MB file size limit.
4. How to compress video for Outlook email?
For new version of Outlook, upload your video files to a cloud service, such as Dropbox. These cloud services can generate a video link to access your video files via email. After you upload the video file to Dropbox, copy and paste the video link into your email message on Outlook. You can also make the video file smaller for Outlook email by zipping. Zipping your video files or folders shrink the video size to fit within the Outlook email size limits for attachments.
5. How to compress video for email on Windows 10?
On Windows 10 PC, it's very easy to make video file size much smaller for email - just zip. Right click the video file or folder you want to make smaller for Email, select Send to > Compressed (zipped) folder on your Windows 10 PC. drag all the video files you want to compress into one folder if you have multiple video files to make smaller for email.
6. How to compress MP4 video files for email?
To make MP4 video file smaller for email, you can re-encode your MP4 video with HEVC video codec (higher compression efficiency), trim out unwanted video parts of your MP4 video, reduce video quality/bit rate, etc. Your MP4 video can be compressed from 1GB to 25MB for email in these ways.