Maximum Video Size Limits of Emails and How to Send Large Videos
When you want to share a video with friends via email, you may be prompted that the video is too big to be uploaded. All email services have limits on how big you can send a video via them. Below are the maximum email video size limits of Gmail, Yahoo Mail, Outlook, AOL, and more. You can also find ways on how to send a video via email that is too big (larger than 25MB).
Part 1. Maximum Video Size Limits of Each Emails
The largest video file size of emails that are most frequently used are listed below. Check it before you attach a video to the email.
Gmail - 25MB
Yahoo - 25MB
Outlook - 10MB default size limit, 20 MB for Exchange accounts 
Mail.com - 30 MB for mail.com Free Mail users, 100 MB for mail.com Premium users
iCloud Mail - 20MB
AOL Mail - 25MB
Zoho Mail - 20MB
Inbox.com - 25MB
Yandex Mail - 30MB
HubSpot - 20MB
Sendinblue - 5MB
ProtonMail - 25MB
Sum: While there are many other emails not included in this list, such as the GMX Mail, ProtonMail, most email services allow you to send a video that is 10MB- 30MB in size. That's less than 6 seconds of a 4K video @ 30fps recorded using iPhone (a minute of a 4K @30fps video shot by iPhone is 350MB in size). And unfortunately, you can't bypass these maximum email video size limits. Is it possible to send a video bigger than 25MB via Gmail, Outlook or others? The answer to that is yes. (See more ways to send large video files)
Part 2. How to Send a Video via Email that is Larger than the Size Limit?
While you can't get rid of the video size limits on Gmail, Outlook, Yahoo, etc., there are ways to let you send videos that exceed the size limits.
Method 1: Use Cloud Storage Service
The first option is to upload the videos larger than the maximum email file size to cloud storage servers (like DropBox, Onedrive, Google Drive, SkyDrive, etc.) and include the download link in your email. Below we will take Google Drive to show you how to send a video via email that is too big.
When you send a video larger than 25MB with Gmail, it will automatically upload your video to Google Drive and insert a download link to the video in the mail. If you want to send multiple large files via Google Drive links, you may upload large videos to Google Drive manually. You can send up to 15GB video via Google Drive.
Log in Google Drive use your Google account. Click My Drive and you can select to upload files, folder or create a new folder to store the uploaded video.
Once the load finishes, compose your mail with Gmail. Then click the Drive icon at the bottom of the window.

Choose HEVC as output codec

Browse all the files stored in your Google Drive and select the video you want to send. Click the Drive icon and click "Insert as Drive Link" in the corner of the screen.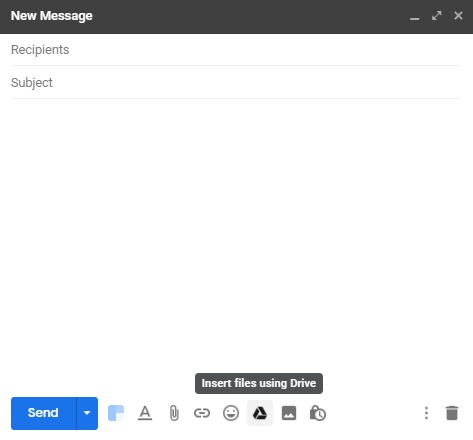 Method 2: Compress Super-Large Videos for Emails without Quality Loss
Another way to send videos larger than email attachment size limits is by compressing the videos to smaller. First of all, you can compress videos for email with zip folders. Zip folders take less space that may be easier to be sent via emails. If the zip folder is still larger than the email video size limits, you will need a third-party video compressor to reduce the file size.
Here we use WinX HD Video Converter Deluxe. The software has advanced video compression tech that's able to compress 4K/HD videos from very large size to 40%-90% smaller without noticeable quality loss.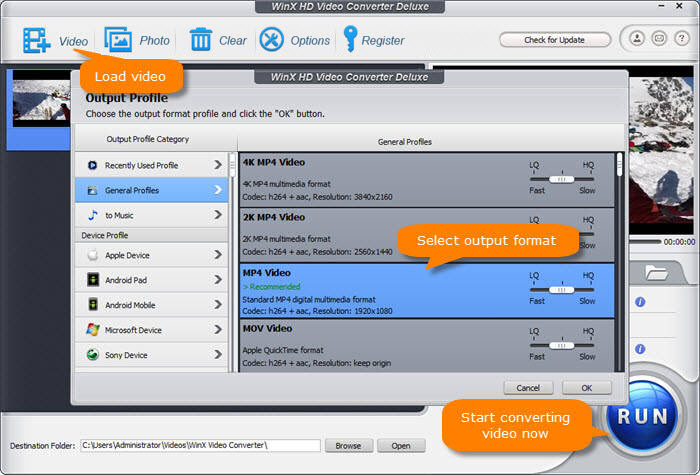 Free download the best free video compression software and open it. Then click the "+ Video" button to import the video.
Select MP4 H.264 as the output format for its small size and wide compatibility.
If the video is too large to be reduced to 25MB for emails, click the Edit button to trim the video length, remove the beginning or end. This will compress videos for emails without quality loss.
Click the gear-shaped button and here you can lower 4K to 1080P or lower, reduce the bit rate if necessary. After that, click Run and it will start the compression.