How to Send and Share Large Video Files Free & Securely
Videos are getting bigger in size as we're shooting in HD, 4K and higher resolutions. While we're enjoy the crisp image quality, there is one big annoying problem: the videos files are too large to share with friends or families. For example, the maximum file size of most emails are 25MB. Social media such as Facebook, Twitter, Instagram, Whatsapp, etc. all have strict limit on the size of videos to be shared. So what's the best way to send or share large HD & 4K video files securely for free? In this post, we have all the methods on how to share large video files with others.
Check more 4K errors & quick fixes for sharing/editing/playing >>
Best Ways to Share Large Videos?
Way 1. Use Cloud Storage Service
Cloud-based sharing services have provided a secure way to send large-size videos to someone for free. By simply uploading the large videos to your account, creating a shared link for the file, and copying the link into a message or an email, you can share the big videos securely. You can select a free tier like Box (10GB), Dropbox (2GB), Google Drive (15GB), iCloud (5GB), and OneDrive (5GB). However, you should note:
Not all video types are supported by different cloud services. For example, Google Drive won't send large videos in formats MKV, HEVC, AVCHD, etc.
If you want to play the videos directly via the services, it may not support resolutions like 4K, and higher.
The steps to free share heavy video files via cloud services are similar. Below we will show you how to upload large videos to Google Drive and share with others:
Log in Google Drive and click My Drive. Select to upload files, folder or create a new folder to store the uploaded video.
Once the load finishes, select the video you want to send from your Google Drive.
Right-click on the video and click "Get shareable Link". Then you can share it with your friends via an email or a message.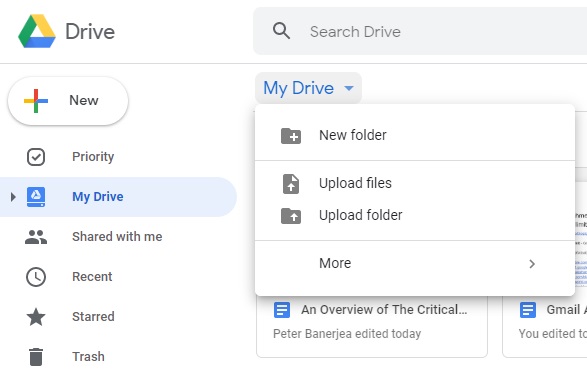 If you'd like to upload large 4K videos, you need upgrade your cloud services as 4K videos take up more space compared with HD or SD videos.
Way 2. Use Video Compression
If your video is too large to be shared via cloud storage services, you can compress the large videos to smaller size for easier sharing. For multiple videos, use zip software like 7-Zip to compress multiple large videos into a single file. Zip files will keep the complete videos back 100% after uncompressing. If you need to reduce the file size of a specific large video, you can also re-encode the video to a better codec with a compressor program.
WinX HD Video Converter Deluxe is very useful to help share and send large video files. It will convert videos to advanced codecs like HEVC, H.264, FLV, etc. for smaller size yet good quality. There are options to cut unwanted parts, adjust video settings, trim long video to short, etc. HD/4K/8K large videos can be compressed by 40%-90% without noticeable quality loss. Large videos can then be shared via emails, Whatsapp, Instagram, messages, YouTube, etc.
Download the best free video compression software and run it. Click the "+Video" button and import the 4K/8K large videos.
Convert 4K videos to HEVC codec or H.264 for smaller file size.
Click the "Settings" button to adjust the resolution, bit rate, frame rate, etc. if necessary.
Click the "Edit"button to make long videos shorter, cut off commercials, beginning, ending, crop black bars, etc. Once finished, click Run and wait. Click to see how to compress large 4GB video file >>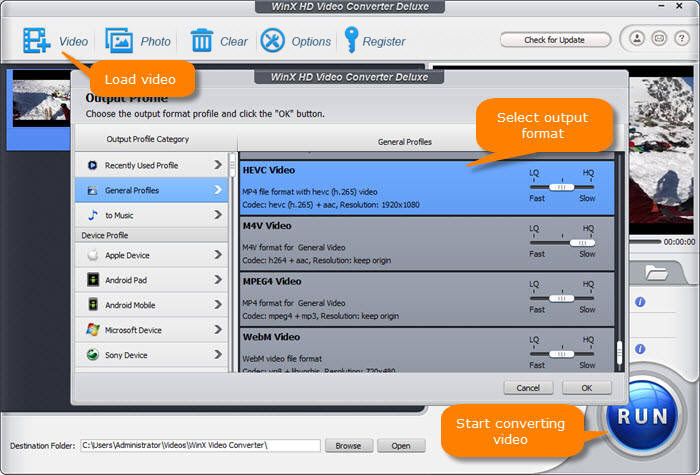 Way 3. Use AirDrop
The best way to share large video files from iPhone with other Apple devices is AirDrop. This iOS app can use Bluetooth and Wi-Fi to send large videos securely to a nearby Mac, iPhone, iPad, or iPod Touch. The best part is, AirDrop has no size limits on the videos it can send. To use this method, you need to make sure that you're sending videos to an Apple device that is closed by, having Wi-Fi and Bluetooth turned on to accept AirDrop files. Once everything is ready:
Open the "Photos" folder in your iPhone and select the large video you want to send.
Tap on the "Share" icon and select the "AirDrop" button.
Tap the person you want to share the file with. The person you're sending the file to will receive an alert with a preview.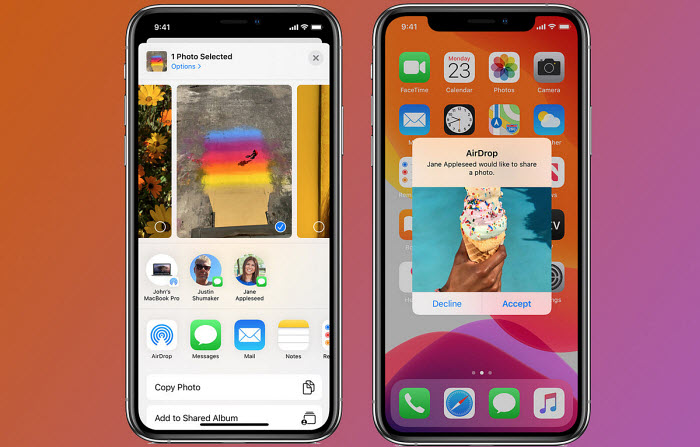 Way 4. Use a File Transfer Site
If you don't want to subscribe to bigger platforms like Dropbox or Google Drive, various file transfer sites also give you a hand to securely share large videos with others. Similarly to cloud services, the file transfer sites let you upload large HD/4K videos, compose an email to the person you want to send the videos to, and attach the videos. The recipient will receive an email with a link to the video for playback or download. To send large videos to someone for free, try:
MyAirBridge enables you to upload and share videos up to 20 GB for free.
Filmail allows you to upload and share videos as large as 5GB for free.
WeTransfer allows you to upload and share videos up to 2GB for free.
Send Anywhere can send videos as large as 10GB for free.
Read more: Does Dropbox compress video/reduce video quality?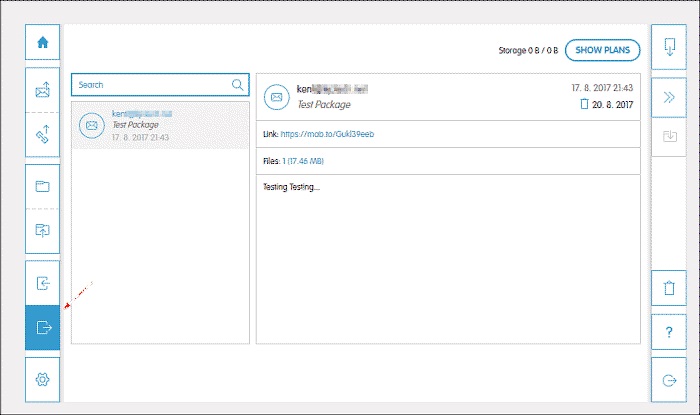 Way 5. Use an External Hard Drive
The best way to send/share large video files securely and fast is hard drive. With a proper USB or hard drive, you can share any videos between members fast without waiting for the long process of uploading to the internet. There are various external hard drives with large capacities and very high data transfer speeds. For 4K/8K large video sharing, external HDDs and SSDs are the answer. They're cheap, capacious and increasingly speedy. Get one and freely share any big video files with your friends. Note that some USB drive is formattted in FAT32, you need to compress the video if the file is larger than 4GB.