How to Compress Large 4GB Video File without Losing Quality
I have some MKV movie copies that are around 4GB. I am trying to reduce the file size by at least in half without dropping serious quality. A little is okay, but I don't want to watch a crappy dark blurry movie.
I just finished a project using some 2.7K 60fps footages from my GoPro. The rendered video is only 7-minute long but has a file size of over 4GB! How do I reduce the file size of a 4gb video whilst maintaining quality so that it is suitable for sharing on Google drive?
Shutterbugs or video lovers may find it frustrating why a simple HD or 4K video recording of a few minutes garnishes 4GB worth of files. They want to compress large 4GB video file to something between 1GB and 2GB or less, without losing video quality. This is also true for movie lovers, who generally collect a lot of MKV or MPEG movie files, normally in the 4GB size, and would love to reduce video file size to get more space back. Or they may want to transfer the large 4GB video file to a USB drive or an external drive that is formatted with FAT32, wishing to avoid the " file too large for the destination file system" error. If you've already saved a lot of video files taken by your DJI drone, GoPro, etc, stay here and learn how to compress 4GB video files for sharing or storing on USB or NAS easily.
Table of Content
#1. Compress 4GB Video Files Online with FreeConvert (Max 1GB)
#2. Compress 4GB Videos Free Online with Compressvideo (No Watermark)
#3. Compress Large 4GB Video Online with KAPWING (720p Quality)
Part 1. How to Compress Large 4GB Video without Quality Loss on Desktop
Desktop video compressor is well known for its stable operation and multiple features available. One of the most reliable tools is WinX HD Video Converter Deluxe, an all-in-one video converter, compressor, downloader and editor. The free video compressor software has a built-in 370+ video/audio codecs and can easily convert and compress 4K/HD/SD videos, while having practical editing features such as trimming, cropping, and parameter (resolution, bitrate, frame rate) adjustment. Thanks to the world's most advanced Intel QSV, MMX-SSE, NVIDIA CUDA/NVENC, AMD hardware acceleration, you can compress the large video files fast and smoothly without burdening your computer CPU.
Free download and install the video compressor software from the official site. After a successful installation, launch the program.
Step 1. Click +Video button at the top left of the interface to load the video file.
Step 2. Choose a video compression method.
Convert video format or codec. You can convert 4K to MP4, MKV to MP4, MOV to HEVC, etc.
Cut unnecessary parts off the 4GB video. Return to the main interface and click the Edit button, where you can shorten the playback time of the video and thus reduce the video file size. Click the Trim button, set the Start time and End time of the video, and remain the necessary part. Also, you can click the Crop & Extend button to get rid of black bars.
Change parameters (resolution/frame rate/bitrate). Click the gear icon to kick off the Setting panel, where you can change the resolution to a minimum of 1920x1080, for example. Set the video frame rate at 30fps or leave it unchanged, and reduce the video bitrate, maybe 50-70% of the source video bitrate is preferably.
Step 3. Click Browse button to specify the destination folder and click RUN button to start video compression process. Then you can import and save the compressed video file to your FAT32 file system or USB or share it easily and fast.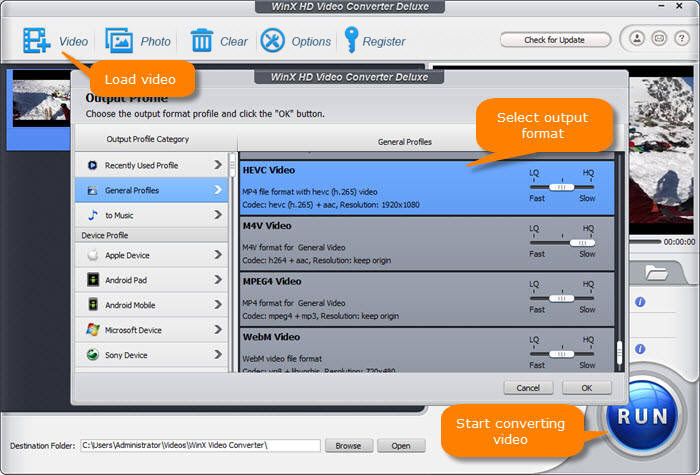 Part 2. How to Compress Large 4GB Video Files Free Online
Free online video compressors advantage over desktop software due to the no additional installation required and ease of use. There are many online video compressor tools such as Clideo, Veed.io, Freeconvert, etc. But bear in mind, most online tools impose restrictions on the file size of the imported video, for example 500MB-1GB normally. Typically, you cannot compress 4GB video file unless you upgrade to the pro version of FreeConvert at a cost of $25.99 per month.
#1. Compress 4GB Video Files Online with FreeConvert
FreeConvert is a well received free online video compressor and is recommended to compress 4GB video files size. You'd better know that it allows users to compress 1GB online for free. To compress large 4GB maximum file size, you have to upgrade to its Pro version, $25.99 per month. The Pro version accepts 3500 conversion minutes/month and 100 conversions at a time. How can you make a video file smaller than 4gb? To make 4GB video file smaller with FreeConvert, you can follow the steps below:
Step 1. Access the official site, and upgrade to the Pro Version to unlock the 4GB file size upload limit.
Step 2. Go to the online video compression, click Choose Files. You can add the 4GB video file from the device, Dropbox, Google Drive or URL.
Step 3. Choose the output format such as MP4, FLV, MKV, 3GP, AVI, or MOV.
Step 4. Enable the advanced options to change the video codec, e.g. HEVC. Choose the Compression method. You can target the file size as a smaller percentage. This will compress video to a degree. Click Apple Settings.
Step 5. Tap the Compress Now button, and it will begin downsizing your 4GB or other larger video file.
Related: how to compress 4GB video file for Discord
#2. Compress 4GB Videos Free Online with Compressvideo
Compressvideo is a 100% free online tool, allowing you to compress 4GB video files online without file size limits. The output video has no watermark. It requires no login, no email, and no subscription. It enables you to trim the 4GB video files for smaller file size by setting the video start time and end time. You can also directly drag the video size slider to compress the 4GB video size. The success rate, however, is not guaranteed. Use the following steps to compress 4GB video files free online without watermarks.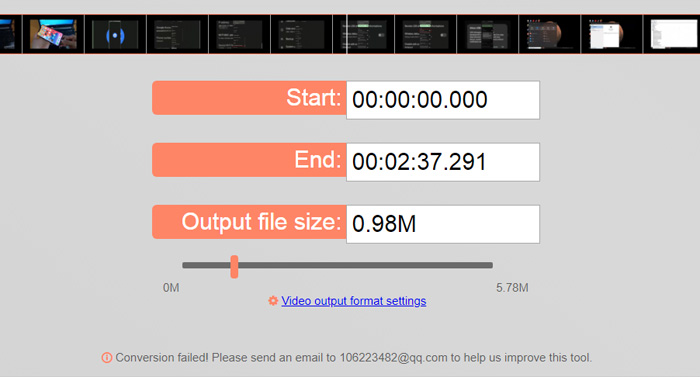 Step 1. Open compressvideo website. Click the Choose a file button and select the 4GB video file you want to compress. You can directly drag files here. Note that it doesn't support uploading 4GB video files from URL or other cloud services.
Step 2. Set the Start time and End time. Drag the file size slider to compress 4GB video files. You will see the estimated output file size there. The video output format settings is also offered to change the video format.
Step 3. Click the Compression button to start 4GB video compression. You might receive error message "Conversion failed! Please send an email to 106223482@qq.com to help us improve this tool".
#3. Compress Large 4GB Video Online with KAPWING (720p Quality)
KAPWING simply allows you to compress large 4GB video file size online by lowering down the video quality. It's clean and easy to use. There are lots of free video editing features which are very useful. On free version, it only compresses 4GB videos up to 7 mins long with a watermark. Videos exports in 720p quality. If you want to compress 4GB videos and export them in 1080p or higher, you'll get disappointed. The connection often cuts out, according to users' review. Stability also depends on your internet connection.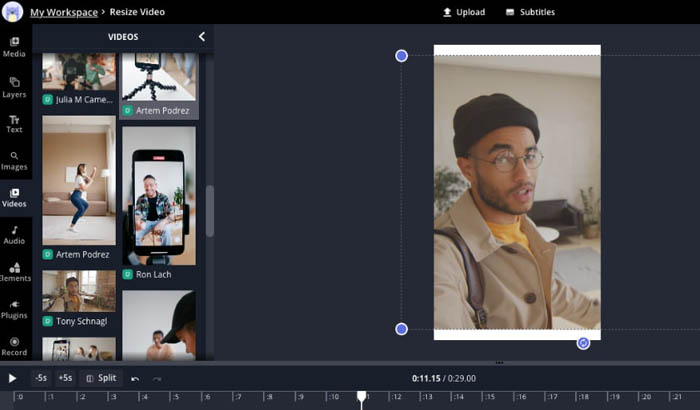 Step 1. Head to KAPWING online video compressor page. Upload the large 4GB video file from your device or copy and paste the large 4GB video URL link from YouTube or other website.
Step 2. Under the Export Settings in the video editor page, use the slider to compress large 4GB video size to the size and resolution you want. You can export your video in MP4 format.
Step 3. Wait for the video to process. Download the compressed video in a click. The exported video is limited in 720p video quality with a watermark.
Round up
That's all for the 4GB video file compression. Each method has its advantages and disadvantages. For the video compression software, it features fast compression speed and is able to handle the larger video files, 4K or HEVC file smoothly. Whileonline video compressors are easy to use, but the compression speed is not fast and there are generally file size restrictions. If you want to compress 4GB video files, it's advised to choose the desktop tool to fill your needs.
Part 3. Introduction of 4GB Video File Compression
There are several ways to compress the 4GB video file. Read on to figure out more details on how to compress 4GB video files. You can select the best way to make large 4GB video size smaller, based on your needs.
1. Lower video resolution, bitrate and frame rate.
First of all, the 4GB movie file or video recording can be downsized by lowering the resolution, bitrate and frame rate of the video file. It is the most common method to compress a video file. But you have to bear in mind that heavy reduction of video resolution and bitrate leads to quality degradation.
2. Take advantage of high efficiency video coding.
Compressing large video file and re-encoding it in HEVC codec can make the file smaller without visual quality loss. HEVC codec is a well-known high-efficiency video coding technology, which halves the file size at the same quality level compared to H.264. However, videos encoded in HEVC are not well compatible with all players or devices. For instance, you have to install HEVC video extension from Microsoft for smooth HEVC playing.
3. Cut off unnecessary part of the 4GB video.
It's highly advised to remove unwanted parts of the video file. Most video editing tools offer the Crop and Cut features to fit the bill. By doing so, it will compress large 4GB video file with your image quality untouched.