4K Video File Size Recorded by iPhone/Samsung/GoPro
Here is what we can get from the above table:
1. The size of a 4K video recorded by iOS 11 is much smaller than it is recorded by iOS 10, simply because iOS 11 supports shooting 4K in HEVC codec while iOS 10 only has H.264 (iOS 11 vs iOS 10). FYI, 4K video recording at 24fps and 60fps is only available on iPhone X/8 (Plus), with file size 135MB and 400MB for 60 seconds respectively.
2. Samsung mobile and GoPro Hero 4 camera only support shoot 4K video in H.264. Especially, there is a 10-minute limit for 4K video recording with Samsung Galaxy S8, probably in consideration of the big file size of 4K. So technically, you can download a 120 minutes feature length 4K movie on Samsung Galaxy S8, but it won't let you record 4K at 30fps longer than 10 minutes. Besides, a 4K video clip recorded by professional cameras is mostly bigger than that by mobile phones.
3. Based on the configurations we listed above, it is easy to calculate how much space a 4K movie video will take up on different models. The test result tells that a 32GB iPhone 7 running iOS 10 can store only one 4K video at 30fps. Next we will show you how many feature length 4K movie videos at 30fps can be downloaded to your iOS, Android and camera devices: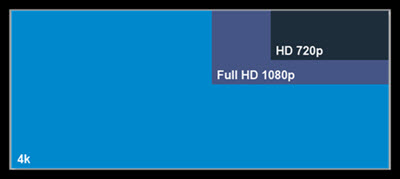 How to Deal With Big 4K File Size?
4K is four times as many pixels in total as FHD 1080p, which leads to file size increases accordingly. If you still stick with iPhone 7 or maybe iPhone 6/5S with only 16GB/32GB storage, a 45-90 minutes 4K video would eat up all the space, leaving your mobile freezing or crashing. Of course you can simply delete those 4K files to revive your phone. Also it is a good idea to transfer 4K videos to PC, cloud or external hard drive for saving and playing on PC/TV. Better to use a 4K file transfer software that can cut down the long time taking for transferring large-size files. But if playing 4K on iPhone/Android mobile on the go is what you want, compressing a 4K video file would be the best way.
Compress or Resize Big 4K Video Files in Three Ways with WinX HD Video Converter Deluxe
To compress a 4K video, you should firstly know what the most important factors are. Generally, video file size depends on the length of video, bitrate, FPS (frames per second) and codec. Changing any one of them would help resize your video files in 4K. Besides, a top 4K video compressor and video size reducer is a necessity to facilitate the whole process, saving you the time and trouble to calculate settings.
Need to mention that handling 4K video compressing/resizing, be it 4K HEVC, 4K H.264, 4K MKV, 4K MP4 video, etc. may be very slow without Hardware Acceleration. A video processing program WinX HD Video Converter Deluxe which fully supports Intel QSV, NVIDIA CUDA/NVENC hardware acceleration tech would be a greate helper in resizing large 4K videos. It can fully utilize computer GPU hardware acceleration to speed up the large 4K video decoding, processing, encoding, thus, let the CPU of your computer free from huge burden.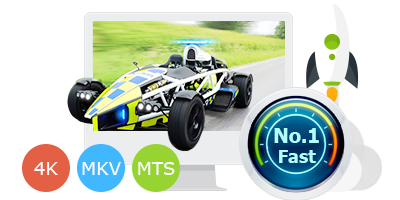 WinX HD Video Converter Deluxe - Superior 4K Video Resizer with Hardware Acceleration
▶ Convert iPhone, Samsung, Gopro, drone 4K videos to 2K, 1080P, 720P and more with best quality.
▶ Convert 4K H.264 to 4K HEVC/H.265 or vise versa, re-encode 4K MKV to 4K MP4 at lightning speed.
▶ Convert 4K video to MPEG4, AVI, WMV, MOV, FLV, 3GP etc. for playing on different devices/video players.
▶ Resize 4K video at No.1 fast video processing speed with smaller output file size and high quality.
Way 1. Guide | How to Resize 4K by converting 4K H.264 to 4K HEVC
As we said before, HEVC codec, being the successor to H.264, utilizes a much more efficient compression algorithm and is the main codec used to compress 4K/8K UHD videos. So it is easy to resize a big 4K H.264 video file. Just convert 4K H.264 to 4K H.265 (HEVC).

Step 1: Download WinX HD Video Converter Deluxe, launch the WinX 4K video resizer software after the installation, and load your 4K H.264 file by clicking "+Video".
Step 2: On the pop up "Output Profile" window -> General Profile -> HEVC Video (MP4 file format with hevc/h.265 + aac, resolution: 4096x2160).
Step 3: Since decoding, processing, encoding 4K, HEVC/H.265 videos may be slow, WinX HD Video Converter Deluxe adds unique hardware acceleration support for 4K, HEVC, H.264, or any other large video conversion to deliver an ultrafast speed. Optionally tick Intel or NVIDIA hardware transcoder option to quicken the process.
Step 4: Click OK, browse to choose a destination folder and click RUN to fast convert 4K H.264 to 4K HEVC with hardware acceleration on.
>> See other ways to compress 4K H.264/AVC videos

Way 2. Guide | How to Resize 4K by converting 4K 60fps to 4K 30fps
Is there really a big difference on file size between 4K 60fps and 4K 30 fps? The answer is yes. Here is how we do the test. Go to youtube.com, choose a 4K video from the results, and play the video. Click the gear icon at the bottom right corner, choose Quality, and then you can switch to 2160p 60fps. Seemingly, there is only 60fps option. But if you copy and paste the video url to the YouTube download function part of WinX 4K video resizer, you will see there are two outputs options under the same resolution, format and codec, but in different file size. Actually, one of them is 4K 60fps while the other is 4K 30fps. So it is true that you can change 4K video file size by adjusting frame rate.
Step 1: Open the WinX 4K video resizer, click "+Video" to get 4K 60fps loaded and then "OK" to get back to the main interface.
Step 2: This time click the gear icon next to the trash can button and click into the parameter center.
Step 3: Move to "Video Options" -> "Frame Rate" -> select 30 from the dropdown list and RUN to fast resize 4K video file with hardware acceleration.
Note: Changing frame rate to resize 4K video is not appropriate for all, for example extreme sports videos. Besides, we only recommend converting 4K 60fps to 4K 30fps instead of 24fps or 29.97, which may lead to distorted output image.

Way 3. Guide | How to Compress 4K video by converting 4K to 1080p
"I used to record everything in 4k because it looks sharper and has more detail but it was so much work on my video editing program and took up so much space, that I switch to recording on a basic 1080p setting." Downscaling 4K to 2k or 1080p is a good way to cut down 4K file size, if it's ok with you.
Step 1: Launch the software, load your 4K video file through button "+Video".
Step 2: Get into the same video audio parameter center by clicking the gear icon.
Step 3: Choose 1920x1080 from the dropdown list of "Resolution" under "Video Options" and press button RUN to compress 4K video to smaller at fastest speed with hardware acceleration. See also: How to Convert 4K to 1080P with HandBrake

If you can't play 4K videos on PC/mac or still have question on 4K video file size compressing? Please feel free to Email Us >>
Need to fast resize 4K/8K Ultra HD movies videos for YouTube uploading, playing on iPhone iPad Android, or any ohter purpose? You can use the only level-3 hardware accelerated video converter - WinX HD Video Converter Deluxe