Top 10 Best 4K Video Converters for Windows (10)/Mac in 2021
4K wins its popularity for much crisper picture and higher definition it features. Its proliferation shows no signs of slowing down especially when GoPro, DJI, iPhone, Canon announce the ability to shoot 4k 10bit HDR video at up to 60fps. But is your PC really on deck to keep the ball of 4K videos rolling? There are times you need a 4K video converter to well handle 4K Ultra HD videos. Why?
Why You Need a 4K Video Converter?
A 4k video is high in resolution, which is 4 times the pixel resolution of 1920x1080p.
The bitrate is probably between 100-600mbps upon inter/intra compression, thus the file size is shockingly bulky - upon GBs.
4k frame rate reaches up to 60/120fps. This demands high on hardware compared with 4k 30fps or 1080p 60fps video.
4k video is commonly encoded with computer-intensive HEVC codec and 10bit color format, which requires weighty operation and thus exerts high requirement on PC, editing software, and more.
Consequently, it's hardly a seamless experience to play and edit 4K files on older computer. Choppy playback and high CPU usage frustrate you on your underpowered computer. Error messages such as "unsupported video codec", "codec missing" pop up when importing 4k footage. Playback gets suddenly laggy while editing 4k. Uploading them can be lengthy. Click to see the complete 4K UHD video errors & solutions >>
If you don't plan to update your underpowered computer workstation, and unfortunately the choppy performance still exists even with the help of a 4k video player, it is highly suggested to seek for a capable 4k video converter to remove all the troublesome 4k errors.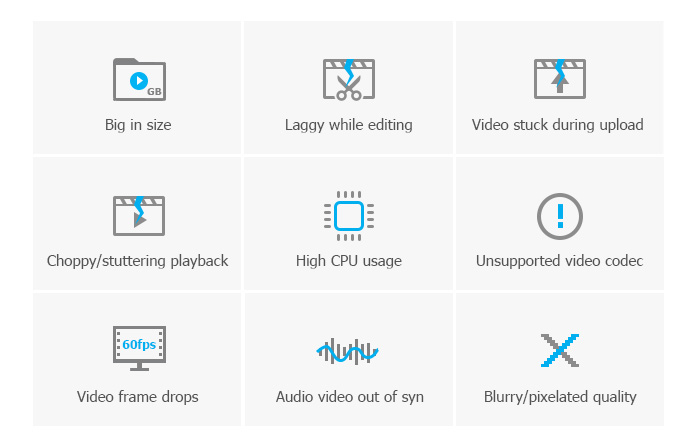 List of 10 Best Free 4K Video Converters

How to Convert 4K UHD Videos Fast and Losslessly

FAQ about 4K Video Conversion
Top 10 Free 4K Video Converters for Windows and Mac
In the following section we share a handpicked list of top paid and free 4k video converters. Here is an at-a-glance look at our top picks. Let's hop into it straightaway.
#1. WinX Video Converter
WinX Video Converter is one of the top 4K video converters that give you an ultimate control over 4K, 5K, 8K, HD 1080p and large video files, no matter they're saved in .mov, .mp4, .mkv, or encoded in H.264, HEVC, VP9, AV1 video codec. It enables you to downscale 4k to 1080p or 720p for virtually all devices without jerky/choppy issues, and upscale 1080p to 4K UHD with best quality to perfectly fit with bigger 4K screen.
Bonus Points: These days, your smartphone, DLSR/mirrorless camera from Canon, Sony, GoPro or DJI can shoot high quality 4K video, but the size of the video file balloons quickly. It's painful when your memory card maxes out or you want to share one of the files on the internet. WinX Video Converter can compress and resize 4k without losing quality. It also features both an online 4K video downloader and a video editor to cut/merge/crop 4k file.
Unique Tech: WinX Video converter features the unique level-3 hardware acceleration tech, taking advantages of NVIDA CUDA/NVENC, AMD and Intel QSV to improve the efficiency of 4k video encoding, decoding and processing. Meanwhile, High Quality Engine and De-interlacing Engine go into high gear to assure a 4K ultra high quality at fast conversion. This helps to convert 4k video in a flash, and higher video size compression ratio is achieved with only subtle pixel-level quality difference!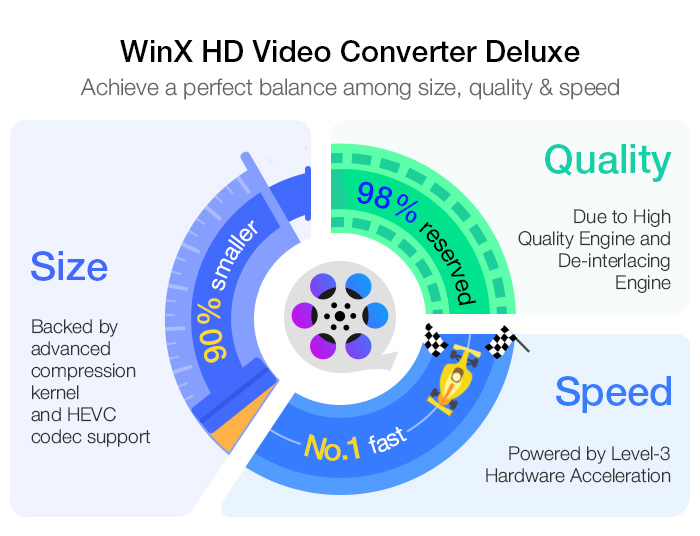 #2. Handbrake
Handbrake is an open source video transcoder that can free convert 4K (4096x2160 and 3840x2160) or 2K footage to popular formats like MP4 and MKV. It also works as a 4k upscaling software that includes 4k presets so that you can export 2160p content for 4k capable device like Roku, Apple TV 4k, Chromecast, etc. Learn more about how to use Handbrake >>
Bonus Points: The good thing we experienced with Handbrake is the support for batch processing in the queuing feature. This is especially helpful to encode a folder full of 4k x265 files freely in one fell swoop.
But: Handbrake is not very approachable look. Although it is packed with a handful of options available to customize precise encoding settings, tweak frame rate, and more, it means something of a learn curve to some extent, especially if you are just a beginner.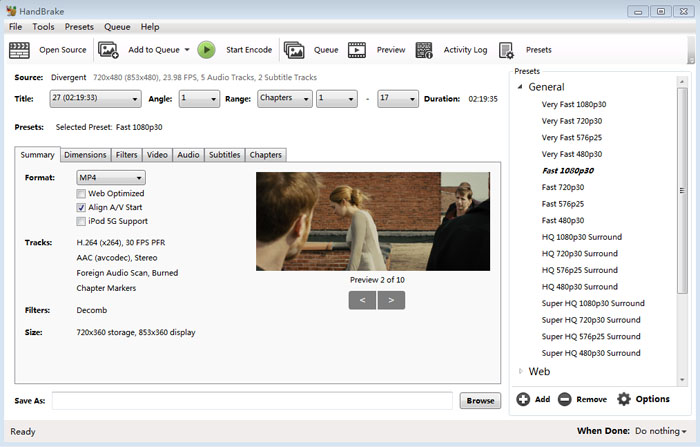 #3. VLC
VLC is known as a free impressive media player to play 4K, 8K and other video/audio files without downloading additional codecs. It can also convert videos from one storage standard to another, including MP4, MKV, WMV, AVI, MOV, RAW and more. Starting from version 3.0, VLC is also used as a free 4k to 1080p video converter if playing 4K is somehow stuttering.
Bonus Points: In spite of the fact that VLC is mainly used for playing media files, it has many editing features. You can cut or crop your 4K video, reverse your file, and so on.
But: VLC is a media player by default. Converting 4K videos can be a little bit confusing as there is no Export or Convert button in the interface.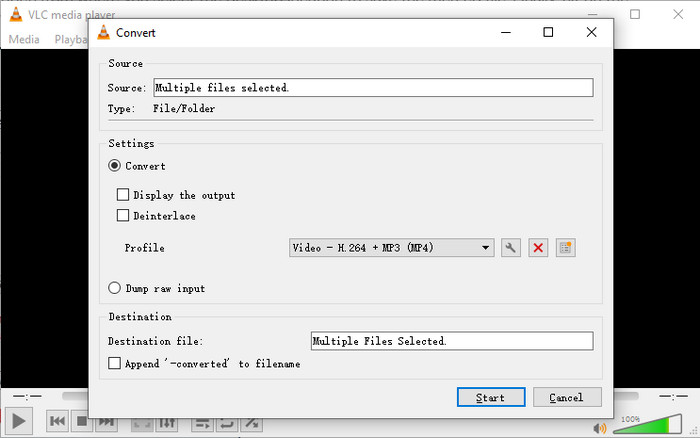 #4. FreeConvert
FreeConvert is an easy online file converter that helps you free converting large 4K/HD video files up to 1GB, whether they are saved on your device, Dropbox, Google Drive, or URL. It converts more than 60 video formats to popular video format such as MOV, FLV, MP4, MKV, AVI, WMV, 3GP, OGV, WebM, and audio formats like OGG, WAV, MP3, FLAC, AAC, M4A, etc. It's even available for you to convert to video device such as Xbox, iPad, iPhone, Android, Kindle and PSP.
Bonus Points: You are given full control over the video parameters before conversion, be it video codec, screen size, aspect ratio, frame rate, audio codec, bitrate, channel, or volume. Basic editing features are available for you to cut, rotate, and flip video, add subtitles and make audio fade in and out. It supports up to 20 video conversions in batch.
But: It takes a long time to convert a video, especially a 4K large file, compared with desktop 4k video converter. #5. Any Video Converter
Any Video Converter is introduced with the ability to convert any video files, including 4K UHD videos. It boasts a fairly wider compatibility with a long list of options, incl. 100+ inputs and 160+ outputs. You are guaranteed to convert 4K 60fps HEVC video to H.264 or downscale the resolution from 4K to 1080P or 720P for playback on underpowered devices smoothly.
Bonus Points: Hardware acceleration is enabled for conversion acceleration. Additional features like DVD burning, video downloading and playing can be enjoyed.
But: Personal 4k video converting experience tells that the quality it outputs is far from good as the original 4K. Typically, there are mosaics, and you would notice buggy playing with a blank screen in the window. What's worse, AVC will include bundled extra software and constantly nag you to purchase the pro version.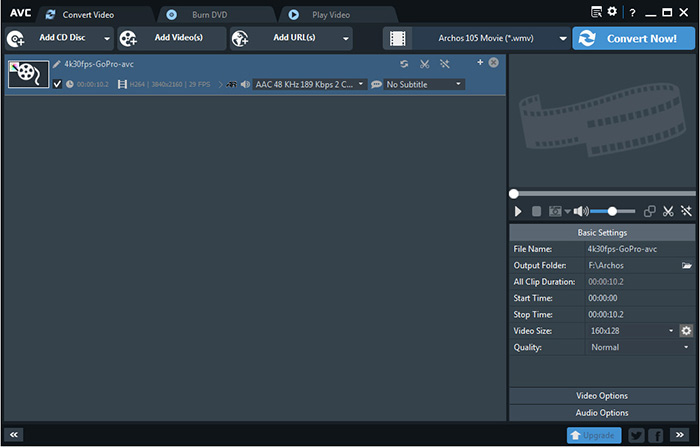 #6. HDconvert.com
HDconvert.com is a safe online video converter tool that has been existed for some years. It is able to free convert 4K/HD video to MP4, MOV, AVI, MKV, FLV, 3GP, and other audio formats. Furthermore, you can take advantages of its advanced options to adjust the video quality to full HD, UHD 4K, change the video codec to HEVC, tweak the audio bitrate to 40MB/s, remove audio track, cut the video and more.
Bonus Points: One of the main advantages of HDconvert over other online 4k video converters is the no file size limit. This means you can upload file larger than 1Gb with ease. And it is extremely fast with speeds up to 900 frames/second.
But: Watermark is accompanied with your final video using its free version and the video option is limited to 720p or lower. But you can upgrade to its premium option to save the video in higher-quality at up 4K without watermark.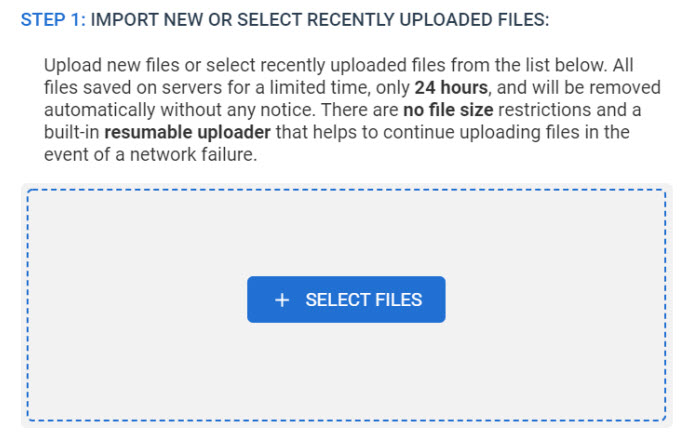 #7. FFMPEG
FFmpeg is a free and open source software project containing libavformat, libavcodec, libavutil, libavdevice, and more, which can be used by applications. It is skilled in every task related to media file, be it media compression, file type conversion, or video recording. It is able to convert and compress 4k with huge data size to a compact file (something like 800 to 20MB) after rendering.
Bonus Points: In addition to having great flexibility over demuxing, decoding, processing, encoding, and settings, FFmpeg can crop, stream, merge audio and video from different sources and perform many other tasks, with superb speed.
But: FFmpeg is inferior to other 4k video converter as it has a little bit of a steep learning curve. Almost 99% of users are scared from using the tool since they won't have a clue how to use it or know what a command line is.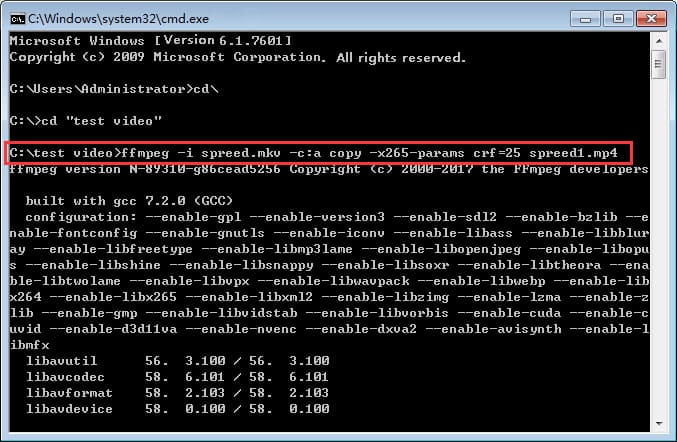 #8. Wondershare Uniconverter
Uniconverter is the go-to tool for your 4k video conversion needs. It features a modern interface that holds all the essential features, from video/audio converting, recording, compressing, downloading, to editing. It is able to convert 4k video to nearly 1000+ formats together with preset profiles for the mainstream devices. Besides, video transfer, batch processing, and DVD burning for more advanced users' needs.
Bonus Points: Uniconverter is praised for its simple interface and one-stop shop for video processing.
But:It is somewhat expensive, and HEVC conversions are relatively slow in our test.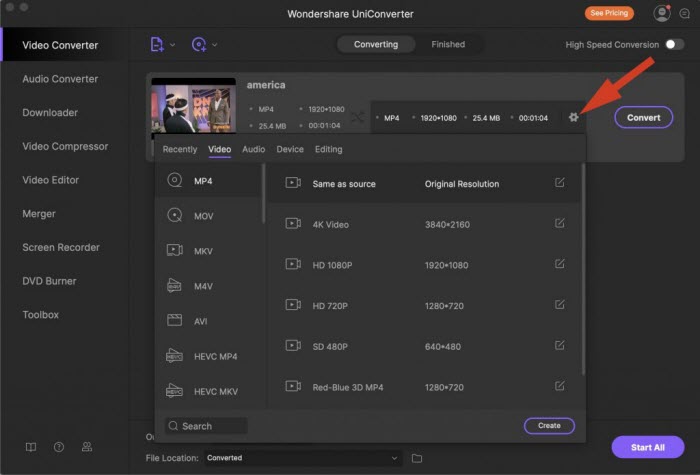 #9. DivX Software
DivX Software is an award-winning video software for Windows and Mac that features three components including high-quality video player, media server, and DivX converter. With the DivX Converter you can convert high quality HEVC, DivX, AVI, and MKV up to 4K. This software also help you convert large 4K video to small sizes without noticeable loss in quality.

Bonus Points: DivX Converter features many other advanced options such as DVD backup, basic video editing, cloud connect, Wavefront parallel processing, Target Quantizer, and more.

But: The program sometimes freezes.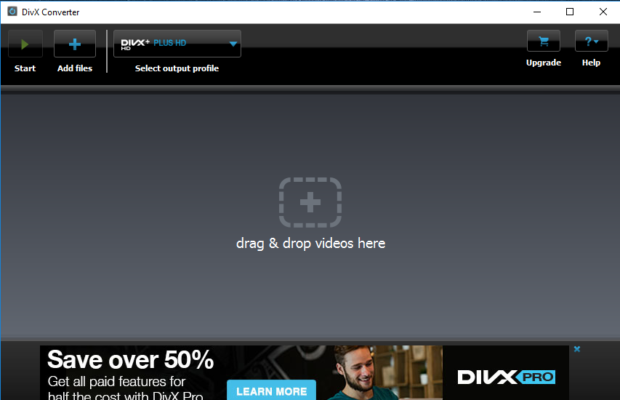 #10. Acrok Video Converter Ultimate
Acrok Video Converter Ultimate is included in the list of top 4K video converters for its ability to convert 4K/1080p videos, particularly output from Blackmagic camera, to video formats compatible with editing software like Premimere pro CC, Vegas Pro 17, Davinci resolve and more.
Bonus Points: Supports 4K videos output from almost all cameras or camcorders, such as Canon, Nikon, Sony, Panasonic, JVC, Blackmagicdesign, etc; supports NVIDIA CUDA and ATI Stream acceleration technologies for streaming 4K videos fast.
But: It seems Acrok needs to change the visual appearance since the interface looks outdated. Plus, the custom options are limited, and the quality of output files is not so good as that of other 4k video converter tools.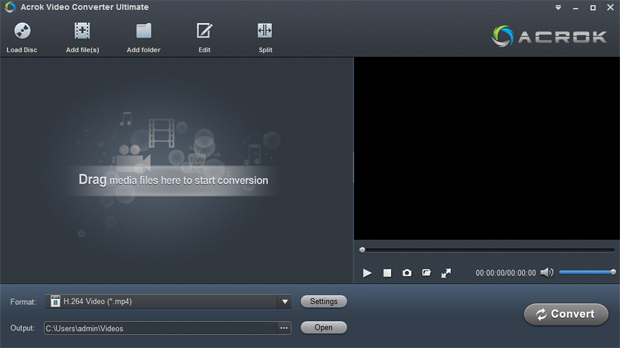 How to Convert 4k Large Video Fast and Losslessly with WinX Video Converter
The above list of 4k video converters are a great helper to convert 4k videos. But do you know how to decode and encode 4k videos for diversified occasions? The following section will cover the guides of how to convert 4K video codec from HEVC to H.264 for better compatibility, compress 4K to 1080p HD to downsize video, and upscale 720p/1080p HD to 4K for better quality with the aid of WinX Video Converter.
Guide 1. How to convert 4K HEVC to H.264 MP4
Step 1: Free download and install WinX Video Converter on your Windows 10/8/7. Launch the program and click + Video button to load your to-be-converted 4K (HEVC) video on computer. The free 4k video converter supports any 4k video sources, be it is saved in XAVC S-I, XAVC HS, MOV, MP4, MKV, Cineform, Prores, or so. Besides, you're allowed to insert multiple video clips for batch conversion.
Step 2: In the blink of an eye, Output Profile window pops up, go to General Profiles > MP4 Video (h264+aac) > Done to transcode 4K HEVC to H.264.
Step 3: Click Browse button to specify the output folder path if necessary. Then tap RUN button to transcode HEVC encoded 4K videos to H.264 MP4. Then you can feel free to import the final video to your editing program and play it on Windows PC/Mac, iPhone iPad, Android, XboX One, PS4, HDTV, and more fluidly.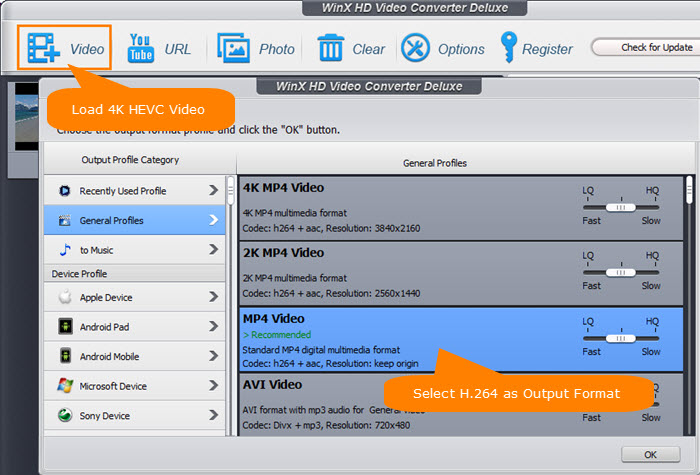 Guide 2. How do I convert 4K to normal 1080p
Step 1: Go the same steps to import large-sized 4K UHD videos to this 4K video converting software.
Step 2: Choose output format. You can continue with your source 4K video format, or choose MP4 as output format for better compatibility.
Step 3: Click the gear-shaped Setting button to enter the parameter setting window. Then click on Resolution to open the drop-down menu, where a wide range of resolutions are available for your choice. Then you can choose to lower the resolution from 3840x2160p to 1920x1080p, which is always recommended for great image quality on mobiles, game consoles, desktops and so on. Here are the detailed steps to downconvert 4k to 1080p >>
Optionally, you can also downscale the video bit rate, lower 4K 60fps frame rate to 30fps, change aspect ratio for widescreen display, or alter audio settings in this parameter setting window. WinX Video Converter is able to shrink 4k video size by over 90% with just pixel-level difference. You can click for detailed tutorial to reduce video file size >>
Step 4: Hit RUN button to start converting and compressing 4K videos. Then you can store more video in your storage device, smartphone, cloud service etc and upload the video faster.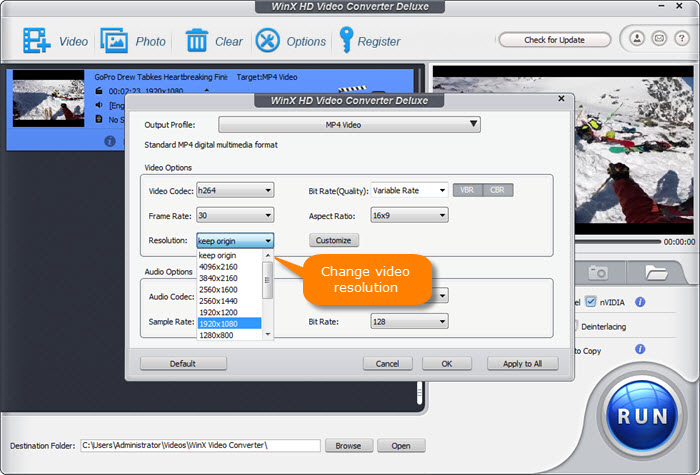 Guide 3. How do I convert 720p/1080p to 4K
There are occasion that the video looks blurry on 4k TV or other monitor when you are trying to watch 1080p HD or SD content. This is because the low-quality content is not providing enough information to fill out the 4k display, thus the bigger and sharper screen makes low-quality content looks poor. You can follow the steps to upscale the blurry SD/HD quality source to 4K with best quality, so you can enjoy the immersive "upconverted" 2160p video on fabulous 4K TV/consoles.
Step 1: After you free download and install the 1080p to 4k converter, click + Video button to import the 720p or 1080p video for 4k upscaling.
Step 2: Go to General Profiles, and then choose 4K MP4 Video as output format. In the selected profile, you can move the slide bar to HQ/Slow to enhance the output quality, though it will slightly lower the conversion speed.
Step 3: Make sure you have ticked on the Intel/nVIDIA hardware accelerator box if your computer is configured with hardware acceleration graphic cards. Then hit RUN button to accomplish HD to 4K upscaling at 47x real-time faster speed.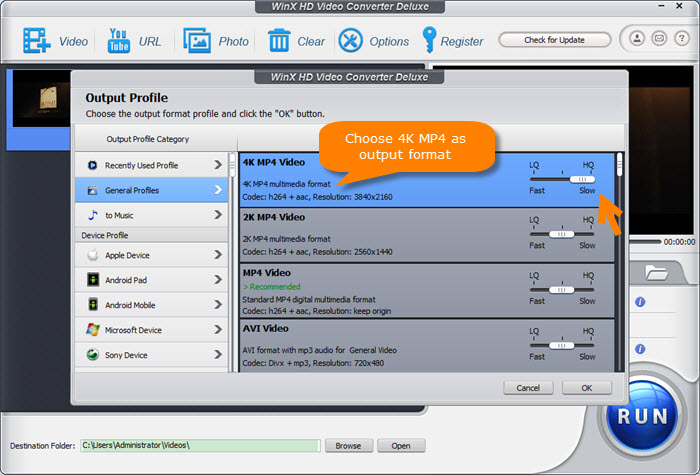 Video Tutorial: Convert 4K Video to 1080P Quickly without Losing Quality
FAQ about 4K Video Conversion
Q1. Can you convert a video to 4K?
Yes. Many programs do 4k upscaling. But there is no guarantee the upconverted footage gets better looking. At this point, the original video source, viewing distance and the screen play an important role if the quality matters a lot.
To be exact, pixels will be stretched bigger than they are made to be stretched, but the image quality is not truly 4k quality. If you watch the upconverted video on a large 4k screen, it will look pretty bad. This is especially true with your SD quality video such as 360p or 480p video. Only when the screen is small or the viewing distance is great, will there be less jarring between 4k and the upconverted video. So it's not advised to convert SD video to 4k, instead you can convert 720p or 1080p video to 4k with WinX Video Converter.
Q2. How do I convert 720p to 4K?
Converting 720p video to 4k means you can play it on a larger screen without pixelated problem. For the recent 4K TVs, they are equipped with upscaling tech that can upscale your lower-resolution content to fill the entire 4K TV screen. But if you want to upconvert 720p to 4K on PC, you need to rely on a 4k video converter software. WinX Video Converter is one such tool built in unique motion-adaptive 4k scaling algorithm, meant to fill new interpolated pixels into the source 720p video intelligently.
To do the job, just feel free to download the 4k video converter on your PC, load the source 720p video in whatever format, choose the output format 4K MP4 video, click RUN, and leave the program doing the rest.
Q3. Can converting affect 4K quality?
It depends. Any video compression will result in quality degradation, let alone 4k video transcoding. But if you just want to convert 4k video from one video format to another, without tweaking the video codec, bitrate, frame rate or so, there is no quality loss at all.
Q4. What's the best 4K video converter?
We've already listed the top video converters designed for 4K UHD video, with WinX Video Converter and Handbrake leading the pack. Generally, it will have a large range of format options, available to change video file into a different format or a compact file, either to play on a particular media player, or allow for a more efficient video editing process, fast sharing, and less consumption of space on your device. You can choose the one based on your specific needs. But there are key factors to be considered.
Fast 4k converting speed: Speed is a key factor. Incapable tool will take a long time to convert 4K to 1080p video, and worse still crash when handling large 4k HEVC file. Resorting to a 4k video converter with hardware acceleration enabled is a cut-through way, as it utilizes GPU to decode, process and encode the massive data of 4k and spares CPU for other tasks, and thereby saving you a lot of time.
Good 4k compression ratio: The good news is that almost all video converters can downsize 4k easily while the bad news is that you will lose video quality inevitably. So balancing the quality and file size is known as a crucial factor for 4k video converter.
Customizable 4k video settings: Statistically, the current 1920x1080 display resolution accounts for 67%, which means playing 4k on the screen cannot be satisfied. Meanwhile, most video editors cannot handle variable frame rate and HEVC codec well and will result in A/V sync or codec error when processing 4k file. To the end, it will be the icing on the cake if the 4k video converter is available for you to tweak the video resolution, codec, frame rate and other parameters.

Free download WinX HD Video Converter Deluxe to solve all 4K video errors >>
Q5. What is the minimum system requirement for 4k video?
To smoothly handle 4K video files, make sure that a qualified computer is in use. Here goes the minimum system requirements for 4K playback.
Minimum System Requirements

4K HEVC video Playback

CPU

7th generation Intel Core i7 (Kaby Lake) processor equivalent or better, 3.5GHz or better

GPU

Intel® Iris™ Pro Graphics 5200
Intel® Iris™ Graphics 5100
Intel® HD Graphics 4200 or newer
Nvidia GeForce GTX 650 Ti or newer
AMD Radeon™ HD 7000 Series or better
GTX 1660Ti or newer will be good for 4k editing.

RAM

8GB or more

Hard Drive

1TB with at least 400M/S transmission speed for 4k video editing

Operation System

Windows 10/macOS High Sierra or later

Ports

HDMI 2.0 or DisplayPort 1.2 for 4k 60fps
HDMI 2.0a or DisplayPort 1.4 for 4k HDR

Display

Make sure your 4k display is set to run at 3840x2160
at least a 60Hz refresh rate and HDCP 2.2

Codec

HEVC video extension

Internet bandwidth

At least 25 Mbps
If you are not planning to upgrade your computer system and handling the computer-intensive 4K video is a little bit troublesome, such as freezing and laggy playback, you can resort to a 4K video converter to transcode 4K video to a more compatible format for later playback smoothly.
Q6. What is 4k video?
4K resolution has already won a wide hardware and software support, which is on the way to insurgently overtaking other video resolutions like 1080p High Definition format.4K Ultra HD (4K UHD) video itself refers to the video of a pixel resolution of 4096x2160 (4,000 pixels, 8.8 megapixels, 17:9 aspect ratio) mainly for digital cinema, or of a resolution of 3840× 2160 (8.3 megapixels, 16:9 aspect ratio) mainly for Ultra HD television.
By far, HEVC/H265 codec and VP9 codec are driving the developement of 4K Ultra-high definition videos. 4K is four times of the resolution of 2K projector and 1080p HDTV. At 4K resolution, every single details and Close-ups on the image can be seen. If adopting the amazing 4096x2160 UHD resolution in cinema, a film can deliver an indescribable and unprecedented enjoyment for audiences at any angle for the crystal clear picture, sparkly bright color and Hyper-reality sound (if any).