Best 4K Video Editors for Windows 10/11, Ranked by 1000 Users
4K video editors are important for those who shot UHD footages quite often with cameras, GoPros, phones for social media. Most video editing programs offer options to cut, trim, add effects, transitions, titles, and templates. Advanced video editors also include image stabilization, speed warp retiming, 3D operations, masking, color matching, audio mixing, etc. Here we gather top-ranked 4K video editing programs for Windows 10/11. Whether you are an amateur editor who hates a steep learning curve or a professional who is looking for advanced video editing capabilities, you'll get the tool you need. Before you start, check 4K video editing computer requirements.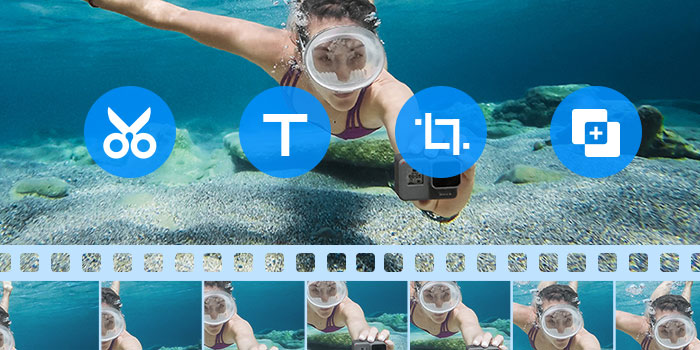 GPU Accelerated 4K Video Editor and Converter
WinX HD Video Converter Deluxe is worth trying. The program adopts Level-3 hardware acceleration, making 4K video post-production smooth without stuttering. It offers basic 4K UHD video editing options, like trimming, cutting, compressing, adding subtitles, etc. Users who have a low computer system can resort WinX HD Video Converter Deluxe to convert 4K UHD to 1080p.
Part 1. 4K Video Editors for Beginners
For those who get started in video editing or just want to create some videos for YouTube, Instagram, the following simple-to-use video editors for beginners are recommended. Some users only need to do basic video editing, like trimming, adding subtitles, transitions, these video editing software can cut the mustard without requiring much studying time.
#1. Clipcham - Free Online 4K Video Editor
Pros: No need to download a desktop program.
Cons: 480p export for free users, simple video editing features.
A free online tool is a good choice for casual users. You don't need to download a program on your Windows 10 PC. Clipcham allows you to cut, flip, rotate, crop, add titles and transitions without watermarks, and other features. The online 4K video editor is limited to free registered members. It only exports unlimited 480p SD videos. To get 1080p Full HD exports, you have to upgrade to a BUSINESS plan that charges $19/month.
#2. Avidemux
Pros: Ease of use, wide video format support.
Cons: only basic video editing functions such as cutting, filtering, encoding.
Avidemux offers more features for beginners, compared with Clipcham and other free online 4K UHD video editors. The program supports various 4K Ultra HD video formats and is designed for simple video cutting, adding subtitles, filtering, adjusting colors, encoding, and more. It supports changing the size and video audio format of the 4K video.
#3. Shotcut
Pros: Wide format support, many additional features.
Cons: No direct export for YouTube, Vimeo, Instagram, etc.
Shotcut is a well-known open-source video editor. It can work as a nice 4K UHD video editor for novice videographers. Many users download Shotcut as an alternative to Windows Movie Maker for Windows 10. It does what most advanced Windows 10 free video editing software does and has many extra features. Wide-format support and stunning editing features make Shotcut one of the best 4K video editing software for Windows 10. Check the beginner's guide to getting started with Shotcut.
#4. HitFilm Express
Pros: 410+ effects and presets, 3D compositing.
Cons: Getting free code requires sharing to social media.
HitFilm Express is a brilliant tool for editing 4K UHD videos on Windows 10. It is suitable for beginners, YouTubers, and gamers. Unlimited tracks and transitions are available, plus 410+ effects and presets, full 2D and 3D compositing. To get a free Express serial code, you are required to share via social media first. And the social media link will take you to the download page.
Pros: easy to use, designed for editing 4K videos for social media, various video effects.
Cons: Poor color matching.
If you want to edit 4K Ultra HD footages on Windows 10 for posting to social media, Cyberlink Powerdirector makes it quite easy. It produces videos in square ratio, or create vertical videos. This free video editor proves to be the best choice for YouTubers, Instagrammers, and Vloggers. It gives a large library of video effects, audio tracks, and editing features, requiring no steep learning curve.
Part 2. 4K UHD Video Editing Software for Professionals
Pros: Unlimited multi-cam angles, fully support 4K and 8K FUHD, stellar stabilization, rich organizational tools.
Cons: Lack of media keyword tagging.
Adobe Premiere Pro wins the top position in the 4K UHD video editor review. The industry-leading video editing program has any feature a pro video editor needs. It even supports importing 8K UHD and virtual reality clips. Lots of organizational tools are included. Processing speed, stellar stabilization, and wide file format support are highly praised. A drawback commonly mentioned by users is its lack of media keyword tagging. Some additional apps such as After Effects are required for some techniques.
#2. Lightworks
Pros: Support wide media format, professional editing features, Lo-Res Proxy workflows for 4K, export video for YouTube/Vimeo.
Cons: free version only exports up to 720p.
Lightworks has millions of downloads and registrations. The video editor works like a charm on the 4K film project and has been used in many movies such as The Wolf of Wall Streat, Hugo. It delivers a professional-level 4K video editing performance free. You can directly export videos to YouTube, Vimeo, up to 4K. It supports a wide range of video formats, including variable frame rate media. The free version can only export up to 720p resolution.
#3. DaVinci Resolve
Pros: GPU accelerated video post-production, new fusion VFX features.
Cons: Deep learning curve, a high-end computer is required for advanced functions.
The free video editing software for Windows 10 combines professional 4K editing, video and audio post-production into one tool. DaVinci Resolve 16 adds some new fusion VFX features that enable users to connect effects and tools together. GPU accelerated 4K video editing performance in Windows 10 makes the tool differ with other competitors. Some tech sites say DaVinci has no direct export to social media, in fact, the program offers quick access to export and upload video projects to YouTube and Vimeo. Advanced features require a deep learning curve.