How to Fix Scaling Issues When Using 4K Monitor on Windows 10/11
Since 4K monitors become affordable, many people, especially those gamers and creative pros, choose to invest a 4K monitor. But after they connect the 4K screen they just bought to their Windows 10 PC, they find it doesn't behave like they expect. Fonts are blurry and fuzzy on the 4K UHD display. Desktop icons are very tiny. The user interfaces of programs are too small to use and the texts are painful to read, because many programs are still not written for such high resolution.
Don't be too quick to pull off the cable between your 4K monitor and PC. These are typical scaling issues on Windows 10 and can be fixed by doing some tweaks on your computer.
This Windows 10 compatible program can help you convert, compress, edit, and download 4K and HD videos. For example, it can convert HEVC-encoded 4K videos to H.264, downscale 4K to 1080p, trim and crop unwanted parts, etc. It supports more than 370+ codecs as inputs and provides 420+ outputs including popular formats and devices to meet different user needs.
How to Fix 4K Scaling Issues on Windows 10/11?
Solution 1. Adjust Windows 10 display settings.
Step 1. Click the Start menu of your Windows 10 and then click the System icon.
Step 2. At the Windows Settings panel, click System.
Step 3. Click Display and then drag the bar under Change the size of text, apps, and other items: 100% (Recommended) until you get a satisfied result. Dragging the slider to the left will reduce the display scaling percentage, thus making things on your screen look smaller. Dragging it to the right will increase the scaling percentage and make things look larger. Some Windows 10 versions offer a list of scaling percentage options instead of a slider bar.
If you have got everything look a normal size by changing the scaling percentage to 150%, 175%, or some other value, you can stop here. If you still have Windows 10 scaling issues on 4K monitor, move to the next step.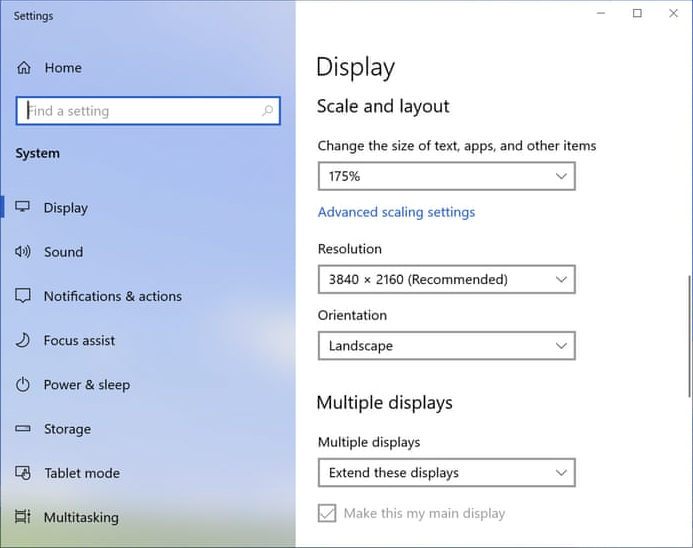 Step 4. Click the Advanced scaling settings. On the popup window, you can turn on the option - Let Windows try to fix apps so they're not blurry and set a custom scaling percentage.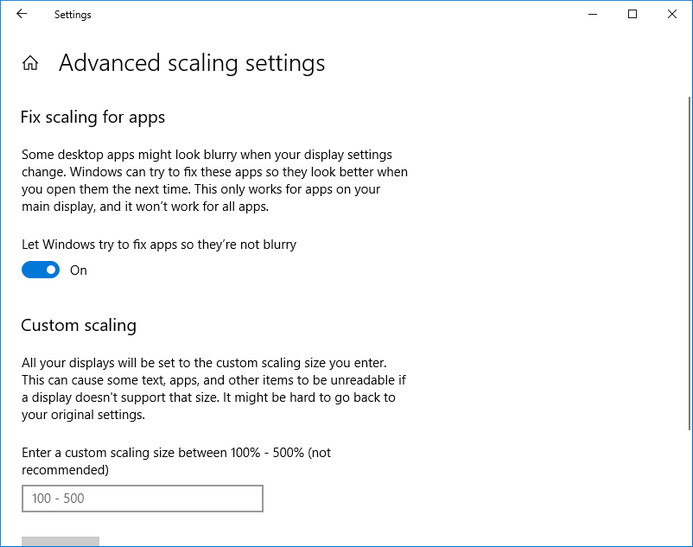 Solution 2. Change High DPI settings for your program on Windows 10
If some programs are still not be scaled properly, you need to change High DPI Settings. Next, we'll walk you through the steps to do that.
Step 1. Right click on the .exe file of the program that you have scaling issue with (alternatively, right click on the shortcut of the program), such as Adobe Premiere Pro, Plex, and Dropbox, and then click Properties.
Step 2. Navigate to Compatibility tab at the popup window and click Change High DPI Settings.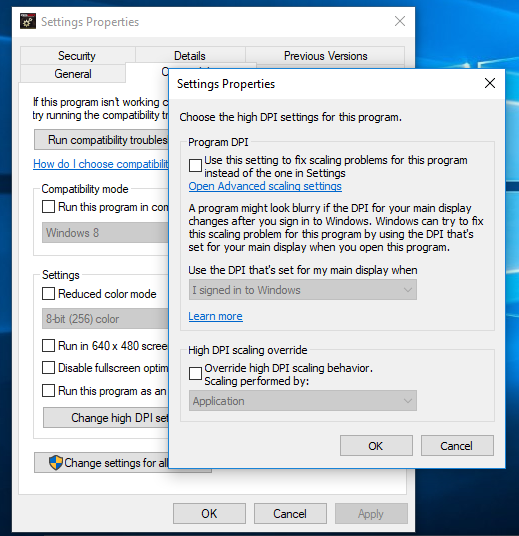 Step 3. At the program properties, you need to:
1). Go to Program DPI and check the box of Use this setting to fix scaling problems for this program instead of the one in Settings.
2). Click the drop-down list of Use the DPI that's set for my main display when and choose I open this program.
3). Go to High DPI scaling override, check Override high DPI scaling behavior and choose scaling performed by System. Then click OK -> Apply -> OK to save your settings. (Note: overriding High DPI scaling behavior doesn't work with Adobe Photoshop and will cause scaling issues.)
Solution 3. Edit Windows registry
If this method doesn't work with certain program, you can try a registry edit to fix scaling problems.
Registry > HKCU \ Software \ MS \ WindowsNT \ CurrentVersion \ AppCompatFlags \Layers
Add Key: C:\Windows\System32\rundll32.exe > Set Value to: HIGHDPIAWARE