Where Is Windows Movie Maker in Windows 10/11?
Windows Movie Maker is a simple and free video editor compatible with Windows 7, 8, 8.1, and 10. It allows users to create and edit videos (e.g., merge, split, and add effects), and publish finished videos on YouTube and other video hosting sites. However, Windows 10 users can't seem to find Windows Movie Maker. Where is Windows Movie Maker in Windows 10? In fact, Windows 10 doesn't come with Windows Movie Maker.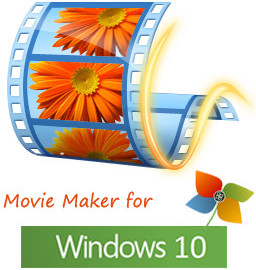 Is Windows Movie Maker Still Available for Downloading and Installing on Windows 10/11?
Windows Movie Maker is a part of Windows Essentials 2012. In the past, Windows 10 users could get Windows Movie Maker through Windows Essentials 2012 which could be downloaded from Microsoft website. But on January 10, 2017, Microsoft announced that it would no longer provide download and tech support for Windows Essentials 2012.
Since the official installer has been removed, where else can you get Windows Movie Maker for Windows 10? Browsing the web, we find the following download links for Windows Movie Maker.
https://archive.org/download/wlsetup-all_201704/wlsetup-all.exe
https://archive.org/download/wlsetup-all_201802/wlsetup-all.exe
http://g.live.com/1rewlive5-all/en/wlsetup-all.exe
http://web.archive.org/web/20170112124505/http://wl.dlservice.microsoft.com/download/C/1/B/C1BA42D6-6A50-4A4A-90E5-FA9347E9360C/en/wlsetup-all.exe
Warning: Be careful when downloading Windows Movie Maker for Windows 10 from unofficial websites. There're many scam versions of Windows Movie Maker on the web, such as Windows Movie Maker 2019/2018. The genuine Windows Movie Maker is completely free while scam versions will probably charge you fees for unlocking full features. And, fake versions may contain viruses and malware.
You Probably Want a Windows Movie Maker Alternative for Windows 10/11
Rather than struggling to get Windows Movie Maker back on Windows 10, some users will turn to a Windows Movie Maker alternative. With Windows 10 Fall Creators Update, Photos app got updated with free video editing capabilities and became one of alternatives to Windows Movie Maker. Users are allowed to create movies from photos and videos. To be specific, users can join, trim, and rearrange clips, add background soundtrack music, and apply filters, motion effects, 3D effects and text titles. Go to Photos app, click Create, and click Video remix or Video Project based on your own needs. Video remix is designed to view and edit a video made for you while Video project is used to edit a new video from start to finish. Check how to create videos with Microsoft Photos>>

What if Microsoft Photos App Doesn't Seem to Recognize Your Video Files
Microsoft Photos app - the Windows 10 Movie Maker alternative - supports limited video file types. But never mind, you can use WinX HD Video Converter Deluxe to convert your files to Photos supported video formats. Supporting 370+ codecs, it can recognize almost any video format. And even 4K ultra high definition videos are allowed as import files and can be processed without burdening your CPU thanks to the support for Intel/NVIDIA-powered hardware acceleration. The whole process takes 3 simple steps only, if you have downloaded and installed WinX HD Video Converter Deluxe.
Step 1. Load the videos that Photos app doesn't accept. You can click + Video button to import source file or simply drag and drop it to the main interface.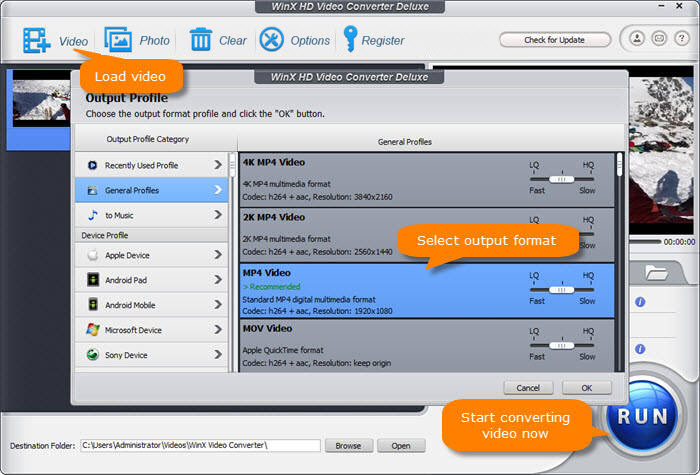 Step 2. Choose an output format that Photos app can read. You can choose the most compatible format MP4: General Profiles -> MP4 Video (codec:H.264+AAC).
Tips: WinX HD Video Converter also provides some basic video editing features: merge, trim, crop, expand, deinterlace, and add subtitle.
Step 3. Hit RUN to begin converting video format for Photos. Once done, you can import the new file into Photos app - the Windows Movie Maker replacement that Microsoft offers to Windows 10 users.