2023 Top 7 Windows Movie Maker Alternatives for Windows 10/11/7
Best Programs like Windows Movie Maker | Make & Edit Movies on Windows 10/11/7
Windows 10 indicates arrival of a brand-new generation of Windows OS. It brings several fantastic features making Windows more intelligent. On the other hand, it dismisses some favorable tools included in previous versions, for example Windows Movie Maker. In fact, as a part of Windows Essential 2012, Windows Movie Maker was available for Windows 10 until January 10, 2017, when Microsoft announced ending support and download service for this Windows essential tools package, but no official replacement is pushed out. Well, how can we create and edit videos on Windows 10 when there is no Windows Movie Maker? Don't worry. There are many alternative programs. Here the top 7 Windows Movie Maker alternative software will be introduced to address your video editing needs!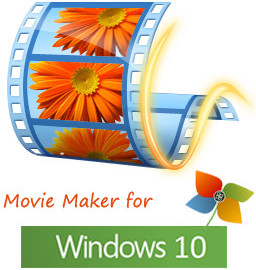 Windows Movie Maker Alternatives
[Review] Best 7 Windows Movie Maker Alternatives for Windows 10/11/7
A diverse of movie making and video editing software are stuffed into the market toughening the task to dig out an excellent alternative to Windows Movie Maker for Windows 10. Through a careful evaluation, we list following top five replacements which are suitable for different users ranging from rookies to veterans.
Why a video converter can be Windows Movie Maker alternative? WinX HD Video Converter Deluxe not only works as a format changer, but a photo slideshow maker and video editor.

Main Features:
Create a video from photos of wedding, birthday party, graduation ceremony etc, and embeds matched background music. Photo order can be sorted by data and file name ascendingly or descendingly. Interval time is set as 4 seconds by default, while other options (2/6/8) can be chosen.
Crop, trim, join, and edit video clips. External subtitles (.srt) can be easily added to videos. You can also adjust parameters, like video bit rate, frame rate, aspect ratio, resolution and audio bit rate, sample rate, channel to make the resulting file fitter to your devices.
It's a 4K video editor that will edit 4K, 1080P, HD videos smoothly without stutters or bufferings.

Brief Review: It is highly recommended to novices who are seeking for an easy-to-use Windows Movie Maker alternative for Windows 10. Although it doesn't provide more advanced and complex effects for video editing, it gives essential tools to make a photo slideshow and edit video hassle-free. What's more, built-in 1000+ video/audio codecs can output video in any format for Windows, Mac, Web and mobiles.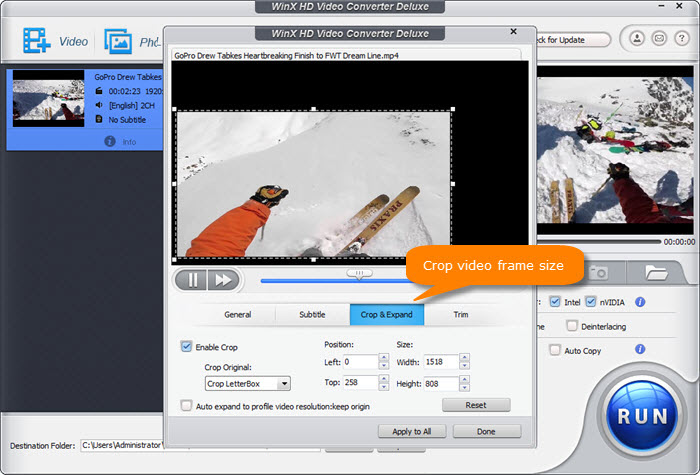 Microsoft Photos – Built-in Video Editor in Windows 10/11
Judging by its name, you may think Photos app can only handle pictures. But actually, it can also edit videos. Microsoft says "if you liked making videos with Windows Movie Maker, you'll love what you can do with Photos". This is a Windows Movie Maker alternative that Microsoft recommends.

Main features:
Trim video to keep the best content. Split videos into multiple clips. Change the orientation. Remove black bars.
Add filters and 3D effects. Add background music.
Draw and doodle on videos.

Brief Review: The video editor hidden in Photos app is very intuitive and novice-friendly. Even if you don't have any video editing experience, you can also make a fun short video. It is a good choice when you are looking for an free video editor like Windows Movie Maker. But if you are looking for more options and want to create a more serious video, you can try Clipchamp which has been added to the Microsoft family or other advanced video editors.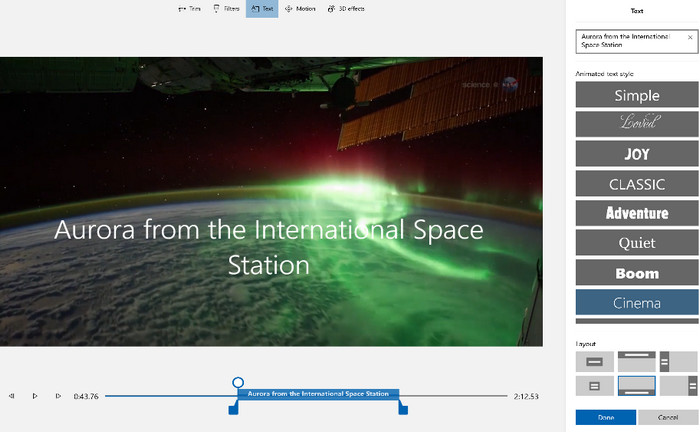 Clipchamp - Now Part of Microsoft
If you are looking for an online alternative to Windows Movie Maker, Clipchamp is a good choice. What you may not know is that Microsoft already acquired Clipchamp in 2021 and is now bundling this app into Windows 11. Now you can get this official Windows Movie Maker replacement from Microsoft Store.

Main features:
Come with customizable video templates, filters, and transitions to help export a professional-looking video.
Include a timeline just like other professional video editing programs such as Adobe Premiere Pro.
Provide options to trim, split, combine, flip, rotate, crop, balance colors, add multiple audio tracks, add texts, etc.

Brief Review: Clipchamp is an easy-to-use video editor with lots of templates and filters to use. but to use the best features, you have to pay. And we are surprised to find that it isn't compatible with Mozilla Firefox. It only supports Google Chrome and Microsoft Edge based on Chromium. Avidemux - Do More on Editing
Avidemux is a famed free and open-source non-liner video editor for Windows, OS X, Linux and BSD. It focuses on helping users complete video editing and encoding tasks.

Main Features:
Avidemux has a Filters library to resize/crop/split/rotate/join videos and apply various visual effects (colors, noise, sharpness, fade etc.) to videos. It allows users to insert subtitle and audio streams into video, and extract audio from video files.
Taking advantage of libavcodec library from FFmpeg, Avidemux can decode and encode various video formats, including AVI, FLV, MKV, TS, 3GP, MP4, MOV, WebM, VOB, AAC, MP3 etc.

Brief Review: Avidemux takes a rank in top Windows Movie Maker alternative for Windows 10 chart as a fast, clean and easy-to-use program which can handle basic video editing/encoding task well. However, some users tell that it doesn't have an intuitive interface so that they should get a tutorial to learn how to edit a video at first. What's more, some errors (for example loss of frames, saving incomplete video) may occur when choosing MP4 Muxer as output format.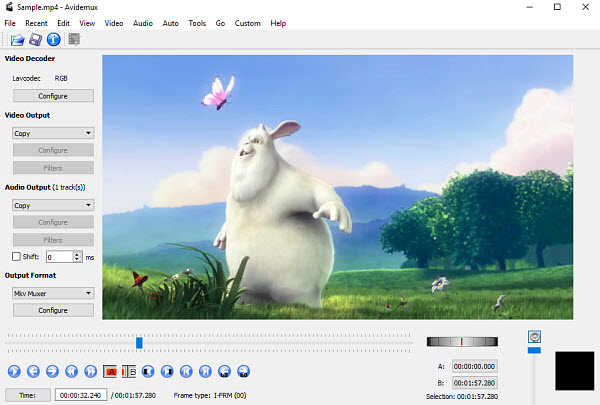 VSDC Free Video Editor has a similar interface to Windows Movie Maker so that it probably turns to be the preferred alternative for users who are very familiar with Windows Movie Maker. This free non-liner video editor for Windows 10 supports various formats including HD/4K videos and enables users to capture videos from camera or screen for further editing.

Main Features:
It offers a diverse of visual and audio effects in five genres, color correction, object transformation, object filters, transition effects and special fx. Color blending modes can be used to change the look of images while Instagram-like filters are for newbies who have no idea about how to adjust parameters to style a video. And, masks can be used to hide, blur or highlight certain elements in video.
It can convert video format for smartphones, tablets, PlayStation, Xbox etc. You are allowed to cut unwanted parts, split videos into several segments and merge video clips. And, videos can be directly uploaded to YouTube after editing and conversion.

Brief Review: It has more features than above Windows Movie Maker alternatives to meet more needs on further editing. On the other hands, it is a little complicated. We need a beginner guide at first and explore slowly to get how to use it better. Some unlucky users also encounter not opening or crashing issue when using it. VideoPad Video Editor is a professional video editing program aiming to make video editing and creation much easier. It can handle various videos in different formats (AVI, WMV, MP4, MOV etc.) or capturing from DV camcorder, webcam.

Main Features:
50+ transitions and visual effects can be founded in this top Windows Movie Maker alternative. Users can fine-tune colors, stabilize videos, adjust clip playback speed and instal plugin to apply more effects. VideoPad Video Editor will edit 3D video or transfer 2D to 3D. Chrome key (green screen) can be created. If you want to give an explanation or annotation on this video, overlay texts can be added. For audios, it enables you to import and mix music tracks as well as apply sound effects.
It embeds video conversion feature to create video for sharing online (YouTube), saving on iPhone, iPad, PSP and other devices and export videos in high definition 1080P HD, 2160P 4K and more.

Brief Review: VideoPad Video Editor is announced as the greatest basic video editor due to its ease of use and ample editing tools. It is powerful enough for some users while seemingly a little simple without more advanced options for some others. Sometimes, it gives a slow speed to convert videos and even doesn't work at all.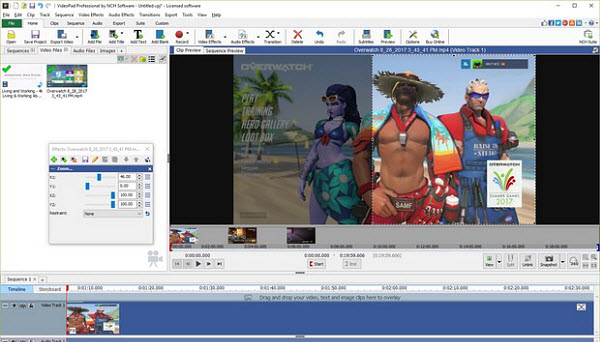 Adobe Premiere Pro is professional movie making and video editing software. It owns numerous customers over the world, from personal users to professional filmmakers. Even some features films (such as Deadpool, Peter's Dragon) are edited using it.

Main Features:
Adobe Premiere Pro supports a wide range of video formats (like virtual reality/3D/8K videos) and audio codecs. It's easy to trim, rearrange, cut, move, and stretch video clips in Timeline, add transitions and onscreen titles with text effects (stylization/animation etc.). Advanced options are available to expand your editing skills. Lumetri Color panel can adjust colors and apply effects to make video more vivid. Select Audio on this workspace and you can embed soundtrack as well as add transitions, adjust levels, customize audio effects or use presets.
Premiere Pro is a part of Adobe Creative Cloud. Integrating with other applications in this cloud, for example After Effects, Adobe Stock and more, you can make a more creative and appealing movie. And Adobe CreativeSync can connect everything included in the package across desktop and mobile apps.

Brief Review: Adobe Premiere Pro is definitely more powerful than Windows Movie Maker, which can not only do what Windows Movie Maker does, but offers more to get deeper editing. It is the perfect choice for an expert, while an initiate should spend much more time to master its workflow.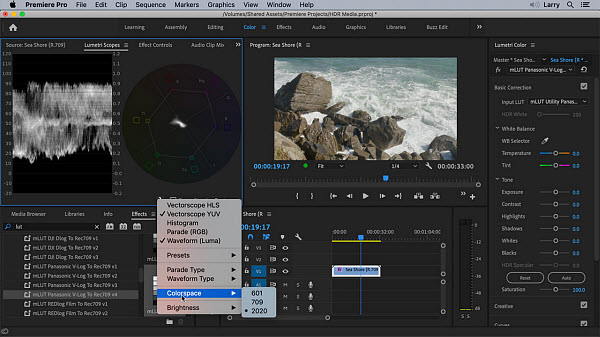 Bottom Line
All above best Windows Movie Maker alternatives work well on Windows 10/11 and lower versions. Some offer fundamental options while some feature rich tools. Depending on individual needs, select the most appropriate one.
FAQs about Windows Movie Maker Alternative
Is there free Windows Movie Maker alternative?
Among the above Windows Movie Maker replacements, Microsoft Photos and Avidemux are free for video editing.
Which Windows Movie Maker alternative is open source?
Avidemux is an open source video editor which you can use to substitute Windows Movie Maker.
Which Windows Movie Maker alternative will not add watermark to video?
You'll find many Windows Movie Maker alternative programs will not add watermark to the resulting video, such as WinX HD Video Converter Deluxe and Photos.
Create videos from photo album with background music to MP4, AVI, MOV, H.265, FLV etc. for playing on Windows (10)/portable devices or sharing on YouTube, Facebook, Twitter, Instagram and more.
Convert 8K/4K/(1080P) HD local or online videos to MP4, AVI, WMV for editing via Windows Movie Maker.
Free download all types of videos from 1000+ sites.
Crop, trim and add subtitles for videos. Adjust video/audio parameters, aspect ratio, resolution, frame rate, bit rate and more.