Best Free Windows 10/11 Video Editors - Crop, Trim, Merge, Compress
The following top 5 free Windows 10/11 video editing software allows you to edit SD/HD/4K videos on Windows 10 32/64 bit PC without watermark
Video editing can be considered as one part of the post production process. Nowadays, not only professionals but also ordinary people need to edit videos to cut off unwanted part, join multiple videos into one, add background music, add effects, reduce file size, etc. You may find inbuilt video editing software in some operating systems, but won't get one in Windows 10. This is why so many people are searching for Windows 10 video editor. To free you from testing, reviewing and comparing a heap of video editors in the market, we list the 5 best free video editors for Windows 10. These tools will do basic things like crop, trim and merge, and even advanced tasks.
Best 5 Free Video Editing Software for Windows 10 PC
When we evaluate a Windows 10 video editor, we have several things to confirm. Is it fully compatible with Windows 10? Does it work well on 32 bit or 64 bit? Which file formats are supported as input? Can it edit videos in HD and 4K? What editing options are premade? Just name a few.
#1. Free Video Converter
Although named video converter, it also comes with a fair selection of video editing options. You're allowed to download this free MP4 video editor on Windows 10 32 bit or Windows 10 64 bit, and later trim video by setting start time and end time or dragging the timeline bar, cut off black bars or unwanted part, split video, merge several videos together, add external subtitle, adjust volume, change bit rate, frame rate, lower video resolution, extract audio from video, etc.
Besides SD/HD/4K video editing, WinX Video Converter will help convert the edited video to other formats to fit for your player or to make it accepted by YouTube and other sites.
Supported input formats: AVCHD Video (*.mts, *.m2ts), H.264/MPEG-4 AVC (*.mp4), MPEG2 HD Video (*.mpg; *.mpeg), MPEG-4 TS HD Video (*.ts), MPEG-2 TS HD Video (*.ts), Quick Time HD Video (*.mov), WMV HD Video (*.wmv, *.xwmv), Blu-ray Video (*.mts, *.m2ts), HDTV Video (*.ts), Matroska Video (*.mkv), JVC HD camcorder Video (*.mod, *.tod), Sony HD camcorder Video(*.mts, *.m2ts), Panasonic & Canon HD camcorder Video, AVI, MPEG, WMV, MP4, M4V, FLV, H.264/MPEG-4, DivX, Xvid, MOV, RM, RMVB, VOB, ASF, 3GP, 3G2, QT, DAT, Google TV, WebM, VPX 8, YouTube (FLV/MP4/Webm) SD/HD Videos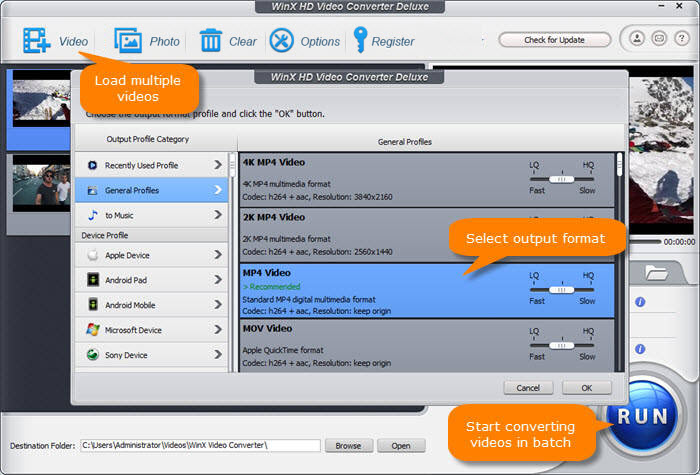 Windows Movie Maker is easy-to-use video editing freeware developed by Microsoft. It is a part of Windows Essentials software suite. However, it doesn't come by default in Windows 10. Someone who needs to use this free Windows 10 video editor is supposed to download it from Microsoft official website.
With Windows Movie Maker, you'll be able to split video, merge videos, slow down or speed up video, add effects, set video transitions, add titles, etc. What may disappoint you is that it doesn't offer video cutting option. What's more, some guys say that Windows Movie Maker sucks in Windows 10.
Supported input formats: AVCHD files (.m2ts, .mts, .m2t), Apple QuickTime files (.mov, .qt), DV-AVI files (.avi), Microsoft Recorded TV Show files (.dvr-ms, .wtv), MPEG-4 movie files (.mp4, .mov, .m4v, .3gp, .3g2, .k3g), MPEG-2 movie files (.mpeg, .mpg, .m1v, .mp2, .mpv2, .mod, .vob, .m2t), MPEG-1 movie files (.m1v) , Motion JPEG files (.avi, .mov), Windows Media Video files (.wmv), Windows Media files (.asf, .wm)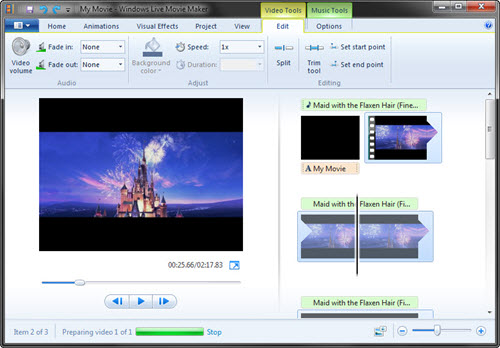 Lightworks is famous 4K video editing software for Windows (10), Mac, and Linux. It is a professional tool that has been used to edit some great films like Braveheart for the past 25 years. There are two editions for Lightworks: Lightworks Free and Lightworks Pro. To download a free Windows 10 video editor, free version is the way to go. Sign up, and then you will receive a Lightworks Free license. It really owns many wonderful editing options that will surprise advanced users. But I want to tell you that Lightworks isn't a linear editor which is probably unsuitable for newbies.
Supported import formats: DVCAM / DVCPRO 25, DVCPRO 50, DVCPRO HD, Uncompressed SD 8 bit and 10 bit, Uncompressed HD 8 bit and 10 bit, MPEG-2 I-Frame SD, MPEG-2 I-Frame HD, MPEG-2 Long GOP, IMX 30, 40, 50, AVCHD (M2T, M2TS, MPEG4, H.264), Avid DNxHD – all variants, including Thin Raster**, AVC-Intra 50, AVC-Intra 100, XDCAM EX (native MP4 support), XDCAM HD, XDCAM HD 50 422, Apple Pro Res, RED R3D, DPX 8 bit, 10 bit, 16 bit, Image Sequence (BMP, DPX, JPEG, PNG, TGA, Compressed TGA, TIFF), Broadcast Wave Format with drop and non-drop frame timecode options, Cinema DNG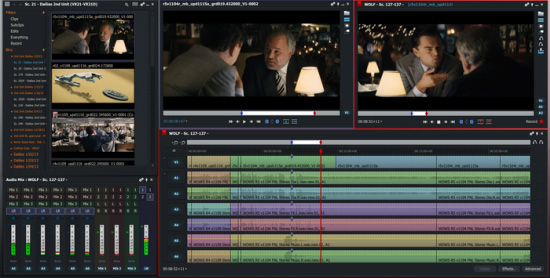 Avidemux is a free and open source video editor for Windows 10 and lower, as well as Mac OS X and Linux. With this tool, you will be able to trim video clip by setting in and out markers, add borders, ass a logo with alpha blending, change frame rate, rotate video, crop video, resize video, insert subtitles, modify brightness and contrast, sharpen edges, fade in and out, etc. Besides, it is capable of converting video to other formats.
However, this free Windows 10 video editor allows users to load one video clip at a time. Therefore, if you want to stitch multiple clips together, you should go for another video editing program.
Supported input formats: AVI, ASF, WMV, WMA, FLV, MKV, MPG, MPEG, TS, MP4, NUV, OGM, MOV, 3GP, VOB, WebM, Cinepak, DV, FFV1, HEVC, H.264, MPEG-1, MPEG-2, VP8, VP9, MP3, AC-3, AAC, DTS, Vorbis, BMP, JPG, etc.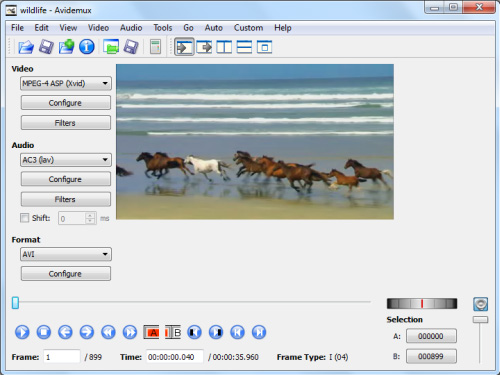 Shotcut is another good free video editor you can download for Windows 10, be it 32 bit or 64 bit. It is open source video editing software available on multiple platforms, including Windows, macOS and Linux. Developers keep it updated constantly. Free as it is, it offers many functions. It employs a timeline for non-linear video editing of multiple tracks that may consist of various file formats. Scrubbing and transport control are assisted by OpenGL GPU-based processing and a number of video and audio filters are available. Apart from editing, it can transcode videos to many formats just like some Windows 10 video editors mentioned above.
This program is completely clean. No malware, spyware, adware, etc. Its user interface is sleek and intuitive, thus making video editing on Windows 10 easier.
Supported input formats: Thanks to FFmpeg, this Windows 10 video editor allows users to handle hundreds of audio and video formats and codecs.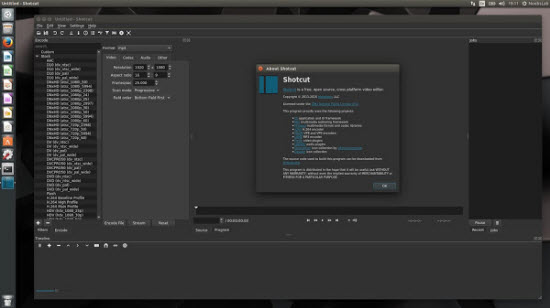 To sum up, if you need a piece of free Windows 10 video editor software with basic editing functions only, WinX Video Converter is a nice choice. It is the easiest one with crop, trim, merge, deinterlace, compress and other features included. Besides compatible with Windows 10 PC, this video editor also runs well on Windows 8, 7, etc.