2019 Top 3 Free DVD Players for Windows 10 without Paying $15
Windows 10 Best Free DVD Player Software Compilation, Review, Comparison and Download
"Microsoft will not include Windows Media Center on Windows 10. So Windows 10 seems to lack a native DVD playing capatibility. Any alternatives? Please advise some free DVD players for Windows 10. I want Windows 10, but don't want to lose the DVD playback ability."
The demand for DVD playback is still there. Since Microsoft doesn't support Windows Media Center in Windows 10, many users began to wonder "how can I watch DVD on Windows 10", "Does Windows 10 have a DVD player?" Yes, Microsoft now provides a new DVD playback option - Windows DVD Player in Windows 10, at $15. However, people complain the paid Windows 10 DVD player can't decode/play DVD sometimes, for example, DVD drive won't read disc, you got a region error message when playing a UK DVD in USA, or your DVD drive is making noise but you have a choppy playback. Any free DVD player compatible with Windows 10 32bit/64bit? Simply choose one from the top 3 free DVD players for Windows 10 below.
Top 3 DVD Players for Windows 10 Review
What is the best free DVD player for Windows 10. Based on user feedbacks, The following Windows 10 DVD players are singled out based on their OS compatibility, DVD playback capability, interface design, downloads on CNET, Softonic or other third-party software download sites, as well as user reviews. Read the following reviews and find the right one to play DVDs on Windows 10 for free.

Best free Windows 10 DVD player – 5KPlayer
Average User Rating: ★★★★☆ (based on 493 votes)
5KPlayer is a widely acclaimed free media player capable of playing DVDs on Windows 10 (64 bit and 32 bit), 8.1, 8, 7, etc. After being released in the market, it is quickly adopted by users around the world, always being one of the top 10 downloads of Multimedia for Windows in Softonic.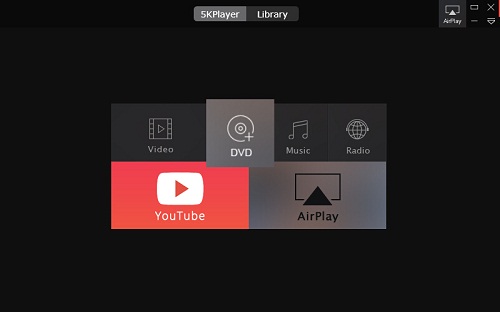 With this tool in hand, Windows 10 users can play any regular DVDs and also commercially copy-protected and region code locked DVDs, DVD folders and ISO files with one button operation without any DVD codec installed on Windows 10. 5KPlayer coming with a modern design enables users to master its features, functions and operation skills in a little while.
Extra features provided by this free Windows 10 DVD player:
* Play videos music in all popular formats like MP4, AVI, MKV, HEVC, MOV, WMV, MP3, FLAC, AAC, WMA, WAV, etc;
* Free download videos/movies/music from YouTube, and other 1000+ online video sites;
* Stream videos audios for iPhone, iPad, Apple TV, etc;
* Convert videos to MP3, AAC, MP4 for free.
"5KPlayer can be the free Windows 10 DVD player for you and it is capable of directly playing encrypted DVD and DVD of any region without third party help."
If you want to play DVD on Windows 10 mobile, iPhone, iPad, Android ...
Simply make use of WinX DVD Ripper Platinum to rip your DVD to digital files. This tool supports both home-made DVDs and copy-protected movie DVDs, workout DVDs and more, and can convert them to high-quality MP4, AVI, WMV, MOV, and other popular formats to fit for computers, smartphones, tablets, game consoles, etc.

Free open source DVD player for Windows 10 – VLC Media Player
Average User Rating: ★★★★ (based on 451 votes)
Undoubtedly, VLC Media Player is the most famous one among these three DVD players for Windows 10. It supports a wide range of Windows operating systems, and already has a basic Windows 10 support. As powerful as 5KPlayer, it is able to play DVD discs, DVD folders as well as ISO files. You can set it to automatically play DVDs when a DVD is inserted by choosing the "Play DVD movie VideoLAN VLC media player" option. However, we also find that many VLC DVD playback errors on Windows 10/8/7 are posted in the internet
Other features offered by VLC:
* Play videos audios in mainstream file formats on other platforms (Mac OS X, Linux, Unix...);
* In addition to playing DVD, it can also play CD/VCD/SVCD;
* Perform media conversion and streaming.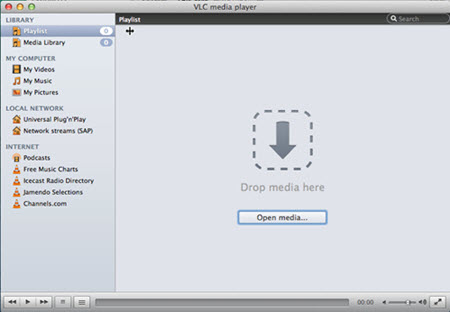 Free Windows 10 DVD player – BlazeDVD Free
Average User Rating: ★★★☆ (based on 406 votes)
BlazeDVD Free may be unfamiliar to most of us. Judging from its name, we can guess that it is free DVD software. According to the introduction on its official site, BlazeDVD Free is a Windows-based DVD player available to play DVDs and also popular videos. It is designed for Windows 8 and also compatible with Windows 10. It announces to offer lifelong free service for playing DVD discs, DVD folders and DVD ISO files. However, BlazeDVD Free cannot act as a region-free DVD player to play DVDs of region 1,2,3,4,5 or 6 without changing region code.
You can also use this Windows 10 DVD player software to:
* Play VCD, SVCD, CD;
* Play video media files like MP4, AVI, MPEG, RMVB, VOB, WMV, DTS;
* Smart change aspect ratio to 16:9.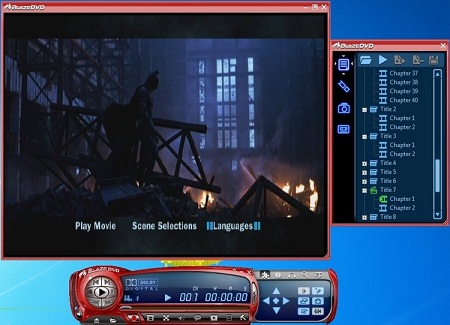 Top 3 Free DVD Players for Windows 10
| | | | | | |
| --- | --- | --- | --- | --- | --- |
| Free Windows 10 DVD Player Name | DVD Disc | DVD Folder | ISO File | VCD, SVCD, CD | Video, Audio |
| 5KPlayer | Yes | Yes | Yes | No | Yes |
| VLC Media Player | Yes | Yes | Yes | Yes | Yes |
| BlazeDVD Free | Yes | Yes | Yes | Yes | Yes |
If you want to have an all-in-one free Windows 10 DVD player, video music player, online video downloader, radio player, video to audio converter and video audio streaming utility, 5KPlayer is your best choice compared with the other two DVD players for Windows 10.