2022 top 10 Free DVD Players for Windows 10/11 without Paying $15
Microsoft excludes Windows Media Center from Windows 10[1] and doesn't bring it back to Windows 11. Accordingly, Windows 10 and Windows 11 lack a native DVD playback capability. Given the popularity of streaming service and the increasing number of DVD drive-less computers, Microsoft is unwilling to pay licensing fees for DVD playback. However, many people collect a plethora of DVDs. Well, how can they play DVDs on Windows 10/11 now? Which is the best free DVD player for Windows 10/11?
In this article, we'll introduce 10 best free DVD players for Windows 10/11 and answer some frequently asked questions about playing DVD on Windows 10 and Windows 11. The following DVD player programs are singled out based on their OS compatibility, media playing capability, interface design, downloads on CNET, Softonic or other third-party software download sites, as well as user reviews. Read the following reviews and find the best free software to play DVDs on Win10/Win11.
Average User Rating: ★★★☆ (based on 712 votes)
The first Windows 10 DVD player that we introduce here is Microsoft's official app - Windows DVD Player. It can read any DVD disc that is in DVD-Video format. It's no problem to play a protected store-purchased DVD or a user-made disc. But the Blu-ray discs are out of luck.
Windows DVD Player is priced at $14.99 in Microsoft Store. But if you upgraded to Windows 10 from Windows 7(Home Premium, Professional, Ultimate)/8/8.1 with Windows Media Center, you can download Windows DVD Player from Windows Store for free[2]. However, it's not free for those who have got a new PC. It offers a 7-day free trial, however free trial won't let you play any DVD. It can only be used to check if your system is compatible.
How to play DVD on Windows 10 with Windows DVD Player
Step 1. Download Windows DVD Player app from Microsoft Store. Install it and then launch.
Step 2. Insert a DVD into your DVD drive and click Play.
If you're not eligible to install Windows DVD Player for free or don't want to spend $15 for such a simple app or find Windows DVD Player not opening, not working or not recognizing your DVDs, keep reading to find a DVD player for Windows 10.
Windows DVD Player Related Articles: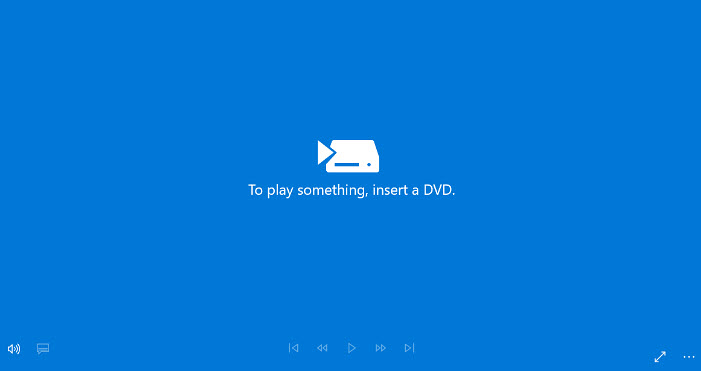 To Play and Convert DVD on Windows 10/11, We Recommend WinX DVD Ripper
It allows you to play and rip both home-made DVDs and copy-protected movie DVDs, workout DVDs and more to digital files.
It saves your DVDs to computer hard drive, USB, NAS, Cloud, iPhone, Android, etc.
It can convert DVD to MP4, MPEG2, AVI, WMV, MOV, MP3, ISO, VIDEO_TS and other popular formats.
It rips a DVD within a few minutes and keeps original quality.
Average User Rating: ★★★★ (based on 451 votes)
Undoubtedly, VLC Media Player is the most famous one among these DVD players for Windows 10. It supports all Windows operating systems including Windows 10 and 11. VLC Win32 has been published to Microsoft Store on Windows 11 with DVD support[3].
VLC is able to play DVD discs, DVD folders as well as ISO files. You can set it to automatically play a DVD when it is inserted by choosing the "Play DVD movie VideoLAN VLC media player" option. However, many users report that VLC has problems playing DVD on Windows 11/10/8/7.
Other features offered by VLC:
Play videos audios in mainstream file formats on other platforms (Mac OS X, Linux, Unix...);
In addition to playing DVD, it can also play CD/VCD/SVCD;
Perform media conversion and streaming.
Rip DVD to MP4 and other formats.
How to play DVD on Windows 10 with VLC
Step 1. Download, install, and open VLC.
Step 2. Click Media -> Open Disc... -> select Disc device -> hit Play.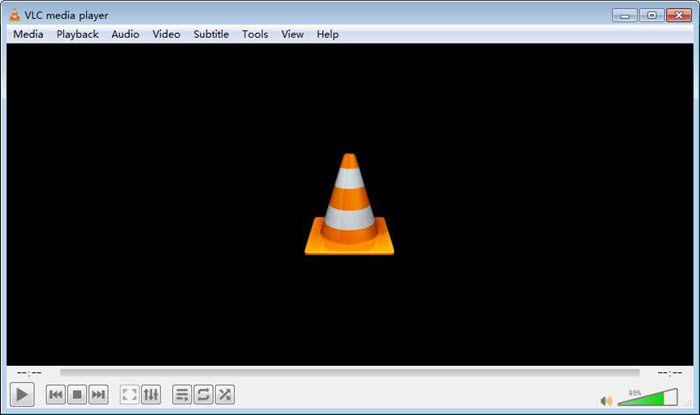 Average User Rating: ★★★★☆ (based on 493 votes)
5KPlayer is a widely acclaimed free media player capable of playing DVDs on Windows 10 (64 bit & 32 bit), 8.1, 8, 7, as well as the new Windows 11. Since released, it is quickly adopted by users around the world, always being one of the top 10 downloads of Multimedia for Windows in Softonic.
With this tool, Windows users can play any regular DVDs and also commercially copy-protected and region code locked DVDs, DVD folders and ISO files with one-button operation without needing any DVD codec installed on Windows 10. 5KPlayer coming with a modern design enables users to master its features, functions and operation skills in a little while.
Extra features provided by 5KPlayer:
Play videos music in all popular formats like MP4, AVI, MKV, HEVC, MOV, WMV, MP3, FLAC, AAC, WMA, WAV, etc;
Free download videos/movies/music from 1000+ online video sites;
Stream videos audios for iPhone, iPad, Apple TV, etc;
Convert videos to MP3, AAC, MP4 for free.
5KPlayer can be the free Windows 10 DVD player which is capable of playing encrypted DVD and DVD of any region without third party help.
How to play DVD on Windows 10 with 5KPlayer
Step 1. Download, install, and launch 5KPlayer on Windows 10.
Step 2. Click DVD button on 5KPlayer main interface, choose the source DVD, and hit Play.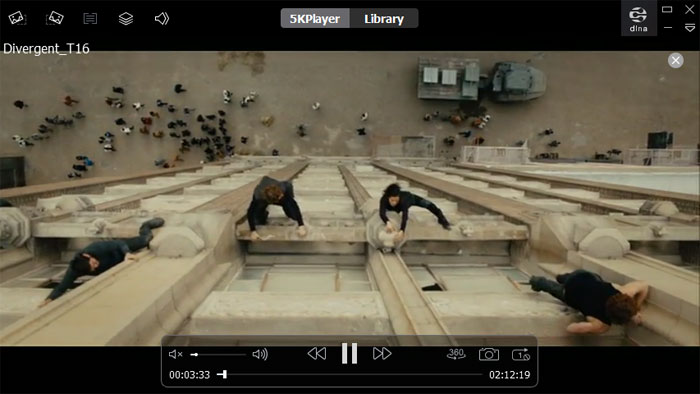 Video Tutorial: How to Play DVD on Windows 10 for Free?
Average User Rating: ★★★☆ (based on 406 votes)
DVD Player - FREE may be unfamiliar to most of us. Judging from its name, we can guess that it is free DVD player software. DVD Player - FREE is available to play DVDs and also popular videos on Windows 10 version 17134.0 or higher. Besides playing DVD discs, it can also open DVD folders and DVD ISO files.
It also enables you to:
Play VCD, Blu-ray;
Play video media files like mp4, .wmv, .mkv, .m4v, .mov, .avi, .mpg, .mpeg, .mts, .m2ts, .ts;
Select desired video tracks, sound tracks, subtitles;
Select external subtitle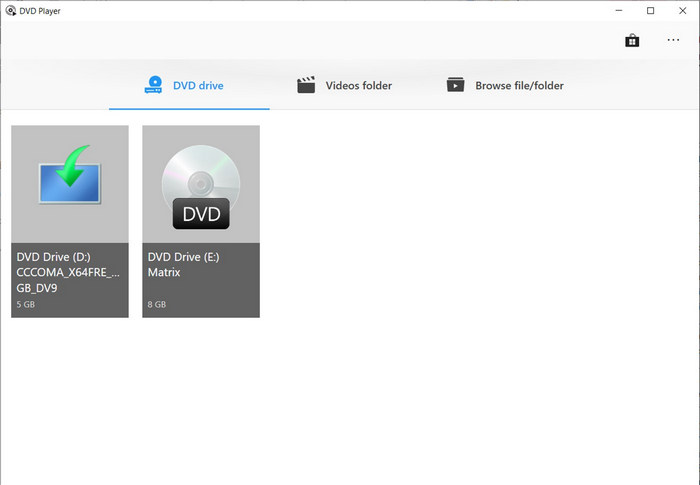 Average User Rating: ★★★★☆ (based on 32 votes)
MPC-HC (Media Player Classic Home Cinema) is another good choice when you find Windows Media Player won't play DVD. MPC-HC provides the ability to play DVDs with menus, chapter navigation, and subtitle. The windows 10 DVD playing freeware is very good at playing old VHS tapes, DVDs and Blu rays. It includes native playback of dozens of formats, with embedded video decoder for x.264, H.264, VC-1 for better playback experience. Unfortunately, MPC-HC 1.7.13 is the final version and there is no update as of July 16, 2017. But you can still download it.
What you may like about MPC-HC:
Lightweight and free, available for Windows 10 and earlier
Support a wide range of formats like WMV, AVI, MP4, MOV, QT, MPEG, VOB, SWF, etc., along with GPU decoding.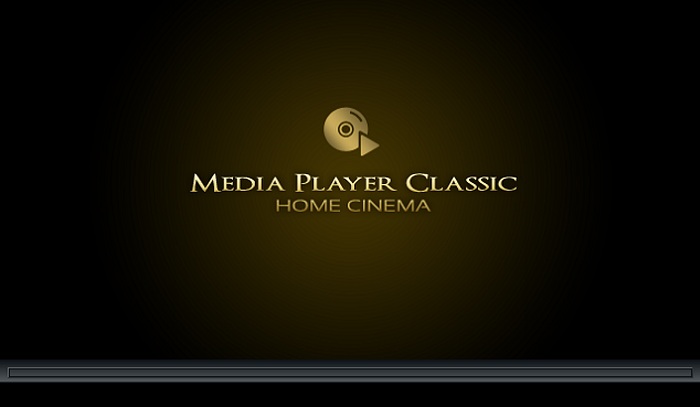 Average User Rating: ★★★★ (based on 271,227 votes)
Kodi® media center (previously XBMC™ Media Center) is a free and open-source app that is used to manage your local digital media. You can free download it in the Microsoft Store. The app has been used by millions of users worldwide across systems, including Windows 10. It's a media center, but it also works as a free media player which will play DVDs, Blu-rays, and audio CDs. It's also region-free DVD software as you can set the DVD player region free, and also the auto playback, play mode, etc. In addition, you can also play music, radio, and TV shows.
What you may like about Kodi:
It works on a number of devices including Windows (Windows 10 version 16299.0 or higher, Windows 10 version 14393.351 or higher), Android, iOS, Mac, Amazon, etc.
You can install thousands of Kodi add-ons to get access to sports events, shows, movies, etc.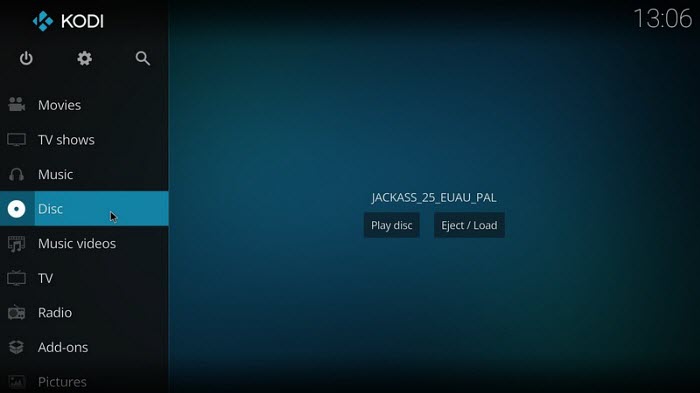 Average User Rating: ★★★★ (based on 358 votes)
Another option to play DVD on Windows 10 for free: try the free DVD player software for Windows 10 - GOM Media Player. It has a wide range of embedded codecs, including Vorbis, FLAC, ADPCM, XVID, MP41, MP42, MP43, H263, H264, H265, etc. This allows you to play AVI, MP4, MOV, MKV, WMV, audio CD, DVD, Video CD, SVCD, etc. But if you want to play some other 4K content, you need to upgrade to the Plus version at $25.
More features of GOM Media Player:
It offers VR and 360° video playback.
It has an extensive subtitle database.
It's able to play damaged and corrupted videos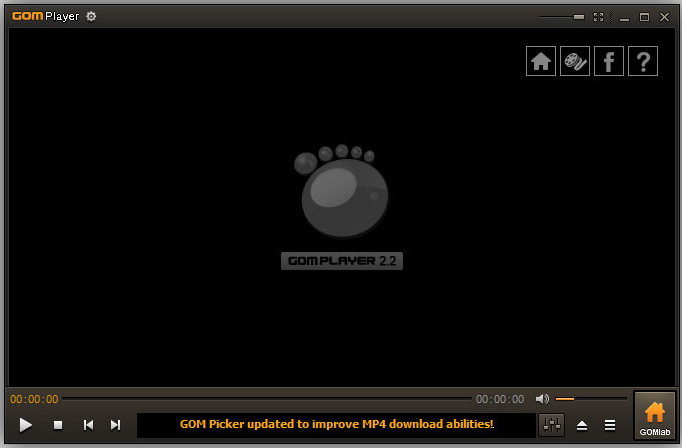 Average User Rating: ★★★★ (based on 688 votes)
KMPlayer is another good view player compatible with Windows 7/8/10 or earlier operating systems in 32 bit and 64 bit. It will let you watch DVDs, CD, VCD, and most common media file types in high quality without additional codecs. You can also play Blu-ray discs with it. More than that, the newer versions support high resolutions such as 4K, 8K, 60FPS, and UHD on high-end PCs with smooth playback and high quality.
The Windows 10 DVD player supports:
Support 3G2, 3GP, AVI, FLV, MKV, MOV, MPEG, MP3, MP4, OGM, RM, TS, WEBM, and WMV, etc.
Support subtitles in SMI, ASS, SRT, PSB, S2K, SUB, TXT and LRC formats.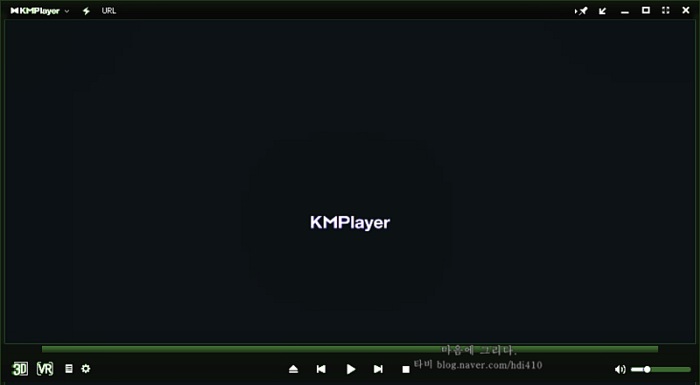 Average User Rating: ★★★★ (based on 349 votes)
PotPlayer is a good alternative as a free Windows 10 DVD player. It supports video, audio, DVDs, and Blu-rays, among other formats. In fact, you can add the OpenCodec plugin to let it play whatever codecs you need. The best part is it applies hardware acceleration using DXVA, CUDA, QuickSync to offer the best playback and minimum CPU usage.
You may like:
Full 3D glasses support with various output formats – Side by Side, Top and Bottom, Page Flipping.
Text subtitles (SMI & SRT), DVD (Vobsub) and Blu-ray subtitles, ASS/SSA animation and SMI Ruby tags, etc. are supported.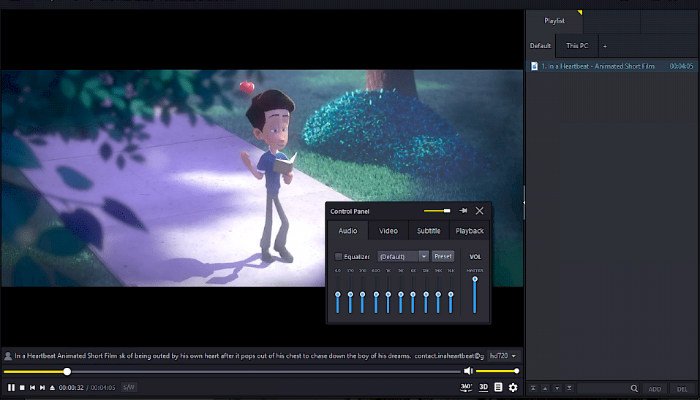 Average User Rating: ★★★ (based on 42 votes)
If you really care about the experience of DVD playback on Windows 10, try PowerDVD. This player comes with many advanced features. For example, it offers free option to not only play Blu-ray & DVD, but also support audio, MKV, H.264, 3D, 4K, VR 360˚ content, YouTube or Vimeo, and videos in most formats and codecs. PowerDVD is updated with Ultra HD 4K, HDR & now 8K as well as audio in Dolby and DTS, so you can enjoy the superior video and audio quality. But it's hard to pay for a media player with the lowest price of $59.99.
Other best features of the free DVD player for windows 10:
True full screen for Blu-ray disc playback
TrueTheater HDR & GPU support for HDR video playback
It will switch between different region codes (check other region-free DVD players)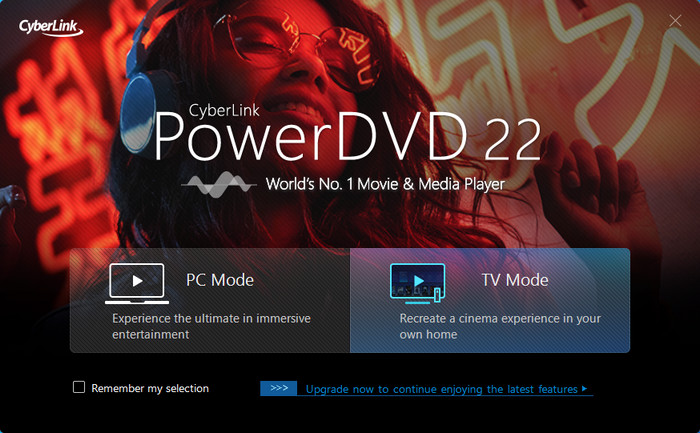 FAQs
Q1. Does Windows 10 have a DVD player?
Windows 10 doesn't have a default DVD player. If you upgrade to Windows 10 from Windows 7/8 with Windows Media Center, a free copy of Windows DVD Player will be automatically downloaded through Windows Update. If you have Windows 7 or Windows 8 's Media Center version, but run a Windows 10 clean install, you will not be able to get Windows DVD Player for free. And, new PC users are also out of luck for this freebie. They have to go to Microsoft Store and pay it for $14.99.
Q2. How can I watch DVD on Windows 10?
You can download Windows DVD Player or other Windows 10 compatible DVD players we listed above to play DVD.
As today's ultrathin laptops and tablets don't even have DVD drives, a new trend is emerging in DVD playback, that is, watching DVD with digital copies rather than physical discs. All you need is to rip or make a digital copy of DVD with an optical drive for once, then you'll never need it and you can play the ripped DVDs on Windows 10 laptops, Chromebook, Xbox, or HDTV without DVD drive.
WinX DVD Ripper is a nice option to do that, as it could digitize any types of DVDs, from new discs, 99-titles, damaged, regional, Japanese, workout DVDs to non-standard discs, to MP4, H.264, AVI, MOV, Windows PCs, HDTV, mobiles and 350+ preset profiles. It could decrypt any DVD encryptions, including stubborn DVD region code to be playable limitlessly. More importantly, by using this free DVD ripper, you're able to rip a full DVD to MP4 (HEVC/H.264) in 5 minutes only and shrink the DVD size up to 80% smaller than orginal with 1:1 quality ratio.
Q3. What is the best DVD player for Windows 10?
We have listed the best 10 free DVD players for Windows 10, such as 5KPlayer and VLC. Read the details above and choose one you like.
Q4. Why can't I play DVDs on Windows 10?
DVD won't play on Windows 10 owing to various causes, from Microsoft's official move to DVD codec support, DVD driver comaptibility to disc or DVD drive condition, region code to other DVD encryptions.
DVD playback feature was removed in Windows Media Player officially by Microsoft on Windows 10.
No compatible DVD codec installed. For that, you can download DVD codec for Windows 10 like K-Lite Codec Pack to fix it.
DVD driver goes out of date. An outdated DVD driver will result in stuttering DVD playback and even make DVD unplayable since the heavy DVD decoding task would be turned over to CPU from GPU.
DVD drive/disc is corrupted. This could be the culprits of DVD read errors, such as DVD drive not reading discs, Xbox won't recognizing discs.
The region code is different among DVD drive, disc and DVD player. This region lock may bring troubles when playing DVDs in other geographical regions, for example, region 2 discs won't play in region 1 drives, and PAL discs can't be played on a NTSC standard player.
Q5. Why Windows 10 DVD Player can't open?
If your Windows DVD Player was working fine but someday turned gray, how to fix it? Some users see this fixed by running a system restore and picking a date when this problem did NOT appear as the restore point.
Q6. How to fix Windows DVD Player app not working on Windows 10?
Windows DVD Player has had a lot of complaints about not working. Some users report that when they put in a DVD and hit the DVD icon, Windows DVD Player app opens for a second then just shuts down.
There may be an issue with the drivers of their computer, they can troubleshoot problems with drivers in Windows 10 follow this guide. If troubleshooter cannot identify and rectify your problem, try installing the latest Windows 10 build. This new update includes quality improvement that will address issues with the app. To update go to Settings > Update & security > Windows Update and then Check for Updates.
Other common problems with Windows DVD Player app include:
The video is stuttering or failing to play.
When changing from one DVD to another, Windows DVD Player will not play the new DVD.
Windows DVD Player does not detect that a disk was inserted.
Inserting a DVD opens the Windows Store.
Windows DVD Player will not play audio using Dolby Digital Plus 5.1.
Playing a DVD to a second screen using HDMI sometimes fails.
When playing a DVD, playback stops and a message states that the video cannot be decoded.
Microsoft has posted workarounds for those DVD player app issues.
Q7. Why does my DVD not play on Windows Media Player?
Microsoft has removed the DVD playback feature in Windows Media Player on Windows 10, thus WMP won't play DVD on Windows 10. If you're running on Windows 8/7, the possible reasons include:
A compatible DVD decoder isn't installed on your computer.
The disc is dirty or damaged.
Some suspicious software is installed and ruins WMP performance.
Q8. What's the minimum system for playing DVD on Windows 10?
1 gigahertz (GHz) or faster compatible processor or System on a Chip (SoC);
1 gigabyte (GB) RAM for 32-bit or 2 GB for 64-bit;
32GB or larger hard disk;
Graphic cards that's compatible with DirectX 9 or later with WDDM 1.0 driver;
800x600 display.
Final Words
So above are our picks for the top 10 best DVD player for Windows 10 and our answers for the frequetly asked questions about DVD playback on Windows 10. Among these players, 5KPlayer and VLC are the most recommended programs. They are 100% free, clean, and powerful. Both homemade and commercial DVDs can be played on Windows 10/11 without issues. And, they have many bonus features. Other options are also great. Hope you can find a desired DVD player and get a good experience with Windows 10. Lastly, don't forget to share your choice or this article with your friends!