Get Annoyed by PS4 DVD Playback Issues? There Are Some Easy Ways to Get Them Solved
If you get annoyed by PS4 DVD playback issues/problems, this post will give you some easy ways to get them solved!
PS4 Feature and Problem: PS4 has released for some time. Its fans may be in bittersweet moods. With a 4k (3840x2160p) display and lossless 7.1 channel and an eight-core Jaguar CPU, paired with a Radeon 7000-series GPU, it is amazing for playing games and watch movies on PlayStation 4 (PS4 vs. Xbox One). But its BD/DVD disc drive sometimes could really drive you crazy and freak you out, especially some PS4 DVD playback issues and its game disc reading problems.
Part 1: Some Common PS4 DVD Playback/Disc Reading Issues
Part 2: How to Get the PS4 DVD Playback Issues Solved
Best DVD to PS4 Ripper for Windows 10/8.1 etc.
WinX DVD Ripper Platinum - Your ultimate choice to rip any movie DVDs, including those copy protected ones, to Sony PS4/PS3, PSP/PS Vista supported formats like MP4 (MPEG4/AVC/H264), AVI (DivX), MPEG (MPEG2) on Windows 10/8.1/7/XP/Vista (32 & 64 bit) with high quality and fast speed in only a few clicks. [100% clean]

Some Common PS4 DVD Playback/Disc Reading Issues and Possible Solutions
Here are some common issues that users of PS4 have encountered and their suggesting solutions. Do remember that you could always try to get help from PlayStation Support/Blog/Forum.
1. Unexpected game disc/DVD ejection and followed with no acceptation of the discs.
Official Solution: First, hold down the power button until the system beeps twice. Then wait about 30 seconds until all system lights are off. Unplug the power cord for three minutes. If the issue isn't exterminated, visit Sony online Service Request page.
Users' Solution: Take the rubber stopper under the eject button off. (Some users do say it works like a charm.)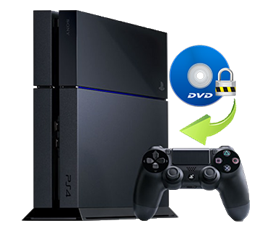 2. When playing game DVD, it shows "NO Disc Inserted" or "Unrecognized Disc"
Official Solution: Delete the game app data and reinstall it. If failed, try PS4 safe mode options.
Solution 1: Clean your disc with a microfiber cloth. The disc reader is really sensitive to scratches and fingerprints.
Solution 2: If your disc is BF4, try another one. Some users report they just have problems only on BF4.
Solution 3: Dissemble your disc drive. Visit YouTube to know the detailed steps.
Classic Solution: Take the disc out and reboot your PS4.
3. After putting the disc into DVD drive, it shows a black screen
Solution: When you see the black screen, change the input on your TV off the current HDMI then change it back.( That works for some people for some reason.)
4. Issue with ejecting PS4 discs - discs get stuck in the11 drive
Solution: Try to eject the stuck disc manually.