Does PS4 Play DVDs? Everything to Know About Playing DVD on PS4
PS4 (the PlayStation 4) is a popular home video game console. But besides games, people want to play more things on PS4. A popular question is: does PS4 play DVDs? The quick answer is yes. All versions of PS4 can work as DVD player. Just read on to learn how to play a DVD on Sony PS4/PS4 Pro/PS4 Slim, how to fix PS4 not reading disc problem, and more frequently asked questions about PS4 DVD player.
Table of Contents
Part 1 Can PlayStation4 Play DVDs?
Can PS4 play DVDs? Can PS4 Pro play DVDs? Can PS4 Slim play DVDs? Yes, All PS4 editions can play DVDs and Blu-rays. So, what DVD and Blu-ray disc formats does PS4 support?
PS4 supported DVD disc formats:
DVD-ROM
DVD-R/RW*1 (video mode, VR mode*2)
DVD+R/RW*1.
Note: *1 AVCHD is supported. *2 CPRM is supported.
PS4 supported Blu-ray disc formats:
BD-ROM (Hybrid discs are supported.)
BD-R/RE (BDAV, BDMV)
What disc types are not supported to play on PS4?
PS4 doesn't support BD-RE ver.1.0, BD-R/RE XL, DVDs that have not been finalized, and burned discs or audio CDs..
Additionally, you will find difficulty in playing DVDs and Blu-rays with scratches and dust. And some blu-ray and DVD discs won't play on PS4 because of the quality of recording, the characteristics of the recording device, and variations in the manufacturing process or encoding of the software.
NOTE: PS4 Isn't Region Free for DVDs! So, How to Make PS4 Play DVDs from Other Regions?
There are two ways: the first is to change region of your PS4, the second is to convert your DVD to a region-free digital file with WinX DVD Ripper. This tool can bypass region code restrictions as well as DVD copy protection schemes and convert DVD to PS4 playable format like MP4, AVI, and MPEG. Actually, WinX DVD Ripper can rip your DVDs to more formats and devices. Let's free download it to have a try!
Part 2 How to Play DVD on PS4/PS4 Pro/PS4 Slim?
Does PS4 play DVDs? Yes, PS4 can play DVDs without requiring a separate app to download and install. But you need to update PS4 system software and enable disc playback feature by connecting your PS4 to the internet when you play DVD on PS4 for the first time. After you turn on this feature, you can play DVD on PS4 without internet.
To update PS4 system software, you simply need to connect your PS4 to internet, open the function screen, and then tap Settings -> System Software update and install the latest system software version.
How to enable Bluray and DVD disc playback feature on PS4?
Step 1. Eject the DVD or blu-ray disc you want to play on PS4.
Step 2. Connect your PS4 to the internet/wifi.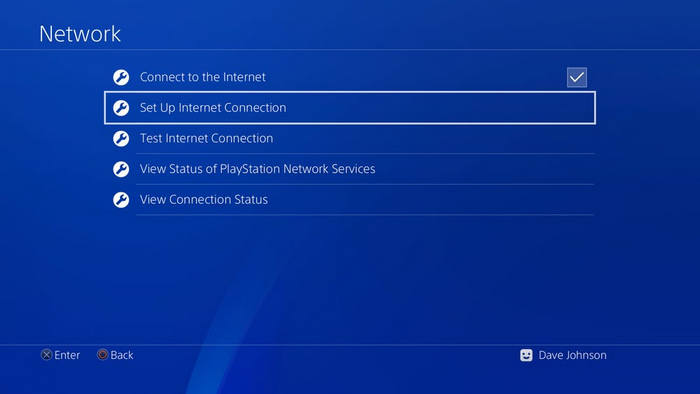 Step 3. Insert the DVD you want to play on PS4 and then the disc playback feature will be automatically enabled.
Hereafter, you simply need to insert the DVD disc and then PS4 will play the DVD automatically. Alternatively, you can go to Video section in the XMB menu and hit X button on the movie title to play the DVD disc.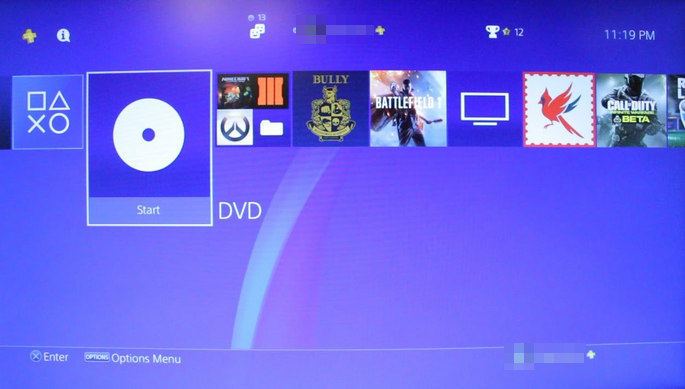 Part 3 How to Fix PS4 Not Reading Disc and Other Problems?
Does PS4 play DVDs fine? PS4 sometimes could really drive you crazy and freak you out. Here are some common issues that users of PS4 have encountered while playing DVD, along with solutions. Do remember that you could always try to get help from PlayStation Support/Blog/Forum when your PS4 won't play DVD.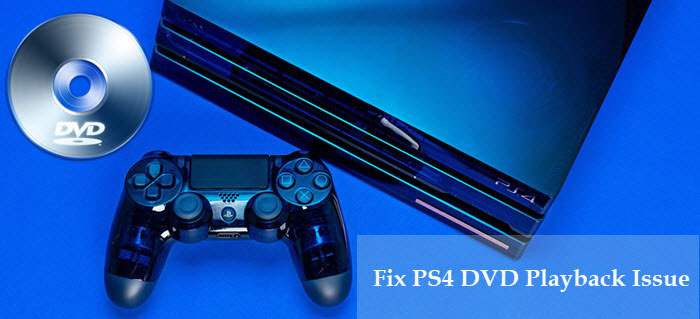 1. Unexpected game disc/DVD ejection and followed with no acceptation of the discs.
Official Solution: First, hold down the power button until the system beeps twice. Then wait about 30 seconds until all system lights are off. Unplug the power cord for three minutes. If the issue isn't exterminated, visit Sony online Service Request page.
Users' Solution: Take the rubber stopper under the eject button off. (Some users do say it works like a charm.)
Related article: PS4 manual disc eject won't work >>
2. When playing game DVD, PS4 shows "Unrecognized Disc" or "NO Disc Inserted"
Official Solution: Delete the game app data and reinstall it. If failed, try PS4 safe mode options.
Solution 1: Clean your disc with a microfiber cloth. The disc reader is really sensitive to scratches and fingerprints.
Solution 2: If your disc is BF4, try another one. Some users report they just have problems only on BF4.
Solution 3: Dissemble your disc drive. Visit YouTube to know the detailed steps.
Classic Solution: Take the disc out and reboot your PS4.
3. After putting the disc into DVD drive, it shows a black screen
Solution: When you see the black screen, change the input on your TV off the current HDMI then change it back. (That works for some people for some reason.).
4. Issue with ejecting PS4 discs - discs get stuck in the11 drive
Solution: Try to eject the stuck disc manually.
5. PS4 DVD Skipping
Solution 1: It's reported that PS4 and PS5 don't work properly with older DVD discs, for they're thicker discs. Change newer disc to have a try.
Solution 2: Clean your DVD disc and DVD drive.
Solution 3: Rebuild the database or initialize the system.
Solution 4: Generally, there is an aluminum disc sandwiched between two plastic discs for a DVD disc. In some cases, these layers aren't glued together well (due to the long-time storage, damp storage environment...) and the beam is unable to detect the pits in the aluminum disc. So heating or boiling the disc helps.
Part 4 How to Play DVDs on PS4 just Fine Without Errors
After you tried all possible solutions and were at full stretch, chances are that you were still not able to fix PS4 DVD playback problems. Well, for your game discs, you may better contact your dealer or go directly to Sony. For your movie DVDs, there is an indirect but easy way - you can convert your DVD to MP4 (DVD to AVI, MPEG2 also available, while MP4 recommended for best quality) for PS4 with nearly the same high quality by a professional DVD ripper - WinX DVD Ripper Platinum.
WinX DVD Ripper Platinum Help Play DVD on PS4 in Digital Format, No Disc Any More!
Rip any DVD to PS4/PS5 and other game consoles (Xbox) supported MP4, H264, MKV, AVI, MPEG-2.
Play DVD on PS4 in digital formats, no DVD disc/drive needed, no PS4 not reading disc or eject error!
Feed whatever DVD to WinXDVD, damaged/99-title DVD, region code DVD, DVD with bad sector...
Please DO NOT use WinX DVD Ripper to rip rental DVDs.
For Windows and Mac only. If you are a mobile user, please click here.
Download and install WinX DVD Ripper Platinum first. Then run this DVD to PS4 converter. Just a few clicks and some minutes, you will get a high-quality movie video playable on your PS4.
Step 1: Click "DVD Disc" and "Select the source DVD disc" to choose the DVD movie you want to watch on PS4. Hit "OK" to start loading.
Step 2: After loading, the Output Profile would pop out. Move to Device Profile > Sony Device > to PS4 Video > PS4 (H264) or PS4 (AVI/MPEG4/MPEG2) > OK.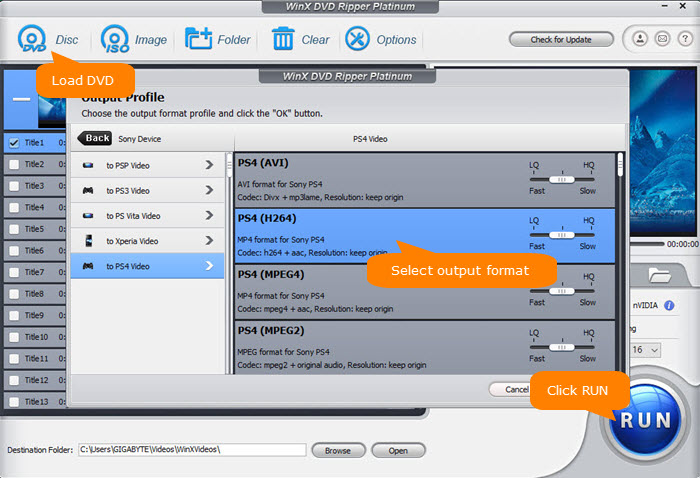 Step 3: Click "Browse" to specify an output folder on your computer or a storage device to save the output files.
Step 4: Since the hardware encoder options and the right movie title can be detected and checked automatically, you only need to click the "RUN" button to start DVD to PS4 converting after finishing the above steps. When the conversion is done, you could save the resulting file into a USB and play DVD movie from USB on PS4.
Just by a few clicks, PS4 not playing DVD problem gets resolved. Now, you can never bother to ask yourself: "Why my PS4 can't play DVD? or why I can't play DVD on PS4?" Just enjoy yourself with PS4 without the annoyance of PS4 DVD playback issues.
Disclaimer: Digiarty Software does not advocate ripping copy-protected DVDs for any commercial purpose and suggests referring to the DVD copyright laws in your countries before doing so.
Part 5 10 FAQs About Playing DVD on PS4?
1. Why is your PS4 not playing DVDs?
There are many possible reasons for PS4 won't play DVD.
Your DVD uses a format that PS4 doesn't support to play;
Your DVD is scratched or dirty;
Your DVD is encoded with a region code that different from that of your PS4;
Your DVD is recorded with bad quality;
There's problem with the DVD drive.
2. Can you play a regular DVD on PS4?
Yes, PS4 can play standard DVD discs.
3. Can PS4 play region 1 DVD?
It depends on where your PS4 come from. If your PS4 is bought from the United States, Canada, Puerto Rico or Bermuda, the PS4 can play region 1 DVD directly.
This is because the PS4 itself is region-locked with DVD and Blu-ray disc. If you want to play DVDs from other regions, you need to change the region on your PS4. Please note that PS4 allows changing region up to 4 times only after that your PS4 DVD region will be locked forever. At that time, you can rip DVD to USB and play it from USB on PS4.
4. Can PS4 play region 2 DVD?
PS4 from Europe and other region 2 locked countries can play region 2 DVD natively.
5. Can PS4 play burned DVD?
6. Can PS4 play 4K disc?
No. All versions of the PS4 don't support 4K UHD Blu-rays. They only support regular HD and 3D Blu-rays, as well as ordinary DVDs. Only PS5 Standard Edition can play 4K UHD Blu-rays.
7. How to play DVD on PS4 without internet/wifi?
PS4 requires connecting PS4 to internet one time only for enabling disc playback feature. After that, you can watch DVD on PS4 offline without internet connection.
8. How to enable disc playback feature on PS4 without internet?
It is impossible. You must connect to internet to turn on this feature for Blu-ray/DVD playback on PS4.
9. How to play DVD on PS4 without controller?
Solution 1: If your TV supports bravia sync or hdmi cec you can use your tv remote to control DVD playback on PS4.
Solution 2: Download and install an remote control app on your iPhone or Android to play DVD on PS4. On Android, it's just called PlayStation App.
10. Can playing DVDs on PS4 damage it?
Playing a regular DVD on PS4 won't damage your game console. But, the following discs are not recommended to play on your PS4, because they may damage your PS4.
8 cm discs
Non-circular discs, such as discs in the shape of a card, star, or heart
Discs that are cracked or deformed, or discs that have been repaired
Referrences:
Supported disc formats. Playstation.net.
Problems reading discs on PlayStation®4. Playstation.com.