Posted by Lydia Wong - Contact Author

Get Annoyed by PS4/PS5 DVD Playback Issues? Here're Solutions!

If you are searching for the best solutsion, click here: The solution most recommended by us [85%]
Updated: PS5 is set to beat Xbox Series X with its killer features such as innovative DualSense controller, superior 3D sound, etc. On top of that the powerful SSD that provides 5.5GB/s of performance ensure fast game, movie and video loading speed. But just like its predecessor PS4, DVD playback issue on the new game console is still unsettled. The following part is here to tackle DVD playing error on both PS4 and PS5.
PS4 Feature and Problem: PS4 has released for some time. Its fans may be in bittersweet moods. With a 4k (3840x2160p) display and lossless 7.1 channel and an eight-core Jaguar CPU, paired with a Radeon 7000-series GPU, it is amazing for playing games and watch movies on PlayStation 4. But its BD/DVD disc drive sometimes could really drive you crazy and freak you out, especially some PS4 DVD playback issues and related DVD disc not reading problems.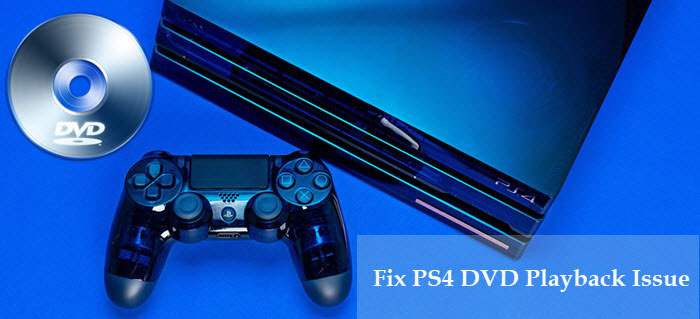 Some Common PS4 DVD Playback/Disc Reading Issues and Possible Solutions
Here are some common issues that users of PS4 have encountered and their suggesting solutions. Do remember that you could always try to get help from PlayStation Support/Blog/Forum.
1. Unexpected game disc/DVD ejection and followed with no acceptation of the discs.
Official Solution: First, hold down the power button until the system beeps twice. Then wait about 30 seconds until all system lights are off. Unplug the power cord for three minutes. If the issue isn't exterminated, visit Sony online Service Request page.
Users' Solution: Take the rubber stopper under the eject button off. (Some users do say it works like a charm.)
Related: PS4 manual disc eject won't work >>
2. When playing game DVD, it shows "NO Disc Inserted" or "Unrecognized Disc"
Official Solution: Delete the game app data and reinstall it. If failed, try PS4 safe mode options.
Solution 1: Clean your disc with a microfiber cloth. The disc reader is really sensitive to scratches and fingerprints.
Solution 2: If your disc is BF4, try another one. Some users report they just have problems only on BF4.
Solution 3: Dissemble your disc drive. Visit YouTube to know the detailed steps.
Classic Solution: Take the disc out and reboot your PS4.
3. After putting the disc into DVD drive, it shows a black screen
Solution: When you see the black screen, change the input on your TV off the current HDMI then change it back.( That works for some people for some reason.).
4. Issue with ejecting PS4 discs - discs get stuck in the11 drive
Solution: Try to eject the stuck disc manually.
Much Simpler Way to Get the PS4 DVD Playback Issues Solved
After you tried all possible solutions and were at full stretch, chances are that you were still not able to get PS4 DVD problems worked out. Well, for your game discs, you may better contact your dealer or go directly to Sony. For your movie DVDs, there is an indirect but easy way - you can convert your DVD to MP4 (DVD to AVI, MPEG2 also available, while MP4 recommended for best quality) for PS4 with nearly the same high quality by a professional DVD ripper - WinX DVD Ripper Platinum.
Play DVD Content on PS4/PS5 in Digital Format, No Disc Any More!
Rip any DVD to PS4/PS5 and other game consoles (Xbox) supported MP4, H264, MKV, AVI, MPEG-2.
Playback DVD content on PS4 in digital formats, no DVD disc/drive needed, no disc read/eject error!
Feed whatever DVD to WinXDVD, damaged/99-title DVD, region code DVD, DVD with bad sector...

Download WinX DVD Ripper Platinum on Windows

to rip DVD to PS4

Download WinX DVD Ripper Platinum on Mac

to rip DVD to PS4
Download and install WinX DVD Ripper Platinum first. Then run this DVD to PS4 converter. Just a few clicks and some minutes, you will get a high-quality movie video playable on your PS4.
Step 1: Click "DVD Disc" and "Select the source DVD disc" to choose the DVD movie you want to watch on PS4. Hit "OK" to start loading.
Step 2: After loading, the Output Profile would pop out. Move to Device Profile > Sony Device > to PS4 Video > PS4 (H264) or PS4 (AVI/MPEG4/MPEG2) > OK.
Step 3: Click "Browse" to specify an output folder on your computer to save the output files.
Step 4: Since the hardware encoder options and the right movie title can be detected and checked automatically, you only need to click the "RUN" button to start DVD to PS4/5 converting after finishing the above steps. When the conversion is done, you could load high-quality resulting file on your PS5 fast and enjoy it freely.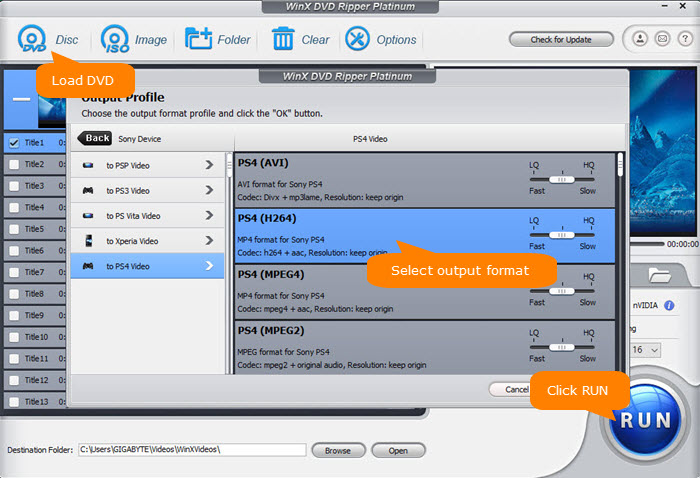 Just by a few clicks, the problem for playing DVD on PS4 gets resolved. Now, you can never bother to ask yourself: "Why my PS4 can't play DVD? or why I can't play DVD on PS4?" Just enjoy yourself with PS4 without the annoyance of PS4 DVD playback issues.
Disclaimer: Digiarty Software does not advocate ripping copy-protected DVDs for any commercial purpose and suggests referring to the DVD copyright laws in your countries before doing so.