How to Change Region on PS4 to Play DVDs & Games from Other Regions
With a PS4, we can not only play games but also play DVD and Blu-ray movies. However, some people get an error message saying "Cannot play this disc due to region restrictions" when they try to play a DVD on PS4. How could this happen? Does this mean that PS4 is region-locked. If PS4 is region-locked, can we change the region of PS4, or just make it region-free? Let's figure them out.
Remove Regions

DVD to MP4

1:1 DVD Copy
WinX
DVD Ripper
Special Offer
Easily remove region codes from DVDs and convert DVDs to region-free MP4, AVI, AVCHD, MOV, etc. for PS4/5, Xbox One, Xbox Series X/S, Nintendo Switch, etc.
Part 1. Is PS4 Region-free or Region-locked?
In short, PS4 is region free for games, with region restrictions for DLCs, but it is region locked for movie DVDs & Blu-ray discs. [See also: Is PS5 Region Free? Can PS5 Play DVDs?]
The disc version of a game will run on any PS4, no matter what region it is from. However, the digital version is region-locked. This is because each region has their own laws regarding the content presented in some games. They can remove the games and their DLCs from their region's Playstation Store. But fortunately, you can easily overcome this problem by making an account of another region (using fake credentials).
As for movie discs, PS4 will only play discs from the region the console is from or that are region free. That's why you'll get an error message saying "Cannot play this disc due to region restrictions" if you try to put in a DVD or Blu-ray from a different region.
The PS4 games are region free because the game discs/codes are. It has nothing to do with the PS4's hardware.
PS4 consoles are divided into different regions. Regions are broken down into a two-digit numerical suffix, which forms the last two numerical digits of a console's model number. For example a model number of: CUH-10xxA, the numbers for "xx" indicate the region assignment of the console.
The region assignment of your PS4 determines:
Which region Blu-ray video discs (BD) and DVDs you are able to watch.
What type of outlet prong your power cable comes with.
Some of your default system settings and console operation.
What region PS4 games you are able to play (Mainland China only).
Therefore, it is recommended that you purchase your PS4 from an authorized retailer in your country. When you consider purchasing a PS4, you can refer to the following table to check how Sony Interactive Entertainment has assigned regions for the PS4.
| | | | |
| --- | --- | --- | --- |
| Suffix | Region | BD Region | DVD Region |
| 00 | Japan | A | 2 |
| 01 / 15 | North America (Canada, United States) | A | 1 |
| 02 | Oceania (Australia, New Zealand) | B | 4 |
| 03 | Ireland, United Kingdom | B | 2 |
| 04 / 16 | Europe, Middle East, Africa | B | 2 |
| 05 | South Korea | A | 3 |
| 06 | Southeast Asia (Hong Kong, Indonesia, Malaysia, Philippines, Singapore, Thailand) | A | 3 |
| 07 | Taiwan | A | 3 |
| 08 | Central Asia, India, Russia, Ukraine | C | 5 |
| 09 | Mainland China | C | 6 |
| 11 / 14 | Latin America (Mexico, Central America, South America) | A | 4 |
If you want to play a DVD from another region on your PS4, you can change the DVD region code of your PS4 or remove the DVD's region restriction. Now let's show you how to do this.
Part 2. How to Change the DVD Region Code of a PS4?
We cannot make PS4 region free for movie DVDs, but we can change the DVD region code of PS4 to fit our DVDs.
Before we explain how to change the region of a PS4, we want to remind you that you can only change the regional code system settings 4 times. After that, the PS4 DVD region code will be locked to the last setting. If you'd like to unlock PS4 this way, follow the guide.
Step 1. Open your PS4's DVD drive and then insert the DVD disc that is locked to a different region.
Step 2. Then you'll get a message saying "To play this DVD, change the DVD region code of the PS4." Just click the "Next" button .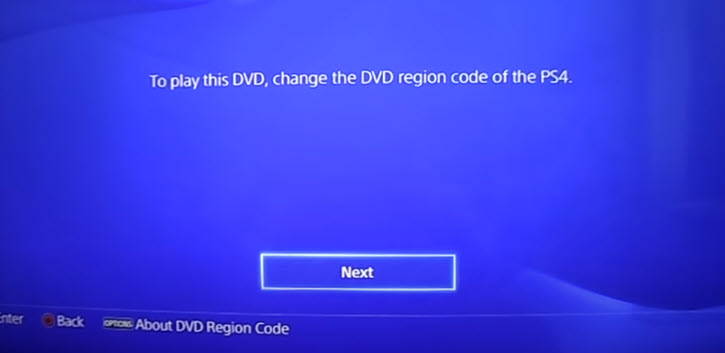 Step 3. Then you'll be required to select the DVD region code of the PS4. And, it will display a DVD region map on the left of the screen for your reference. Now, just select desired region.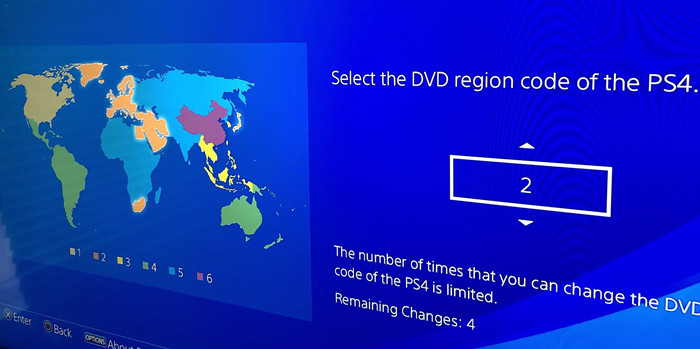 You can usually find the region code at the back of the DVD cover. The region codes printed on the DVD case correspond to the following countries:
Region 1 is for the US and Canada
Region 2 is for the UK and Europe, Japan, the Middle East, Egypt, South Africa, and Greenland
Region 3 is for Taiwan, Korea, the Philippines, Indonesia, and Hong Kong
Region 4 is for Mexico, South and Central America, Australia, New Zealand, Pacific Islands, and the Caribbean
Region 5 is for Russia, Eastern Europe, India, Africa (but not South Africa), North Korea, and Mongolia
Region 6 is for China
Part 3. How to Make DVD Region Free for Playing on PS4
If you don't want to change the region of your PS4, after all changes are quite limited, another option is to make the DVD region free for PS4. It's quite easy. And, it will not damage your original DVD. You just need a region DVD converter like WinX DVD Ripper Platinum. This DVD ripper is able to remove DVD regions 1-6, RCE, CSS, Sony AcroSS, Bad sector, 99 titles, and almost all the encryptions on a DVD. It requires a few clicks only to convert region-coded DVDs to region-free MP4, AVI, MPEG2, AVCHD, MP4, etc. for PS4.
Step 1. Download and install WinX DVD Ripper on your computer.
Step 2. Insert the region-locked DVD to the disc drive and run the software. And then, click the "DVD Disc" button to open the DVD you want to remove region. It accepts DVDs from any region without the need to set the region of the DVD drive.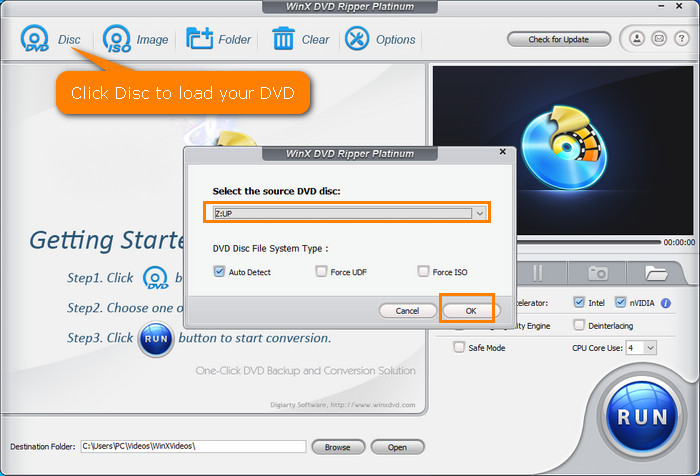 Step 3. Once detected, it will bring you to the output profile window. To play the DVD rip file on PS4, you'd better scroll down to "Sony Device" and then choose a PS4 preset. There are 4 PS4 presets including PS4 (AVI), PS4 (H264), PS4 (MPEG4), and PS4 (MPEG2). Simply choose any one you like.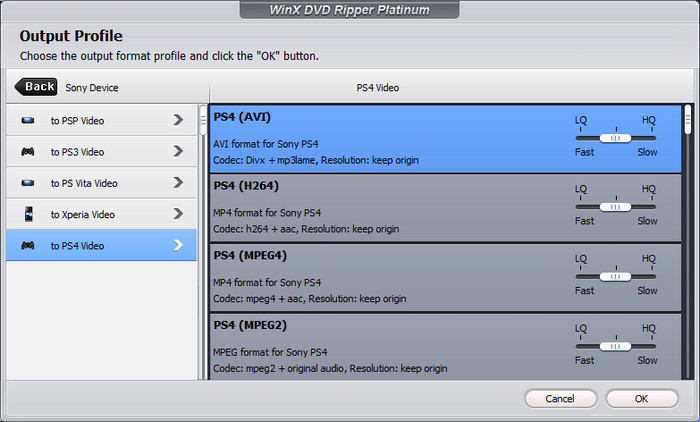 Alternatively, you can scroll down to DVD Backup and choose clone DVD to ISO or clone DVD to DVD folder. This way you'll get a region-free ISO file or VIDEO_TS folder and then you can burn them to a region-free DVD for playing on PS4.
Step 4. Click "RUN" to begin converting. It takes a few minutes to convert the DVD to region free file for PS4.
Video Tutorial: How to Change DVD Region Code Using WinX DVD Ripper Platinum
Part 4. How to Change PSN Region/Country on PS4?
In addition to PS4 DVD region hack, your device is also locked to the region you've set up for your PlayStaion Network (PSN) accounts. What if you want to play some RPG games, broadcast services, TV series that are not available where you live? How to change your PS4 PSN country region? Unfortunately, you can't change the region of existing PS4 PSN account. But you can create new PSN account to unlock other PS4 regions and access content from other regions.
Step 1. Turn on your PS4 and select New User on the welcome screen.
Step 2. Select Create a User, accept the User Agreement, and then click Next.
Step 3. Choose to create a new PlayStation Network account and enter an email address that isn't currently registered to a PSN account.
Step 4. Choose the region of the content you want to play on PS4.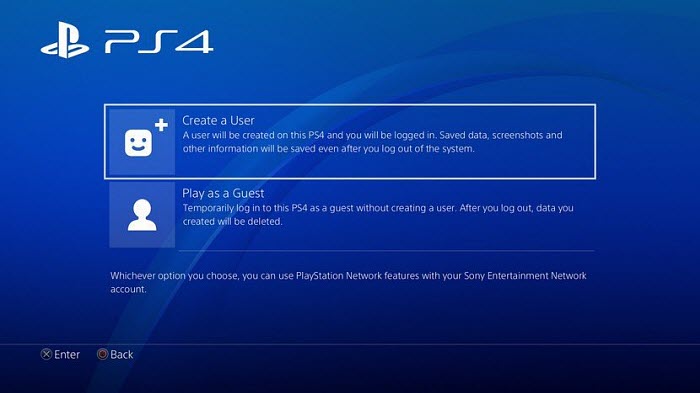 If you forget the region of your account (which is selected during set up), you can check through account management following the steps below.
Step 1. Open PlayStation Store and then click the "Sign In" button from the top right of the screen.
Step 2. Select your "Online ID" to reveal the "Storefront Country" dropdown. Then, you can see your registered PlayStation Store country in the "Country/Region" field.