How to Change Region on PS4 to Play Any DVDs & Games
I have some UK DVDs to watch but when I put into PS4, I got a message saying "Cannot play this disc due to region restrictions" on PS4 and I had to change the region code. However, I get a bizarre screen saying the PS4 has only 4 times to change the region code and then it is locked. I have to change PS4 region code to Region 2 so I can watch these UK DVDs, and then change it back to Region 1 because I live in the U.S. That means I only have 2 times left for the entire span of the PS4's lifecycle before it's locked. That's absurd!!
Is PS4 a Region-Free DVD Player?
No. While PS4 games are region free, PS4 is region locked for both DVDs & Blu-ray discs and games. In this post, we'll guide you how to make PS4 region free to play foreign DVDs and other out-of-region content.
Also Read: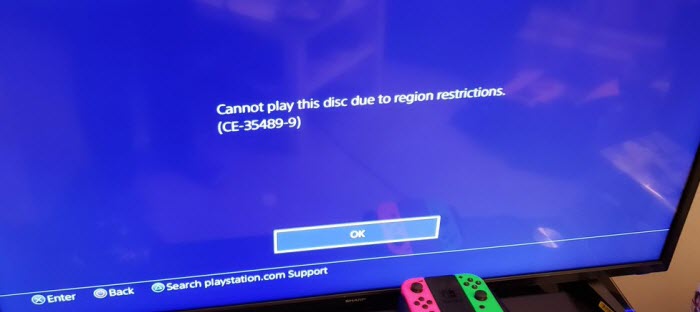 Part 1: How to Make PS4 Region Free for DVDs?
Method 1
First of all, you can use the 4 times to change the PS4 DVD region. It's unfortunate that only 4 times is too limited in the whole life of PS4. But if you would like to unlock PS4 this way, follow the guide:
Insert a DVD disc into your PlayStation 4.
Then you'll get a message saying "To play this DVD, change the DVD region code of the PS4." Click "Next".
You will then see a DVD region map on the left of the screen. Select the region of the DVDs (usually at the back of the DVD cover. If don't know which region is your DVD, check DVD region codes here>>) you want to watch from the right screen.
Now you should be able to watch the DVD. But note, you can only change your regional code system settings 4 times and then it will be locked forever.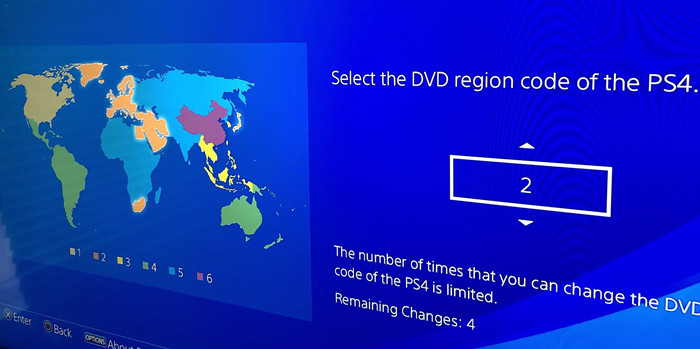 Method 2
If you don't want to waste a time of region change, another option is to make the DVD region free for PS4. You just need a region DVD converter like WinX DVD Ripper Platinum. The DVD ripper is able to remove DVD regions 1-6, RCE, CSS, Sony AcroSS, Bad sector, 99 titles, and almost all the encryptions on a DVD. It requires 3 clicks to convert region-coded DVDs to region-free MP4, AVI, MPEG2, AVCHD, MP4, etc. for PS4:
Get the software (Windows version and Mac version). Insert the foreign DVD to the disc drive and run the software. It accepts DVDs from any region without the need to set the region of the hard drive.
Once detected, it will bring you to the output window. All the profiles are created region-free. Select an output format.
Click Run to convert. It takes a few minutes to convert the DVD to region free files for PS4.
Video Tutorial: How to Change DVD Region Code Using WinX DVD Ripper Platinum
Part 2: How to Change PSN Region/Country on PS4?
In addition to PS4 DVD region hack, your device is also locked to the region you've set up for your PlayStaion Network (PSN) accounts. What if you want to play some RPG games, broadcast services, TV series that are not available where you live? How to change your PS4 PSN country region? Unfortunately, you can't change the region of existing PS4 PSN account. But you can create new PSN account to make PS4 region free and access content from other regions.
Turn on your PS4 and select New User on the welcome screen.
Select Create a User, accept the User Agreement, and then click Next.
Choose to create a new PlayStation Network account and enter an email address that isn't currently registered to a PSN account.
Choose the region of the content you want to play on PS4.