How to Rip Region Locked DVDs with Handbrake
Bought a DVD for a movie or TV show that's only available in a different region from Amazon and want a local copy because your drive is locked to a region? Everyone recommends you Handbrake to rip the DVD to MP4. But the DVD region code is the concern. Can Handbrake rip DVDs from region 2 or other areas? However, when you start to rip a region DVD using Handbrake, you may encounter bad conversion with Handbrake region mask 0x00xx0000 errors like:
libdvdnav: vm: dvd_read_name failed
libdvdnav: DVD disk reports itself with Region mask 0x00f60000. Regions: 1 4
libdvdread: Encrypted DVD support unavailable.
libdvdread: Can't open D:\ for reading
libdvdread: Device D:\ inaccessible, CSS authentication not available.
Here is the question: is it possible to rip region 2 DVD to region 1 with Handbrake, for example? Check solutions below.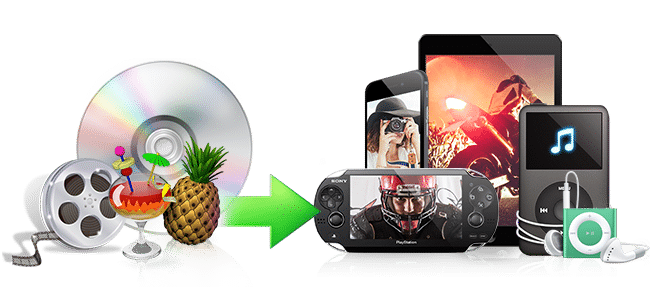 How to Rip DVD Region Code with Handbrake?
Solution 1: Change the Region of the DVD Drive
Regions are a protection measure enforced by the DVD drive. Some drives can be configured to support a different region using software; some drives will allow changing the region a limited number of times then lock the region, and some drives are "region free". HandBrake can't remove region code or change the region of your DVD drive.
To let Handbrake rip region DVDs, you need to change the region of the DVD drive to the region of the DVD you want to rip from, start to rip the DVD with Handbrake, and then change it back to the region of your country.
** Note ** You can change the region of a DVD drive for 5 times only.
Solution 2: Handbrake DVD Region rip with 3rd-party Helper
#1 Install VLC libdvdcss. Libdvdcss is a free library designed to access DVDs protected with CSS. Libdvdcss is able to perform a brute-force attack that ignores the DVD region codes. Therefore, after you download and install libdvdcss for Handbrake, you can rip a region DVD using Handbrake without the necessity to switch the DVD drive. But this only works on RPC1 drives.
#2 Install AnyDVD. AnyDVD is a device drive for Windows that runs background to remove a slew of copy protections from DVD, including region codes. Therefore, you can install AnyDVD, run it in the background, and it will remove the DVD region code for Handbrake. Then you can start to rip.
Solution 3: Rip DVDs from any Region with Handbrake Alternative
Since Handbrake is not even a DVD ripper. It can't decrypt DVDs with DVD regions or other protections. It has to rely on other tools to access region-coded DVDs. However, the combination of Handbrake and 3rd-party tools is not very stable. For example, if libdvdcss wasn't installed incorrectly, you'll see an error saying that the disc can't be read here instead. Handbrake is not even a DVD ripper.
 If you would like to try other options, WinX DVD Ripper Platinum is one of best. It will remove region code (1-6), playlist obfuscation, multiple titles, 99-titles, bad sectors CSS, Sony ARccOS, non-standard DVDs, etc. It supports DVDs from Lionsgate, Disney, Pixar, Paramount, Sony, and others. It's updated with the latest copy protections to allow you rip region DVDs without setting the drive. You can either make a 1:1 digital copy in ISO image or Video_TS folder of the region DVD for later burning to another disc, or convert the DVD to MP4, H.264, AVI, MOV, WMV, FLV, iPhone, Android etc.
First, free download the Handbrake alternative DVD ripper. You don't need to set the disc drive or download other apps.


For Windows (Windows 10 and earlier)


For macOS (Big Sur and earlier)
Step 1: Load the DVD. Run the software and insert the region-coded DVD into the disc drive. Then click the Disc button and the ripper will start to scan the right DVD title.
Step 2: Select an output format. Then the software will bring you to the output format window and there are up to 350+ options.
Step 3: Start to rip region DVDs. Then click the RUN button to start rippping.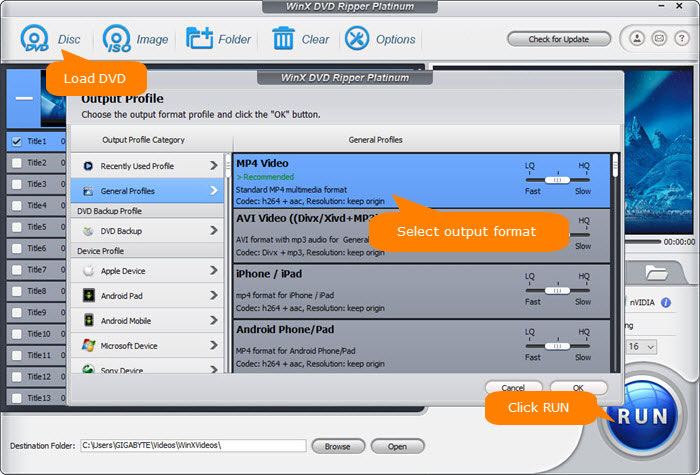 Video Tutorial: How to Change DVD Region Code Using WinX DVD Ripper Platinum