Does HandBrake Remove DRM from DVD? How to Rip a DRM-ed DVD?
Can HandBrake remove DRM from DVD?
No, Handbrake can't remove DRM on its own. Since V0.9.3, Handbrake has removed the internal libdvdcss and can no longer decrypt DVDs and videos with DRM. According to the official site of Handbrake, "HandBrake does not defeat or circumvent copy protection of any kind. It does not work with video files employing Digital Rights Management (DRM)." When you import DRM-protected media into Handbrake, it will warn you "no valid source found" or "Copy-Protected sources are not supported".
But with the help of third-party tools, you can use Handbrake to remove DRM from DVDs. How to do it? Check below.
Best HandBrake Alternative to Remove DRM & any Copy Protections
WinX DVD Ripper Platinum - remove various copy protections from DVD, like CSS, region code, RCE, FBI Warning, AACS 2.0, Sony ArccOS, Disney DRM and other schemes on latest DVD movies, 99-title DVDs, bad sector DVDs, DVD with fake playlist, workout DVDs, etc. Rip DVDs to more output formats, and devices than Handbrake, including MP4, MKV, MOV, AVI, FLV, VOB, MPEG-2, iPhone iPad, Android, PS5, Xbox...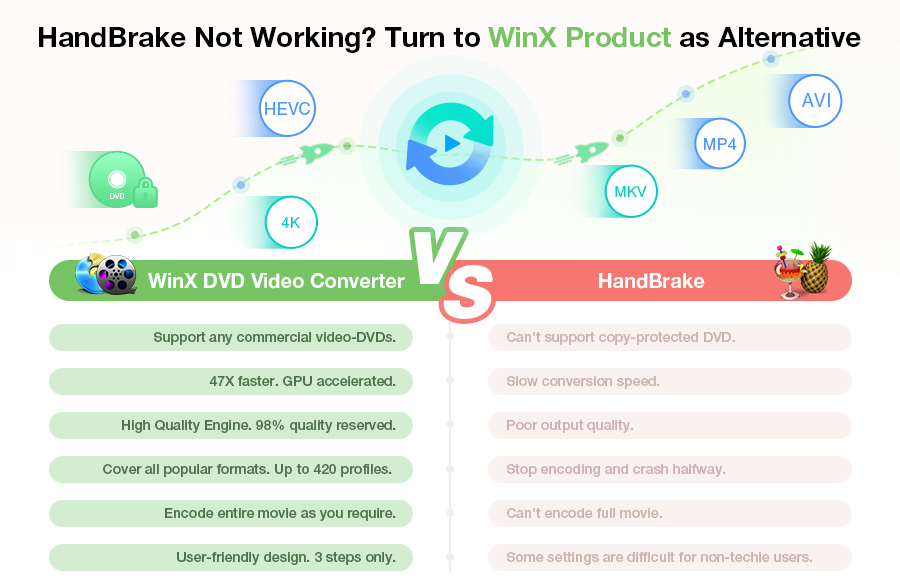 Part 1. Can't Remove DVD DRM in HandBrake? Get libdvdcss!
No matter how many upgrades HandBrake brings, it still can't circumvent DVD copy protections. So, is it impossible to use HandBrake to remove DRM on a DVD? Actually, you have the chance to rip a CSS-encrypted DVD with HandBrake if installing libdvdcss.
What is libdvdcss? It is a library designed for accessing DVDs with Content Scramble System (CSS) encryption, which is widely used by free player software to decode protected discs. It is available for Windows, macOS, Linux and more platforms. Using it, HandBrake is able to remove DRM on DVD and achieve DVD ripping successfully.
So, how to use HandBrake to rip an encrypted DVD with DRM removal?
Step 1. Download and install libdvdcss for HandBrake.
On Windows:
Download for Windows 32 Bit: https://download.videolan.org/pub/libdvdcss/1.2.12/win32/
Download for Windows 64 Bit: https://download.videolan.org/pub/libdvdcss/1.2.12/win64/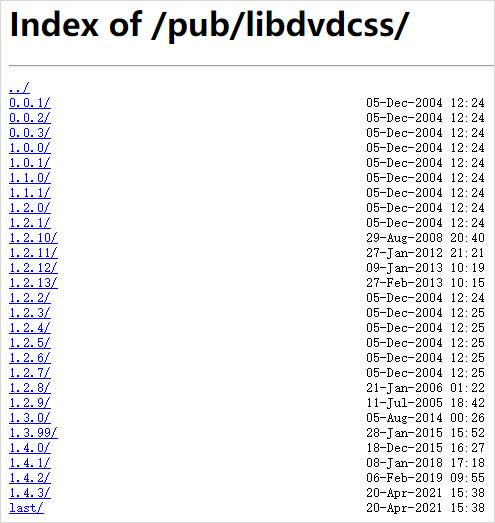 After the correct libdvdcss version is downloaded, copy the dll file to HandBrake installation folder which is normally located at C:\Program Files\Handbrake. Now, libdvdcss is successfully installed on your computer. >> Check detailed steps to download libdvdcss on Windows
On macOS:
You need the Homebrew to install libdvdcss on Mac:
Open the Terminal application, enter /usr/bin/ruby -e "$(curl -fsSL https://raw.githubusercontent.com/Homebrew/install/master/install)" to install Homebrew on Mac.
Launch a command line window and type in brew install libdvdcss and hit enter. Then libdvdcss will be installed on Mac to help Handbrake remove DVD DRM.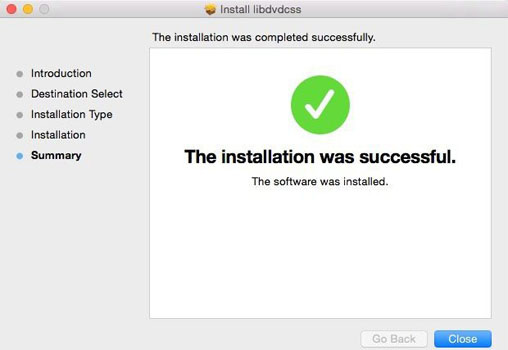 Step 2. Launch HandBrake. If you have inserted the DRM-ed DVD into optical drive, HandBrake will automatically show the source selection panel. You just need to choose the DVD. If not, click Open Source to access the source selection panel.
Step 3. DVD will soon be loaded. Sometimes, HandBrake helps detect the main title while some other times you should manually select the main title. After confirming the title, click Browse button in Destination section to define folder to save output file and the name.
Step 4. In Output Settings section, select MP4 or MKV as output format. In addition, various presets are listed on the right of HandBrake window. You can pick any preset (for web, for devices and more) depending on your needs as output.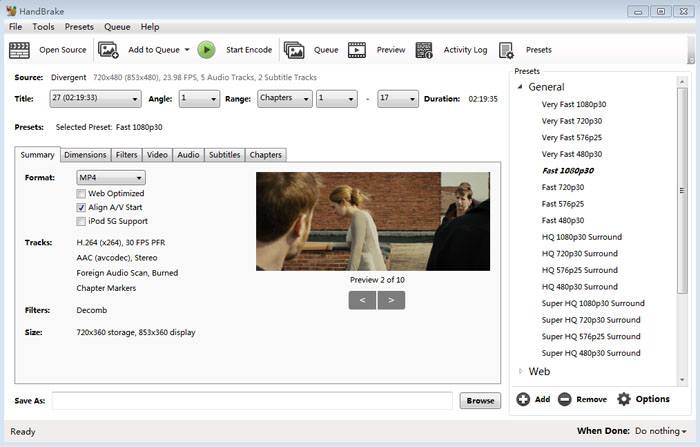 Step 5. Click Start Encode to remove DRM on DVD and rip the encrypted DVD to MP4 or MKV with HandBrake.
Tips:
You can adjust video/audio parameters, like codec, bitrate, frame rate, resolution and more to achieve an ideal effect of the resulting file.
HandBrake empowers you to add/delete audio and subtitle tracks. You can also import external subtitles for a foreign DVD.
If there is no demanded preset provided by HandBrake, you can add a personalized preset by customizing preset name, picture size, audio and subtitles.
Part 2. Libdvdcss not Working? Try Best Handbrake Alternative
It is not a simple task to install libdvdcss and get it to work with HandBrake to remove DRM, especially on Mac. Errors happen from time to time:
Trying to download libdvdcss on macOS Monterery but get an warning message when I start to install the package, saying it is incompatible.
Handbrake on M1 Macs can't seem to get it to recognize/use libdvdcss properly when trying to archive my DVD videos.
Fail to rip encrypted DVD even though libdvdcss is installed...
After I upgrade my system, Handbrake can't remove DRM anymore. Libdvdcss errors?
And even if libdvdcss is properly installed, HandBrake may also have difficulty in ripping some DRM-ed DVDs.
In such case, WinX DVD Ripper Platinum would be your lifesaver! It helps you:
Skirt DVD copyright DRM protection of any kind, be it CSS, Region Code 1-6, RCE, AACS, UOPs, Sony ARccOS, Disney X-project DRM...
The output list is a mile long, ripping DVDs to MP4, AVI, WMV, MOV, FLV, 3GP, iPhone, iPad, Android, Xbox, PS5...more profiles than HB.
1:1 clone DVD with main/full title as MPEG-2 file; backup DVD to ISO image with untouched quality!
Intel QSV, Nvidia NVENC hardware accelerator, Hyper-threading tech, and Super Encode Engine help rip a DVD in about 10 minutes.
To Rip DRM Protected DVDs with WinX, Read on the below Guide:
Step 1. Download and install the Handbrake DRM removal alternative on your computer.
Step 2. Insert DVD into optical drive. Launch WinX DVD Ripper Platinum and click DVD disc to import source DVD. This best alternative to Handbrake will remove DRM from a protected DVD and recognize the correct title from multiple titles, all on its own. Handbrake DRM errors like "DVD disc not found" or "no valid source found" won't occur in this DVD ripper.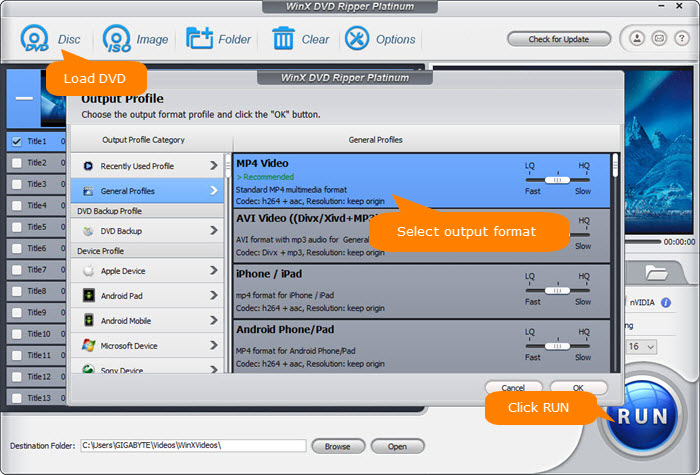 Step 3. All titles of DVD will be loaded soon. Main title is auto-checked. Meanwhile, Output Profile window appears. Select one format as output format, for example General Profiles > MP4 Video. Click OK.
Step 4. Click Browse button to define destination folder and click RUN button to start DRM removal. After all is done, you can get a crisp video ripped from protected DVD in the destination folder.
Disclaimer: Digiarty Software does not advocate ripping copy-protected DVDs for any commercial purpose and suggests referring to the DVD copyright laws in your countries before doing so.
Part 3. FAQ
1. Can Handbrake remove DRM from iTunes movies?
No. iTunes stores all the movies in M4V with DRM. While Handbrake is able to handle videos in M4V format, it works with non-DRM files only. Handbrake doesn't support DRM of any type, including iTunes DRM.
2. How do you remove copyright using Handbrake?
Libdvdcss and other third-party tools such as AnyDVD are the only way to let Handbrake remove DRM. When the libdvdcss library is installed correctly on your computer, Handbrake can automatically load libdvdcss when a protected DVD is inserted.
3. Do all DVDs have DRM?
No. Generally speaking, homemade DVDs are created without DRM. But nearly all the DVDs you bought from a store come with DRM and encryptions. Handbrake with libdvdcss is able to remove some DRM measures such as CSS and region codecs. But libdvdcss is an old library and can't remove newer protections.
4. Is it legal to remove DRM?
If you use Handbrake or the DVD ripper in the article to remove DRM from DVDs in order to play a movie easier on other platforms, it's widely regarded as legal. However, you need to know that it is prohibited in the US to break DRM. DRM removal is perfectly legal only if you do it for personal usage.
Related External Source from Wiki:
1. HandBrake - HandBrake is a free and open-source transcoder for digital video files, originally developed in 2003 by Eric Petit (a.k.a. "titer" from his SVN repository username) to make ripping a film from a DVD to a data storage device easier. Since then, it has undergone many changes and revisions...
2. DRM - Digital rights management (DRM) is a set of access control technologies for restricting the use of proprietary hardware and copyrighted works...