Can HandBrake Rip Copy Protected DVDs?
HandBrake, as an open-source DVD ripping software for Windows, OS X and Ubuntu, can rip regular DVDs (homemade DVDs)/unencrypted DVDs and recognize Blu-ray structure internally. It has utilized new encoders such as x265 and libvpx to support H.265 and VP8, Intel QuickSync Video (QSV, hardware-based H.264 encoder) and LibFaac. Does the propelling technology make HandBrake decrypt DVDs with copy protections?
HandBrake cannot rip copy protected DVDs on its own, even if it has been updated to 1.3.3. Videlicet, only a few of your commercial DVDs are able to be copied and transcoded by HandBrake on Windows, Mac and Linux.
How to Make HandBrake Rip Copy Protected DVDs?
DVDs with CSS and the similar copy protections can be possibly handled by HandBrake when VLC libdvdcss is installed (learn how to install libdvdcss to rip protected DVDs) . That is to say, you can try your luck for ripping some commercial DVDs with the assistance of libdvdcss or something when using HandBrake.
However, there are some exceptions. For example, VLC 2.0 changed the code libraries it uses for decrypting, which means Handbrake could not find VLC or the installation. And strictly speaking, no matter how it updates in the future, HandBrake will not decrypt and unscramble any protected DVD and Blu-ray discs itself, doomed by the kernel mode and coding schemes.
Most DVDs you buy from the store have copy protections
WinX DVD Ripper Platinum does better than HandBrake! It can decrypt DVDs without the help of libdvdcss or other programs. Download WinX DVD Ripper to rip copy-protected DVDs on PC or Mac: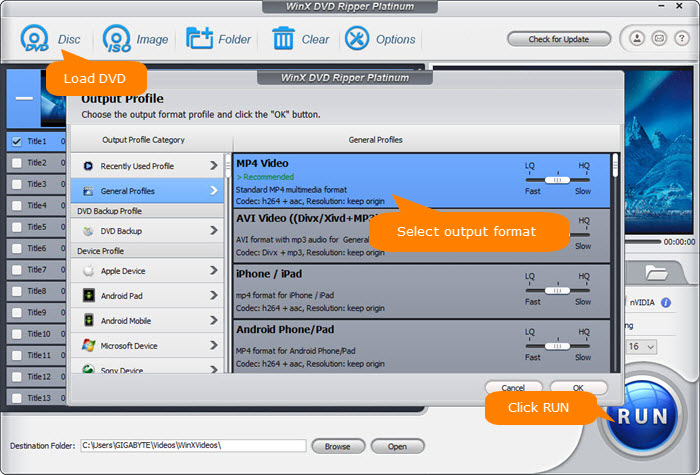 ▪ Remove all DVD encryptions, including DVD CSS, region code, RCE, Sony ArccOS, UOPs, Disney X-project DRM, and more.
▪ Support GPU hardware acceleration, multi-core CPU utilization, and Hyper-threading technology. Rip copy protected DVDs at 3-5x faster than common DVD ripper.
▪ Continuously updated so as to rip new movie DVDs.
WinX DVD Ripper Platinum is the perfect example of a decent DVD ripping software that works well both for advanced and amateur users. - Editor's Review from Download3K
What DVD Copy Protections Cannot Be Supported by HandBrake?
As for DVD encryption technologies, some are regular and conventional, while the others are new and tough. The following is the list of DVD control and copy protections not supported by HandBrake. • Objects: DVDs distributed by Walt Disney
• Disney New DVD Copy Protections that have been and will be updated constantly.
It is the latest generation DVD copy protection produced by Walt Disney Pictures. By disguising, there seems to be 99 chapters in a movie DVD and the file size will go up to 40GB. The majority of DVD rip and copy programs and apps in the market will be defeated by Disney movie DVD copy protections. They will fail to choose the right main title or chapter and recognize the capacity wrongly. The DVD ripping process will crash and the output file will be played out of order, scrambled , repeated, or get stuck in a loop, while some parts of movie content are even not included in.
HandBrake won't rip Disney DRM protected DVDs with 99 titles, but WinX will.
• Objects: Commercial DVDs
• A very common DVD copy protection technology applied in almost all commercial DVD-Video discs.
CSS is employed by copyright content owners to avoid illegal duplication and distribution of digital media such as DVDs, videos and audios. Once CSS copy protection is applied to a DVD, it will prevent byte-to-byte copies of an MPEG (digital video) stream from being playable. Furthermore, it provides a reason for producers to make their devices compliant with an industry-controlled standard.
HandBrake won't rip CSS encrypted DVDs, but WinX will.
• Objects: DVDs
• The proprietary copy protection developed by Sony.
Its mechanism is deliberately inlaying the bad/corrupted sectors into areas of a DVD that most DVD players do not access, as an extra layer, in conjunction with Content Scramble System (CSS). While reading the ARccOS protected DVDs, most DVD players will fail to access, and some DVD ripping or copying software will produce errors.
HandBrake won't rip Sony DVDs protected with ARccOS, but WinX will.
• Objects: All DVDs
• A digital rights management technique mainly for preventing DVD content, release date and price by the distributors. The codes of specific DVDs in specific ranges of geographic area are stipulated in DVD Standard. Every DVD player has a code corresponding to the sales territory. If the movies are not distributed in the area, the DVD player will refuse to play such DVDs. Namely, the disc you buy outside of your country are probably not playable on the DVD player purchased domestically.
HandBrake won't rip region protected DVDs, but WinX will.
• Objects: Parts of DVDs
• An enhanced version of region code protection.
It is a retroactive attempt to prevent a DVD of one region from being played in another region. The disc contained the main program material region coded as region 1. But it also contained a short video loop of a map of the world showing the regions, which was coded as region 2, 3, 4, 5, and 6.
HandBrake won't rip RCE encrypted DVDs, but WinX will.
• Objects: Parts of DVD and Blu-ray discs
• A form of use restriction to prevent excessive operation of a user.
Many DVD players and Blu-ray players (hardware) forbid the viewer from performing a large majority of actions during sections of a DVD that are restricted by this protection.
HandBrake won't rip UOP protected DVDs, but WinX will.
7. The Analog Protection System (APS)/Copyguard
• Objects: DVDs
• A technology to prevent illegal DVD burning by producing horizontal corrugation
APS, developed by Macrovision originally, is mainly for preventing the copy from DVDs to DVDs. The DVD copied without decoding the APS will become garbled and unwatchable. The working principle is adding pulses to analog video signals to impact the AGC circuit of a recording device negatively. In digital devices changes to the analog video signal are created by a chip that converts the digital video to analog within the device.
HandBrake won't rip APS DVDs with Copyguard, but WinX will.
8. Filesystems / Dummy files
• Objects: DVD/VHS
• A popular DVD copy protection from 2014 on up that disguises the file size and capacity.
Recently, Dummy Files are buried in a lot of video-DVDs. it is a DVD copy guard has been subjected to commercial and rental DVDs to pretend that the capacity itself has been infested. Even though the originally capacity of a DVD is about 8GB, it uses the state-of-the-art technology to disguise it that the PC recognizes it as many as about 60GB.
HandBrake won't rip DVDs with disguised and dummy file sizes, but WinX will.
9. CPRM (Content Protection for Recordable Media)
• Objects: DVD media and digital programs
• A popular DVD copy protection in 2013
The technology of producing effective copy control signals produced during converting the digital programs (DTB, BS/CS mode, SKY PerfecTV! Premium Service) to DVD-R is called CPRM. Besides moving and deleting, CPRM also controls the copying of digital media on a PC or digital player. The DVDs added with CPRM cannot play if the camera, hard drive or media player is not compatible with CPRM. Even the general media player Windows Media Player and VLC media player cannot play such DVDs because they do not support CPRM.
HandBrake won't rip DVDs protected with CPRM, but WinX will.
10. Cinavia
• Object: Blu-ray, DVD and films
• It is planted in a variety of video contents.
Cinavia features the only existence in sound. If the videos shot by handheld cameras in cinemas are protected with Cinavia, the data cannot be played back on the video recorders or PCs. Warning image will appear soon after the playback, and the video will stop playing and become mute.
HandBrake and WinX won't rip DVDs protected with Cinavia (an advanced Blu-ray encryption tech).
Best HandBrake Alternative for Copy Protected DVDs - WinX DVD Ripper Platinum
How to fix if HandBrake is not working? If your HandBrake doesn't find and show titles, or doesn't rip the full DVDs of Frozen, The Hunger Games: Mockingjay Part 2, Point Break and so on, try the Handbrake alternative - WinX DVD Ripper Platinum.
It helps decrypt even the latest movie DVDs, rip DVDs to iPhone (11/Pro/Max), iPad, Android, MP4, AVI, WMV, MOV, MTS, FLV and many other video formats. It also provides subtitle options and numerous video and audio parameter settings for advanced users to alter the file size and video quality accordingly. The UI is in English, Chinese (Simplified), Chinese (Traditional), German, French, Italian, Spanish, Portuguese, Danish, Norwegian, Japanese or Polish such that you can choose according to your preference.
* If you fail to rip some DVDs, please try to choose "Safe Mode" on the main interface. This mode always works if the DVDs are strongly protected.
Disclaimer: Digiarty Software does not advocate ripping copy-protected DVDs for any commercial purpose and suggests referring to the DVD copyright laws in your countries before doing so.