How to Rip Disney Copy-Protected DVDs on Windows PC or Mac?
Q: I wanted to back up the Disney DVD Lion King I bought to my kid to prevent it, but unluckily, I failed. Some friend told me that's because this DVD was protected with Disney's x-project DRM. What is it? Can I remove such copy protection? Is there any way to decrypt and rip Disney DVDs?
What is Disney X-project DRM?
DRM, the abbreviation of Digital Rights Management, is a series of access control or copy protection technologies to inhibit uses of digital content that are not desired or intended by the content provider.
Disney (The Walt Disney Company), a well-known DVD releaser and publisher, applies DRM for copy right protection. Accordingly, the latest protected DVD by Disney (as well as by Paramount and Warner) usually has 99 titles and the DVD movie size is larger than 40 GB, which makes it almost impossible to make DVD copy and backup.
Also read: How to rip a DVD with 99 titles, How to rip Inside Out DVD, How to Rip Star Wars: The Force Awakens DVD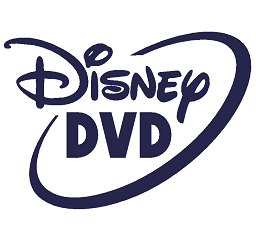 Rip Disney Movie DVDs to iPhone, iPad, Android
Download the professional Disney DVD ripper now to decrypt and copy almost all Disney movie DVDs like Frozen, Brave, Maleficent, Saving Mr. Banks, Muppets Most Wanted, Captain America: The Winter Soldier etc. to iPhone, iPad, Android with - WinX DVD Ripper (rip Disney movie)


How to Judge If Your DVDs Are Protected by Disney Copy Protection System?
* Disney copy protected DVDs has 99 titles and the DVD movie size is larger than 40 GB.
* The DVDs are not playable on your DVD player which is not matching for the protected DVDs. You have to look for another workable DVD player.
* When you use common DVD backup tool to copy Disney protected DVDs, error message pops up or the program crashes.
* The new copy protection will prevent the DVDs from ripping by general DVD ripping software and the videos converted from DVD will be out of order, scrambled or get stuck in a loop.
* It may even shorten the life for DVD drive if wrong decoding scheme is misused.
Note: Please respect the copyright law in your country. It is illegal to rip or copy DVDs for commercial use. It is allowed to clone a copy of copyrighted material for your own use under the concept of Fair Use in most countries. Disney copy protection is widely used by famous film publishers such as Disney, Paramount and Warner. Look at the new kids' movies list and Disney Christmas movies list - Zootopia, Star Wars: The Force Awakens , Inside Out, Cinderella, Big Hero 6, Into the Woods, Maleficent, Muppets: Most Wanted and Marvel's Guardians of the Galaxy. Some of them are on DVD now. You may need some tools to handle those DVD movies to enjoy better entertainment or to avoid damage on your DVD discs.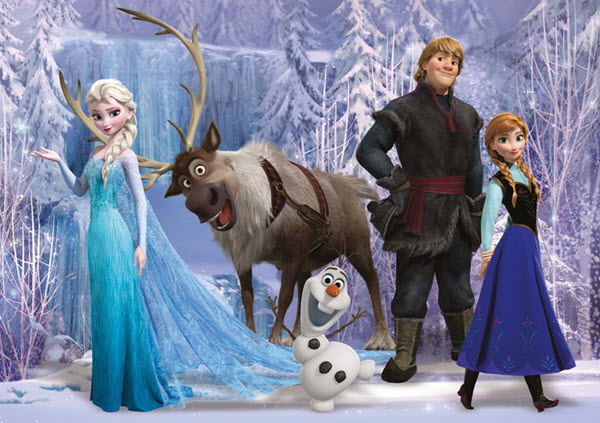 How to Backup Disney Copy Protected DVDs?
We are sure most of you have suffered collateral damage when DVDs are mishandled. It's recommended to make a backup copy for use, and store the original away for safekeeping. And you need a DVD backup software to achieve it. However, you might have met problem when dealing with the recently released DVDs - your DVD backup software crashed or worked out of order. It can be assumed your DVDs are applied with Disney copy protection system. What you need is a reliable DVD copy tool to handle Disney copy protected DVDs.
Most DVD copy programs do not support decrypting Disney copy-protected DVDs, even including famous DVD Cloner, K9Copy, DVD43, DVD95, etc. But some powerful DVD ripper like WinX DVD Ripper Platinum or DVD clone software like WinX DVD Copy Pro can remove such strong DVD Copy Protections. For instance, WinX DVD Ripper Platinum can decrypt and rip Disney DVDs and select the right movie title for each user.
However, ripping commercial DVDs might circumvent the copy-protection system employed on Disney discs, so to some extent it's questionable as to whether the use of this type of software is legal - even if you own the DVD and are ripping it only to watch it in another form. So it is necessary to consult the related laws in your country before ripping Disney protected DVDs and make sure the copy is totally not for commercial use.
Is there Any Free Disney DVD Ripper/Copy Software?
Is HandBrake the best Freeware to rip Disney DVDs? Someone may badly need the answer of such question. HandBrake, a free and open-source video transcode program for Windows or Mac, is capable of ripping part of encrypted and unencrypted DVDs. But it is a pity that HandBrake does not support ripping Disney DVDs. Indeed, there is no free software that can completely support DVDs protected with Disney's Trick, Disney X-project DRM, etc.
So, if you want to rip Disney encrypted DVDs, please try WinX DVD Ripper Platinum, the best DVD ripper for Windows to remove Disney X-project DRM, CSS keys, region codes, Sony ARccOS, UOPs, etc. It not only helps copy the classic Disney DVDs for kids like The Princess and the Frog, Alice in Wonderland, Cars toys, Cars 2, Toy Story, Frozen, Avenging Spider-Man, Peter Pan and Real Steel, but also has been updating to rip the latest DVDs released by Disney, such as The Good Dinosaur, Tomorrowland, Captain America: The Winter Soldier, Marvel Avengers: Age of Ultron, Ant-man, Wreck-It Ralph and Mulan. It is a good way to make Christmas DVD backups for your kid's in case the discs might be scratched, broken or aged. >> DVD chart 2015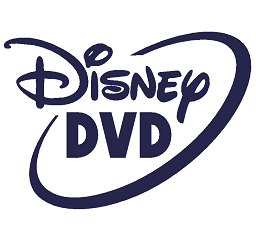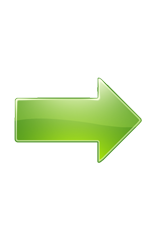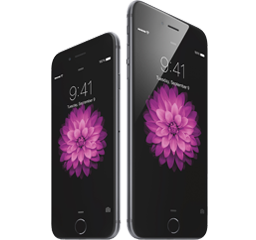 Best Solution to Rip Disney DVDs for Playback
WinX DVD Ripper Platinum

- Rip and convert any Disney movie DVDs to AVI, MP4, MPEG, MOV, WMV, FLV, M2TS, iPhone, iPod, iPad, Android, Samsung, PSP etc.


WinX DVD Ripper Platinum is the perfect example of a decent DVD ripping software that works well both for advanced and amateur users. - Editor's Review from Download3K
How to Copy and Rip Disney DRM DVDs on PC or Mac?
Before backing up Disney DVD, please make sure the operating system of your computer, and then download the right version of DVD ripper software (Download DVD ripper for Windows, Download DVD ripper for Mac).
Since the way of duplicating Disney DVDs are similar, here we just take Windows version as a demonstration. Please install WinX DVD Ripper Platinum and close other possibly conflicting software.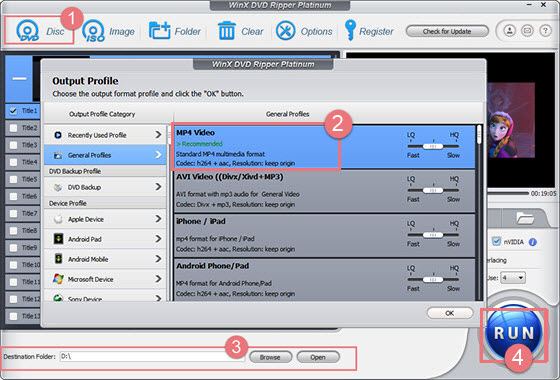 Step 1. Insert a Disney movie DVD:
Start up WinX DVD Ripper Platinum, insert your disney DVD in computer DVD-ROM, and click DVD Disc button to load movie. After you import the DVD, the software will automatically detect the correct title so that you can rip DVD from the main movie content with correct order.
Step 2. Choose an output profile:
Scroll down Output Profile and select any output format you desire. Your DVD can be converted to MP4, AVI, WMV, MOV video file for PC/Mac, to fit Apple/Android/Microsoft/Sony devices or websites, and saved to a music file. For example, the Disney DVD rip software supports ripping Disney DVD to iPhone 6/6s Plus: Apple Device -> to iPhone Video -> iPhone 6/6s, Plus (MPEG4 or H.264 Codec).
Step 3. Make personal settings:
You may make personal settings like selecting several titles and clicking "Merge titles" to combine them into one, trimming video segments, cropping and cutting off unwanted area of the movie, choosing or adding subtitles and setting tags. You are suggested to change the destination of saving the file before the ripping starts.
Step 4. Start to rip your disney movie DVD:
Just click Run button, and you can do other things before the DVD backup is completed. After that, you can watch Disney DVD directly on your computer, or use WinX MediaTrans to transfer the video to your iPhone, iPad, etc. at fastest speed.
Still have trouble about ripping Disney DVDs on Win/Mac? Just Email Us >>