How to Remove Disney Protections and Rip Disney DVDs
"I wanted to back up a Disney DVD I bought to my kid to prevent it, but unluckily, I failed. Some friends told me that's because this DVD has 99 titles and was protected with Disney's x-project DRM. What is it? Can I remove such copy protection? Is there any way to decrypt and rip Disney DVDs?"
Disney, one of the most famous film studios, achieves a lot at animated movies and live action movies. Especially, Frozen which was released at the end of 2013 received a great success. If you are a Disney movie enthusiast, you are sure to have a collection of Disney DVDs. To safeguard your precious DVDs and enjoy Disney DVD movies while on the go, you may need to rip them. This article will guide you on how to rip Disney DVDs on both Mac and Windows platforms.
To Rip Disney DVDs, You Need to Download WinX DVD Ripper
This DVD ripping software can handle any Disney movie DVDs such as Finding Dory, Finding Nemo, Frozen, Incredibles 2, Coco, Cars 3, and Tory Story 4. It can bypass the region code limitations and copy protection schemes and convert DVD to MP4, MOV, ISO, and other formats. No quality loss. Quick conversion. Click download button to have a try!
Part 1. What Is Disney X-project DRM and 99-title DVD?
DRM, the abbreviation of Digital Rights Management, is a series of access control or copy protection technologies to inhibit uses of digital content that are not desired or intended by the content provider. Disney (The Walt Disney Company), a well-known DVD releaser and publisher, applies DRM for copy right protection, which is commonly known as Disney X-project DRM.
Generally speaking, newly released Disney DVDs are encoded with the X-project DRM, which deliberately produces redundant yet fake movie titles, say, 99 titles, and the DVD movie size goes in a crazy 40GB. Despite some Disney discs seem to be ripped, the DVD ripper hangs at percentage or the resulting file is only 2 mins long.
All the DVDs of Hollywood blockbusters produced by Disney, Warner Brothers and Paramount have such common rule. But more than that, workout DVDs, AV DVDs and some other special types of DVDs will often like this. This is a complicated copy protection mechanism aiming at preventing DVD piracy.
Part 2. How to Judge if DVDs Are Protected by Disney Copy Protection System?
Disney copy protected DVDs have 99 titles and the DVD movie size is larger than 40 GB.
Some DVDs are not playable on your DVD player which is not matching for the protected DVDs. You have to look for another workable DVD player.
When you use common DVD backup tool to copy Disney protected DVDs, error message pops up or the program crashes.
New copy protection prevents DVD from being ripped by general DVD ripper software and the videos converted from DVD will be out of order, scrambled or get stuck in a loop.
It may even shorten the life for DVD drive if wrong decoding scheme is misused.
Disney copy protection is widely used by publishers such as Disney, Pixar, Paramount and Warner. Both new Disney DVDs and previous hit Disney movies are strictly protected. But physically, Disney DVDs are as fragile as other dics. Most of you may have suffered collateral damage when DVDs are mishandled, and you need a DVD ripper to make a backup copy for use and store the original DVD away for safekeeping.
Part 3. Is There any Free Software to Rip Disney Protected DVDs?
For better entertainment or to avoid damage on your DVD discs, it's important to have a reliable DVD backup program. However, if you've tried to back up recently released DVDs, you may have encountered problems such as your backup software crashing or not working properly. This is likely due to the fact that many DVDs, particularly those from Disney, are protected with strong copy protection systems like Disney X-Project.
While there are many freeware programs available to rip DVDs, such as HandBrake and VLC, they may be not the best choices for ripping Disney DVDs. Take HandBrake as an example. While it can handle CSS-encrypted DVDs with the help of libdvdcss, it cannot handle more recent and powerful DVD copy protections like Disney X-Project. In fact, there is no free software available that can completely support decrypting Disney copy-protected DVDs, even well-known programs like DVD Cloner, K9Copy, DVD43, and DVD95.
To effectively remove strong DVD copy protections and rip Disney encrypted DVDs, we recommend WinX DVD Ripper Platinum . This software is one of the few programs available that can remove Disney X-Project DRM, CSS keys, region codes, Sony ARccOS, UOPs, AACS 2.0, and more. With WinX DVD Ripper Platinum, you can easily convert Disney DVDs to any format or device you need, including HEVC, H.264, MP4, AVI, MOV, MKV, and more. This program not only allows you to copy classic Disney DVDs for kids like Up, The Princess and the Frog, Toy Story, Frozen 1/2, Finding Dory, and Alice in Wonderland, but also supports the latest Disney releases, such as Thor: Love and Thunder and Black Panther: Wakanda Forever.
Free download WinX DVD Ripper to rip Disney DVD flawlessly
Supported OS: Windows 11, 10 and lower
User Rating: ★★★★☆ (based on 357 votes)
Your DVD ripper has no problem to rip non-Disney DVDs, but has issues with Disney DVDs? Why not give WinX DVD Ripper Platinum a try? Auto remove Disney X-project DRM protection and instantly detect the correct title from 99 titles, without any libdvdcss or 3rd party decrypter needed. Keep you away from halfway ripping, incomplete rip issues. Pixar animations, Marvel DVDs, Lionsgate DVDs, Warner Bros DVDs are all supported.
Please DO NOT use WinX DVD Ripper to rip rental DVDs.
For PC and Mac only. Go to mobile page.
Note: Ripping commercial DVDs might circumvent the copy-protection system employed on Disney discs, so to some extent it's questionable as to whether the use of this type of software is legal - even if you own the DVD and are ripping it only to watch it in another form. So it is necessary to consult the related laws in your country before ripping protected DVDs and make sure the copy is totally not for commercial use.
Part 4. How to Rip Disney DRM-ed DVDs on PC or Mac?
First of all, ensure that you download the right version of WinX DVD Ripper based on the operating system of your computer. Install the DVD ripper and close any other potentially conflicting software.
Here we take Windows version as a demonstration. Even if you are an Mac user, you can still follow the steps below because the process of ripping DVDs on Windows and Mac with WinX DVD Ripper are similar.
Step 1. Open the Disney DVD you want to rip.
Start up WinX DVD Ripper Platinum, insert your disney DVD in computer DVD-ROM, and click DVD Disc button to load movie. After you open the DVD, the software will begin scanning the contents of the DVD and automatically determine the correct title to extract.
Step 2. Choose an output profile.
Select any output format you desire on the Output Profile. Your Disney DVD can be converted to MP4, AVI, WMV, MOV video file for PC/Mac, to fit Apple/Android/Microsoft/Sony devices or websites, and saved to a music file. If you want to rip your Disney DVD to MP4, you can find this output format at General Profile.
And, you can make personal settings like selecting several titles and clicking "Merge titles" to combine them into one, trimming video segments, cropping and cutting off unwanted area of the movie, choosing or adding subtitles and setting tags.
Step 3. Start to rip your disney movie DVD.
To initiate the DVD ripping process, simply click the "RUN" button and the WinX DVD Ripper Platinum will begin its work. You can continue with other tasks while the ripper runs in the background. By supporting advanced hardware acceleration, WinX DVD Ripper Platinum can take full advantage of Intel Quick Sync (QSV) and NVidia NVENC to speed the DVD ripping or backup on computer up to 47x real-time faster.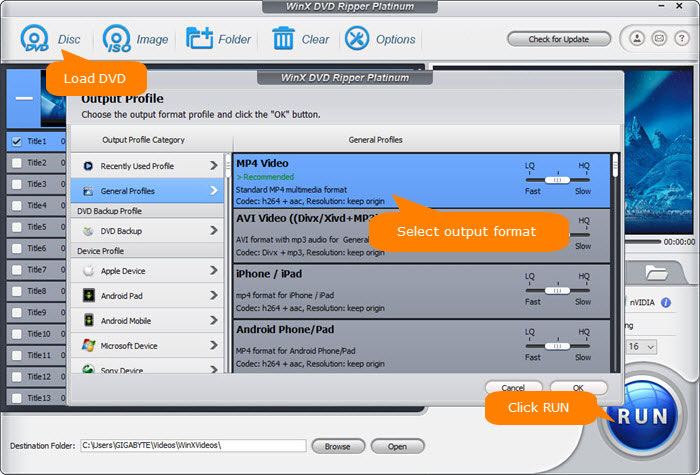 Watch the YouTube Video Tutorial to Rip Disney Protected DVDs
Further reading. It's Legal and Safer to Watch Disney DVDs
It seems that most people want to watch movies free rather than go to cinema. So, they seek for full Disney movie online or movie torrents for downloading patiently. But, you should know the following probable disadvantages along with films online and downloaded from torrents.
It is just a trailer video, not full Disney movie.
It is too blurred to watch.
The virus, Trojan or some malware will be brought to your computer when watching Disney film online or downloading torrents.
Disney movies are copyrighted so that you may involve in an infringement issue.
From the above, it is legal and safer to copy a purchased or borrowed Disney DVD on Mac/PC for watching Disney movies if missing its release in theater.
To rip and copy Disney DVDs is very useful for protecting the fragile discs from being scratched and broken adn having a long storage. What's more, the copied movies can be converted to MP4, H264 for playback on iPhone, iPad, Android or other OS devices for your kids to enjoy Disney animation movies/cartoons during journey.
Because of strict encryptions, nearly all open source DVD rippers, for example Handbrake, are unable to copy Disney DVD on Mac/Windows. Even though some rippers can backup Disney DVDs, the video is out of order. So, WinX DVD Ripper Platinum, the best Disney DVD ripper for Mac and Windows can copy Disney DVDs for you easily, to ISO image at 1:1 ratio with no effort at all. Also, it can backup main title to a single MPEG2 file and full title to MKV with lossless quality to play Disney cartoons like Big Hero 6 and other Disney movies, like Inside Out, Maleficent, Into The Woods, Alexander and the Terrible, Horrible, No Good, Very Bad Day smoothly.