How to Rip a Copy-Protected DVD on Windows 10 & Mac [Updated!]
Ripping DVDs make it possible to protect your movie library against scratch, extend your viewing option on more devices, or even watch movies offline especially when you are on a flight or driving. Frustratingly, many users reported that they had difficulty ripping some store-bought DVDs as below:
"I must admit that DVDs are truly vulnerable. So I'd rather rip them to my hard drive so that I can watch them on my tablet or TV. But it's really a big headache to copy protected DVDs. Some DVDs just sit there forever or will not fully rip. I just got a part of the movie."
Before diving into feasible ways to rip copy-protected DVDs on Windows 10/11 and Mac, let's figure out why some DVDs cannot be ripped.
Part 1. Why You Cannot Rip a Copy Protected DVD Successfully?
For the sake of protecting valuable DVD contents from piracy, manufacturers introduced dozens of DVD copy protection schemes[1], such as Content Scramble System (CSS), Region Code Enhanced (RCE), User Operation Prohibition (UOP), Sony ARccOS DVD protection, DVD-Cops, and LaserLock.
These DVD encryption measures, however, prevent moviegoers from ripping a copy protected DVD for personal use. Explanatorily, a key is deliberately built into the coding way of the disk, which can only be read by an "authorized" tool. Just ripping a DRM-protected DVD from the optical disc without access to the code word will lead to various rip failures like no valid source found, scrambled rips, software crashes, etc.
Well, is it possible to bypass DVD copy protection and make personal copies of protected DVDs for fair use? YES. Your best bet for ripping a commercially protected DVD is to start with a reliable DVD ripper for copy protected DVDs. What is the best free software for copying protected DVD? Scroll down and find the best one to overcome the copy protection conundrum.
=> Suggested reading - Top 3 free DVD rippers for Windows 10
Part 2. Software Overview - Which One to Choose to Rip a Protected DVD?
| | | | |
| --- | --- | --- | --- |
| Software | Supported DVDs and Protections | Best for | Free Trial |
| Rating: 4.5 | Almost all commercial DVDs, incl. region-locked DVD, CSS DVD, 99-title, new/old, workout DVD, DVD with UOP, Macrovision, Disney X-project DRM, Sony ARccOS, etc. | Fast and efficient ripping of any protected DVD to MP4, MPEG, MOV, AVI, etc whether it's classic or new. | Try now |
| Rating: 3.5 | Some CSS and regional DVDs can be ripped with libdvdcss installed. | Open-source DVD ripping of unprotected or classic DVDs for advanced users. | |
| Rating: 3.2 | DVDs and Blu-rays with AACS and BD+ | Backing up copyrighted DVDs and Blu-rays to MKV with lossless quality. | |
| Rating: 4 | Classic DVDs with CSS, UOP, and region codes. | Making a shrunk copy of old copy-protected DVDs from 8.5GB to a single-layer 4.7GB with minimal loss of quality. | |
| Rating: 4.7 | Common CSS and regional DVDs. | Suitable for users who want to play and rip DRM-protected DVDs with libdvdcss. | |
| Rating: 4.5 | New, old, regional DVD, CSS DVD, etc. | Touching up copyrighted DVD movies apart from ripping. | |
Part 3. How to Rip Copy Protected DVD on Windows 10/11 and Mac? [6 Ways]
Way 1. Rip Copyright Protected DVDs with WinX DVD Ripper
WinX DVD Ripper has gained a strong foothold in the market for 17 years, attracting over 70 million users worldwide. When you rip a protected DVD, WinXDVD takes advantage of its unique and always up-to-date title check mechanism to crack the protection and access the encrypted data on the disc, whether it is encoded with CSS, UOP, APS, Macrovision Ripguard, Sony ARccOS, or Disney X-project (99-title). The exceptional DVD decrypting ability has placed WinXDVD at the forefront of DVD ripper software. Each year over 3.6 million DVDs have been processed successfully, from homemade DVDs to copy-protected DVDs like CSS, regional discs, 99-title, workout, old, and new movies or TV shows.
Give WinX DVD Ripper a try, conquer the challenge brought out by DVD copy protection, and rip any protected DVD effortlessly!
While ripping protected DVD/ISO/folder to MP4, MOV, AVI, or MPEG, WinXDVD efficiently processes large amounts of data through the use of an optimized encoding algorithm and level-3 hardware acceleration. It can achieve an impressive speed of up to 500 frames per second while preserving the DVD's original quality as much as possible. Now ripping a full DVD to MP4 (H.264) takes just 5 minutes. This is good for users owning large DVD collections since you will no longer struggle with tedious and lengthy DVD encoding.
Additionally, users can customize their output settings such as resolution, frame rate, codec, and audio quality, and do more edits like trimming, cropping, merging, and adding subtitles. Now free download and install WinX DVD Ripper, pop in a copy-protected DVD, and start ripping protected DVD now.
Pros:
Defeat DVD copy protections & support any type of DVD, incl. 99-title, new, old, unplayable, non-standard, Disney DVD, etc.
Rip protected DVD with GPU acceleration. 47X real-time faster speed.
Supports a wide range of formats and device profiles like MP4, MOV, AVI, WMV, MP3, iPhone, iPad, and Android.
Back up the DVD collection with 1:1 original quality.
Timely update and 7x24 tech support.
Cons:
Not compatible with Linux.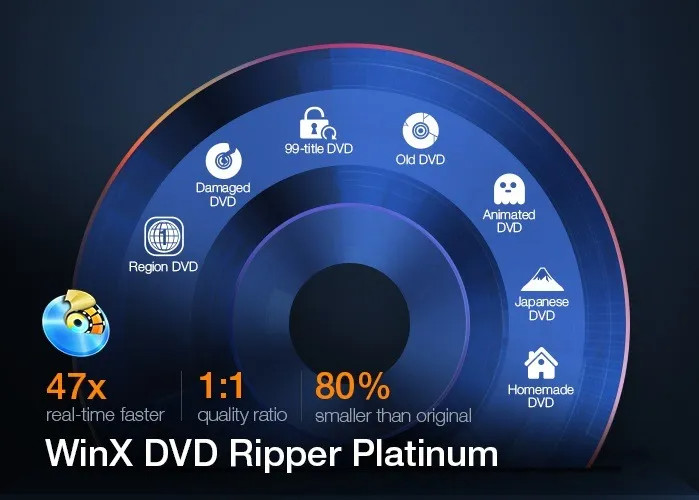 How to Copy your Copyright Protected DVDs with WinX DVD Ripper?
Prior to the ripping, please feel free to free download and install WinX DVD Ripper to have a try! It's a lightweight tool. The Windows version is 31.6 MB only while the Mac version is 52.2 MB only.

Free download WinX DVD Ripper Platinum on Windows PC


Free download WinX DVD Ripper Platinum on macOS
Step 1. Load the copy-protected DVD you want to rip.
Insert the DVD into the tray with the logo side facing up, and close the tray. If your computer doesn't have a DVD drive, you can connect an external drive to your computer. Here we insert Disney/Pixar® "Up" DVD to have a try!
Launch WinX DVD Ripper, click the "DVD Disc" button at the top left corner, and then select the source DVD disc. No need to specify the DVD disc file system type. Just leave it as default and click OK. It will begin analyzing the DVD info, and auto-check the right title.
Optionally, the program allows you to select the title, audio, and subtitle track you want to use. It also allows you to choose other titles to rip.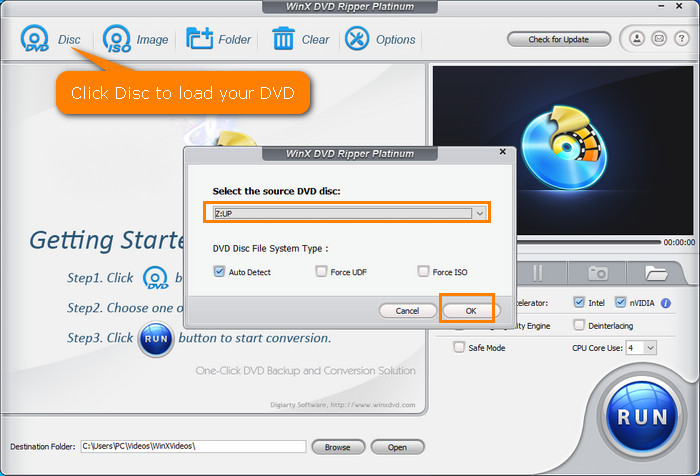 Step 2. Select the output format.
After loading the DVD, an Output Profile window will show up. Now, you need to choose a format as per your needs. Scroll down and you'll find all popular formats and device presets covered.
To play DVD with minimal quality loss and smaller size, you can choose to rip protected DVDs to MP4 H.264 in the General Profiles. It produces a compact file and ensures the best compatibility with your phone, tablet, game system, media player, TV, or PC while retaining the output quality to the most extent. You can also choose the specific device profile from the Device Profile window.
To back up a DVD without losing quality, you can choose to copy DVD's main title, full title, and clone the DVD to ISO or Folder by going to the DVD Backup Profile. It will unlock copy protected DVDs quickly with 100% quality reserved.
In addition, you can also tweak the video parameters such as codec, bitrate, frame rate, and resolution, and even cut, crop, merge the titles, add external subtitles, etc to customize the output file at your willing.

For your information: Follow the tutorial to rip copy protected DVDs to hard drive without any glitches.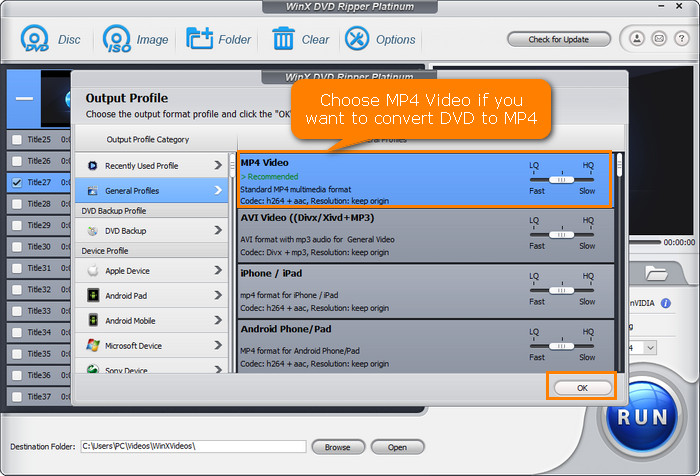 Step 3. Start copy-protected DVD ripping.
Choose where to store the ripped DVD movie files by clicking the "Browse" button. When you have done all settings, just hit the "RUN" button.
Note: To deal with strictly encrypted DVDs, you'd better choose "Safe Mode" which is located at the right sidebar of WinX DVD Ripper's main interface.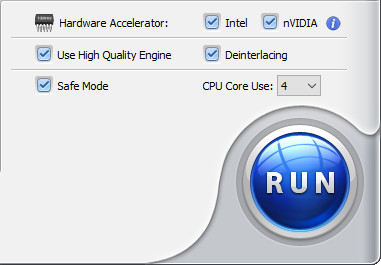 Then the program will begin transcoding your encrypted DVD to a desired format and unleash the full potential of your DVD collection immediately. Once done, you can see the digital copies in the destination folder you set before.
So the above is how to copy protected DVDs with WinX DVD Ripper. It's really easy to use, even for beginners. Now it's your turn to try.
[Video Tutorial] How to Rip Copy-Protected DVDs with WinX DVD Ripper
If you are still experiencing difficulties in copying protected DVDs with WinX DVD Ripper, you can Email Support for assistance.
Disclaimer: Digiarty Software does not advocate ripping encrypted DVDs for any commercial purpose and suggests referring to the DVD copyright laws in your country before doing so.
Way 2. Rip a Copy-Protected DVD with HandBrake
HandBrake is a free open-source and world-famous DVD and video transcoding tool that can convert DVDs to MP4 (M4V), MKV, and WebM on Windows, macOS, and Linux. It has secured second place among DVD ripping software thanks to the highly customizable features it offers, giving you more control over the output quality and file size by customizing the video/audio codecs, bitrates, file formats, and other settings.
Can HandBrake rip copy-protected DVDs? No. If the DVD is protected with advanced copy protection schemes, Handbrake is unable to break DVD copy protection on its own, instead, you may get errors such as "No Valid Source Found", "No Title(s) error", and "The source may be copy-protected. Handbrake doesn't support the removal of copy protections".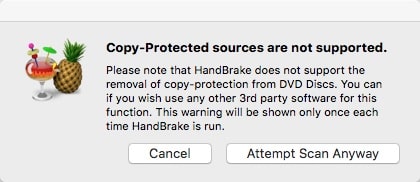 Getting around the DVD copyright protection error is to use handbrake in conjunction with a third-party DVD copy protection removal tool called libdvdcss, a library that was originally designed to access and unscramble DVDs which are encrypted with the Content Scramble System (CSS). However, advanced protections like regional restrictions, Sony ARccOS, and Disney X-project DRM cannot be decrypted by libdvdcss.
Be aware that using Handbrake to rip protected DVDs can be a time-consuming process, especially if you want to preserve the original quality of the video, and its interface can be overwhelming for some newbies. But anyway, if you have some relatively old DVDs that are likely to be encrypted with CSS, Handbrake is still a good option.
Pros:
Free and open source.
Compatible with Windows, Mac, and even Linux.
Has a plethora of customizable options.
Cons:
Needs additional software to decrypt DVDs. Can't handle all copyrighted DVDs.
Can't create ISO from DVD.
No merge feature.
Some options are difficult to understand for non-tech savvy users.
It doesn't offer help by email or phone!
[Tutorial] How to Rip Protected DVDs using Handbrake?
Just follow our guide and try your luck.
Step 1. Download and install Handbrake.
You're suggested to download it from the official site – Handbrake.fr. The latest version 1.6.1 is compatible with macOS 10.13 and later, Windows 10 and later, and Linux. And you can download old releases from archives.
Step 2. Install libdvdcss on Windows and Mac to rip DVD that is copy protected with CSS.
If you are working with Windows, make sure which version of Windows you have. Then download libdvdcss. A higher version means better protected DVD decrypting ability. So we recommend you download the latest libdvdcss version 1.4.3.
Copy the .dll file to the Handbrake program folder, which is C:\Program Files\Handbrake by default. Rename it to libdvdcss.dll.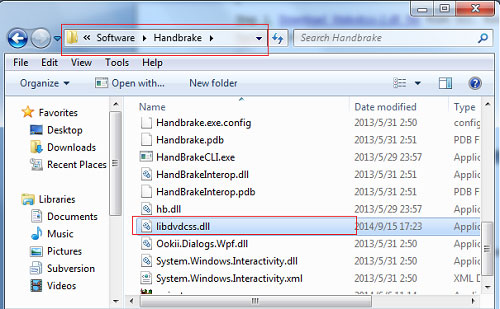 On Mac Yosemite 10.10 or older version, you can download libdvdcss package here and install it.
On El Capitan or newer, installing libdvdcss is a little more complicated since El Capitan introduced System Integrity Protection (SIP)that removes libdvdss support. To get around this, you need to rely on a command line tool called Homebrew to get it. Here are the steps.
Launch Terminal by pressing Command + Space, type Terminal and hit Enter key.
Enter brew install libdvdcss as shown below.
Done.
Homebrew will begin downloading the libdvdcss library. When it goes back to the command prompt as shown below, it means that the libdvdcss library will be installed. Once done, we can move to the next step.
You can also click here to learn a detailed guide about Handbrake libdvdcss installation >>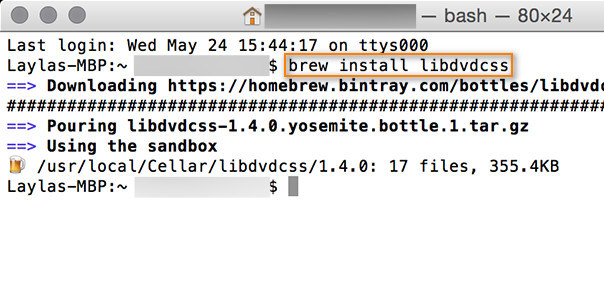 Step 3. Load the copy-protected DVD to HandBrake.
Insert the copy protected DVD into the DVD drive, after both Handbrake and Libdvdcss are ready. Then open HandBrake and click on your DVD when the Source Selection screen appears. Then, HandBrake will start scanning the titles in your DVD. Here you can check if the auto-selected title and chapters are what you need. If not, you can manually change them, and choose the content you want to copy.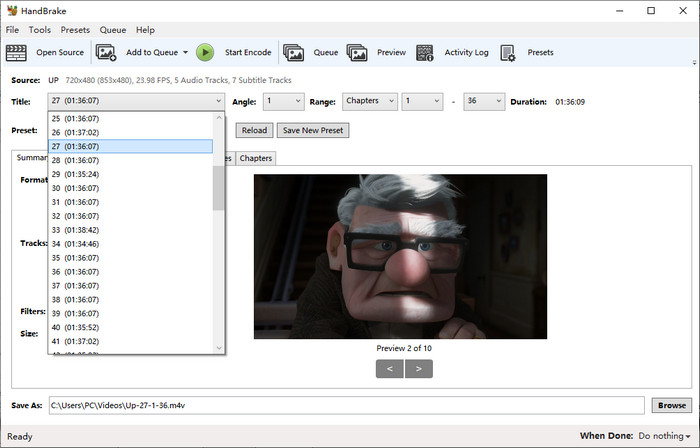 Step 4. Choose an output preset and adjust the output setting.
Click on the Presets drop-down menu and select a preset. Preferably, you can choose Super HQ 480p for NTSC DVDs, and Super HD 576p for PAL DVDs. As to the quality setting for DVDs, use H.264 codec for better compatibility with your device, and pick constant quality and hig quality RF between 18 and 22.
In addition, you can click the Audio tab where you are allowed to choose the audio track, audio codec, bitrate, and mixdown. To specify a subtitle track or add external subtitles for the resulting file, just feel free to click the Subtitles track. If you're technical, you can also click other tabs here to adjust settings.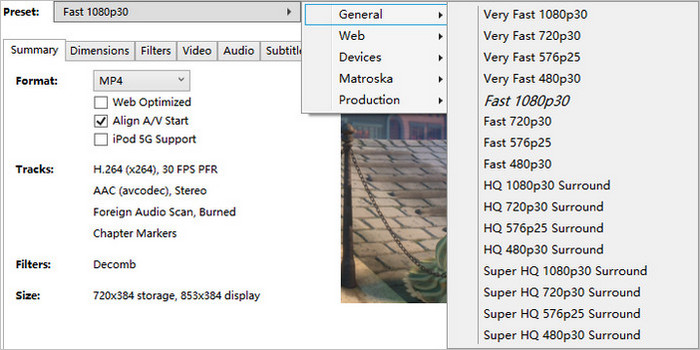 Step 5. Specify the destination for the output file.
Click the Browse button at the bottom right to specify the destination path including the directory and file name. This is where your DVD copy will be created and what it will be named.
Step 6. Try ripping the protected DVD.
Move the mouse to the top of the interface and click the green button called Start Encode. Then, HandBrake will begin to convert the encrypted DVD to MP4 or MKV. You can see a progress bar at the bottom. Hope you can copy your protected DVD with HandBrake successfully. If you fail, don't worry, there is a third method – MakeMKV.
Way 3. How to Copy a Protected DVD with MakeMKV?
MakeMKV is one of the popular DVD rippers that copy protected DVDs. It has garnered positive reviews from DVD and Blu-ray collectors of all skill levels due to its streamlined backup process.
One notable feature of MakeMKV is to rip protected DVDs and Blu-rays to MKV so that you can store the files on your computer or mobile. This achievement is due to the use of a process called "deCSS" that involves identifying and decoding the encrypted data on the DVD and the leverage of CellWalk, a feature in MakeMKV that provides a more granular level of control over the ripping process and typically navigates the actual content of the DVD or Blu-ray for conversion. This is particularly useful for movers or TV shows broken up into multiple titles or episodes that may not correspond to the actual content and are intentionally encoded with DVD copy protections instead.
MakeMKV's developers did put a lot of effort into improving the handling of DVD discs with structure protection. But it cannot circumvent all DVD DRM protection schemes and shows some errors such as scan failure, program hangs, truncated titles, etc. We are waiting for more improvement in copying severely protected DVDs in the future. Or click here to check more capable DVD copy software >>
Another strength of MakeMKV is its ability to extract the video of a protected DVD to an MKV container without re-encoding, making the whole process take only 10-15 minutes instead of hours. This preserves all video and audio tracks including HD audio, chapter information, and all meta-information (track language and audio type), though the output file can be up to GB in size. If you are looking for a solution to backup copy protected DVD with original quality and do not mind the file size, just follow our guide.
Pros:
All features are free during BETA.
Available for Windows, Mac OS X, and Linux.
No quality loss.
Fast speed.
No need to download an additional DVD decrypter.
Cons:
Exports MKV files only. No other formats are available. Can't copy protected DVD to MP4 and others.
Large file size.
No editing features.
Can't override all copyright-protected DVDs.
How to Copy DRM Protected DVDs with MakeMKV?
MakeMKV is compatible with Windows, Mac, and Linux. You can get a copy from makemkv.com. It is a lightweight tool. The Windows version , animated DVDof MakeMKV v1.17.3 is 14.6 MB only. Once the setup file is downloaded to the computer, just install it following the wizard to get around DVD copy protection.
Step 1. Load the copy-protected DVD to MakeMKV.
Insert a target DVD in your optical drive. Open MakeMKV and then click the optical drive button on its interface to let MakeMKV read your DVD.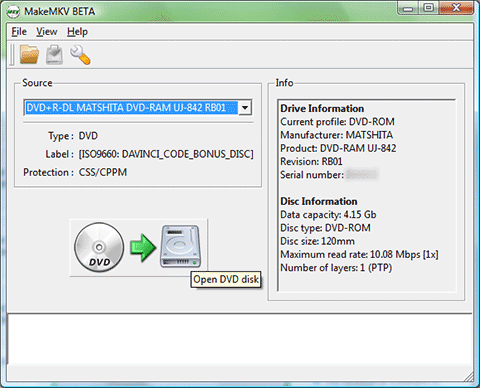 Step 2. Select content to copy.
When the source DVD is loaded, MakeMKV will display its content as a tree structure. Now, you need to choose the title(s), audio, and subtitles you want to convert and save as MKV.
Step 3. Set the output folder and begin copying the protected DVD.
Just click the yellow file folder button to select the directory for the output MKV file. Press the button under Make MKV and it will copy files from copyright-protected DVD. You can see the progress, the elapsed time, and the remaining time. Way 4. How to Copy Protected DVDs for Free with DVD Shrink?
DVD Shrink is another free program that can copy copyright-protected DVDs and make a shrunk backup from an original 8.5GB to a single-layer 4.7GB writeable DVD, ISO, or VIDEO_TS folder you can store on your hard drive. Featuring a DeCSS decryption algorithm, DVDShrink can strip CSS copy protection and User operation prohibition (prohibiting skipping over previews or "FBI Warnings" and so on). Moreover, it can also bypass the DVD region restrictions and allow the copy to be either made region-free (the default setting) or set for any region code.
We've hit a snag when ripping some newly released titles. In our test, DVDShrink is defeated by some newer copy protection techniques such as Macrovision Ripguard and may manifest errors such as Invalid File Structure, Invalid Navigation Structure, and Data Redundancy Check Error (CRC Error), let alone the Disney X-project DRM. After all, DVD Shrink stopped updating as early as 2005.
Let's get back on track. DVD Shrink is still a good option when you want an easy solution to copy protected DVDs for free.
Suggested reading =>> How to convert DVD to digital for playback on the go >>
Pros:
Circumvent CSS, UOP, and region protections.
Compress the data on a DVD.
Cons:
It is a discontinued program.
It can't remove recent DVD copy protections.
It can't convert DVDs to portable-friendly formats, such as MP4.
How to Bypass Copy Protection from DVD with DVD Shrink?
Here we'll show you how to copy protected DVDs with DVD Shrink.
Step 1. Download and install DVD Shrink.
The current stable English version is 3.2.0.15 while the German version is 3.2.0.16. ALL other versions with additional words in the name like DVD Shrink 2014 or newer are SCAMS!
Step 2. Open DVD Shrink and configure the preferences.
When you first use DVD Shrink, you might want to configure the preferences. To do this, click Edit -> Preferences.
Step 3. Open the copy protected DVD.
Insert the DVD you want to copy into the DVD drive and then click the Open Disc button on DVD Shrink to select it as the source DVD. Then, DVD Shrink will begin analyzing your DVD. Once the analysis has been completed, you'll see the general structure of the DVD on the upper left side of the window. You can see 3 top categories, including Menus, Main Movie, and Extras.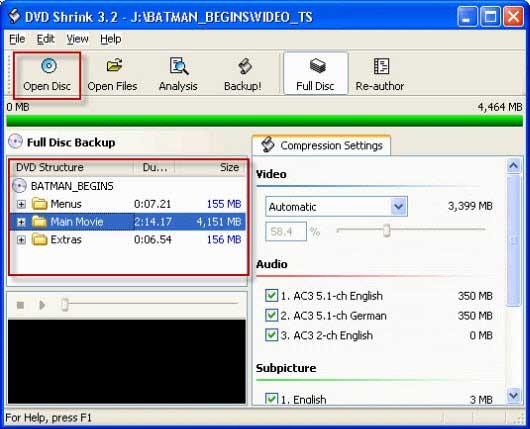 Step 4. Specify compression settings and the audio track and subtitle you need.
Move to the Compression Settings section and then choose desired compression ratio. If you choose "Automatic", DVD Shrink will compress the video to fit on a DVD5 disc. As you can see, all audio tracks and subtitles are checked by default. You can deselect any tracks you don't need to reduce the output video size.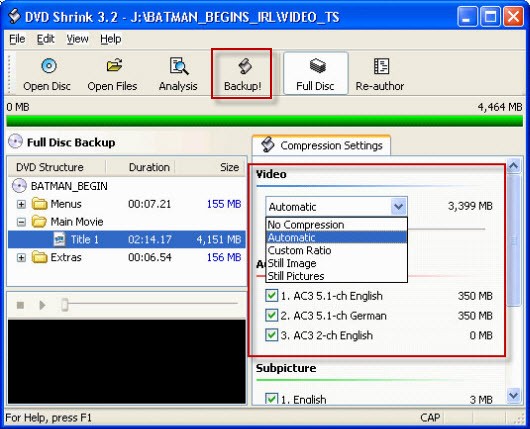 Step 5. Start to back up your copy protected DVD movie.
When you have finished the above settings, click the "Backup!" button on the top center. Then the Backup DVD window will pop up. Here, you need to select the backup target and target folder of the DVD output files. After finishing settings, click OK to begin backing up the DVD.
If you have installed Nero (version 7 or lower), DVD Decrypter, or CopyToDVD, DVDShrink will automatically pass the resulting files to these programs for burning to DVD.
Way 5. How to Copy CSS Protected DVD to DVD with VLC
VLC has cemented fifth place among the DVD ripping and playing tools due to the wide range of video codecs and formats it supports. As a free and open-source video and DVD player, VLC goes a step further, capable of converting DVDs to more formats such as MP4, AVI, and MKV, without paying any licensing fees or worrying about proprietary software restrictions.
Just like Handbrake, coping with copy-protected DVDs is realizable with the help of third-party libdvdcss library, a "plugin" that is available to work with some older copy protection schemes. If the DVD is too heavily encrypted or uses newer protection schemes like RipGuard that libdvdcss doesn't support, please resort to WinX DVD Ripper Platinum or other professional tools.
Pros:
Open-source and cross-platform compatibility.
Support multiple video and audio file formats.
More features such as streaming media over the network, adjusting playback speed, filter application, etc.
Cons:
Lack the ability to copy encrypted DVDs unless you install libdvdcss.
DVD ripping is relatively slower compared with other professional tools.
How to Rip Copy-protected DVD with VLC and Libdvdcss?
Now, let's check how to copy a slightly protected DVD with VLC.
Step 1. Download and install the VLC media player.
Go to the VLC official page. Choose the right version as per your need. Besides working on Windows, Mac, and Linux, VLC is also compatible with iOS and Android, etc. This is exceptionally beneficial for movie fans who are going to rip a DVD to iPhone, iPad, or Android directly. But this is only feasible to rip non-protected DVDs since there is no mobile version available for libdvdcss.
Step 2. Install libdvdcss on Windows and Mac.
Follow the instructions to install libdvdcss as mentioned previously in Handbrake section. Make sure to copy the libdvdcss-2.dll file to the "plugin" directory inside the VLC installation directory on Windows. Or copy the libdvdcss.2.dylib file to the "/user/local/lib" directory on Mac.
Step 3. Load the DVD.
Launch VLC and click on the Media tab from the menu bar, and select Convert/Save. Click on the Disc tab in the Open Media window, and select DVD as the disc selection. Choose the DVD drive letter from the Disc device and select Convert/Save.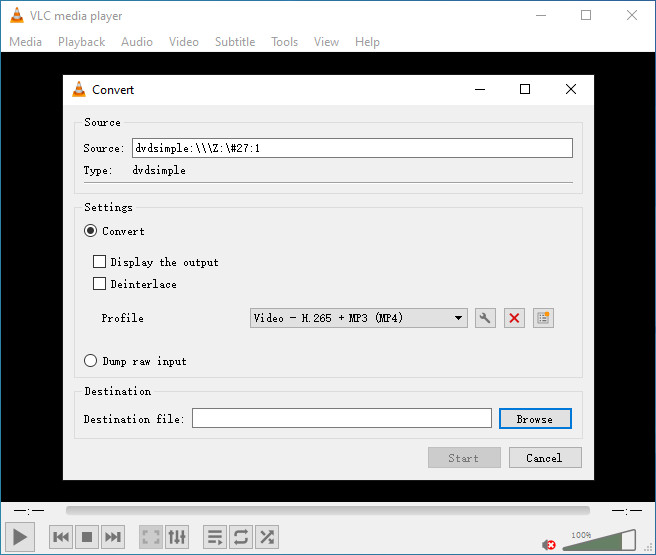 Step 4. Choose an output format.
Pick an output format and set your preferred settings in the Convert window. Set the destination file and start time.
Step 5. Start ripping the DVD.
Click the "Start" button to begin the DVD ripping process.
Please note that ripping a DVD, whether it is protected or homemade, can be a time-consuming process, especially for users who want to rip the entire DVD collection. It takes anywhere from 30 minutes to several hours depending on the length of the movie and the speed of the computer processor. This can be a significant investment of time for users who want to digitize their entire DVD collection. So you'd better resort to WinX DVD Ripper Platinum or MakeMKV for fast copying.
Method 6. How to Rip Encrypted DVDs with VideoProc Converter?
VideoProc Converter may be a new product, but it certainly packs a punch. One of its greatest strengths is its ability to handle copyrighted DVDs without requiring any third-party programs or plugins. It can bypass most of the popular encryption schemes used to protect DVDs.
Except for the good DVD ripper with copy protection removal feature, it boasts a wide range of output formats to choose from, including popular options such as MP4, AVI, MOV, and MKV, as well as more niche formats like FLV, WebM, and 3GP. Users can also customize their output settings to suit their needs, such as adjusting the resolution, bitrate, frame rate, and audio quality.
Another impressive feature of VideoProc Converter is its ability to edit videos. Users can trim, crop, merge, and add subtitles to their output videos with ease. Now let's check how to rip a copy-protected DVD with VideoProc Converter.
Pros:
Can avoid DVD copy protection schemes.
Allow editing video before ripping.
Support hardware acceleration.
Cons:
Incompatible with mobile and Linux.
Doesn't support Bluray or CD.
No DVD burning option.
How to Use VideoProc to Copy DVD with Copy Protection?
Step 1. Download and install VideoProc Converter.
It is compatible with Windows and Mac and requires 200MB of hard-disk space for installation.
Step 2. Load the copy protected DVD.
Insert the target DVD into your computer's DVD drive. Open VideoProc Converter, click the DVD module and then click the DVD Disc button to select the inserted DVD. Step 3. Choose content to copy.
You need to specify which DVD title, audio track, and subtitle track you want to rip.
Step 4. Select output format.
Click the tab "Popular", "Video", "Device", "Backup", or "Music" at the bottom to select a desired output format. Step 5. Begin copying protected DVD.
After you click the RUN button at the bottom right, the copying will begin immediately.
Part 4. How Did We Choose These Copy-Protected DVD Rippers?
We started by searching on Google and browsing forums to find 15 potential DVD ripping tools. In order to provide our readers with a comprehensive evaluation and comparison so that they can make informed decisions when choosing the right software for their needs, we gathered basic information, considered multiple factors such as software functionality, user-friendliness, compatibility, output quality, processing speed, product update frequency, brand reputation, professional reviews, and user feedback. Finally, we selected the most popular and best-performing DVD conversion tools based on our testing results.
Most important of all, we bought various encrypted DVDs and Blu-rays from different studios and regions to test their capabilities of removing DVD copy protections. DVD Shrink, Handbrake, and VLC can get by on region-locked or CSS DVDs that are relatively aging, the latter two of which can fulfill the task with the help of libdvdcss. MakeMKV is one of the unique tool that can deal with Blu-ray discs. We are also happy that WinX DVD Ripper has no problem ripping Disney protected DVD, animated DVD, and workout DVD.
Ultimately, the tool to rip a protected DVD depends on your specific preferences. If you want a free program, choose VLC, Handbrake, or MakeMKV. If the overall ability to rip protected DVDs matters to you most, WinX DVD Ripper is your best bet.
Part 5. FAQs about Copy-Protected DVD Ripping
1. Can VLC rip copy-protected DVDs?
YES, partially. VLC media player contains a library called libdvdcss that allows it to bypass the Content Scramble System (CSS) encryption used by some DVDs. If the DVD has a different kind of copy protection mechanism, VLC may not be able to handle it, and may only partially rip the DVD or deliver a resulting file with missing audio. You need to rely another program to remove copy protection from DVD.
2. Can ImgBurn copy protected DVDs?
No. Although ImgBurn is based on the optical disc burning engine of DVD Decrypter, it isn't able to bypass copy protections from DVDs.
3. Is it legal to copy a protected DVD for personal use?
In the context of copying protected DVDs, it is still considered illegal in the United States according to the Digital Millennium Copyright Act (DMCA). In other countries, such as Canada, fair use may allow for making backup copies of protected DVDs for personal use, as long as the copying does not infringe on the copyright owner's exclusive rights.
Will you be sued for copying protected DVDs you legally purchased for personal use? No. All the copy process happens on your local computer. As long as you don't distribute the contents for commercial purposes, you are safe. As a general rule, it is always best to check the laws in your specific jurisdiction before you copy any protected DVD.
4. How to determine if a DVD is copy-protected?
Almost all store-bought DVDs are protected with DRM (Digital Rights Management). Some copy-protected DVDs may have warning labels on the packaging or on the disc itself with the text "THIS DVD IS COPY PROTECTED" or so.
And some discs don't say in plain text that it is encrypted. Some programs will tell you that your DVD is copy-protected when try to make a copy of it. And some don't give you a prompt but just give some strange errors or unplayable output. If you fail to replicate a DVD with HandBrake or something else, then it is probably due to copy protection.
5. How to copy a protected DVD to MP4?
Can copy-protected DVDs be ripped to MP4? YES. One of the best ways to convert protected dvd to MP4 is WinX DVD Ripper. Follow the steps.
Download, install and open WinX DVD Ripper.
Insert the DVD into your optical drive and hit the DVD Disc button to import source DVD.
elect MP4 Video from General Profiles category.
Select the title you want to rip.
Press RUN to begin converting the DVD.
6. Can you damage a copy-protected DVD by making a copy of it on the computer?
No. A DVD cannot be ruined just by reading or copying. But you need to be careful while using DVD because it is easy to be scratched. What's more, a faulty reader may also scratch your DVD. So, take good care of your vulnerable DVD disc and always make digital copy.
Free Download WinX DVD Ripper Platinum to Rip any Copy-protected DVDs
Support almost all DRM-protected DVDs like latest movies/TV shows, Disney DVDs, DVDs with bad sector, workout DVDs, etc.
Rip any DVD to MP4 (H.264), AVI, WMV, MOV, MPEG, iPad, Android, smart TVs, etc, with ease.
Take advantage of Hardware Acceleration to speed up DVD ripping speed.
Copy any protected DVD to MPEG, ISO, DVD folder with 1:1 original quality.
External Sources - What is DVD copy protection?
DVD copy protection refers to the various methods and techniques used to prevent unauthorized copying of DVDs. These methods aim to protect the intellectual property rights of content creators and distributors by preventing piracy and unauthorized distribution of their copyrighted material. As a result, common DVD rippers cannot copy protected DVDs with DRM protection. There are different types of DVD copyright protection methods, including but not limited to region code, RCE, CSS, Sony ArccOS, APS, UOP, and Disney X-Project.