How to Rip Lionsgate DVD and Be Away from Playlist Obfuscation
Crap out with an error code "IFO error" while ripping Knives Out DVD, American Assassin, La La Land or any other Lionsgate DVDs? Why?
That's all because Lionsgate Playlist obfuscation (aka. Screen Pass protection). This encryption tech is widely used on Lionsgate DVDs in response to illegal piracy. Yet, as for those who are disposed to legally copy Lionsgate DVD movies for personal use, this is a huge blow. Lionsgate playlist obfuscation scheme misguides the common DVD rippers like AnyDVD, MakeMKV, Handbrake or DVD Shrink to auto select the "correct playlist" they thought with longest duration while it hides the truly correct playlist and the playback oder.
Users are often troubled with Lionsgate DVD ripping errors as below: Given that, is there any way to rip Lionsgate DVDs? How to remove Lionsgate copy protection and smoothly make a digital copy of disc?
WinX DVD Ripper Platinum is the Way to GO!!!
No 3rd parties, WinX DVD Ripper Platinum, well-equipped by constantly optimized title checking mechanism, can access almost any DVDs with challengable encryptions, Disney Sony included, let alone Lionsgate discs. Give it 5 or 10 seconds and it will auto tick the correct playlist from Lionsgate DVD and clear Screen Pass, playlist obfuscation simultaneously. Roughly 98% Lionsgate DVDs are supportive!
More Ways to Find Out Right Playlist from Lionsgate DVD
If you've already downloaded other DVD decrypters and won't give up on them, you can try the below methods to detect the correct playlist and then proceed the next ripping step with your tool.
1. Take Advantage of Process Monitor/PowerDVD
Step 1: Launch Process Monitor > head to Filter > Filter.
Step 2: Create a Filter - Path, contains, MPLS > tap "Add" > Apply > OK.
Step 3: Close Process Monitor.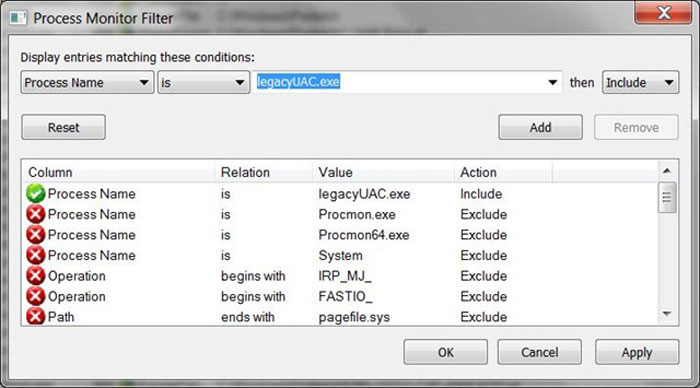 Step 4: Run PowerDVD and insert your Lionsgate DVD disc. Skip through any trailers etc until you get to the disc menu.
Step 5: PowerDVD is temporarily out of use. Minimize PowerDVD and re-open Process Monitor, which is supposed to have a box showing what filters were in effect last time. Choose "OK" on that box.
Step 6: Make PowerDVD back and opt for "Play Movie" thereon.
Step 7: Patiently wait, for most discs are riddled with some studio warnings to muffle piracy and several intros. Minutes later, you will see the movie start. Press pause a few seconds later.
Step 8: Wake up your Process Monitor again. The MPLS will be listed in the last events shown. That is the correct main movie playlist.
Step 9: Now you can use PowerDVD or other DVD ripping programs to do the rest job.
2. Java Runtime Environment Gives You Clue
Java Runtime Environment (JRE) can be applied to test out the correct main movie playlist in your Lionsgate disc. Download it from java.com. After installing JRE, import your Lionsgate disc with fake playlist protection. A message like this 'Using Java runtime from C:\Program Files (x86)\Java\jre1.8.0_121\bin\java.exe' will be sent to you sooner later. 3. Find Right Playlist via VLC or Forum
Providing your Handbrake still won't rip Lionsgate DVD, no doubt the above methods don't work yet. Well, load your Lionsgate DVD to VLC player and see which playlist title VLC auto chooses for playback. That's the correct playlist title you're looking for with the probability of 80%.
Alternatively, directly navigate to DVD/video forums or answer sites, post your questions and wait for others to help you out of this trouble. Certainly, in most cases, solutions might have already been provided, for you're not the only one tortured by this Lionsgate protection.
2-in-1 Way: Remove Protection and Rip Lionsgate DVDs without 3rd Party App
No matter you use Process Monitor, JRE or forum help-seeking to single out the right playlist, time and energy consumption are inevitable. It would be more off-putting if the playlist title quest is wrong at last.
Needless to use any 3rd party tool to find playlist title beforehand, WinX DVD Ripper Platinum can auto detect movie playlist title, remove Playlist Obfuscation from Lionsgate disc and digitize Lionsgate DVD to MP4, MOV, H264, MKV, AVI, MPEG, etc. modern formats for playback on any device/platform. It accepts all kinds of DVD discs, no matter the old classic DVDs or new releases, enabling users to output files without loss visually in quality and with reasonable size.
How to Remove Copy Protection from Lionsgate and Copy Lionsgate DVD?
Nonsense aside, free download the 2-in-1 DVD decrypter & ripper:


For Windows (Windows 10 and earlier)


For macOS (Big Sur and earlier)
Step 1: Add DVD Resource.
Fire up this DVD decrypter and insert the Lionsgate DVD into the disc drive.
Hit the Disc button and the DVD title scanning will go into action. The right movie playlist title will be auto ticked once the scanning is done (generally finished within 10 seconds). It also supports DVDs from other studios like Marvel DVDs, Warner movies, Paramount DVDs, etc.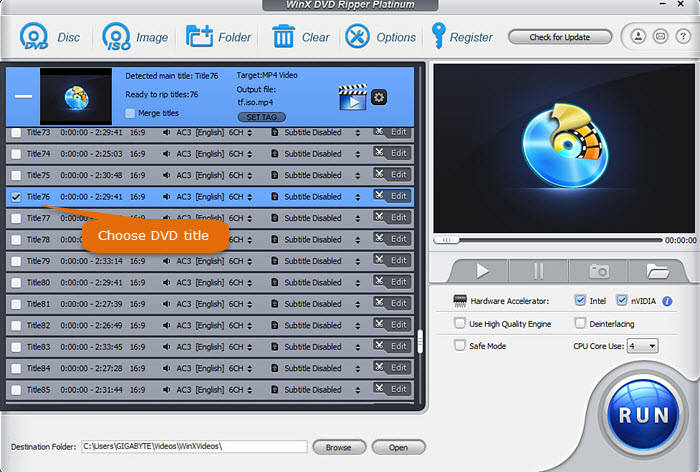 Step 2: Select an output format. Opt for the desired output format from the pop-up window with up to 350+ pre-programmed profiles. Digitize the Lionsgate DVDs into MP4, MOV, AVI, WMV, HEVC, H.264, FLV, and more. Generally, MP4 (H264) is the top option.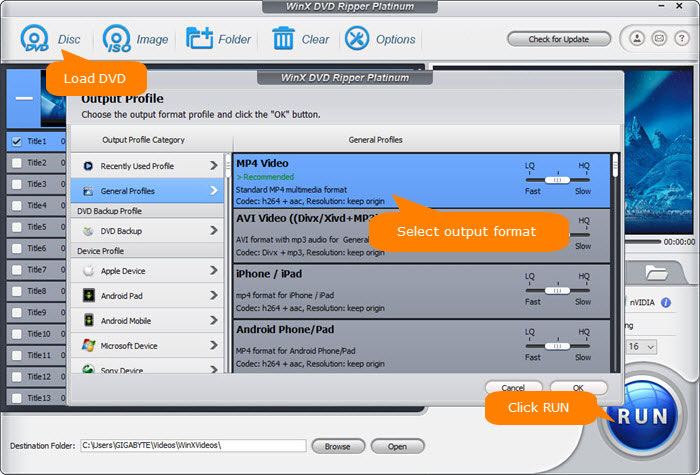 Step 3: Start to rip Lionsgate DVDs. Then click the RUN button to start rippping. The GPU acceleration is able to deliver a boosted ripping speed, up to 47x real-time speed, 5 minutes to finish a full DVD ripping if your hardware configurations are powerful enough, as well.