How to Rip & Copy Protected Marvel DVD Movies with Encryption
Marvel DVDs adopt the DVD encryption tech., so you should decrypt the copy protection first and then rip/copy/convert Marvel DVD with WinX DVD Ripper.
When talking about Marvel, it must be the comics and blockbusters in recent years that crowd in your mind firstly. Actually, quite a lot sci-fi or action movies since 2000 are based on Marvel comics characters and story line, either produced by Marvel Studios or others like 20th Century Fox, Universal Studios and Columbia Pictures. Here we mainly discuss about how to rip/copy/convert Marvel DVDs produced by Marvel Studio. The series of superhero films based on the roles in Marvel Comics produced by Marvel Studios is known as Marvel Cinematic Universe (MCU). From 2007 when MCU being in production to 2020, Marvel Studios has brought us 23 movies in total, receiving over $22.6 billion box office worldwide. And in the near future, a few sequels will come on the screen soon. Let's take a glimpse at all these new and old classic MCU DVD movies and find a reasonable way to watch them.
This article will take you about 6 mins to read through, you can skip to:
How to Rip Marvel DVD | Copy Marvel DVD on PC/Mac
Since Marvel DVD movies are encrypted with copy protections, there are only few DVD ripping softwares that are able to rip them without being bothered by DVD encryption. WinX DVD Ripper Platinum is honored to be one of them. It enables you to decrypt copy protected DVDs of Marvel, Sony, Lionsgate or any distributors, digitize DVD to tremendous output profiles like MP4, MKV, MOV, AVI, MPEG2, ISO, iPhone, iPad, Android, HDTV, Xbox, PS4 etc., and deliver superb output quality at blazing fast speed.
As to how it works, we just take DVD "Captain America: The Winter Soldier" for instance:
Step 1. Import Marvel DVD.
Insert Marvel DVD Captain America: The Winter Soldier into your DVD-ROM, and then launch WinX DVD Ripper Platinum, click "DVD Disc" button on the top left to analyze and upload the DVD files into software. Obviously, WinX DVD Ripper also accepts ISO image or VIDEO_TS file of the movie. Input the DVD movie successfully, its right title will be checked by ripper automatically.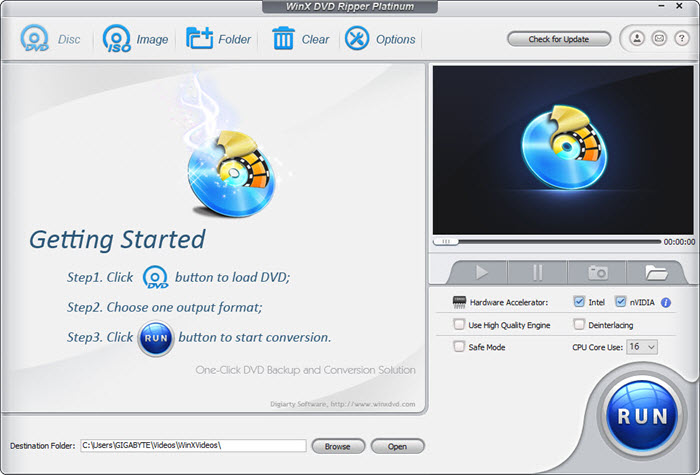 Step 2. Choose Output Format/Device.
This Marvel DVD ripper is preloaded with more than 300 output profiles. You can directly Backup Marvel DVD's full/main title, clone Marvel DVD to ISO Image/Folder. Furthermore, you can rip Marvel DVD to MP4, AVI, WMV, MOV for PC/Mac, to Apple/Android/Microsoft/Sony device video, website video, and extract music file only.
Step 3. RUN Marvel DVD Ripping/Copying.
To meet your advanced demands, WinX DVD Ripper Platinum offers various personal settings options, in terms of movie subtitle choosing/adding, video editing, video audio parameters adjusting, and output saving folder placing. When it's ready, press blue "RUN" button to convert Marvel DVD with this software!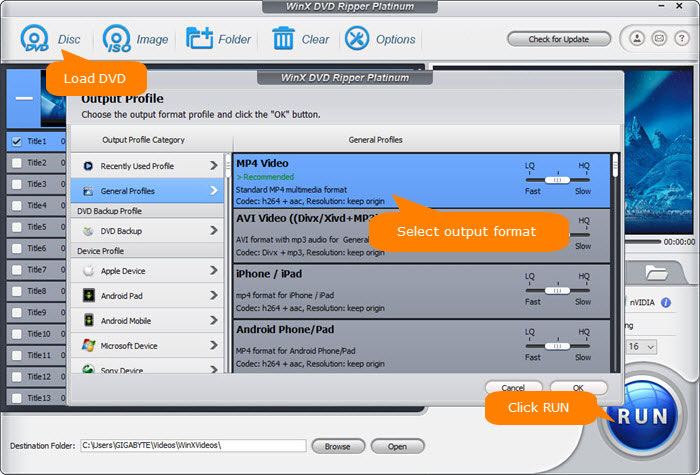 !! Please Note: Keep in mind that software provider doesn't advocate commercial use of DVD copies and suggest to read copyright laws in your country before DVD ripping.And still have trouble about how to rip copy Marvel DVDs on Windows/Mac? Just feel free to Email Us >>
Marvel Cinematic Universe Movies Lists
The Marvel movies can be divided into 3 phases up till now. But they are all series of American superhero films produced by Marvel Studios based on characters that appear in publications by Marvel Comics.
Phase One began in 2008 with the release of Iron Man and concluded in 2012 with the release of Marvel's The Avengers.
Phase Two began in 2013 with the release of Iron Man 3 and concluded in 2015 with the release of Ant-Man.
Phase Three began in 2016 with the release of Captain America: Civil War and concluded in 2019 with the release of Spider-Man: Far From Home.
Now let's check the list of Marvel movies all over thees three phases.
Marvel Movie Name

Theater Release Date (USA)

DVD Release Date

Worldwide Box Office

Phase One

Iron Man

May 2, 2008

September 30, 2008

$585,171,547

The Incredible Hulk

June 13, 2008

October 13, 2008

$265,573,859

Iron Man 2

May 7, 2010

September 28, 2010

$621,156,389

Thor

May 2, 2011

September 13, 2011

$449,326,618

Captain America: The First Avenger

July 22, 2011

October 25, 2011

$370,569,776

May 4, 2012

September 25, 2012

$1,515,100,211

Phase Two

Iron Man 3

May 3, 2013

September 24, 2013

$1,215,392,272

Thor: The Dark World

November 8, 2013

February 25, 2014

$644,602,516

Captain America: The Winter Soldier

April 4, 2014

September 9, 2014

$714,401,889

August 1, 2014

December 9, 2014

$772,772,112

Avengers: Age of Ultron

May 1, 2015

October 2, 2015

$1,396,099,202

Ant-man

July 17, 2015

November 17, 2015

$518,858,449

Phase Three

Captain America: Civil War

May 6, 2016

September 13, 2016

$1,153,284,349

Doctor Strange

November 4, 2016

February 28, 2017

$676,404,566

Guardians of the Galaxy Vol. 2

May 5, 2017

August 22, 2017

$869,113,101

Spider-Man: Homecoming

July 7, 2017

October 17, 201

$880,166,350

Thor: Ragnarok

November 3, 2017

March 6, 2018

$853,958,289

February 16, 2018

May 15, 2018

$1,346,913,161

Avengers: Infinity War

April 27, 2018

August 14, 2018

$2,048,359,754

Ant-Man and the Wasp

July 6, 2018

October 16, 2018

$623,144,660

Captain Marvel

March 8, 2019

June 11, 2019

$1,129,729,839

Avengers: Endgame

April 26, 2019

August 13, 2019

$2,797,800,564

Spider-Man: Far From Home

July 2, 2019

October 1, 2019

$1,129,221,601
Upcoming Marvel Superhero Movies on DVD 2020 2021
Marvel movies never cease to amaze its customers. Despite the impact of Covid-19, it still plans to bring us some great Marvel superhero movies soon. Here are some good Marvel movies in theater.
• Extraction - April 24, 2020
• Black Widow - November 6, 2020
• The Eternals - February 12, 2021
• Shang-Chi and the Legend of the Ten Rings - May 7, 2021
• Untitled Spider-Man: Far From Home sequel - November 5, 2021
• Thor: Love and Thunder - February 11, 2022
• Doctor Strange in the Multiverse of Madness - March 25, 2022
• Black Panther II - May 6, 2022
• Untitled Captain Marvel sequel - July 8, 2022
* See more comprehensive Marvel Movies Lists from Wiki: List of Marvel Cinematic Universe Films | List of Films Based on Marvel Comics
How to Watch Marvel Movies on DVD in Correct Order
I don't know if any of you are like me. I'm really confused to after watching several Marvel movies with high rating. I can't figured out which movie happen early, why are the later released films talking about prequels. What's the correct order to watch Marvel movies? It's surely no problem for playing your Marvel movies by release date. But if you'd like to understand more about it, you're recommended to watch them by chronological order. Then, you'll see important events play out as they're supposed to in the MCU timeline, for example, following the Tesseract from WWII up until The Avengers assembled, seeing Carol Danvers encountering Nick Fury in the '90s, or witnessing Steve and Bucky's complete relationship play out. • Captain America: The First Avenger (takes place during WWII)
• Captain Marvel (takes place in 1995)
• Iron Man (takes place in 2010)
• Iron Man 2 (takes place after Iron Man)
• The Incredible Hulk (time unspecified, pre-Avengers)
• Thor (takes place six months before Avengers)
• The Avengers (takes place in 2012)
• Iron Man 3 (takes place six months after The Avengers)
• Thor: Dark World (post-Avengers, pre-Ultron)
• Captain America: Winter Soldier (post-Avengers, pre-Ultron)
• Guardians of the Galaxy (sometime in 2014)
• Guardians of the Galaxy Vol. 2 (after Guardians)
• Avengers: Age of Ultron (takes place in 2015)
• Ant-Man (takes place in 2015)
• Captain America: Civil War (post-Ultron, pre-Infinity War)
• Spider-Man: Homecoming (post-Civil War, pre-Infinity War)
• Doctor Strange (takes place in 2016)
• Black Panther (takes place in 2017)
• Thor: Ragnarok (post-Ultron, pre-Infinity War)
• Avengers: Infinity War (takes place in 2017)
• Ant-Man and The Wasp (ambiguous, but fits nicely between IW and Endgame)
• Avengers: Endgame (starts in 2017, finishes in 2023)
• Spider-Man: Far From Home (post-Endgame)
[Best Marvel DVD Ripper and Other DVDs Backup Solution]
WinX DVD Ripper Platinum: Tiptop level-3 hardware-accelerated DVD ripping software to rip DVD to popular digital formats like DVD to MP4, AVI, MPEG, WMV, MOV, FLV, M2TS, MP3 etc., or backup DVD in 3 modes. By easily circumventing copy protection mechanisms, it makes whatever types of DVDs playable on iPhone, iPod, iPad, Apple TV, iTunes, Android, Samsung, Sony, Surface, Windows Phone, Chromecast, etc. [Both Windows 10 & macOS Big Sur supported]