Download the Best DVD Decrypter to Rip Encrypted DVDs with Ease
When you make a digital copy of your DC Comic and Marvel DVD movie collection, there is a high likelihood to receive errors like "can't find the correct title", "oversized output file", "incomplete DVD ripping", etc. It's not going to be good with DVDs from Sony, Lionsgate, or any other producers, there are still errors like "unknown bad sector", "fake playlist", to name a few. The solution is to use a reliable DVD decrypter program to remove common encryption techs from DVD discs and then rip DVDs to a digital video format for playback, backup, or burning.
Common DVD Decrypting Errors You May Meet
Here we sift through the most common errors resulted from Marvel, DC, Disney, Sony, Lionsgate DVDs, and others.
1. "DVDs with Unknown Bad Sectors"
You must feel confused why the DVD decrytion application says bad sectors on DVD disc since your DVD disc isn't physically damaged or scratched. It doesn't concern the external physical matter but the DVD copyright protection.
* This error usually occurs when you rip Sony Picture DVDs, such as Spider Man, Little Women, Venom, etc.
2. "Can't find correct title"
The free DVD decrypter you use auto selects title 9 (only 1 minute in length) of DVD Power Rangers while other users point out the main title being title 40 or 41. But your tool doesn't unfold title 40 or 41.
* This often shows up in Disney DRM DVD decryption (with 99-title encryption) like, Frozen, Maleficent Mistress Of Evil, The Lion King, etc.
3. DVD Playlist Obfuscation
When you rip Lionsgate DVD movies like Midway, Knives Out, etc., you will find that there are over 30 VTS_xx folders listed with the same length pgc/ ifo titles in there. Though some of your Lionsgate discs can be decrypted, some minor discrepancies exist between the output rips and the original disc in playback. In most cases, your DVD encryption removal tool just quits and doesn't progress.
* Playlist Obfuscation (aks. Screen Pass protection) is the main copyright protection scheme used in Lionsgate DVD.
4. I/O Error!
The I/O errors prevent a user from backing up some new DVDs. The error messages come with ID CRC or ECC Error or Copy Protection Key Exchange Failure - Authentication Failure, indicating that the free DVD decrypting software can't handle the new schemes. You can fix the I/O error here.
5. DVD Decrypter Freezes
A DVD decrypter gets stuck in the middle of DVD backup without giving any clue. Users may see error messages like ParseVTSM Runtime Exception, Abnormal Program Termination, etc., or a blank screen.
6. Incomplete DVD Rips
No exception or error pops up during DVD decryption and ripping. But it comes after the rip. Some, if not all, complain that the output only has 7 Mb inside.
7. Oversized Output File
Quite a number of users ask on forums if someone can shed light on why the output DVD file has 74 1GB files on it. As is known to all, that is not possible on a DVD. Yes, this attributes to DVD DRM protection and often happens on Disney DVDs.
These errors ruin your day! How to avoid these errors during DVD decryption and ripping? First things first. Use well-qualified free DVD decryption software. Instead of aimlessly looking around with much time wasted, it would be much wiser to have a check on the below recommendations. Each of them has their own talents with the purpose to address your different needs.
How to Decrypt DVDs Successfully without any Errors
To decrypt DVDs with various protections smoothly, you need a powerful DVD decrypter - WinX DVD Ripper Platinum.
Key Features:
Remove DVD protection from disc, including CSS, AACS 2.0, Region Code 1-6, UOPs, RCE, Disney X-project DRM, Sony ARccOS, etc.
Decrypt DVD collection to MP4, H264, MKV, MOV, AVI, iPhone, iPad, Android, Xbox, PS4, etc. with virtually no quality sacrificed.
Copy DVD to ISO image, backup DVD to MPEG-2 file and clone DVD with main/full title at 1:1 ratio.
Offer complete yet advanced GPU hardware acceleration to push DVD ripping speed up to 50% faster than before. A full DVD to MP4 conversion can be done in 5 minutes once it's enabled and your hardware configurations are excellent enough.
Pros:
Commercial and homemade DVDs are all supported. Crack almost all the DVD protections ranging from region code (1-6), CSS, to Disney X-project, Sony ARccOS.
It's upgraded regularly with the latest encryption methods to decrypt DVDs with old or newly-released DRM protection.
It has a unique Safe Mode to decrypt DVDs with any tough DVDs that disable other DVD decrypters on the market.
It will automatically unencrypt the DVDs with no further settings required.
It supports all kinds of DVDs, including TV shows, workout discs, 99-title movies, damaged & scratched DVDs, etc.
Tutorial: How to Decrypt DVDs with the Best DVD Decryption Software
Here we show you the guide on how to clear DRM protection from DVDs with best tool WinX DVD Ripper Platinum in nitty-gritty details. You can scroll down to the video tutorial part if your time is limited.
Step 1: Free download and install WinX DVD Ripper Platinum (or macOS version) on your computer and run it. Click "DVD Disc", or "Folder" to load the DVD.
Step 2: Choose output profile. You'll notice that there're lots of output profiles for PC, Mac, and devices. Select "to MP4".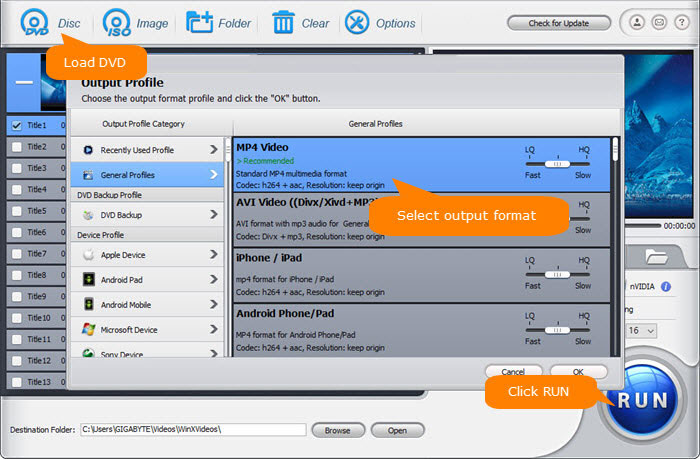 Step 3: Set video audio parameters. This is an optional step primarily suited to advanced users. You can skip this and move to step 4 directly.
Step 4: Specify destination folder and click "RUN" to begin decrypting and copying protected DVD collection to MP4.
[Video Tutorial] How to Decrypt Copy-Protected DVDs with WinX DVD Ripper Platinum
Disclaimer: Digiarty Software does not advocate ripping copy-protected DVDs for any commercial purpose and suggests referring to the DVD copyright laws in your countries before doing so.
[Alternative] Top DVD Decrypters You can Use to Unencrypt DVDs
Verdict: MakeMKV offers enough features for you to get rid of encryption techs from Blu-ray DVD disc. However, it underperforms in DVD decryption, especially "The volume key is unknown for this disc" error caused by AACS 2.0 encryption.
Key Features:
Clear BD+, Cinavia from Blu-ray disc.
The old DVD encryption techs are partially supported like CSS, AACS 2.0, Region Code. As for the enhanced DRM protection techs from Disney, Sony and Lionsgate, it's willing to but powerless to render assistance.
Make a digital copy of your disc and saved as MKV with multi-track subtitles and audio channels kept.
Pros:
Free of charge.
Support decrypting the latest encryption tech in Blu-ray disc.
Support DVD, UHD DVD and Blu-ray disc as inputs.
Cons:
Only 1 output format supported, MKV.
Omit the core tech to remove the latest encryptions used on DVD like AACS 2.0, Sony ARccOS, Disney X-project, etc.
No 1:1 DVD backup mode.
No GPU hardware acceleration tech and CPU usage up to 95% during ripping.
Leave DVD editing and parameter adjustment to be desired.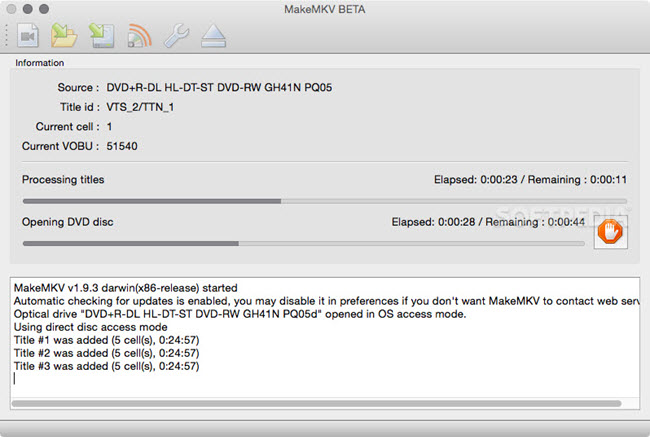 Verdict: AnyDVD HD is a single module in AnyDVD media suite. Just buy them piece-meal if you sole need is the decrypter. Similar to MakeMKV, this tool also enables you to decrypt DVD, HD DVD and Blu-ray DVD. Differently, its only 1 output format is Video_TS folder, not MKV.
Key Features:
Partially decrypt DVD, HD DVD, CD and Blu-ray discs. "AnyDVD is unable to crack all CSS Keys on this disc!" message points out the striving direction for AnyDVD HD.
Rip DVD to Video_TS folder with fast speed and low CPU consumption.
Pros:
The range of input formats is broad, from CD, DVD to HD DVD and Blu-ray disc.
No-frills product, easy to use and friendly to newbies.
Cons:
Unable to handle the challengable encryption techs like Macrovision, Cinavia, CPRM, Disney, Sony ARccOS, etc.
The sole utput format is Video_TS folder, which is incompatible with most mobile devices. You need pay for another product CloneDVD Mobile in media suite if you're prone to convert DVD to MP4, MOV, etc.
Price is a little stiff, €59 for 1-year version, €75 for 2-year version and €109 for lifetime version.
Only available for Windows PC, no macOS version.
DVD editing and parameter adjustment are of absence.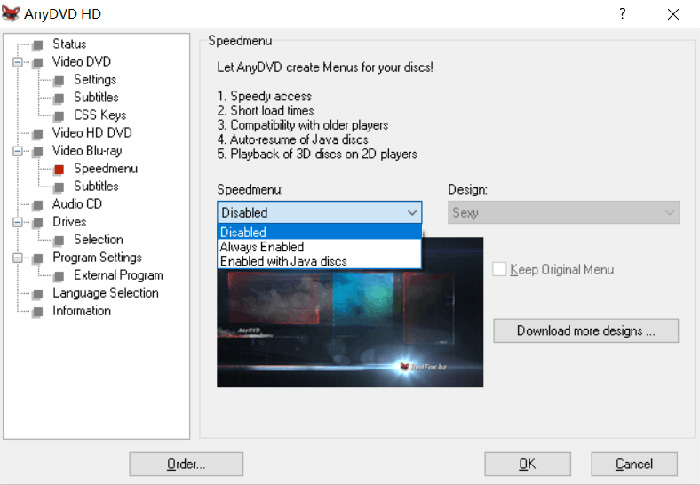 Verdict: You don't always need the best of the best for decryption. Though the development and upgrades on DVD Decrypter has halted since 2005, it's still alive for Windows PC and can be applied to overthrow the common encryptions from DVD disc.
Key Features:
Clear encryption techs from DVD, including Macrovision, CSS, Region Codes and UOPs. With respect to XProtect, AACS, Disney and Sony protections, it doesn't work.
Make a copy of your DVD.
Pros:
Free to use.
Disable Macrovision, CSS, region codes, and UOP from disc.
Cons:
Unable to catch up with the stronger copyright protection techs.
Only DVD copy is supported. DVD to digital conversion is unavailable.
macOS is excluded.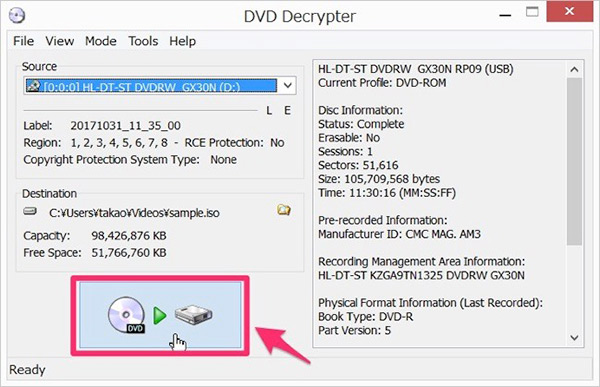 Verdict: Free, easiness and DVD decryption ability make DVDFab HD Decrypter a nice try for DVD decryption software. Download it to rip DVD to MP4 or backup DVD with main/full title.
Key Features:
Accept old DVD and Blu-ray discs as inputs.
Remove old encryption from DVD and Blu-ray discs.
Convert DVD to MP4 and make a digital copy of main/full title.
Pros:
Free of charge.
Well-designed with an intuitive interface, simple to use.
Fast speed for DVD backup.
Cons:
Only let you decrypt old DVD and Blu-ray discs, any new encryption techs excluded.
Built-in with 3 output profiles, MP4, main title and full title backup.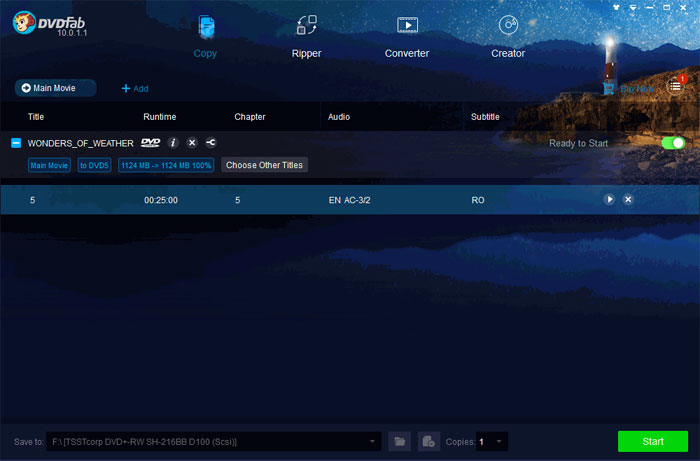 Verdict: Handbrake itself lacks the knack to cope with copyright protected DVD. But it's not the case once it gets the help from VLC or libdvdcss. It can skirt the common encrypted DVDs and decode to MP4 or MKV formats.
Key Features:
Excel in getting rid of encryption from DVD and Blu-ray under the help of 3rd party apps. But keep in mind just part of encrypted DVDs, not all, esp. not the latest DVDs.
Rip DVD to MP4 or MKV with over 87 preset profiles adjusted with perfect parameters for iPhone, Android, iPad, etc. mobile devices.
Intel QSV decoding is supportive to speed up DVD conversion speed.
Pros:
100% free to use and get free upgrades at high frequency.
Both DVD and Blu-ray discs are acceptable.
Rip DVDs with selected chapters.
Go fast and produce a high-quality file.
Cons:
Need to install VLC or libdvdcss library.
Only two video formats.
No DVD backup mode.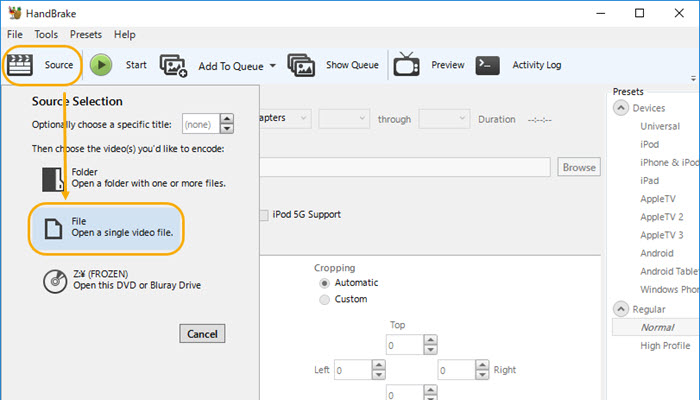 Side-by-side Comparison on Top DVD Decrypters
DVD Shrink, Magic DVD Ripper, Clone DVD, and RipIt4Me are lesser known DVD decrypter programs and are not highly recommended. Here, we pick top 6 best DVD decrypting tools and make a detailed comparison. You can't generate an intuitive picture of their differences. That's why this part exists, presenting you a visualized comparison table with the main DVD encryption techs covered.
DVD & Blu-Ray Copy Protection Schemes

WinX DVD Ripper Platinum

MakeMKV

AnyDVD HD

DVD Decrypter

DVDFab HD Decrypter

Handbrake

DVD Copy Protection Schemes

CSS

✔

Partially

Partially

✔

Partially, only in Old disc

✔

Region Code

✔

Partially

✔

✔

Partially, only in Old disc

✔

RCE

✔

✘

✘

✘

✘

✔

UOPs

✔

✘

✔

✔

Partially, only in Old disc

✔

APS (aks. Macrovision)
(Analog Protection System)

✔

✘

✔

✔

✘

✔

CPRM

Partially

✘

✘

✘

✘

✘

Sony ARccOS

✔

✘

✘

✘

✘

Partially

Disney X-project DRM

✔

✘

✘

✘

✘

Partially

Blu-ray Copy Protection Schemes

BD+

✘

✔

✘

✘

✘

✘

Cinavia

✘

✘

Partially, only in Old disc

✘

AACS

Partially

✔

✘

✔

Blu ray Playlist Obfuscation

✘

✘

✘

✘

Errors During Decryption

/

"The volume key is unknown for this disc" caused by AACS 2.0

"Unable to crack all CSS keys on this disc."

/

"DVDfab stop ripping at about 25-30%."

"No valid source or titles found."
The table is self-explanatory. The top pick, for most users, goes to WinX DVD Ripper Platinum, for it can handle 98% DRM protected DVDs and rip DVD to any format with 350+ pre-programmed profiles. For those who are in possession of a broad array of Blu-ray discs, MakeMKV is really up to the mark. Handbrake also wins 5-star recommendation if most of your DVDs are old discs and your need is a free DVD decryption application.
Frequently Asked Questions
How can you tell if a DVD is copy protected?
Easy as A-B-C. Just download and install handbrake on your laptop. Don't install VLC or libdvdcss. Insert your disc to handbrake and check if HB can easily detect the main title and inerrably rip your movies off disc. If it can't, mostly your DVD is copyright protected.
What is Disney copyright protection on DVD?
The copyright protection Disney adopts on DVD called Disney X-project DRM, which usually adds reduntant titles (up to 99 titles) to the movie titles and huge size to the output file (oversized 75GB or even larger). Common errors like no main/valid title, incorrect title, oversized outputs are closely related to Disney encryption tech.
Can Handbrake rip copy protected DVDs?
How do I rip protected Blu Ray and DVDs with MakeMKV and Handbrake?
Launch MakeMKV, insert a disc in your optical drive, then click the big button that looks like an optical drive. MakeMKV will read the disc, then display its contents....
Follow this guide from Macworld, which illustrates the software, hardware components you need to prepare and use MakeMKV & Handbrake to free decrypt DVDs as easy as possible.