Posted by Kaley Torres - Contact Author

How to Play Japan Region 2 DVD in USA - Changing DVD Drive Region Isn't the Only Way

If you're looking for an easy solution, click here: The solution most recommended by us [85%]
Don't Expect to Play Japanese DVD in America by Changing DVD Drive Region! It'll Be Permanently Locked after 5 Times...
How to play a Japanese DVD in USA? When your friends sent you a DVD from Japan, or you purchased some Japanese DVDs like anime DVDs, adult discs and you'd like to watch them on your US made DVD player or PS4, computer, or other devices with DVD-ROM. How about the result? I bet it usually failed because the region code of your Japanese disc is not matched with the one of DVD player/drive in USA. Does that mean you cannot watch Japanese region 2 DVD in the United States? Not really. This article will guide you how to play Japanese DVD in USA. Japanese DVDs, together with DVDs made in Europe, South Africa, Middle East and Greenland are proteced with Region 2, which can only be played on a region-2 or region-free DVD player or drive. If your DVD player/drive is set in an improper region, you can also change region code on your DVD player/drive. However, you can change region for 5 times only. The best way is to remove DVD region protection to watch your DVD movies anywhere anytime without limits of region code.
5 Ways to Play Japanese DVDs in the USA
1. Buy a region 2 DVD player
2. Buy a region free DVD player
3. Make your DVD player region free by using remote hack
4. Change DVD drive region
5. Rip your Japanese DVD to a region free digital file
You can choose any method as you like. In this article, we'll focus on the last two methods.
Solution 1: Play Japanese DVD in USA by Changing DVD Drive Region
Though changing DVD-ROM region code is strictly limited, it's also a good way to play Japanese region 2 DVD in USA occasionally. Of course, you're not suggested to change your computer DVD drive region from region 1 to region 2, and region 2 to region 1 back frequently, since it'll be permanently locked until changes remaining 0. Here comes the easy steps to change DVD drive region code on Windows 10/8/7.
Step 1: Press Windows + E to open the File Explorer.
Step 2: Navigate to "This PC" from the left panel to find your DVD drive under "Devices and drives".
Step 3: Right-click on the DVD drive, and click on "Properties".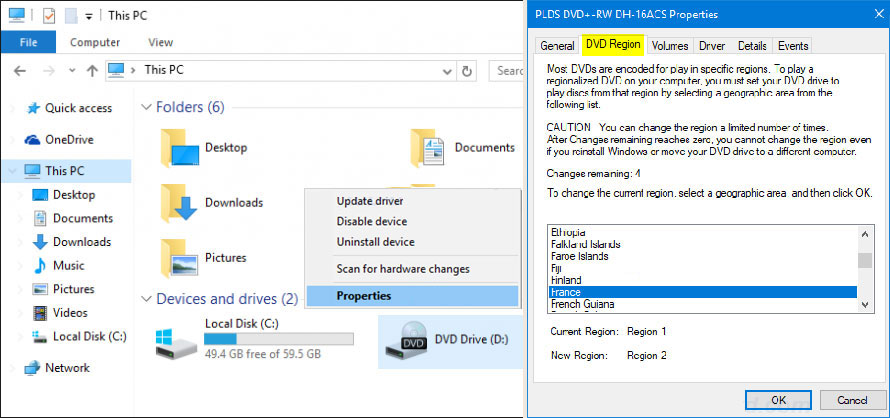 Step 4: Click on "Hardware" tab at the top of the DVD drive properties window.
Step 5: Click the "Properties" button towards the bottom to open the properties of the device that the type is labeled as "DVD/CD-ROM Drives".
Step 6: Click on the "DVD Region" tab in the new window that opens.
Step 7: Click on a geographic region name to play DVDs meant only for that region. After you've done, click "OK" to save the changes.
What if your DVD drive won't change region or is permanently locked after reaching 5 times? Rip Japanese DVDs to HD digital videos for playing in USA or any other countries without limit. The Easiest Solution
When your DVD drive is permanently locked, purchasing another DVD drive ($40 or so) is a way to make Japanese region 2 DVD playable. However, it's costly and it's going to hit the 5 times limit very soon if you play Japanese DVDs in USA now and then. Why not rip Japanese DVDs to high-quality and region-free digital videos so as to play DVD movies in USA or any other countries without limit of region code? You simply need a piece of DVD ripping software.
WinX DVD Ripper Platinum is the easiest, fastest, and most powerful DVD ripper to unlock DVD region code and copy protection schemes and rip any DVD to popular video formats like ISO, AVI, MP4, WMV, FLV, etc., no matter it's protected with 1-6 region codes, region code enhanced (RCE), CSS, UOPs, Sony ArccOS, Disney DRM or more advanced encryption schemes. By doing that, you can watch DVD movies on computers with any media players, portable devices on the go or store DVD movies on Nas, Cloud Storage etc.
WinX DVD Ripper Platinum - Digitize DVD to Make Your DVD Video Region Free within 5 Mins
Remove DVD region code to play Japanese region 2 DVD in USA or any other countries.
Rip any DVDs, be it new DVD releases, old discs, kids/workout DVDs, damaged DVD etc.
Decrypt DVD of any encryptions, such as Regions, CSS, UoPs, RCE, Disney/Sony DRM, etc.
5 minutes only to unlock DVD region code & rip a full DVD with GPU acceleration enabled.

Download WinX DVD Ripper Platinum on Windows

to remove region code from DVDs.

Download WinX DVD Ripper Platinum on Mac

to unlock DVD region code encryption.
After you downloaded the DVD region killer, go straight to install it by following the wizad. It's available on Windows 10/8/7/XP, MacOS 10.6 or above. Then launch it and start ripping DVD to make it region free.
Step 1. Place your DVD disc to your computer DVD-ROM carefully and go back to the program. Click "DVD Disc" button to import your inserted DVD. Tips: This software also allows importing ISO image and DVD Folder for converting to more popular media formats.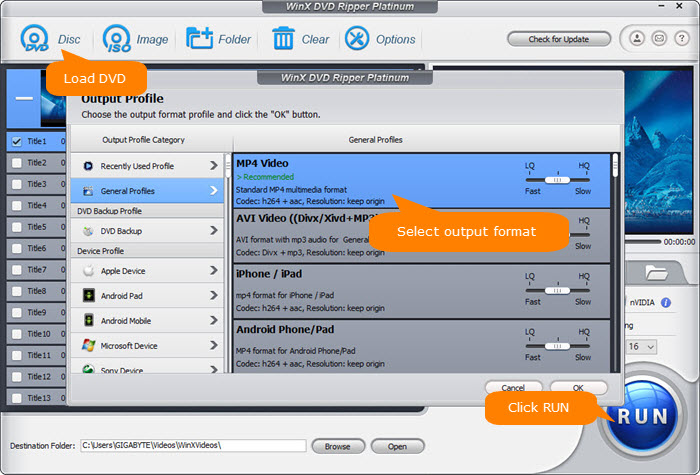 Step 2. After the loading is completed, the main titile will be selected automatically, and all DVD information will be shown in the file list. Then choose output format from the popup windows, where more than 350 preset profiles are available. Choose MP4, MOV, MKV, MPG, iPhone, iPad, Xbox, PS4, Android or any formats and device caterring to your needs.
Step 3. Click "Browse" button to specify an output folder. And tick on the Intel/nVIDIA hardware accelerator if it's available. Then tap "RUN" button to start bypassing region code and ripping DVD to digital video. With the GPU acceleration enabled, a 2-hour long full DVD ripping process will be accomplished within 5 minutes.
Disclaimer: Digiarty Software does not advocate ripping copy-protected DVDs for any commercial purpose and suggests referring to the DVD copyright laws in your countries before doing so.
Watch video tutorial on how to play DVD on Windows 10
Final Words:
Changing DVD drive region code is a practical but not the best way to play Japanese DVD in USA. On the one hand, you can only change it from one region to another, you need modify it again when you play DVDs made in the United States or any other countries. On the other hand, with the drastically decrease of DVD drive on desktops and laptops, watching DVD becomes increasingly difficult and is littered with kinds of errors, such as DVD drive not recognizing/reading/detecting discs, DVD drive not showing or scraching DVDs, I/O error when reading or analyzing DVDs, or DVD player crashing error etc.
Therefore, you're more recommended to convert DVD to digital videos with WinX DVD Ripper Platinum, which makes you ignoring the DVD region code and playing DVD movies on any media players on computers, TVs, iPhone, iPad, Android, Xbox One, PS4, or any devices.