Posted by Donna Peng - | Contact Author

[Solved] DVD Drive not Reading/Recognizing DVDs on Windows

If you are searching for an easy solutsion, click here: The solution most recommended by us [85%]
CD/DVD drive comes a necessity to play physical DVD discs on computers, game consoles etc. Though there has been a gradual reduction of optical disc drives in recent years, they are not dying. According to the research report on CD and DVD Drive Market present by Market Research Inc., CD/DVD drive will usher in new growth in forecasted period 2019-2025 with key players like HLDS, PLDS, AOpen, Artec etc. That's to say, you can still play your DVD collections on computer through DVD drive in the coming years.
However, things go wrong sometimes owing to DVD drive stops working. Some of you may be unlucky guys who encounter DVD drive not showing in Windows 11, reading or recognizing discs in Windows, with a result that you can't burn DVD on Windows. Here we will discuss the specific symptoms and possible reasons for DVD drive not reading discs on windows 10/8/7, as well as how to get out of the trouble. DVD Drive Not Recognizing Discs - Symptoms & Reasons
Usually, if you've upgraded the Windows operating system, installed or uninstalled CD or DVD recording programs, or uninstalled Microsoft Digital Image, you may encounter the DVD drive not reading disc error. Specificly, you cannot see the DVD drive in File Explorer, or the device is marked with a yellow exclamation point in Device Manager. Plus, more cases might happen in the Device status area:
• Windows cannot start this hardware device because its configuration information (in the registry) is incomplete or damaged. (Code 19)
• The device is not working properly because Windows cannot load the drivers required for this device. (Code 31)
• A driver (service) for this device has been disabled. An alternate driver may be providing this functionality. (Code 32)
• Windows cannot load the device driver for this hardware. The driver may be corrupted or missing. (Code 39)
• Windows successfully loaded the device driver for this hardware but cannot find the hardware device. (Code 41)
How to Fix DVD Not Playing on PCs Issue Caused by DVD Read Error >>
It's an arbitrary decision to blame all on DVD drive. Reasons are mixed. The disc, optical drive, firmware, any of them may be the major cause.
DVD Disc: A damaged or incompatible disc is difficultly recognized by DVD drive. Dust, smudges and scratches on disc may prevent the hardware from reading the content. Inconsistent region code of disc and DVD drive is another reason. Sometimes, the disc which is burned on another computer can't be opened. Or, there is no disc found at all.
Optical Drive: A corrupted DVD drive absolutely won't read DVDs and even scratches DVD disc.
Firmware: Out of date firmware generates reduced performance of hardware. If you don't install the new firmware, DVD drive not reading DVDs issue probably occurs.
Ultimate Solution to fix DVD drive not reading DVDs on Windows 10/8/7: The Key: Rip DVD to digital formats for playing DVD movies without DVD drives.

Try with a DVD Ripper
Playing a digital file is fully independent from hardware. Only if the format is supported, you can get access to full content of the file via media player. To digitize DVDs is the best choice to watch DVD movie on laptops and computers without DVD drive not reading disc error.
WinX DVD Ripper Platinum is the most feature-packed DVD ripper, ready for ripping ANY DVD (homemade or copyright protected) to MP4 (H.264/HEVC), AVI, WMV, MOV, FLV, MPEG-2, DivX, iPhone, iPad, Android, Xbox, PS5/4 etc, with visually no quality degradation (98% quality kept). In terms of 1:1 lossless copy, its backup mode lets you 1:1 clone DVD to ISO Image, VIDEO_TS folder or a single MPEG2 file to make a full backup of DVD.
Level-3 Intel/Nvidia/AMD GPU hardware acceleration tech ensures you 47x real-time faster DVD ripping speed, no CPU overuse error. Afterwards, you can eventually successfully play DVD movies on Windows 10, burn DVD content to DVD, transfer DVD to iPhone Android.

Download WinX DVD Ripper Platinum on Windows

to rip DVD to digital


Download WinX DVD Ripper for Mac on macOS

to digitize DVD discs
After ripping DVD to digital, you can get full movie playable on Windows avoiding DVD drive not working issue.
Step 1. Launch WinX DVD Ripper Platinum and then load the DVD by clicking DVD Disc button.
Step 2. A couple of seconds later, all titles are listed and main title is automatically selected. Meanwhile, Output Profile window pops up. Select an output format for Windows, for example DVD to MP4. Click OK. Beyond that, DVD codecs for Windows 10 are also included, be it MPEG-2, WMV, DivX, Xvid, AC3, MP3, etc. You're allowed to select any DVD codecs or video/audio codecs at your willing.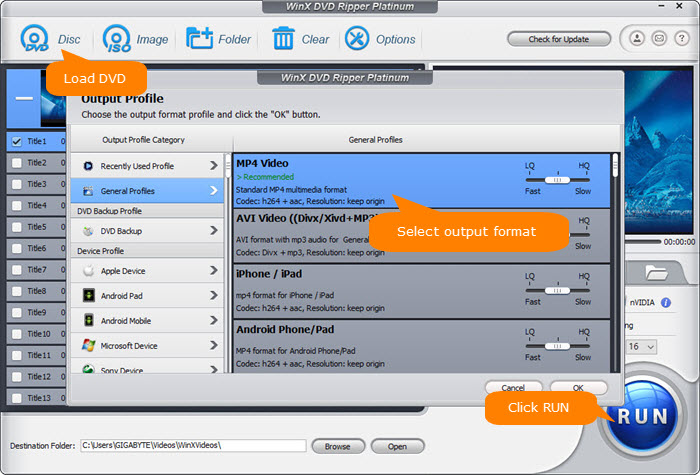 Step 3. Click Browse button to set a new destination folder if necessary. Next, click RUN to start ripping DVD.
After the ripping process is finished, it will open the destination folder which saves the resulting file. Now, you can enjoy the movie.
Video Tutorial: How to Fix DVD Drive Not Reading/Showing/Recognizing Discs in Windows 10
The dust or physical damages are obviously found on discs. Clean the DVD with filtered water and a lint free cloth. For small scratches, try to repair with rubbing alcohol and a cotton swab. Polishing is much helpful to deal with deeper scratches.
You can try another external DVD drive for laptop. If another DVD drive can read your disc in success, it is most likely that you have gotten a broken DVD drive. You'd better replace it with another one to see if the unknown disc error is fixed. Compared with internal DVD drive, external DVD drive is much convenient to install.
Open Device Manager and check if the optical disc drive is listed. Then, reinstall the device to resolve DVD drive not recognizing disc issue.
1. Press Windows key + R to open RUN.
2. Type devmgmt.msc. Click Enter to get access to Device Manager.
3. Expand DVD/CD-ROM drives and right-click the drive name.
4. Select Uninstall device.
5. Restart computer and Windows will automatically install the device.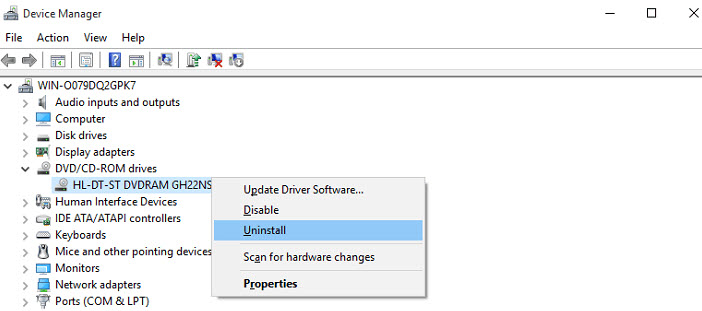 AutoPlay helps start disc when loaded. Movie content will not be displayed in DVD player when inserting a disc if the feature is disabled. Now, follow the step to turn on AutoPlay in Windows.
Open Control Panel > Hardware and Sound > AutoPlay > check Use AutoPlay for all media and devices > Save.

The Final Words:
Ripping DVD to digital is our recommendation to tackle with DVD drive not reading DVDs issue and also DVD player not reading disc problem. You don't need to figure out whether your disc or optical drive is broken and check DVD drive status in Device Manager. Just make a digital copy with WinX DVD Ripper Platinum. Then, you can watch any movie on PCs and portable devices.
WinX DVD Ripper Platinum also arrives with a Mac version available for macOS Mojave and lower version. Download and install this DVD ripper to digitize discs for enjoying your movies conveniently and portably.