How to Fix a DVD Player that Won't Read Discs
The reasons and resolutions for DVD player not reading some or all discs
Although some people have digitized DVD collections and thus play DVD content without the use of DVD player, others still play DVD through a DVD player. To play DVDs on DVD player, you should make sure all are fine, not only the player itself like loading tray, laser lens etc., but also the disc, especially the old DVD discs. Otherwise, you may find that DVD player won't read disc. We've seen some posts saying disc not playing problem happens on Sony DVD player and others such as Samsung, Sylvania, Philips, Toshiba, LG, RCA, and Panasonic DVD player. Below are some examples.
Why is my DVD player model LGHT953TV not reading the disc, it keeps ejecting the disc after a while!
My DVD player suddenly isn't reading discs. It just makes a ticking noise. Does anyone have DIY repair advice?
When I insert a DVD, my DVD player takes a while to read, but then shows 'No disc'. The tray simply opens on its own.
What is happening when your DVD player cannot read and load a disc? How can you fix this issue? Read on to get answers.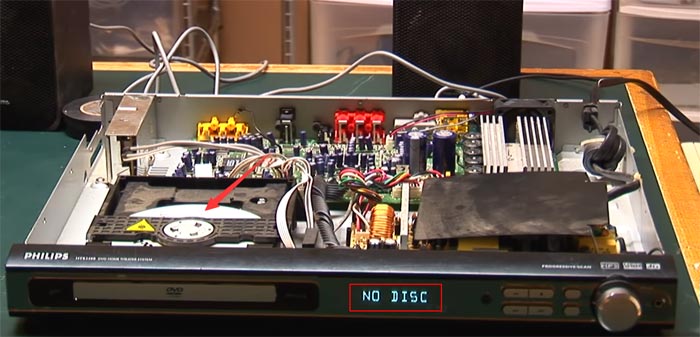 Table of Contents
Fix DVD Player not Reading Discs due to Sratches, Regions, Encryptions...
WinX DVD Ripper will convert your DVD for free playback on TVs, PC, Mac, iPhone, iPad, Android mobile, Xbox, and any device. It will remove all DVD protections, incl. region codes, RCE, CSS, Disney X-project, 99-title, Sony ARccoS, etc. that may cause the DVD player not reading errors. If your DVD player can't read the disc due to a bad sector or damage, try to convert it too. It will convert all your old, new, protected, damaged DVDs to MP4, H.264, MPEG-4, WMV, AVI, 3GP, 350+ formats.
Part 1. Why Your DVD Player Won't Read Disc?
When your DVD player is not reading a DVD, the most likely and common causes include:
The DVD disc isn't placed properly.
The disc is dirty. The presence of dirt, fingerprints, smudges, etc., are often the reasons why optical disc media does not function as expected.
The disc is damaged. Your disc may have scraches and cracks.
The disc is burned in player-incompatible format. For example, Sony DVD player cannot guarantee playback when using DVD-Rs or CD-Rs created by a burner.
The DVD's region code is different from that of your DVD player.
DVD player firmware issue.
The DVD player loading tray doesn't work well.
The laser lens is dirty and needs cleaning.
The laser isn't working.
The servo doesn't work well.
The read head on the optical disc sticks too far in.
The DVD player isn't connected properly to the TV. Or, your TV isn't set to the right input.
Disc playback is restricted by parental control options.
DVD player not reading disc issue can also be caused by condensation.
Check if it is the problem with your external DVD drive. If so, please try another external DVD drive >>
Part 2. How to Fix Sony/LG/Philips DVD Player Not Reading/Loading Disc?
As you can see, there are many reasons why DVDs can't be read. The corresponding solutions are also varied. Now let's check the fixes.
1. Do a power reset.
DVD player firmware problem can lead to DVD player not loading/reading disc, showing "No Disc" error. Before you take any further step, you can try doing a power reset. Just proceed as follows.
Turn off the DVD player.
Unplug the DVD player's power cord and wait for a while, maybe 1 minute.
Plug the power cord back into the AC outlet.
Turn on your DVD player again to see if DVD reads correctly.
If the problem still exist, check other solutions to fix DVD player won't read disc issue.
2. Check if the disc is placed correctly or in good condition.
Make sure the disc isn't put in upside down and also ensure the disc isn't out of alignment in the loading tray.
If a well-placed disc can't be read by your DVD player, try playing it on another DVD player or a computer with DVD drive. If the disc still cannot be read, it is probably dirty, scratched, or burned in a wrong format. For a dirty DVD, you just need to clean it properly. For a damaged DVD, you can try to repair it. If the DVD is neither dirty nor damaged, but it just won't play, then you need to check if the format of the DVD disc is compatible or playable. DVD discs that are playable on Sony DVD player are listed below.
| | | | | | |
| --- | --- | --- | --- | --- | --- |
| | DVD-RW | DVD-R | DVD+RW | DVD+R | DVD-RAM |
| Movies | Yes | Yes | Yes | Yes | Yes |
| Music | - | - | - | - | - |
| Still Images | Yes | Yes | Yes | Yes | Yes |
Sony support also reminds users that:
DVD-RW discs recorded in the Video Recording (VR) format using a DVD camcorder or DVD recorder may not play on all DVD players. DVD-RW discs recorded in the VR format can only play on VR-compatible DVD players.
DVD discs in AVCREC or HD Rec format cannot be played.
3. Check DVD player's loading tray, laser lens and servo alignment.
Firstly, check if the tray can load DVD smoothly and can clicks fully closed. If it cannot work properly, it should be already broken.
When both disc and tray are working well, then the lens that directs the laser may be the culprit of DVD player not reading disc issue. You can clean the laser lens to see if it works. Two cleaning ways: blow away the dust by using a hand-operated photographic dust blower; run a commercially available lens cleaner unit for a few times.
If the problem persists, the laser may be already burned out. Or the problem may lie in the servo alignment. Servo and related devices control the spin of the DVD. So if the servo isn't aligned properly or doesn't work correctly, then it may be unable to recognize the disc or move the disc properly. As a result, it will cause the DVD player to assume there is no working disc.
If your DVD player says 'cannot play this disc' and won't read disc because of player glitch, you may need to replace parts or buy an all-new DVD player.
4. Connect DVD player to TV properly.
Improper connection can also lead to playback issue. In our article "how to connect DVD player to TV", we've introduced 4 ways to hook up DVD player to TV and explain how to set TV to the right input.
In addition, you need to turn off Progressive mode on the DVD player if the connected TV does not support Progressive mode.
5. Check the region code of your DVD player and your DVD disc.
If the region codes of the DVD player and DVD disc are different, then you need to change the region code on your DVD player. For example, LG/Sony/Samsung/Philips DVD players in the US can only read the NTSC video format standard and Region 1 discs. For a different DVD, the DVD player will not read it. You can change the region code of the DVD player for up to 4 times. If you reach the 5 maximum change limit, you can convert your region-coded DVD to a region-free digital file. Then, you can simply enjoy the digital copy or burn the region-free digital copy back to a new DVD if you like.
Converting a region-locked DVD can be easily done with WinX DVD Ripper Platinum. This tool can do the following things.
Read and digitize all your video DVDs, including home-made, region-coded, copy-protected, and even scratched discs.
1:1 clone DVD to ISO file and VIDEO_TS folder. Users can burn them back to DVD when necessary.
Rip DVD to MP4, MOV, AVI, WMV, FLV, 3GP, MPEG, etc.
Rip DVD to iPhone, iPad, Apple TV, Android mobile, Xbox, PS4, Kindle, etc.
Keep good balance among ripping speed, output quality and file size.
3 simple steps to create a digital copy: load DVD -> select output -> start ripping.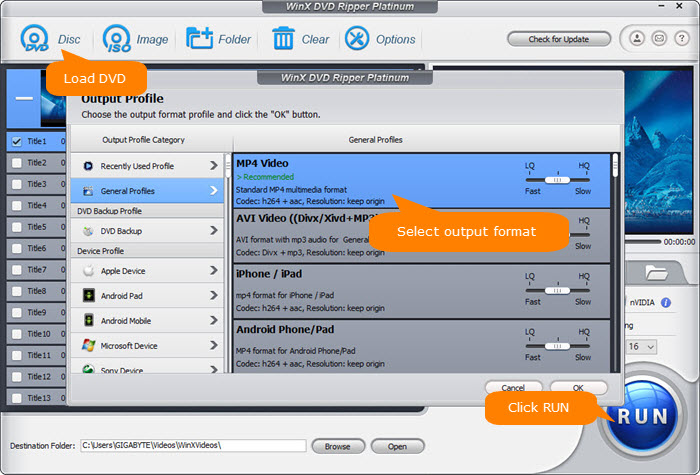 Disclaimer: Digiarty Software does not advocate ripping commercial DVDs for any illegal purpose. You're suggested to refer to the DVD copyright laws in your country before doing so.
6. Reset DVD player to factory settings.
Every DVD player is built differently. You should refer to the supplied operating instruction of your DVD player model. For some DVD players, a simple unplugging of all the wires and cables from it will reset it to factory setting. For some others, you can find this in the setting menu. And for some, there is a reset button somewhere on the device often in the back.
7. Don't use DVD player for about an hour if condensation is at fault.
If you suspect that the problem is caused by the condensation, then you need to stop using the DVD player for about an hour to allow any condensation to dissipate.
If you have tried all the fixes above but still face DVD player not reading issue, you will have to seek professional repair service or buy a new DVD player.
Don't want to replace parts or buy a new DVD player to read disc flawlessly? Rip DVD to digital files for playback without using DVD player. Play the digital files on any devices you like.