Posted by Kaley Torres - Contact Author

How to Change Region Code on Sony/Samsung DVD Players

If you're searching for an easy solution, click here: The solution most recommended by us [85%]
A DVD region code limits a DVD to play in a matching player since the codes on DVD discs and machines vary around the world. For example, you can't play UK DVD discs in USA or watch Japanese DVD in US made DVD player/drive. DVD goes unplayable if you bring either DVD collection or DVD player alone with you when you move from United States to Australia. Or you bought a DVD which hasn't released in your country, but it can't be open in your DVD player. Usually, you'll get an disc error like "Incorrect Region", "Check Region Code" or "Error: Playing Of This Disc Prohibited By Area Limits is displayed on the DVD player". For that, you'll still be out of luck on DVD playback unless you change the region code on your DVD player.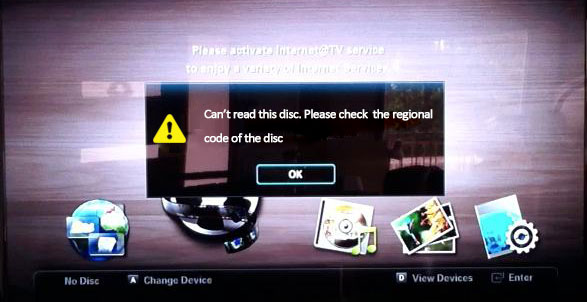 Can you change the region on a DVD player?
As DVD player is vast in variety with uneven ability, it's hard to find a unified method which works on all DVD players to unlock DVD region. Worse still, changing country code is strictly limited within 5 times, and even not supported on some DVD players. Therefore, you're more recommended to try a new way - remove DVD region code to make DVD playable on any media players. Of course, if your DVD player is able to change region code, here are some tips working on Sony and Samsung and most DVD players.
If you're not sure whether your DVD player is able to change region code, or you have no idea on how to change it, you can try these steps below to see whether it works on your DVD player.
Step 1: Power your DVD player with no disc.
Step 2: Wait for the "No Disc" error showing on the machine.
Step 3: Press PAUSE on the remote control
Step 4: Enter 3, 1, 4, 1, 5, 9 on the remote control. And CODE or FF will appear on the TV.
Step 5: Enter 0 on the Remote. By the way 0 means all regions.
Step 6: Press PAUSE on the remote control
Step 7: Power the DVD player OFF (wait 30 seconds), then power DVD player back on. Your DVD player region will be changed to region-free.
Also read: How to Change Region on Xbox One
Step 1: Power on your Samaung DVD player and open the tray.
Step 2: Push the info button on the remote one time. Numbers will appear on the screen.
Step 3: Then press 9 for multi-region and hold it until you see the number 9 in upper left.
Step 4: Power off your DVD player.
Step 5: Power it on back, then the DVD will be region free now.
Step 1: Take out your DVD disc, turn your Sony DVD player OFF but make sure it is in "stand by mode".
Step 2: Press the following keys on your Sony DVD player: TOP MENU, CLEAR, POWER.
Step 3: Choose Option 2 and Option 4.
Step 4: Type in Sony DVD Player region free unlock code 12450 and press ENTER.
Step 5: Type in 00000 and press ENTER.
Step 6: Now power off your DVD player and power it back on. Now, You should make Sony DVD Player region free.
What If the Region Code Still Not Changed on Your Sony/Samsung or Other DVD Players? The Key: Remove DVD Region Code with a DVD Ripper to Adapt to Any Media Players The Easiest Solution
Some of DVD players will, no doubt, be region-free by following the above tips, while some won't. And even some DVD players or DVD drives are permanently locked after reaching the limits of changing zone locks. Then how can you change region code on such DVD players? Getting the name and model number of your DVD player and go to the Video Help site to ask help to make your player region-free. Or requesting to dealer to reset your DVD player for more times to modify region code? These may work but both ways are too time-consuming and complicated. Why not remove region code from DVD completely to watch DVD on any media players instead of DVD players only?
To address this issue, WinX DVD Ripper Platinum is definitely the easiest DVD ripper to unlock DVD region code in minutes. No matter what region your DVD disc is locked in, you can easily bypass it and rip copy protected DVD to MP4, MOV, MKV and 350+ profiles with lossless quality. Besides, region code, it supports to decrypt DVDs of other encryptions, covering CSS, RCE, Sony ArccOS, UoPs, Disney DRM and more advanced encryption schemes applied to newly released DVDs, old discs, multi-titles, or DVDs from Sony, Disney, Paramount etc.
WinX DVD Ripper Platinum - An One-click Way to Remove DVD Region Code in 5 Minutes
Remove DVD region code to play region 1 DVD in UK, or Japanese/European DVD in USA.
Rip DVDs of any kinds, be it new DVD releases, old discs, kids/workout DVDs, damaged DVD etc.
More advanced DVD encryptions supported, like CSS, UoPs, RCE, Disney/Sony DRM etc.
5 minutes only to rip DVD to MP4, iPhone Android and 350+ profiles with GPU acceleration enabled.

Download WinX DVD Ripper Platinum on Windows

Now, proceed with the wizard's steps to install it, and follow the steps below to make your DVD disc region free.
Step 1. Insert your DVD disc to DVD-ROM carefully and properly (If the DVD drive not recognize DVD, click here to fix it). Then open this this DVD region killer, click "DVD Disc" button to import it.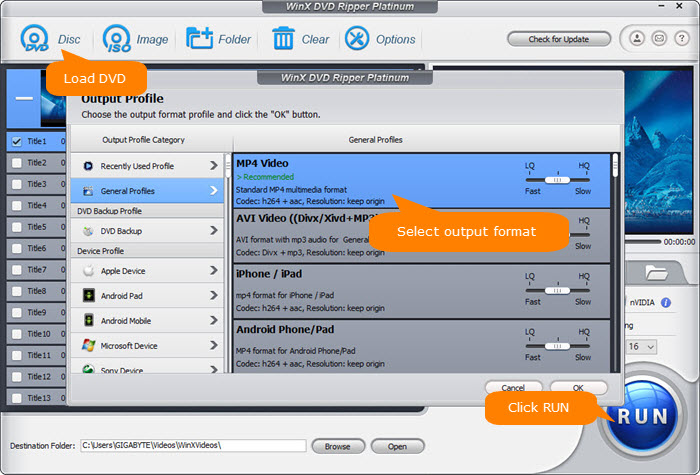 Step 2. After DVD loaded, the main title will be selected automatically. And choose output format from the popup window. There are more than 350 preset profiles available for your choice, such as converting DVD to MKV, MP4, MOV, MPG, ISO image, iPhone iPad, Android, Xbox One etc. Just pick one that meets your needs.
Step 3. Enable Intel or nVIDIA hardware accelerator if your computer is configured with hardware acceleration. Then hit RUN button to start unlocking DVD region limits. It will be accomplished in a very short time, merely 5 minutes to rip a 2-hours long DVD movie.
Video Tutorial: How to Change / Unlock DVD Region Code
Disclaimer: These DVD region removal unlocks are not meant to break any laws or rules. And Digiarty Software does not advocate ripping copy-protected DVDs for any commercial purpose and suggests referring to the DVD copyright laws in your countries before doing so.
Additional Information:
In order to make clear which region you need change your Sony/Samsung DVD player to, here is the list of DVD regions and their corresponding countries:
R1 – Region 1: U.S.A., U.S. Territories and Canada
R2 – Region 2: Europe, Japan, the Middle East, Egypt, South Africa, Greenland
R3 – Region 3: Taiwan, Korea, the Philippines, Indonesia, Hong Kong
R4 – Region 4: Mexico, South and Central America, Australia, New Zealand, Pacific Islands, Caribbean
R5 – Region 5: Russia, Eastern Europe, India, Africa (excluding South Africa), North Korea, Mongolia
R6 – Region 6: China
Of course, it's best to make your DVD player region free. If your DVD player failed to do that, you're suggested to go the other way - remove region code from DVD discs! WinX DVD Ripper Platinum is an easy yet effective DVD decrypter to unlock DVD region code for playing on any media players, computers, mobiles and tablets etc.