How to Unlock LG DVD Player Region Code and Make It Region Free
I bought a region 2 LG Region Free DVD player (DP132) that claimed to be able to play any DVD from any country. However, I got the error "check regional code" when I played discs from the US.
Many users complain that LG DVD players even programmed for all regions don't truly play any region locked DVDs, which is one of the most common DVD player problems. If you LG DVD player refuses to play discs from other regions, you can unlock it and make it multi-region. Here is how.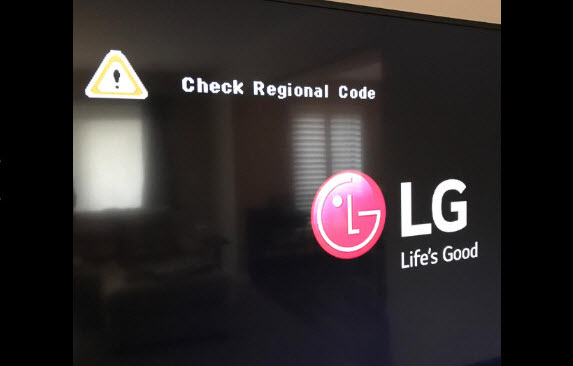 YOU MAY ALSO SEARCH FOR: How to Play DVD on Windows 10/11
Part 1. How to Unlock LG DVD Player Region Code?
It's most likely that methods for hacking and unlocking different models are different, and the region unlocking codes are not the same. Meanwhile, not all LG DVD players can be hacked. You may need to wait until a user shares a hack for your LG model on forums such as VideoHelp. Below are some free LG DVD player region hacks.
1. Turn your LG DVD player on. Make sure there's no disc in the tray.
2. Open the DVD tray by pressing EJECT on the DVD remote.
3. Press the STOP button, then hold the ENTER button for at least 5 seconds until a new screen shows up (Regional Management Test Code).
4. On the new screen, change the region code to make your LG DVD player region free.
5. Press the PAUSE button to save the setting and exit.
• If the above instruction doesn't work for your model, try the following steps.
1. Power on the LG DVD player without any disc inside.
2. Press the PAUSE button and enter the code 314159.
3. Enter the region you want to set up.
4. Press Pause to exist.
5. Turn off the DVD player and turn on again.
• Some models require burning a CD. Below are the instructions.
1. Create a file LG36868.IMG. The file should be not empty.
2. Burn the file to a blank CD.
3. Insert the burned CD into your LG DVD player you'd like to unlock.
4. Play the CD and you will see a region management menu.
5. Enter 0 and press Pause to exit.
• For LG blu-ray player region code unlock:
The LG region free hacks below work with BP250, BP350, BP450, BP550, and many other LG Blu-ray players. However, it may not work with the latest models.
1. Create a folder: Violet0000
2. Inside /Violet0000 create a subfolder: Rubicon
3. Download the MontBlanc.txt file here: https://www.avforums.com/attachments/montblanc-txt.873684/
4. Save it in the Rubicon folder as a .dvd file called MontBlanc.dvd (note: DO NOT save it as a text file. Choose Save As All FIle Types). Now the folder stucture should be like this: /Violet0000/Rubicon/MontBlanc.dvd
5. Burn the Violet0000 folder (/Violet0000/Rubicon/MontBlanc.dvd) to a CD-R or CD-RW.
6. Insert the CD into your LG Blu-ray player. A black menu screen will appear with the current region code and a place to select a new region code. Select 0 and your LG Blu-ray player region is unlocked.
If there is no workable free region hacks for your LG DVD player, use a much easier method - bypass the region code of your DVDs and make them region-free for any DVD player, laptop, TV, etc. without region limits. All you need is a robust DVD region removal tool - WinX DVD Ripper Platinum.
Part 2. Unlock DVD Region Codes Immediately for LG DVD Players
WinX DVD Ripper Platinum - Unlock all DVD region codes and bypass any encryption from a DVD.
Bypass DVD region code for LG DVD players and other devices, remove RCE, CSS, UOPs, Disney X-project DRM, Sony ARccOS, etc.
Convert DVDs to region-free MP4, MOV, AVI, WMV, ISO, DVD folder, etc. for free playback without a DVD Player.
Support TV series on DVDs, new releases, workout DVDs, Japanese DVDs, damaged DVDs, etc.
Unlock a DVD region code in 5 minutes, high quality, ease of use.
It's quite easy to unlock DVD region code for LG DVD players.
Step 1. Insert your DVD into the drive. Install and open the software, then load the disc.
Step 2. You can convert region code DVDs to MP4, or other formats for playing requiring no DVD player on your TV, computer, Xbox, iPhone, iPad, Android mobile devices, etc. Note that region code is removed from the digital copies, but it still exists on the physical DVD discs.
Step 3. Click Run and wait. Then you can play the regional DVD immediately without waiting for a LG DVD player region hack.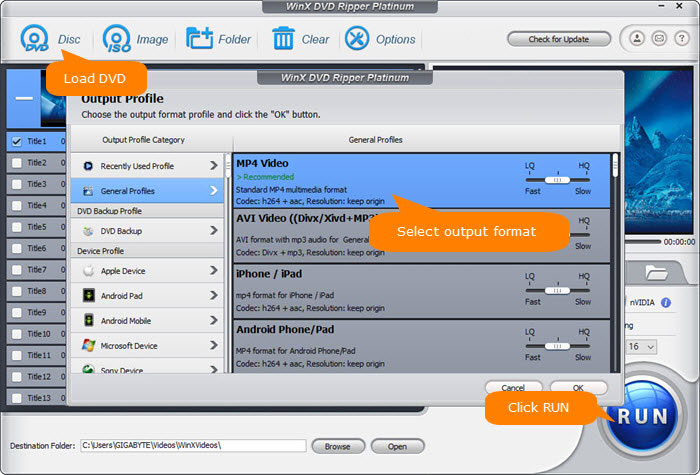 Video Tutorial: How to Unlock DVD Region Code with WinX DVD Ripper
To unlock other DVD players produced by Samsung, Sony, Philips, Toshiba, Panasonic, etc. check the guide to making DVD players region free or try region free DVD player.
Disclaimer: Digiarty Software does not advocate removing region code from DVDs for any illegal purpose. You're suggested to refer to the DVD copyright laws in your country before doing so.