Posted by Donna Peng - Contact Author

All Fixes to Common DVD Not Working Errors Are Here

Check the 100% efficient solution: The solution most recommended by us [85%]
From time to time, things in the DVD player or the disc may go kaput and result in DVD player not working problems, no matter you are using a DVD player produced by Sony, Samsung, Phillips, Panasonic, LG, or other manufacturers. While these problems seem to be clueless and often leave most users perplexed, there are useful tips that will bring the player back to normal easily. Check this post and learn how to troubleshoot most common DVD player problems.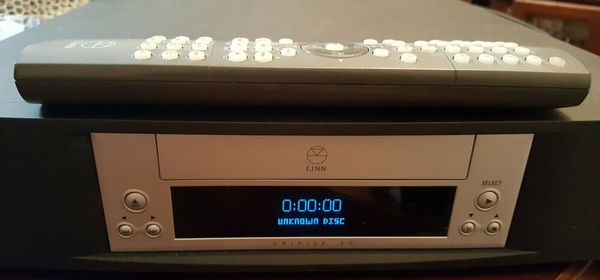 Fix all DVD player not working errors once and for all: Convert DVD to digital with 100% quality, remove regions/protections, fix scratches Free Download
Most Common DVD Player Won't Play Errors
1. DVD player is not spinning or DVD player spins but stops
2. DVD player won't read/recognize/load discs
3. Wrong region with the DVD player
4. DVD player says no disc or unknown discs
5. DVD looks bad/blurry on HDTV or 4K TVs
6. DVD plays with no sound, no picture or no subtitles on TV
7. Jerky and choppy playback on DVD players
8. DVD player won't play some DVDs (like commercial discs)
...
Whatever the problem is, the culprits and therefore the fixes are quite similar. Try the DVD player troubleshooting tips below.
Fix 1. Check if the optical disc drive is dirty or broken
Dust is always the culprit for most DVD player not read/load errors. Dust around the laser will block the player to read the disc data via the laser beam. Check closely into the DVD drive and if you notice any dust, you're suggested to get a DVD cleaner - a disc with little brushes on it. Or you may need to disassemble the DVD player and wipe the lens gently with 90% isopropyl alcohol and a q-tip or other proper solution/cotton.
DVD player not working might be a sign that the disc tray, tray motor or laser is worn out. To fix any of the DVD hardware, you need to open the housing and check the inside with special tools. If you don't know how to fix them, send the DVD player to the repair store nearby and replace the disc drive if necessary.
Fix 2. Check if the DVD disc is damaged
Heavily used discs have caused many of the most common DVD player problems, for example, the DVD player reading errors as well as jerky/choppy DVD playback. Take the disc out of the player and visually check if there are any scratches on it, or play the DVD in another DVD player. Before you throw the scratched DVD away and buy a new one, fix the scratched DVD using toothpaste or convert the scratched DVD to digital files to play smoothly on TV/PC.
Fix 3. Check if the cables are connected correctly
Bad DVD player connection will cause problems like DVD player no sound or no picture on the TV, or TV plays DVD in black and white without no color, other color errors. Be careful with the component video(3 RCA) and composite video (1 RCA) input, and match the colors in the right way. If you're using S-video cables, check if the cables are in good condition. Replace the cables if necessary.
Fix 4. Check if the DVD is region-coded
If the DVD player can't recognize a DVD, says wrong disc, DVD player won't play some DVDs, or when you see messages like Sony - Error: Playing Of This Disc Prohibited By Area Limits, the errors are mainly caused by region codes or newer copy protections. DVD players, computers, Xbox One, and all the disc drives support certain region code only. For example, you can't play a UK DVD on DVD players from the US (except region-free DVD players). Also, some older DVD players won't support the latest DVD copy protections. Therefore, you will need to remove the region codes or protections first.
Fix 5. Check if the TV settings are correct
There are some DVD player not working problems that are caused by incorrect settings on the TV. For example:
* DVD color errors: TV has component and composite video. The settings on the TV should match the input selection.
* Jerky DVD playback: In most cases, wrong field order is the main cause for freezes and stutters when playing a DVD on TV. Don't mix up the TFF and BFF.
* Wrong aspect ratios: If the DVD is stretched on a TV, be careful with the playback settings. You can check the aspect ratio of the DVD on the cover and select the right settings for it, normally 16:9 or 4:3.
Related: See the complete fixes to DVD not playing on PC, TV, and Gaming system >>
"One click" Solution - Fix All Common DVD Player Problems Convert DVD to digital files to play on TV/computers/Xbox/any devices without errors.Easy & fast
100% support homemade, scratched, region-coded, and encrypted DVDs.
Convert DVD 1:1 to ISO image and rip DVD to MP4, MOV, AVI, WMV, FLV, 3GP, MPEG, ISO, etc. for iPhone, iPad, Apple TV, Android mobile, Xbox, PS4, Kindle, etc.
3 simple steps to create a digital copy: load DVD -> select output -> start ripping.

Download WinX DVD Ripper Platinum for Windows

to digitize DVD

Download WinX DVD Ripper for Mac

to digitize DVD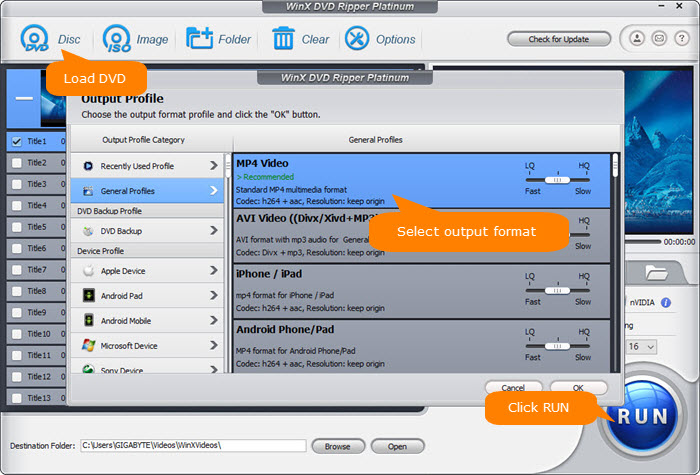 Disclaimer: Digiarty Software does not advocate ripping commercial DVDs for any illegal purpose. You're suggested to refer to the DVD copyright laws in your country before doing so.