How to Fix DVD Player Saying Playback Prohibited by Area Limitations
"Playback prohibited by area limitations" or "Playing Of This Disc Prohibited By Area Limits" error usually come when you try to play a DVD on Sony DVD player. What does playback prohibited by area limitations mean? Why is your DVD player saying playback prohibited by area limitations? How to fix it? In this article, we'll answer these questions. Part 1. Why Does DVD Player Say Playback Prohibited by Area Limitations?
When you encounter the message "Playback prohibited by area limitations", it means that you are trying to play a DVD that has been encoded with a DVD region code that differs from the region code of your DVD player.
DVDs are often divided into different geographical regions, and DVD players are typically designed to play discs from specific regions. These region codes are used to control the distribution and licensing of content on DVDs.
For example, if you have a DVD from Region 1 (which includes the United States and Canada) and your DVD player are from Region 2 (which covers Europe and Japan), you may see this message because the DVD player is restricted from playing DVDs that are not intended for its designated region.
It is important to note that "Playback prohibited by area limitations" error not only seems to be referencing region coding, but also PAL/NTSC incompatiblity. Some users reported that Sony DVD player throw that error on any PAL DVD, regardless of the region.
In summary, this error can be attributed to either region code discrepancies or PAL/NTSC compatibility issues. To resolve this problem, you have several potential fixes to consider.
Part 2. How to Fix DVD Playback Prohibited by Area Limitations / Region Code
Fix 1. Use a region-free DVD player
To play a DVD that is not from your DVD player's region, you might need to use a region-free or multi-region DVD player, which can play discs from any region.
Fix 2. Hack your Sony DVD Player and make it region free.
If you don't want to buy an additional DVD player, you can hack your DVD player and make it region-free. However, it is important to note that hacking DVD player may void warranties or have legal implications in some regions.
To hack Sony DVD player, follow the steps below:
Press Top Menu, CLEAR button, then the Power button.
Choose Option 2 Drive Manual Operation, then Option 4 Tray Aging Mode.
Type in 12450, then press ENTER, type in 0000 and press Enter again.
Turn the player off and turn it on. Now, your Sony DVD player should be region free. The method, however, doesn't work for all models. Some models are hard to hack.
Fix 3. Convert region coded DVDs to region free version
Removing DVD region code protection is a good way to go to avoid such region code error. All you need is a region code removal program like WinX DVD Ripper Platinum. It converts region coded DVDs to region free digital copies formatted MP4, AVI, MOV, or other formats, meaning that you can play DVDs from all over the world needless of a DVD player. There's no Playing Of This Disc Prohibited By Area Limits error anymore in this way.
WinX DVD Ripper Platinum enables you to :
Convert DVDs from any region: 1, 2, 3, 4, 5, 6.
Rip DVDs protected by Disney DRM, CSS, UOPs, Sony ARccOS, and more.
Digitize DVDs to MP4, AVI, MOV, WMV, ISO, DVD folder, etc. for playback without a DVD player.
Handle any type of DVDs, including damaged DVDs, new movies on DVDs, 99-title DVDs, etc.
Get perfect quality with No.1 fast processing speed.
To rip a region-free copy from DVDs, just follow the steps below.
Step 1. Load the DVD into your computer's DVD drive. If there is no built-in drive, you can connect an external one.
Step 2. Open WinX DVD Ripper and click the "DVD Disc" button to open the DVD.
Step 3. Choose an output profile. If you want to make an exact copy of the DVD, you can choose "Clone DVD to ISO Image" or "Clone DVD to Folder" . Otherwise, you can choose other profiles.
Step 4. Click "RUN" button to begin ripping. Once done, you'll get a region-free copy that can be played without area limitations. And the region code on the physical disc is not affected.
Tips: You can also burn the region-free digital copy to a blank DVD if you still want to enjoy movies on DVD player.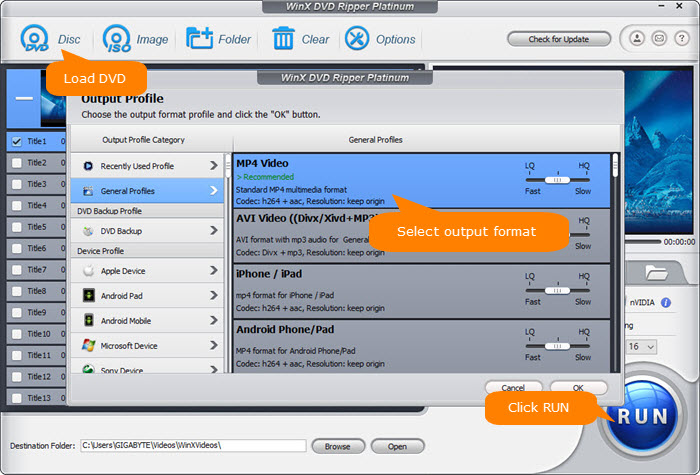 Disclaimer: Digiarty Software does not advocate removing region code from DVDs for any illegal purpose. You're suggested to refer to the DVD copyright laws in your country before doing so.
Fix 4. Convert PAL to NTSC
If the "Playback prohibited by area limitations" error is not due to region code incompatibility, it might be related to the PAL/NTSC issue. In such a scenario, you have three potential solutions:
Play the DVD on a computer. Computers are not constrained by PAL or NTSC formats and can play both.
Use a DVD player with automatic PAL to NTSC conversion capabilities, such as Philips players.
Utilize software to convert PAL to NTSC. For a detailed guide on how to perform this conversion, please refer to this article.