[Full Fixes] DVD Player Stops Playing DVD in the Middle
The DVD player stops in the middle of the movie and you cannot stop it, shut it off or do anything else. It freezes and will only start again if you tap the top of the player. I have taken canned air and sprayed it in the machine to make sure there is no dirt or debris in the player. But the DVD player still freezes in the middle of the movie with no luck. Help.
Part 1. How to Troubleshoot 'DVD Player Stops Playing in the Middle' Errors
1. Dirty lens - Before you try anything else, try a known-good disc or another drive before proceeding with the troubleshooting steps to check whether the disc or the player is the reason. Then try a DVD cleaner (a DVD with a brush underneath). Any dirt or sticking labels can prevent the optical drive from reading the disk correctly.
2. Defective DVD unit - The problem "DVD stops in the middle of playback" can be caused by the misread of the disk, a problem of laser pickup assembly, DVD reading head or stepped motor, a butter error, or a bad memory sector, etc. This can be fixed by cleaning or relubricating the guide rails and checking the rubber bumper grommets are in good condition.
3. Unsupported DVD format - If the DVD that stops in the middle of playback is burned by users themselves, please check if the disc format is DVD-R. Note that some older DVD players won't support DVD-R discs except the commercially-made ones.
4. Old/bad/region DVD - A disc may prevent a DVD player from reading the DVD correctly in the middle for reasons: 1) Visually check if the disc is scratched or worn out. A DVD player may stop in the middle of the movie if the disc is scratched and you need to fix the scratched DVD. 2) Normal DVD players won't play a DVD that comes from another region. You will need a region free DVD player.
5. Old firmware - If it's an old DVD player that stops in the middle of a movie or new DVD won't play, then the old firmware may be the cause. The encryption keys in an old drive, whether your PC or Home Theater system, may be out of time and therefore fail to decrypt many newer DVD titles that have special and advanced protections on them. You may check if the manufacturer provides an update or convert the new DVD movies.  
6. Old-aged player - Older DVD players may have mechanical issues or wear and tear over time. If your DVD player is quite old and none of the above steps help, it may be time to consider replacing it with a newer model. 
7. Loose or damaged cables - Loose or damaged cables can disrupt the signal and cause playback issues. Ensure that all cables connecting your DVD player to your TV are securely plugged in. 
8. Player settings - Some DVD players have settings related to parental controls, regional codes, or video output that could cause playback interruptions. Check your player's settings and ensure they are correctly configured for your region and desired settings.  
9. Overheating - Overheating can cause a DVD player to stop working. Make sure your DVD player has proper ventilation and is not placed in a confined space. If it feels very hot, turn it off and let it cool down.
If, unfortunately, none of the above-mentioned solutions work for you in this DVD player stopping in middle of movie problem, you can consider the permanent solution - digitize DVD content for playback without DVD player to avoid the off-putting DVD player issue. To rip DVDs to MP4 H264 digital format, you need the following solid DVD ripper software.
Part 2. The Workaround to Fix 'DVD Player Freezes in the Middle of Movie'
Convert scratched/protected DVD to digital to avoid DVD player hardware/software errors.
The tool you need - WinX DVD Ripper Platinum
Decrypt user-burned, scratched, region-coded, encrypted DVDs, old and latest DVDs with 100% success. No DVD converting failure with the advanced Safe Mode option.
Convert DVD 1:1 to ISO image and rip DVD to MP4, MOV, AVI, WMV, FLV, 3GP, MPEG, etc. for Apple TV, HDTVs, iPhone, iPad, Android mobile, Xbox, PS4, Kindle, etc.
No.1 speed to convert a disc into digital files via 3 clicks: load DVD -> select output -> start ripping.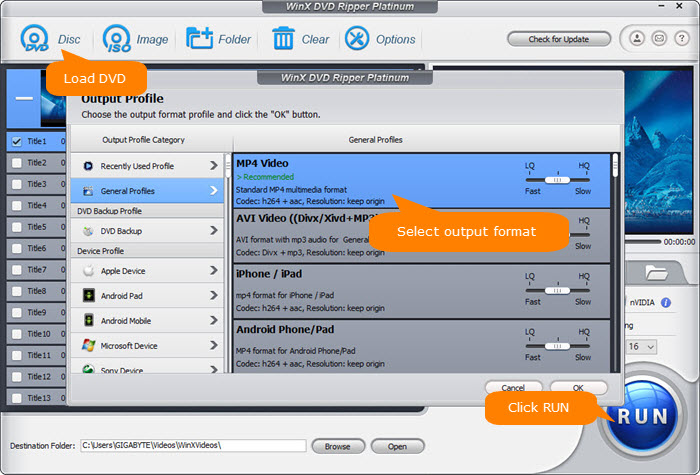 Disclaimer: Digiarty Software does not advocate ripping commercial DVDs for any illegal purpose. You're suggested to refer to the DVD copyright laws in your country before doing so.
Video Tutorial: How to Fix DVD Game/Movie Freezing