Simple Fixes for DVD Player Pink Screen Problems
The TV screen turns a weird pink when playing DVDs. What's wrong with it? What would we do to fix it? If you are experiencing a DVD player pink screen problem, these easy fixes can help you out.
What Causes the Pink Screen Issues?
A loose or bad cable connection and incorrect setup on either the TV or the DVD player would cause the pink screen on a Samsung, LG, Sony, or Philips TV while playing DVDs. A pink picture usually means the cable is not inserted all the way or the cable is damaged. On the other hand, your DVD player's settings don't match those on the TV.
How to Fix DVD Player Pink Screen Errors?
Make sure the cable is connected firmly.
Try a different cable. It could be a bad cable.
Restart your TV and DVD player. Unplug the DVD player for a few minutes.
Make sure your DVD player is clean and if necessary, use a DVD laser cleaner. 
Switch the input selector on your TV to display the signal from the player.
If the DVD player pink screen problems happen when playing a Blu-ray disc, reset the video output resolution to the lowest resolution.
Try adjusting the color settings on the TV to see if they make the screen look normal. Go to the Intel graphics settings, select display > color settings, select your TV model, and enable "xvYCC". This method is said to work like a charm for some users
Check the DVD player settings to make it match your TV. Check the TV standard and select the standard of your TV and DVD player. Make sure your DVD player is set in the right format, such as NTSC, PAL, etc. Your TV should be compatible with the DVD player signal format.
Try a different DVD player or TV to diagnose which device causes the pink hue. If you've tried all the above methods and the DVD player pink screen is still present, contact customer service. Check what to do if the DVD Player is white and black with no color.
If it's the DVD player issue, try digitizing DVDs for TV and watching them on TV without needing a DVD player. You can use a DVD ripper to convert DVDs and store them on a USB, hard drive, laptop, Chromecast, etc. for later playing or streaming on TV.
Get Rid of Pink Screen Problem Caused by DVD Player
Free download WinX DVD Ripper Platinum
Support any type of DVDs, such as new releases, TV shows on DVDs, 99-title DVDs, etc.
Offer a wide range of output profiles: MP4, AVI, HEVC, WMV, Apple TV TV, iPhone, Android, etc.
Digitize a DVD within a few minutes only, 3x-5x faster than others.
Easy-to-use and high quality output.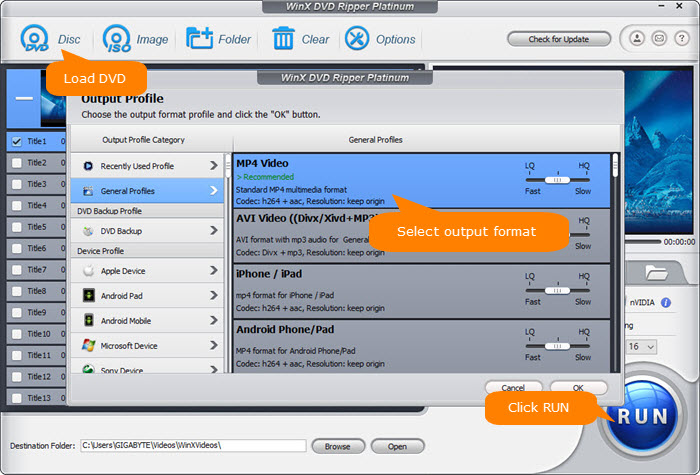 Disclaimer: Digiarty Software does not advocate ripping commercial DVDs for any illegal purpose. You're suggested to refer to the DVD copyright laws in your country before doing so.