How to Remove Flickering TV Screen When Playing DVDs
When I am playing DVDs on TV, I notice that the top of the TV screen is flickering. What's wrong with it? I've worn myself out fixing the issue and just can't figure it out.
Some users are finding out that the picture flashes when watching DVDs. Possible reasons are improper settings on TVs or DVD players, DVD player hardware issue, etc. If your TV flickers when playing DVDs, here are some troubleshooting steps you may need to try out.
Related errors: black and white DVD playback on TV, DVD looks bad/blurry on HDTV
Try the following steps
1. If your TV has Deep Color setting, turn it off.
2. Turn off the Deep Color setting on your DVD or Ultra HD Blu-ray Disc player. Press the Home button on the remote, select Setup > Screen Settings > HDMI Deep Color Output > OFF.
3. Turn off the 24p Output Settings if you are using Ultra HD Blu-Ray Player. Press the Home button, select Setup > Screen Settings > 24p Output. Select DVD-Rom, and set it to OFF. Exact steps to turn off the settings are based on your DVD player model.
4. Unplug the DVD player and try other sources. If the error only occurs when connecting the DVD player, it is the DVD player that causes the problem. Switch to other DVD players. DVD player hardware breakdown can cause various DVD not playing issues on TV.
5. There is Energy Saving setting on some TVs such as Samsung models. Try turning off Energy Saving. The setting may make your TV picture flicker because it adjusts the brightness based on the lighting.
6. The picture flashes when playing NTSC disc, and everything is OK with PAL discs. Set your TV and DVD player to NTSC if the setting is available.
7. Try playing DVDs from a connected USB or streaming DVDs to your TV if the flickering picture is caused by DVD player breakdown. To play DVDs on TV without needing a DVD player, you can convert and digitize DVDs to portable drive, Chromecast, external SD card, hard drive, etc. You need a reliable DVD ripper such as WinX DVD Ripper Platinum to convert DVD to TV.
Get Rid of Flickering TV Screen When Playing DVDs
Convert DVDs to MP4, AVI, MOV, HEVC, etc. and store them on USB, hard drive, Plex, etc. for playback on TVs without a DVD drive.
Support any type of DVDs, including region coded, encrypted DVDs, new releases, scratched DVDs.
Digitize DVDs with simply 3 steps in a blazing fast speed thanks to level-3 hardware acceleration.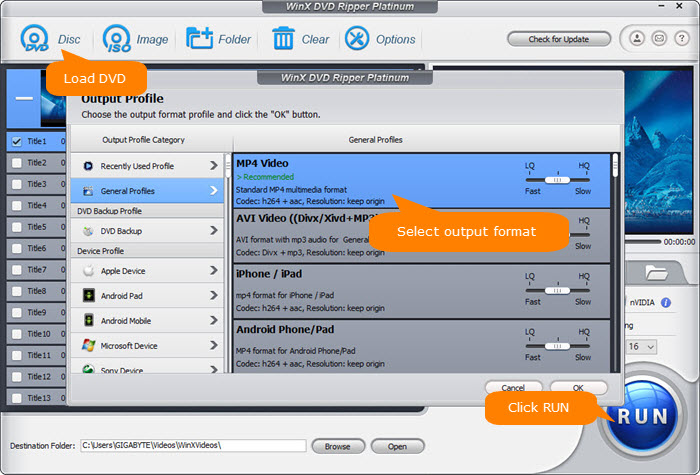 Disclaimer: Digiarty Software does not advocate ripping commercial DVDs for any illegal purpose. You're suggested to refer to the DVD copyright laws in your country before doing so.
If you encounter any problems using WinX DVD Ripper Platinum or have questions to ask, please email its tech support team.