Posted by Donna Peng - Contact Author

Troubleshoot DVD Subtitles Not Showing up on TV

Play DVDs on TV with subtitles easily: The solution most recommended by us [85%]
Subtitles not displaying issue can crop up when playing DVDs on TV, making it difficult to understand the spoken dialogue if they are foreign language films. When you have trouble getting subtitles (closed caption) to work on your Sony/Samsung/LG/Vizio/Hulu Smart TV, or other HD/4K TVs, the following tips can help you.
Solution 1: Test the DVD on Other devices
Not all DVDs come with subtitles or closed captions. Try to play the DVD on other devices such as a laptop. If the subtitle won't display neither on other devices, the problem is with the DVD itself. Some old movies or TV shows on DVD have no subtitles.
Solution 2: Make sure the subtitle is turned on
If the DVD does have subtitles (CC), ensure that the Closed Caption setting or subtitle is turned on from your TV menu. Check your TV manual for a detailed guide to turning on subtitles on TV. Manuals are also posted on the product support page online.
Solution 3: Check the DVD Player
Try to play the DVD in another player. If the subtitle display, the problem is with your DVD player. The issue may be an incompatibility between the subtitle decoding and the DVD player.
Solution 4: Use an analog connection
Note that TVs don't show closed caption on DVDs or anytime with an HDMI cord. HDMI connectors are not able to carry the digital captions. You need to decode the captions first in the DVD player that has built-in caption decoder and tuner, so they can go through HDMI. You can use an analog connection such as a component. Some DVDs have both CC and subtitles. Ensure that they are not showing at once.
Also check steps to fix other DVD not playing issues on TVs, including no sound, no pictures, no signal, to name a few.
You Ultimate Solution to TV Not Showing DVD Subtitles or Closed Caption
Use a DVD ripping program like WinX DVD Ripper Platinum to convert DVDs to hard drive/flash drive for playback/streaming on TV with subtitles or closed caption. In this way, you are also free from region limits and other annoying errors. Even if DVDs have no subtitles, the tool helps to add external subtitles to DVDs.
WinX DVD Ripper Platinum - Digitize DVDs to MP4 etc. with subtitles for playing on TV.
Convert DVDs to MP4, MKV, etc. with an option to select the subtitle you want.
Add external subtitles to your DVDs easily during digitization.
Support all kinds of DVDs, including new releases, damaged DVDs, workout DVDs, TV series, etc.
Easy to use, No.1 fast speed, and nearly original quality.

Download WinX DVD Ripper Platinum for Windows

to play/stream DVDs with subtitles on TV

Download WinX DVD Ripper for Mac

to play/stream DVDs with subtitles on TV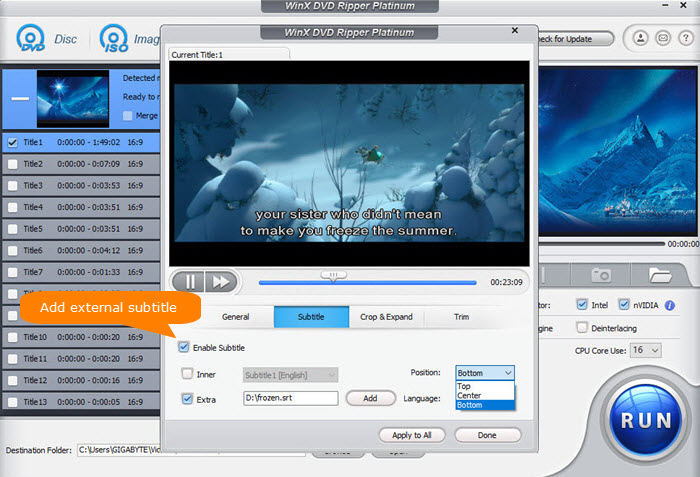 Tutorials you may need: How to convert DVDs with subtitles; Guide to adding external subs to DVDs.
If you have any problems using the software to handle DVD subtitles, please contact its tech support team..
Disclaimer: Digiarty Software does not advocate ripping commercial DVDs for any illegal purpose. You're suggested to refer to the DVD copyright laws in your country before doing so.