Why Do Old Movies on DVDs Have No Subtitles? What to Do?
In the treasure trove of our favorite movies and cherished memories, old DVDs hold a special place. However, the passage of time can sometimes bring about unexpected challenges, such as the absence of subtitles in these classic films. Whether you're revisiting a timeless favorite or discovering a cinematic gem for the first time, the lack of subtitles can be a frustrating hurdle. Fear not, though, as this article is here to guide you through the process of fixing the "no subtitles" issue on your old DVDs.
From practical tips to user-friendly tools, we'll explore solutions to ensure that your movie-watching experience remains enjoyable, immersive, and inclusive for everyone. Let's embark on a journey to revive the magic of these cinematic treasures, ensuring that the dialogue and nuances are not lost in time but instead preserved for your viewing pleasure.
Direct Fix to Old DVDs Not Showing up Subtitles or Closed Caption
Resort to a DVD copy software such as WinX DVD Ripper Platinum to convert your old movies/TV shows on DVDs to hard drive, flash drive or USB etc. for playback on computer, TV, mobile devices with selected subtitles or closed caption. If your DVDs have no subtitles, the program can add external subtitles to DVDs with a few clicks.
WinX DVD Ripper Platinum - Copy DVDs to MP4 etc. with subtitles you select.
Digitize old DVDs to MP4, MOV, MKV, etc. with the subtitle track you choose.
Add external subtitles to your classic movies/TV shows on DVDs easily during processing.
Support all kinds of DVDs, including classic movies, TV shows, scratched DVDs, workout DVDs, etc.
No.1 fast speed, and nearly original quality.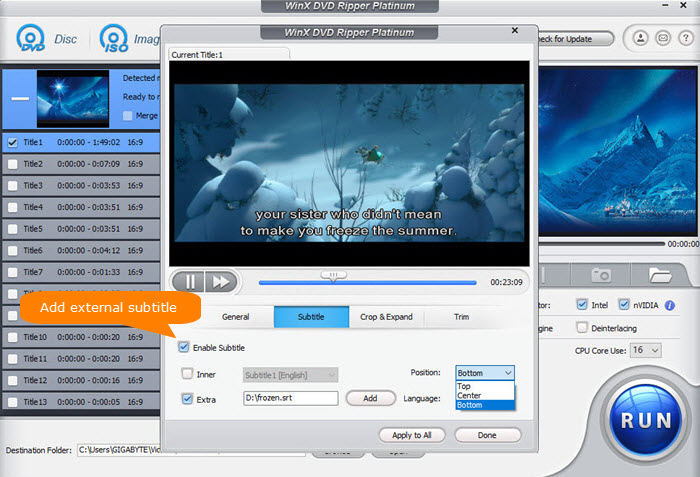 Useful Tutorials: Guide to adding external subs to classic movies on DVDs.
Disclaimer: Digiarty Software does not advocate ripping commercial/rental DVDs for any illegal purpose. You're suggested to refer to the DVD copyright laws in your country before doing so.
There's No Subtitle on Your Old DVDs for Theses Reasons
All films, clips, and slides must be subtitled or captioned in accordance with Federal Law and University policy. However, not all DVDs have subtitles, particularly older DVDs and VHS tapes that are often not captioned owning to tech issue.
Music DVDs may don't have subtitles because copyright permissions required to reproduce the lyrics on-screen as a subtitle track.
Some foreign dialogue on DVD movie is designed with no subtitle deliberately to make viewer fell a similar sense of incomprehension that the character on the movie feels.
The absence of subtitles on old DVD movies or old TV shows on DVD is due to the cost of subtitling. Some distributors released DVDs with no subtitles, not even a menu. It is estimated that the cost of subtitling would be covered by 20 extra sales.
Verify Old DVD Playback Subtitle Settings If the Sub Won't Display
Check if you've turned subtitles on. Your DVD player remote should include a subtitle button. Subtitles can be turned on or off by pushing the SUBTITLE button on the remote. When the DVD is loading, press Top or Pop up Menu, and select the titles on the DVD and click on Subtitles. You can also click on Subtitles in the DVD Player Settings. Note that make sure the classic movies or TV shows on DVD have subtitles. Check more fixes to DVD subtitles not showing up on TV.