Posted by Donna Peng - Contact Author

Fix New DVDs That Won't Play on Your DVD Player

Check the 100% efficient solution: The solution most recommended by us [85%]
"I insert a new DVD into my DVD player, and it plays at the beginning, but when it tries to switch to the menu, it won't play anymore with a black screen. I know it isn't the DVD player issue because all my other old DVDs work fine, and the new DVD also plays fine on my laptop. What's wrong?"
You may come across a new DVD that won't play on your DVD player. There may be an error message saying "This disc cannot be played. Please check the disc." The problem may be caused by cracked discs, DRM copy protection, region codes, media formats, outdated firmware, etc. If you are stumped, here are some things you can do when your DVD player won't recognize new DVDs.
Hot search: How to Play DVDs on Windows 11 Computers?
Tips for New DVDs That Won't Play on the DVD Player
1. First of all, make sure the DVD player is firmly connected to the TV and the disc is placed properly in the DVD player.
2. Check if the new DVD is damaged. New DVDs could also be cracked. If so, ask for a replacement. Also, check out how to repair a damaged DVD.
3. If there's no damage to the new DVD, try playing it on another player.
4. Update your DVD player's firmware. Outdated firmware on your player or computer may prevent it from reading new discs.
5. Connect the player directly to your TV instead of through a stereo or other system.
6. The region code is a possible reason for new DVDs not playing on the DVD player. Region locked DVDs from one region won't play in another. You can make your DVD player region free.
7. PAL DVDs cannot be played in an NTSC player. Convert DVDs or change the player. Or check if your DVD player supports the DVD.
8. If it's a new homemade DVD, the DVD player may not play the DVD if the DVD is burned with different video files or burned at a high speed,
9. The new DVD is protected by newer copy protections. The DRM prevents new discs from playing on an old DVD player. DRM will cause a variety of DVD not playing issues, for example, discs are not recognized, the DVD player stops in the middle of the movie, etc. DVD copy software can bypass DRM and digitize these new DVDs to avoid new DVDs not playing error.
Fix New DVDs Not Playing Error Caused by DRM, Region Code, etc. Convert scratched/DRM-protected/region-locked DVDs to MP4, AVI, MOV, etc. for playing. Easy & fast
Rip NTSC/PAL DVDs, new movies on DVDs, region-coded/encrypted DVDs. Any type of disc is supported without needing third-party help.
Rip DVDs to MP4, MOV, AVI, WMV, H.264, HEVC etc. for HDTVs, iPhone, Android mobile, Xbox, PS4, laptops, etc. It requires no DVD player to watch DVDs this way.
No.1 speed to convert a disc into digital video files within 3 steps: load the disc -> choose output -> start processing.

Download WinX DVD Ripper Platinum for Windows

to digitize DVDs

Download WinX DVD Ripper for Mac

to digitize DVDs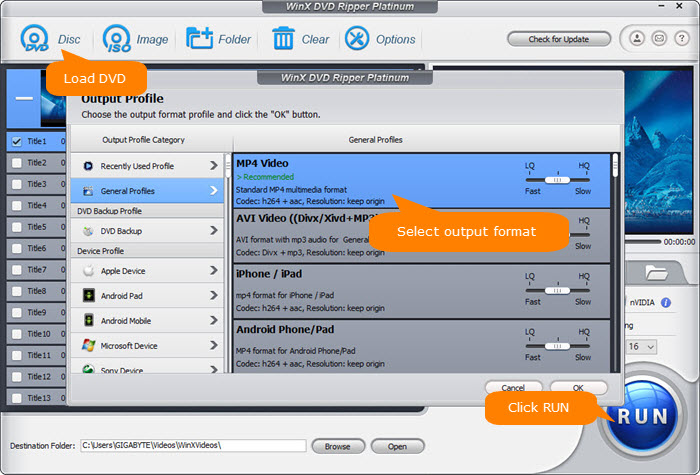 Disclaimer: Digiarty Software does not advocate ripping commercial DVDs for any illegal purpose. You're suggested to refer to the DVD copyright laws in your country before doing so.