Which Formats Does Your DVD Player Support/Read/Play
You may take for granted that your DVD player plays discs. But when you load it into the tray, you may end up with failure and wonder why your burned DVD won't play on DVD player and what formats does it support. The following article will talk about DVD player supported formats so that you can play DVD and video files without a glitch.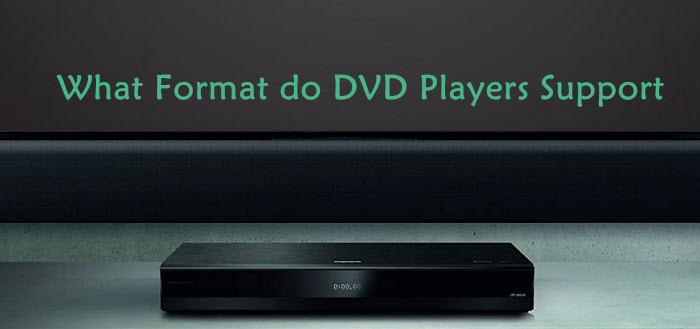 Format Supported by All DVD Players - MPEG-2 Format
A standard DVD movie has two folders in the directory - AUDIO_TS and VIDEO_TS, with the latter containing .IFO files to store playback info about chapters, subs, audio tracks, etc., BUF files as backups of the IFO files, and .VOB files to store the actual video and audio data.
The VOB files contained in DVD video are encoded in H.262/MPEG-2 at a resolution of 720x576 (at 25 frames per second) and 720x480 for NTSC (30 frames per second) by and large. In this respect, DVD player from Sony, Samsung, Panasonic, LG, and more actually has no problem playing the MPEG-2 format discs, since almost all DVD players have an MPEG-2 DVD decoder.
Other DVD/Video Formats Supported by DVD Player
1. MPEG-1 Format
There are still some DVD videos use MPEG-1 format at up to 1,856 kbps to record the digital video. And only the lowest resolutions (352x288 or 352x240) are supported. Both video CDs and VCDs use MPEG-1 to store the video and audio. This format can be played on almost all standalone DVD players.
2. DVD+R/-R Formats
There are different DVD formats, ranging from DVD-R, DVD+R, DVD-RW, DVD+RW, DVD-R DL, DVD+R DL, and more. Most often, DVD+R and DVD-R discs are more likely to be supported or read by DVD players. On the other hand, various recordable and rewriteable DVD formats, like DVD+RW are not widely supported among DVD players.
3. DivX
Some standalone DVD player supports DivX format if they have the codec inside. Most often, there is a DivX logo in front of the device, and you can play the DVD if it is in AVI format encoded in DivX. But you have to bear in mind the DivX encoded AVI video won't play on DVD player, if its resolution is over 864x640.
4. Other Video Formats
Currently, most DVD players have USB ports. This makes it possible to play media formats such as VOB, AVI, MKV, etc .through the USB drive. But not all video formats are supported.

Note:
Even from the same manufacturer, newer DVD players may support more formats, such as MP4, H.264, MPEG4, etc. You will need to check the specifications of the player for a full list.
• Check the specific Sony supported disc types >>
• Check the specific Samsung supported formats >>
• Check the supported file formats for Sony DVD Player >>
Why won't My DVD/Video Play on the DVD Player?
Sometimes, the input DVD/Video is in a format supported by the DVD player. But the DVD player won't play. Why and how to fix?
1. Region Code
Region code is a major reason that a DVD player refuses to play. If the DVD is a store-bought movie, check if it's from another region. You can change the player's region for up to 5 times. When the number of allowances reaches zero, the DVD player can play the last code you set. Besides, note that some DVD players don't support PAL/NTSC conversion. In this case, you can remove the region code with a DVD ripper and play the DVD video on any device.
2. Scratched DVD
Though the DVD players support various DVD formats, most of them are not good at handling defects. That means, when you import an old and scratched DVD, maybe just a little, the DVD player won't play or there are endless freezes and artifacts. In this case, try to fix the scratched DVD with disc repair kits and try again.
3. Home-burned DVD
It's frustrating your burned DVD won't play on DVD player. The problem rests with the improper DVD video format. It can use an older format that some DVD players can't recognize, especially for older players. Plus, bad burning is also to blame. For example, if you burn the DVD at a fast speed, for example, at a 8X burning speed, it can cause problems. Some DVD players don't play homemade DVDs burned at speeds faster than 4X. Make sure to resort to a good DVD authoring software.
4. Different codec
Some users report that the DVD player won't play MP4 format as advertised. This can be caused by an unsupported video codec. MP4 is a container format which is able to contain audio and video using different codecs.
Play any DVD Fomats on DVD Player without Problem
WinX DVD Ripper lets you play any DVDs freely:
1. Convert DVDs to MPEG, Divx, VOB, MP4, AVI, etc. for DVD players, mobiles, TVs, any devices;
2. Remove region code, 99-title, CSS, RCE, Sony ARccOS, UOPs, AACS 2.0, etc.;
3. Support scratched DVDs, old DVD collections, any non-standard DVDs, NTSC/PAL discs, and more;
4. Free, safe and clean. Fast with high output quality.