Can't Play/Decode DVD? Best DVD Decoders for Windows 11/10/7/XP
Playing DVDs isn't always a straightforward process. For instance, if you attempt to play a DVD on Windows 11/10 using Windows Media Player, you may encounter an error message that states, "Windows Media Player cannot play the DVD because a compatible DVD decoder is not installed on your computer." But what exactly is a DVD decoder? Why do we need a DVD decoder? Furthermore, what DVD decoding software can you download for Windows 11, 10, 8, 7, Vista, and XP? In the following sections, we will provide answers to these queries. Free Download DVD Decoder to Play Regional or Protected DVDs without Issue!
WinX DVD Ripper Platinum - Decode DVDs encrypted with CSS, region code, RCE, UOPs, Disney X-project DRM, etc. on Windows 11/10/8/7/Vista/XP. Encode DVDs/ISO images/folders into MP4, MOV, AVI, HEVC, H.264, and more for playback on Windows Media Player, computer, gaming system, mobile device, and other platforms. No extra codecs needed. 100% success rate to fix DVD not reading or decoding error on PC/Mac, Mobiles, TVs, etc.
Please Do Not use WinX DVD Ripper to rip rental DVDs.
Part 1. What is a DVD Decoder and Why do You Need It?
If a DVD contains media, such as a movie, it has typically undergone encoding and, in some cases, compression. To play such DVDs on a computer, the data stored on the DVD must first be decoded using a DVD decoder.
A DVD decoder is a type of computer software that enables the reading of DVD discs. It serves three primary functions. First, it is employed to bypass the copy protection found on most commercial DVDs, which is designed to prevent users from making copies of the DVD content. Second, it is used to decode the MPEG-2 format, as the majority of DVDs store movies in this format, thereby reconstructing the data to enable the original images to be viewed. Finally, the DVD decoder facilitates the playback of these images through a viewing program installed on your computer.
Why do you need to install a DVD decoder? While DVD decoders may have been pre-installed on older computers, Windows 11, 10, and 8 no longer include built-in DVD decoder in the Windows Media Player. Therefore, to play DVDs with Windows Media Player, you will need to download and install a DVD decoder separately.

Since DVDs are less scratch-resistant, why not decode and copy DVDs to hard drive to protect your investment and then play the digital copies on the go.
Part 2. Download a DVD Decoder for Windows 11/10/8/7/XP
Some editions of Windows don't come with DVD playback capability, such as Windows 11, Windows 10, Windows 8.1, Windows 8.1 Pro, Windows 7 Home Basic, and Windows 7 Starter. If you are working on a computer without DVD playback feature, you can download a DVD decoder pack for Windows Media Player.
The available DVD decoders include CinePlayer DVD Decoder, Advanced Corel DVD Decoders, Cyberlink PowerDVD SE, and DVD Decoder.
Option 1: Download CinePlayer DVD Decoder
Developer: Roxio
Compatible OS: Windows XP, Windows Vista, Windows 7
Price: $14.99
The CinePlayer DVD Decoder is exclusively designed for Windows Media Player on Windows 7, Windows Vista, and Windows XP. It helps Windows Media Player play DVD and MPEG-2 files. Thanks to the support for both high-definition video and 5.1‑channel Dolby Digital audio, it can deliver cinema-quality performance and superb audio clarity.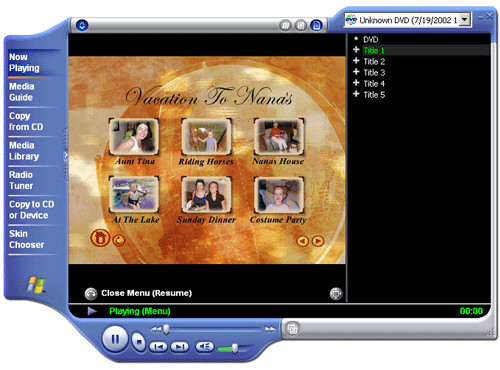 Option 2: Download Advanced Corel DVD Decoders
Developer: Corel
Compatible OS: Windows 7, 8.1, and 10
Price: Full $63.99; Upgrade $47.99
Advanced Corel DVD Decoders don't exist alone anymore. They are now included within Corel WinDVD Pro, with which you can easily play DVDs, Blu-rays, HEVC videos, 4K videos, and 3D videos. In addition, it also supports upscaling standard video to near-HD quality video, converting 2D to 3D video, and adjusting brightness, contrast and more.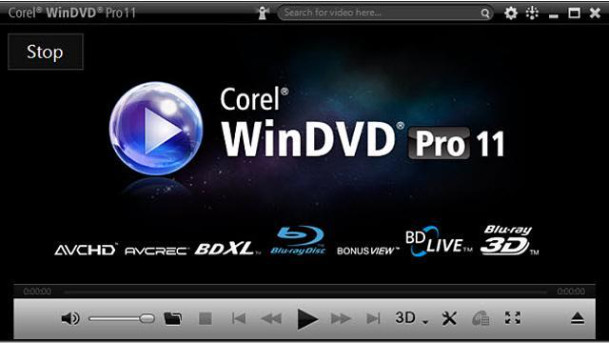 Option 3: Download Cyberlink PowerDVD SE
Developer: Cyberlink
Compatible OS: Windows XP
PowerDVD SE is a plug-in for Windows Media Player 10 and Windows Media Player 11 for Windows XP. It is able to play DVDs and supports Dolby audio soundtracks. This DVD decoder for Windows XP is recommended by Microsoft, but it is now not available to download. However, you can get PowerDVD 22 at $69.99 to decode DVDs.
Option 4: Download DVD Decoder
Developer: VSeven Software
Compatible OS: Windows 10, Windows 8, Windows Vista, Windows 7, Windows XP
Price: free
This DVD Decoder can help you easily play DVD (VOB) files on Windows 10 and earlier. In addition, it can convert your DVD to mp4, 3gp, flv, wmv, mpg, avi, mov and mkv. After installing it on your computer, you can watch movie through your Windows media player.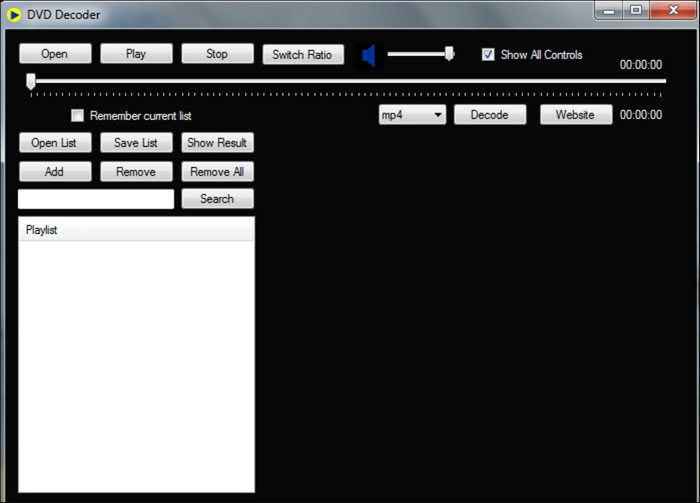 Option 4: K-Lite Codec Pack
Developer: /
Compatible OS: Windows 11, Windows 10, Windows 8, Windows Vista, Windows 7, Windows XP
Price: free
This DVD decoder is able to open DVDs, Blu-rays (no encryption), as well as almost all common video files. You can use this free DVD decoder on Windows 11/10/7 and XP/Vista. There are four versions available, all of which are free of charge. If you want to use the DVD decoder for Windows Media Player or other DirectShow players installed on your computer, you can just choose the Basic version.
How to install a compatible DVD decoder for Windows Media Player
Step 1. Open your Winodws Media Player. Note: Windows Media Player is unable to play a DVD movies on Windows 10/11.
Step 2. In the Tools menu, click Options.
Step 3. Click the Player tab, and then click to select the Download codecs automatically check box. After you've done, click OK.
Step 4. Try to play the DVD file. If you are prompted to install the codec, click Install. If you are not asked to install the codec and the DVD still cannot play on PC correctly, follow the steps below to manually install the DVD decoder.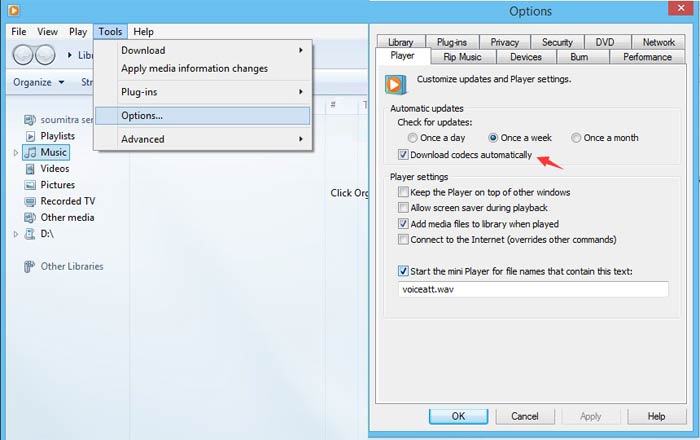 Step 5. Determine whether the DVD codec is installed on your Windows 10/11/7/XP properly.
In the Now Playing area, right-click the file that you are trying to play, and then click Properties.
Click the File tab, note the codecs that are specified in the Audio codec and the Video codec areas, and then click OK. If no audio/video codec is specified, go Step 6 to install the codec.
On the Help menu, click About Windows Media Player. Then click the Technical Support Information hyperlink. If the codec is not listed, go to step 6.
Step 6. Install the DVD decoder for Windows Media Player:
If you receive an error message when you try to play the DVD, click Web Help. On the Microsoft Web site, click the link to the Wmplugins Web site to download and install the DVD decoder codec for Windows Media Player.
If you do not receive an error message when you try to play the file, obtain the codec from a third-party vendor, and install it.
Cannot play DVDs after installing a DVD decoder for Windows 11/10/8/7/XP, update drivers:
To do this, follow these steps.
Step 1. Press Windows key + X and click on Device manager.
Step 2. Locate for Display Adaptor and expand it.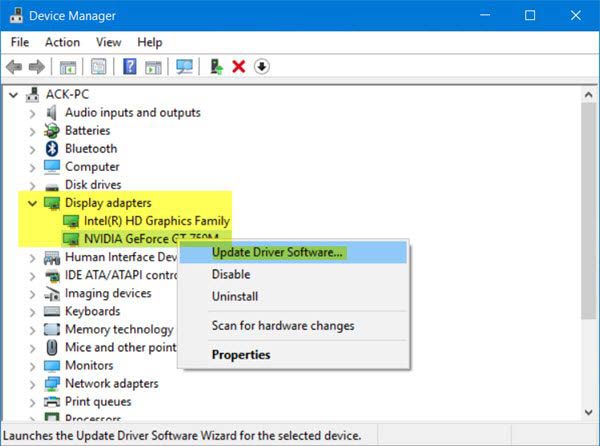 Step 3. Right click on the adaptor and click on update. This will launch the update driver software wizard, which presents two options: Search automatically for updated driver software and Browse my computer for driver software.
Step 4. Pick an arbitrary one, and click Next, then wait while the wizard completes the installation.
However, installing a DVD decoder and updating driver may still don't work for you. In this case, you can download a DVD player for Windows 11/10/7/XP instead of installing a separate decoder to play DVDs.
Part 3. Free DVD Player for Windows 11/10/7/XP without Using Extra DVD Decoder
Installing a DVD decoder for Windows Media Player can be a complicated process and there is no guarantee that it will work. To determine if you have a functional DVD decoder installed on Windows XP/7/8.1/10/11 and ensure compatibility with Windows Media Player, you'll need a Windows DVD decoder verification utility. Many compatibility issues can arise between players and DVD decoding programs, some of which may not even be secure. That's why it's important to be cautious when downloading and installing DVD decoder packages for Windows Media Player.
It would be a simpler way to play DVDs without the need to download and install any DVD decoder package.
5KPlayer is a safe and free DVD player for Windows XP/7/8.1/10/11. It plays regular DVDs, regional DVDs, copy-protected DVDs, movie DVDs, TV shows DVDs, 99-title discs, etc., as well as SD/HD/UHD videos, without any other third-party DVD decoder or plug-in. It also downloads online music and movies, AirPlay streams audio videos, and more.
Free Download 5KPlayer to Play DVDs without Installing DVD Decoder!
How to Play DVD with 5KPlayer:
Step 1. Download and install this free DVD player on your Windows 11/10/8/7/XP/Mac computers. It is totally free and clean.
Step 2. While most DVD decoders for Windows Media Player won't support DVDs with copy protections, 5KPlayer is able to play almost all protected DVDs. Just insert any DVD into the DVD-ROM, and flip "+DVD" icon (the third one in the first line of UI).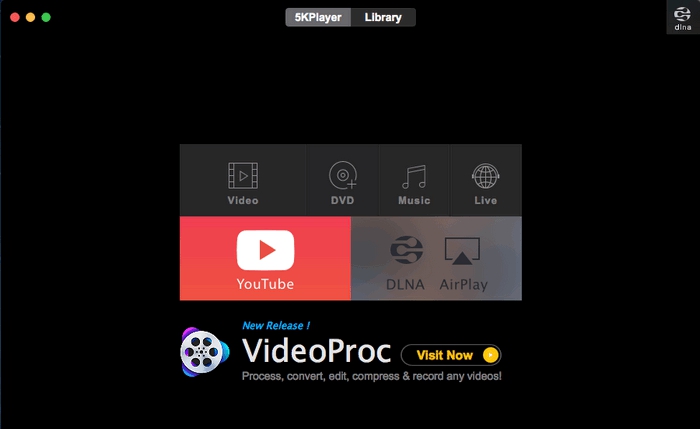 Step 3. When 5KPlayer prompts you to open DVD disc, you can choose the source DVD disc from your DVD Driver. Just hit "OK".
Step 4. When the DVD info is loaded, you can choose the language track and so on from the list. And then the player will begin to play the DVD.
Step 5. Similar to other DVD players, 5KPlayer allows you to double-click any position on the image to view the movie full size. Or you can click on the square button on the top right. You can also find your recent playlists in the "Library".
Video tutorial on how to decode DVDs on Windows 11/10/8/7/XP without DVD decoder
Part 4. Decode DVD to Digital Files - Fast & 100% Working
Physical disc drives are becoming obsolete, with many modern laptops and even desktop PCs omitting them. This means you may not be able to play DVDs on your computer in the near future. So, how can you play DVDs on a computer? One solution is to purchase an external DVD drive and use a DVD player program.
Instead of spending $50 to buy a DVD drive and Windows DVD Player ($15) for uncertain DVD playback quality, a better option is to rip your DVDs to digital format using a DVD ripper. This will allow you to play DVDs on Windows Media Player and other apps in Windows without seeking for extra DVD decoders for Windows 11/10/8/7/XP. Additionally, it helps protect your DVD discs from unexpected scratches or damage, extending their lifespan.
However, it's worth noting that not all DVD rippers perform well. Many may encounter issues such as DVD reading errors, crashing, incomplete DVD copies, or poor output quality. For a more user-friendly and effective solution, consider trying WinX DVD Ripper Platinum. This software can decode any protected DVD and encode it to MP4, H.264, MOV, AVI, and more.
World's No.1 fast speed: Merely 5 minutes to make a digital copy of DVD under hardware acceleration.
No.1 disc support for all kinds of DVDs with whatever encryptions, thanks to the unique DVD analysis kernel & title check mechanism.
Update weekly to ensure the support of decrypting various new released DVDs, and CSS, region codes, Disney and more encryptions.
350+ output formats supported, including MP4, H.264, AVI, MOV, TV, mobiles, and more. 100% quality reserved.
Free Download WinX DVD Ripper Platinum to Rip DVD Discs to HD Digital Copies!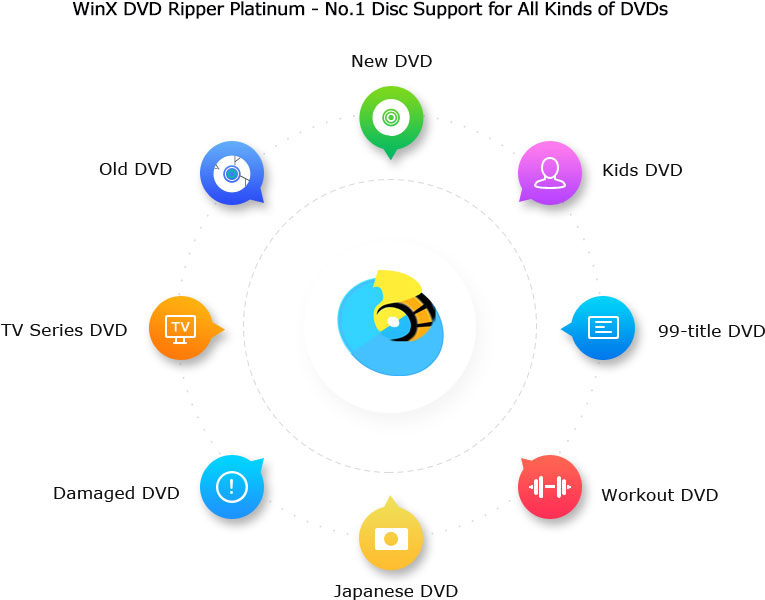 [Tutorial] How to Decrypt and Decode DVD to Digital Format
Download WinX DVD Ripper on Windows 11/10/8/7/XP or MacOS, install and launch it on your desktop. Then go through the rundown of guides to decrypt new & protected DVD to digital formats without DVD read/decode error.
Step 1. Load DVD disc to the DVD decoding software. Insert your DVD disc into the DVD drive, open WinX DVD Ripper Platinum, and click "DVD Disc" button to import your DVD. The program will automatically choose the right title for you, no matter what encryption is used for the DVD.
Step 2. Select an output format. Choose output format from the popup window according to your needs. For example, MP4 for playback on mobiles, MKV for full titles, audios, videos and subtitles backup, ISO image DVD clone for later burning etc. Optionally, you can also click "Edit" button to trim, crop, adjust audio volume, add subtitles and more.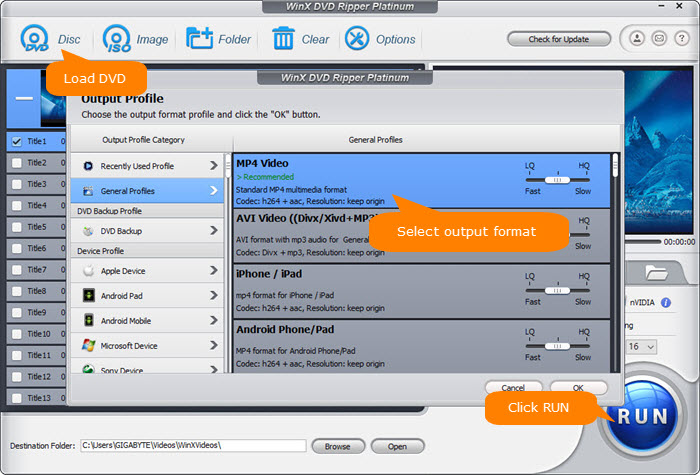 Step 3. Start decoding DVD. Hit RUN and it will begin decrypting DVD immediately. Several minutes later, you will get a video file of the DVD. Then you can play the DVD video on Windows Media Player or other apps without using a DVD decoder.
Disclaimer: Digiarty Software does not advocate ripping copy-protected DVDs for any commercial purpose and suggests referring to the DVD copyright laws in your countries before doing so.
Part 5. Why can't Your DVD be Decoded?
If your computer has a DVD drive and also a compatible DVD decoder, but you still can't decode/read DVD, here are some possible causes:
1. Your DVD disc is damaged.
DVD disc is the first to blame. It's reasonable that your DVD player stops playing when reading visible scratches. However, there are cases that your DVD looks very new but it's unplayable. Probably, the DVD has scratches that are invisible to the naked eye. Or it'is intentionally used as a means of encryption like Sony DVDs. When playing/ripping Sony DVDs, bad sectors will be read in a loop (also called CRC error) until the DVD drive burnt out.
2. Your DVD drive is corrupted or DVD driver is outdated.
DVD drive can be the culprit. If it's damaged, your will encounter a DVD read error, or disc drive won't even detect DVD, CRC data error, I/O error etc. In this case, you can buy another DVD drive ($40 or so) to fix the error. And outdated driver causes a stuttering DVD playing or even makes DVD unplayable or unconvertible, since the heavy DVD decode work will be turned over to CPU from GPU. For example, some DVD ripper decoders drop to a rare low fps during decoding/encoding DVD due to the CUDA failing. But if you update the driver up to date, GPU will revitalize for smooth DVD playback.
3. You don't have a compatible DVD decoder installed.
Windows Media Player doesn't offer a software plug-in that enables the DVD video playback in MPEG-2 format. When you play DVD on it, you'll get an error message "Windows Media Player cannot play the file because the codec is not installed on your computer". In this case, you can install a compatible DVD decoder to slove DVD not playing issue. Make sure you download the right drivers for your architecture (32 or 64 bit).
4. The region code of DVD player, DVD drive and disc are not the same.
Region codes prevent playback of DVDs in other geographical regions, for example, region 2 discs won't play in region 1 players, and PAL discs cannot be played on a NTSC standard player. If your DVD player or DVD drive has improper region setting, you can change it up to 5 times only before it's locked permanently. Check region free DVD player for help.
5. The DVD encryption cannot be bypassed.
The above mentioned causes have a certain possibility leading in DVD decoding failure. However, the real culprit for DVD won't play, read, or decode error lies in the DVD encryption cannot be bypassed, for example, VLC won't play DVDs etc. Thus, if you can decrypt CSS protected DVDs, unlock region code, remove new DVDs encryption with a DVD decoder, all issues will be solved easily.
Final Words:
DVD not decoding/playing on Windows Media Player and Windows DVD Player happens owing to an incompatible DVD decoder, an outdated display driver and even a broken DVD drive. Fixing it would take you a lot of time, energe and money. Therefore, ripping DVD to digital formats using WinX DVD Ripper Platinum is the fastest and most cost-effective solution recommended by us. It is capable of ripping DVD to MP4, MOV, MKV, MPEG-2, ISO image, TS etc, making DVD playable on any media players, stored more safely as well as slowing down the loss of DVD lifespan because of over-analysis.
Free Download the DVD Decoder to Fix DVD Not Decoding Error Fast [100% Working Solution]