Updated by Donna Peng - Contact Author

How to Get Around CRC Error When Ripping DVD with DVD Shrink

If DVD Shrink halts with CRC error due to copy protection, click here: The solution most recommended by us [85%]
Reasons and Solutions for DVD Shrink Encountering Data Error (CRC)
We've noticed that many DVD Shrink users encounter CRC error when they try decrypting a protected DVD disc. It often gets about a few percent into the encoding process and then halts with a CRC error: "DVD Shrink encountered an error and cannot continue. Failed to read file "D:\" Data error (cyclic redundancy check)."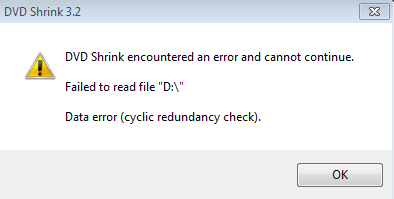 CRC is the abbreviation of cyclic redundancy check. DVD Shrink will come up with a CRC error when it can't read the DVD disc. So, to fix CRC error in DVD Shrink, firstly we need to figure out why DVD Shrink can't read the DVD. One of the reasons for CRC error is that DVD Shrink can't handle the copy protection in DVD. In this case, you need to rip the copy-protected DVD with another ripper. For more reasons and corresponding solutions, just read on.
Why DVD Shrink Can't Read Certain DVD Disc and Pops up CRC Error?
Below are the possible reasons for the appearance of CRC error.
1. The DVD drive is faulty. When there's a bad component in your DVD drive, the drive will not be able to read DVD normally, which makes programs fail to handle the disc.
2. The DVD disc is dirty. If you get grubby hands on the discs or expose the DVD to the dust, the disc will be too dirty to be read properly.
3. The DVD disc is scratched or damaged. Disc is very fragile and it can easily get scratched. Scratches will affect the data, thus making the DVD unreadable.
4. The DVD disc's quality is poor. If DVD Shrink displays CRC error when you rip a self-burned DVD which isn't dirty or scratched, the possible reason is that it is burned on a cheap and poor quality disc.
5. The DVD disc contains copy protection that DVD Shrink can't handle. There's a statement in the support page of DVD Shrink official site saying that "Since development of DVD Shrink has been stopped in 2005 it cannot circumvent current copy protections schemes which may manifest in these errors/error messages...". We notice that one of the errors is Data Redundancy Check Error (CRC Error). So CRC error may have something to do with the copy protection in DVD.
Since we've found out the possible reasons, we can summarize the following solutions to overcome CRC error in DVD Shrink. And, they are also the fixes for Cyclic Redundancy Check error on AnyDVD/CloneDVD/CloneDVD Mobile.
How to Fix DVD Shrink's CRC Error?
How to fix DVD Shrink CRC error - Solution 1. check the DVD drive and try a different one if necessary.
When DVD Shrink fails to rip a DVD with CRC error, you can take out the DVD from the optical drive and put in other DVDs to see if you still meet CRC error. If the problem happens with all attempted backups, the DVD drive may be the culprit and a new drive may be the solution.
How to fix DVD Shrink CRC error - Solution 2. clean the DVD if it is dirty.
If you see fingerprints, smudges and dust on the surface of the DVD, cleaning it may help get rid of the CRC error in DVD Shrink. If it is just dust on the DVD, you can use a soft cloth or microfiber cloth to wipe it off. It there're fingerprints or other oily residue, you can mix rubbing alcohol and water in 1:1 ratio to clean it. Make sure to start from the center of the disc and clean straight out toward the edge to prevent scratches.
How to fix DVD Shrink CRC error - Solution 3. repair scratched DVD.
If the scratches are on the top, shiny part of the disc, you probably won't be able to repair it. If the scratches are on the bottom, plastic part of the disc, you may be able to repair it by resurfacing and polishing. But before you try to fix scratched DVD, I suggest you to try ripping the damaged DVD in case that the DVD gets worse during repairing. Some DVD Shrink alternatives such as WinX DVD Ripper Platinum may be more tolerant and can handle scratched discs.
How to fix DVD Shrink CRC error - Solution 4. rip copy-protected DVD with another ripper.
If both DVD drive and DVD disc are flawless, CRC error is probably caused by certain DVD copy protection scheme that DVD Shrink cannot handle. DVD Shrink hasn't been updated for so many years, so it isn't strange that it fails to rip some newly encrypted DVDs. To fix encryption-caused CRC error, you're suggested to try ripping protected DVDs with another DVD Shrink alternative ripper. WinX DVD Ripper Platinum is the most powerful DVD ripper that can bypass all region codes (from 1-6) and various copy protection schemes such as CSS, RCE, Sony ArccOS, UoPs, and Disney X-Project DRM.
Besides home-made DVDs, it can rip commercially copy-protected DVDs with ease.
Also able to rip scratched or damaged DVDs.
350+ presets: MP4, AVI, WMV, MOV, iPhone, iPad, Android mobiles, game consoles, etc.
1:1 backup DVDs: copy DVD to VIDEO_TS Folder, copy DVD to ISO image.
Allow users to use Intel QSV and NVIDIA CUDA/NVENC hardware acceleration.
Make the output quality as good as the original's by using High Quality Engine and Deinterlacing.

Download WinX DVD Ripper Platinum for Windows

to get around CRC error

Download WinX DVD Ripper for Mac

to get around CRC error
>> For Windows and Mac only. If you are a mobile user, click here.
Read the DVD ripping guide below and you'll find it is easy to work with WinX DVD Ripper.
Step 1. Assume that you have inserted target DVD into DVD drive, then you just need to open WinX DVD Ripper Platinum and click the DVD Disc button at the top left corner of the main UI to select source DVD.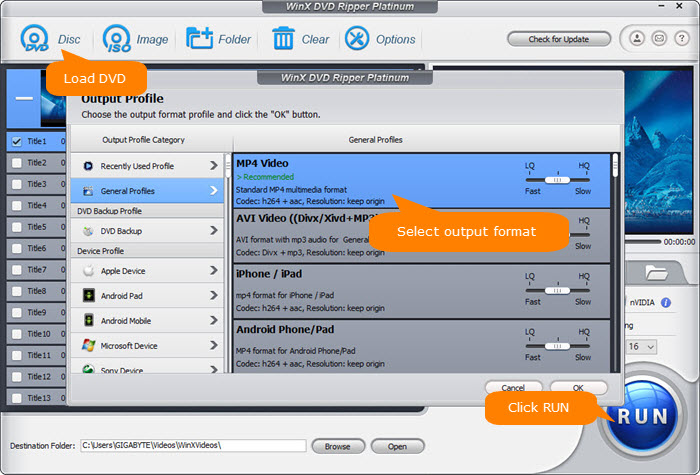 Step 2. Choose a desired format from the pop-up Output Profile window.
Step 3. Hit RUN and WinX will do the rest for you. It will conduct 100% encoding without CRC error.
Disclaimer: Digiarty Software does not advocate ripping commercial DVDs for any illegal purpose. You're suggested to refer to the DVD copyright laws in your country before doing so.