Posted by Donna Peng - Contact Author

How to Fix DVD Shrink Out of Memory Not Enough Storage Error

If you are looking for an effective solution, click here: The solution most recommended by us [85%]
Get Out of Memory Error from DVD Shrink? Here're the Solutions.
DVD Shrink is a piece of freeware to backup DVD discs. But since the development of DVD Shrink has been stopped in 2005 and the version will stay at 3.2.0.15 forever without further update, it will not be able to circumvent current copy protections schemes and thereby may come up with many errors such as "DVD Shrink encountered an error and cannot continue. Out of memory. Not enough storage is available to process this command." Do users truly run out of memory? No, they are pretty sure that they have plenty of space and enough RAM. So, what causes out of memory error and how can we fix it?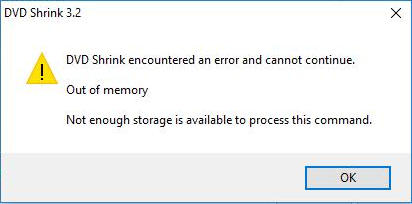 The first possible cause of 'out of memory' is that DVD Shrink can't bypass the encryption in DVD. The Key: Backup copy-protected DVD with DVD Shrink alternativeThe Easiest Solution
Analysis: In the first paragraph we've already said that DVD Shrink may give users out of memory error because it has stopped further update and consequently cannot support current protection schemes. This isn't wild guess. It is written on DVD Shrink's official support page. Nowadays, commercial DVDs are often built with one or several copy protection schemes, such as CSS, UOP, RCE, Sony ARccOS and Disney X-Project DRM. Those protections always defeat many constantly-updated commercial software, let alone DVD Shrink.
Solution: In this case, we can't fix out of memory error by setting DVD Shrink or something else. We have to backup the DVD with a DVD Shrink alternative which can circumvent the copy protection in DVD. I know this isn't a fix, but a workaround. But it is a workable way to go.
WinX DVD Ripper Platinum is the best DVD Shrink alternative that can circumvent various copy protection schemes in movie DVDs, TV series DVDs, workout DVDs, and so much more. It keeps frequent update to handle new encryption technologies and to backup newly-released DVDs.
Handle CSS, RCE, UOP, APS, Sony ARccOS, Disney X-Project and more protections easily.
Backup DVD to VIDEO_TS folder or ISO image; copy DVD to MPG file.
Rip DVD/ISO file/DVD folder to MP4, AVI, WMV, or others with small file size and high quality.
Support GPU hardware acceleration and more techs to enhance ripping speed (5 minutes per DVD).
Straightforward interface; 3-step to finish DVD ripping; fully compatible with popular OS.

Download WinX DVD Ripper Platinum on Windows

to rip DVD without out of memory error

Download WinX DVD Ripper Platinum on Mac

rip DVD without out of memory error
Next, we'll walk you through the workflow of ripping encrypted DVD with this DVD Shrink alternative.
Step 1. Insert the DVD that DVD Shrink can't handle into the DVD drive. Open WinX and click DVD Disc to load the DVD. WinX will select the correct main title for you automatically.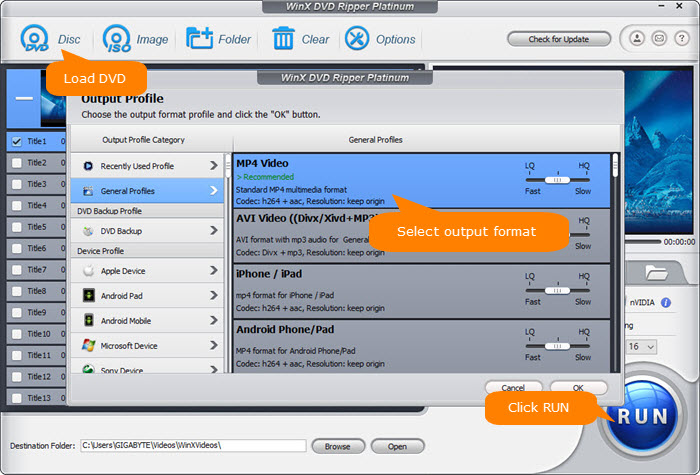 Step 2. In the Output Profile window, choose a format that you want to save the output as. If you want to play DVD video on your mobile device, you can choose a corresponding device preset.
Step 3. Hit RUN and the ripping will begin in no time.
Disclaimer: Digiarty Software does not advocate ripping commercial DVDs for any illegal purpose. You're suggested to refer to the DVD copyright laws in your country before doing so.
Another possible reason for out of memory error is that the drive you're saving the output file to is too slow or slower that the source drive and you have a fast CPU. If you have a CPU that can process video faster than it can be written to the HDD, the buffer will grow until it exhausts all available memory and then DVD Shrink comes up with out of memory error.
To fix this, you can press the 'Pause' button before the buffer is getting close to 1500MB. Wait 20 seconds or so for the buffer to empty, and then press 'Resume' to continue encoding. When the buffer hits a big number again, pause it for a while and then resume it. You may need to do this 2 or 3 times.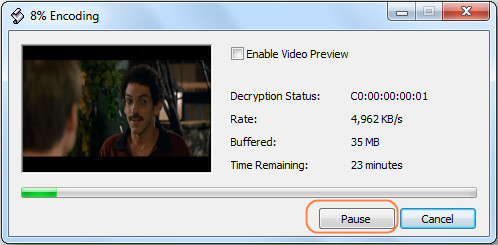 Final Words:
DVD Shrink is a discontinued program, so it is common for users to experience errors of this kind or that kind when backing up DVD or compressing files, such as CRC error or out of memory error. Sometimes we can find fixes while sometimes we have to switch to alternatives.