Posted by Kaley Torres - Contact Author

[Solved] DVD Player Says No Disc Found/Detected Error in Disc Drive

Seeking for an once-for-all solution, click here: The solution most recommended by us [85%]
Insert A Disc into Drive/DVD Player but No Disc Detected/Found? Find Solutions Here!
Usually, as long as you inserted your disc into DVD drive or DVD player, you can play DVD smoothly on your computer or TV. However, many DVD owners failed to play DVDs since they get stumbled on finding the disc they've inserted. A typical symptom is you insert a disc in the drive and after a while; the tray opens again with the error messages like "No disc", "Please insert a disk into drive", "The volume does not contain a recognized file system" etc. Moreover, this error can also occur on game discs, such as The Sims 3, with an error message "No game disc found! Please insert The Sims 3 game disc before proceeding."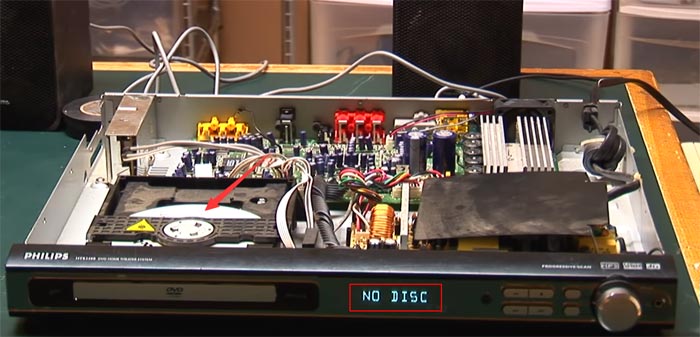 Why your DVD disc cannot be detected/found? The chances are the laser has failed. Every time the tray closes, the DVD drive/player starts looking for a disc through focusing the beam from the laser head. If the laser has failed, it will not be able to detect a DVD. You can buy another DVD drive or DVD player. Or it might be an issue of outdated firmware, which makes DVD drive not working owing to the reduced hardware performance. Updating the DVD drive drivers will solve this error, while many old DVD players has stopped upgrading the drivers. Of course, there are possibilities that DVD not detected since the disc failed to authorization or is corrupted. For that, you can try a new disc. If your problem still exists, why not rip your DVDs to digital formats to root out "no disc found" error throughly?
To Fix No Disc Found/Detected/Recognized Error on DVD Players or Drives Throughly Rip DVDs to Digital for Playing DVD Contents without Inserting Discs The Easiest Solution
No one can ensure that buy a new DVD player with intact laser at $50 or upgrade to the latest firmware will fix "no disc" error certainly. Even if the problem is solved, it could happen again some time in the future. Compared with playing DVDs through DVD player or optical drive, playing digital videos is less rely on costly hardware. As long as the format is supported, you can easily access the video contents with media players. Therefore, digitizing DVD could be the easiest solution to get rid of "no disc found" error on DVD drive/player.
WinX DVD Ripper Platinum is a reliable DVD ripper which supports to digitize any type of DVDs, namely new DVD releases, old scratched DVDs, TV series/shows DVD and multiple titles etc. It updates weekly to enhance the decrypting ability on region code, CSS, UOPs, Sony ArccOS, Disney DRM and more advanced new DVD encryptions, so that you're able to rip any copy-protected DVDs to MP4, MOV, MKV, MPG, ISO image and other mainstream formats. Of course, creating a digital copy will not take you much time, merely 5 minutes to rip a full DVD.
WinX DVD Ripper Platinum - An One-click Way to Digitize DVD Merely in 5 Minutes
5 minutes only to rip a full DVD movie when GPU acceleration is fully utilized.
No.1 disc support for any DVDs, from old DVD discs to new DVD releases.
Convert DVD to MP4, MKV and 350+ profiles for smooth playback on any screens.
Easiest to operate: Throw DVD - Choose format - Done! No quality loss.

Download WinX DVD Ripper Platinum on Windows

to digitize any DVDs

Download WinX DVD Ripper Platinum on Mac

to rip DVD to any formats
After the DVD ripper installer downloaded, following the wizard to install it. Then launch it and digitize DVD to get rid of no disc detected error.
Step 1. Put your disc into the DVD drive carefully and correctly. Load the DVD by clicking "DVD Disc" button.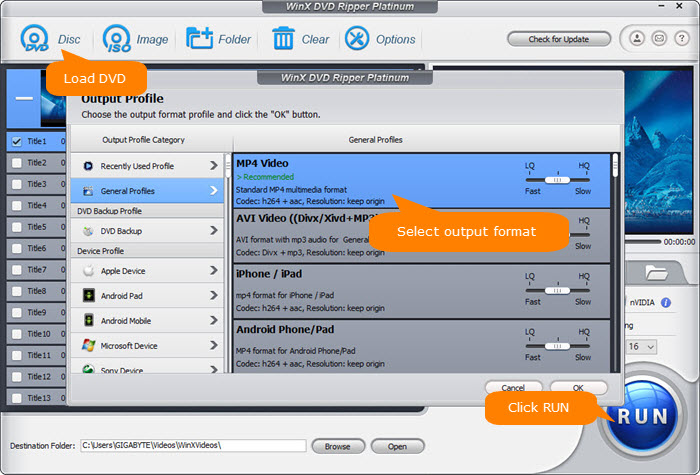 Step 2. A few seconds later, all titles are loaded and the main title is selected automatically. Simultaneously, choose your desired output format from the automatically popped up window. After you've done, click "OK" button.
Step 3. Tick on the box of Hardware Accelerator to speed up DVD ripping speed if it's available. Then hit RUN button to start ripping DVD immediately. After the ripping process is finished, it will open the destination folder which saves the resulting file. Then you're able to watch DVD movies on any screens without inserting a disc.
Disclaimer: Digiarty Software does not advocate ripping copy-protected DVDs for any commercial purpose and suggests to refer to the DVD copyright laws in your countries before doing so.
If there are no scratches on the disc itself, the problem may be with your DVD-ROM drive or DVD Player. Except buying another drive or DVD player, upgrading the firmware may address the problems you're experencing. But the solutions are various between upgrading DVD drive drive and DVD player firmware. Let 's go into details.
How to Make an Firmware Update for your DVD Player
Step 1: Visit the manufacturer's official website to download the latest software update files. Please note that check the correct model name at rear label rating before downloading the firmware.
Step 2: Decompress the downloaded (****.zip) file, which contains ****.ROM file.
Step 3: Insert a blank recordable CD-R or CD-RW disc in to your rewritable disc drive

Step 4: Start the disc burning software and select option to "burn to disc".
Step 5: Write the ****.ROM image files on the blank disc.
Step 6: Press OPEN/CLOSE to open the disc tray, and insert the update CD-R disc with the software update, label facing up
Step 7: Press OPEN/CLOSE to close the disc tray. And press the Enter button on the remote control in order to update your unit.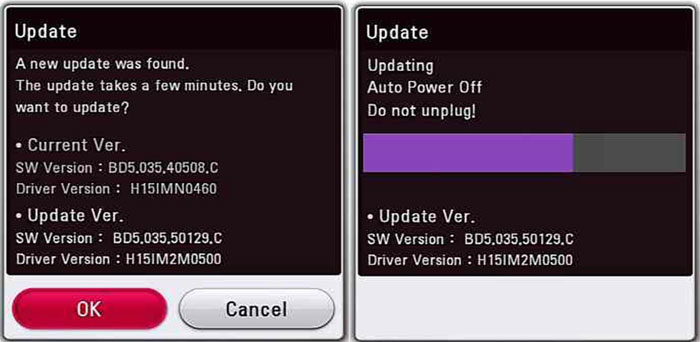 Step 8: It takes a few minutes to complete the update. After removing the update disc, turn off the unit with power button. And after closing a try with power button, the update is complete.
How to Upgrade DVD Drive Driver in Windows 10/8/7
Step 1: Press the Windows logo key + R to open the Run dialog box.
Step 2: Type devmgmt.msc in the Run dialog box and press Enter to get an access of Device Manager.
Step 3: Expand DVD/CD-ROM drives in the Device Manager.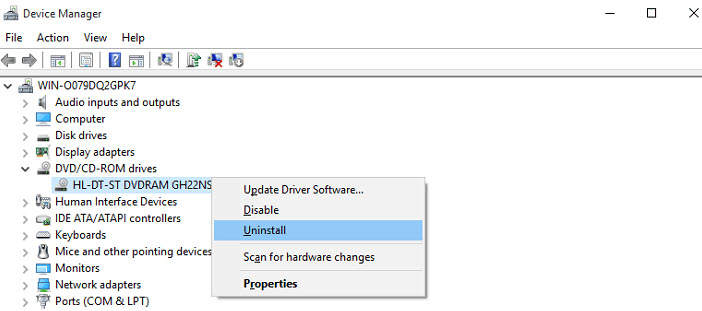 Step 4: Right-click the CD and DVD devicesand click "Uninstall".
Step 5: When you are prompted to confirm that you want to remove the device, click "OK".
Step 6: Restart your computer and the lastest DVD driver will be installed automatically.
Go Back to the Easiest and Most Effective Solution

Final Words:
Ripping DVD to digital formats is absolutely the easiest and once-for-all solution to avoid DVD not detected/found error. You don't have to figure out the possible causes from the disc, firmware to DVD drive or DVD player itself, and fix the error by following complex steps or spending a great many money. The only thing you need is to digitize DVD with WinX DVD Ripper Platinum. Then you're able to enjoy your DVD movies anytime anywhere without inserting a disc.