Can't Rip Damaged/Scratched DVDs to Hard Drive? [Solved]
Damaged DVD is not ripping? Below are the most effective solutions for you.
Took a DVD off the shelf and inserted it into DVD drive or DVD player, only to find that it can't play properly. It seems that the disc is already damaged. It may be damaged by your naughty kids. It may be a result of improper preservation or natural aging. What's worse, you didn't make a backup copy. Then, you tried ripping the damaged DVD to copy file off the broken disc, but failed. Some DVD ripping programs gave you an error message and aborted when they encountered those bad parts on the DVD. For example, DVD Shrink aborted when it encountered CRC error. And, some DVD rippers just stuck in the mid-ripping. That got you so frustrated.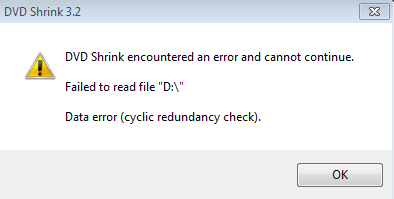 Ripping a damaged DVD is really a big challenge. But after trying the solutions below, you are probably able to copy files from slightly/severely damaged/scratched home-made and commercial DVDs.
Part 1. How to Fix 'Damaged DVD not Ripping' Issue - Try a Different DVD Ripper
When you can't play a DVD, the first thing you need to do is to inspect the DVD and check if it is dirty or damaged. Dirty and damaged DVDs behave the similar way in your player, but dirty DVDs are easier to handle. So when you encounter read errors while playing DVD, you should examine the DVD first. If you see smudges, fingerprints, spots, dried liquids or some other soiling on the disc, the disc is dirty. Clean it and try playing again. But if you see scratches, cracks and gouges, the disc is damaged. But before you try repairing damaged DVD by using a DVD polisher to buff out the scratches, you're suggested to try ripping damaged DVD first. This is because you may make things worse by repairing DVD. So it is a safe bet to rip DVD first.
Yes, damaged DVDs aren't easy to rip. As mentioned above, many rippers have failed to handle them. Luckily, some DVD rippers are more fault-tolerant and have advanced technology that can read and rip damaged DVDs. WinX DVD Ripper Platinum is an example. It will try its best to read those unreadable sectors. If it fails after multiple attempts, it will skip them and copy all other available data out of your damaged DVDs. In addition, WinX DVD Ripper Platinum is available to rip DVDs with bad sectors which DVD manufacturers deliberately build into the DVDs as a copy protection scheme to prevent users from copying DVDs.
Rip home-made & store-bought encrypted DVDs for personal use, even if discs are old and damaged.
Rip DVD to various formats, including MP4, MOV, WMV, AVI, MPG, ISO, VIDEO_TS folder, and more.
Offer fast ripping speed by leveraging hardware acceleration, multi-core CPU, and Hyperthreading.
Deliver high quality output by using Deinterlacing engine and High Quality Engine.
Next, let's take a look at the steps to rip damaged DVDs with WinX DVD Ripper Platinum.
Step 1. Insert the scratched DVD into DVD drive, open this ripper, and then click the DVD Disc button on the ripper to load the DVD into this program. Note: you don't need to choose DVD Disc File System Type. Just keep it as default and hit OK. All titles will be listed with the main one selected.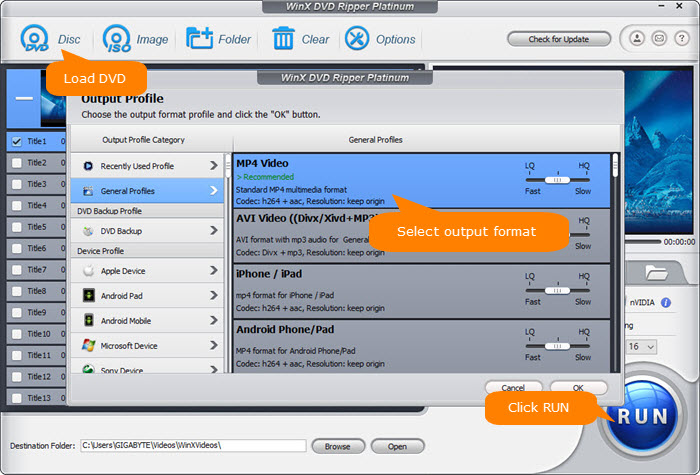 Step 2. Choose an output format profile from the auto-popup window. As you can see, it allows you to convert your damaged DVDs to MP4, AVI, WMV, MOV, iPhone, iPad, Android, and so much more.
Step 3. Hit RUN to start ripping.
If you encounter any problems using WinX DVD Ripper Platinum or have questions to ask, please email its tech support team.
Part 2. How to Fix 'Damaged DVD not Ripping' Issue - Repair Broken DVD
You can repair damaged DVDs with the following two ways. When the DVDs get better, you might be able to rip DVDs successfully.
1. Repair damaged DVDs by using regular white toothpaste, scratch repair paste, and polish such as Brasso. Once you choose a product, you can apply a small amount to the scratched area and gently buff it out. As the polish wears down the plastic, the scratch should fade. Once done, rinse off the disc, and dry it thoroughly. When the DVD is completely dry, put it in your DVD drive and see if it can play and rip properly.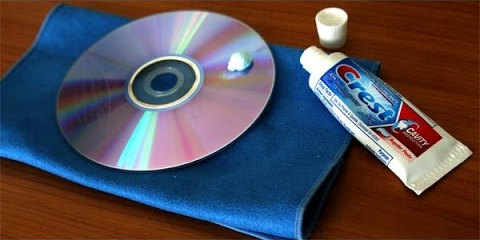 2. Another way to repair scratched DVDs is to take them to a local used DVD store and ask for help. This kind of shop has refinishing machines that can refinish the DVD's coating and thus make it readable again.
When the damaged DVDs are fixed, don't forget to rip and copy them. As you know, physical discs are extremely fragile and could be dead at any time.
Go Back to the Guide to Rip DVD

Part 3 Final Words:
If we don't want to take the risk of losing the precious content in DVDs, we should cultivate the habit of making DVD backup. Aforementioned WinX DVD Ripper Platinum allows users to copy intact DVD data to ISO image and VIDEO_TS folder and also rip selected title(s) to popular file formats and devices. It can cope with different kinds of DVDs, such as burned DVDs, commercial movie DVDs, TV shows DVDs, workout DVDs, and music DVDs. This program is really worth a try. But please be noted that you are not advocated to rip commercial DVDs for distribution or other illegal purposes.
For Windows and Mac only. If you are a mobile user, click here.