Posted by Kaley Torres - | Contact Author

Don't Put Disc in the Drive Any More! DVD Drive Scratching DVDs

If you're searching for an easy solution, click here: The solution most recommended by us [85%]
Your Discs Are Scratched in DVD Drive? Here's the Easiest Solution
Playing DVD is generally considered as simple as putting an elephant in a refrigerator. But that's not the case. As the decline of optical drives on computers, some users can't play DVDs at all, and some others are stuck with various DVD playback errors such as no disc error, DVD drive not reading discs. But the last thing you want is that DVD drive scratching your discs. For example, you play DVD well, yet you find a circle scratched all the way around on disc after you take it out, or the screen freezes all of a sudden and you hear a low humming/vibrating noise from DVD dirve, then the disc get scratched.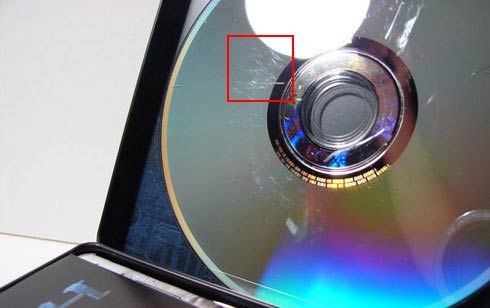 Why your DVD disc is scratched by the drive? How to stop DVD drive from scratching DVD discs and fix scratched DVD discs without loss of the original contents on DVD? This article is at your disposal for any questions related to optical drives damaging discs. Whereas, prevention is better than cure. You're suggested to rip DVD to digital formats for playing DVDs without optical drives and averting DVD scratches radically.
Why Does DVD Drive Scratch Your Discs?
Generally, DVD drive will not make scratches on DVDs when it reads DVD disc since the optical drive and the disk both are reading information without contact. But there are cases that DVD disc get scratched in the drive because the laser head is too close to the surface of the disc. The specific causes go as follows:
If the DVD disc is inserted to the drive improperly, DVD drive won't read discs, and may scratch DVDs.
The optical drive vibrates by a force or is placed in a tilt angle when reading discs. It will get the focusing lens in the laser head contacts the disk surface, leading to circular scratches on DVDs.
A dirty disc may also cause scratches because the laser head will read the dirty part or bad sector over and over again.
DVD drive is aging and the servo will not run steadily, resulting in a scratched DVD. Please try another external DVD drives for your laptop >>
How to Fix DVD Drive Scratching DVD Error Thoroughly? Rip DVD to Digital Formats for Playing DVDs without Optical Drives An Easy yet Once-for-all Solution
From the reasons given above, you have little leeway to fix the optical drive damaging DVD error, but only inserting DVD correctly, avoiding vibration when the drive is running, cleaning the disc or buying another DVD drive. However, that doesn't guarantee that your DVD won't get scratched. After all, repeated reads and analysis would essentially cause scratches and shorten the DVD lifespan. Why not fix the problem once for all? You can try WinX DVD Ripper Platinum to digitize your DVD discs for watching on any media players, PCs/Mac, TVs, iPhone iPad Android, without putting your disc into optical drives.
WinX DVD Ripper Platinum - Digitize DVD to Fit Any Screens without DVD Drive
Rip a full DVD movie to digital within 3 steps and 5 minutes thanks to GPU acceleration.
Made a special update in 2017 to fix slightly scratched/damaged DVDs by skipping bad sectors.
Convert DVD of any types, from new/old DVDs, TV series DVDs, to workout discs etc.
Backup and rip DVD to MP4, MKV, MPEG-2, ISO image and 350+ profiles with lossless quality.

Download WinX DVD Ripper Platinum on Windows

to rip DVD to any screens

Download WinX DVD Ripper Platinum on Mac

to rip DVD to any formats
After you downloaded the DVD ripper installer, please accomplish the setup by following the wizard. Then launch it and digitize DVD with the steps below.
Step 1. Insert your DVD disc into the optical drive carefully and correctly. Click "DVD Disc" button at the top left corner to load your DVD. The correct main title will be checked by default when the DVD is fully loaded.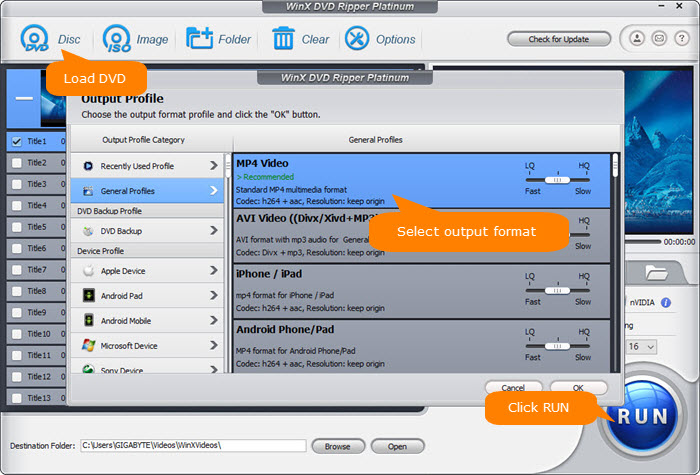 Step 2. Choose an output format from the automatically popped up window. As you can see, you're allowed to convert DVD to MP4, MKV, MPEG-2, ISO image, WMV, MOV, iPhone iPad Android and more. Just pick one from 350+ preconfigured profiles according to your needs.
Step 3. Hit RUN button to start ripping DVD immediately. Wait a few minutes to finish it (merely 5 minutes when hardware acceleration is enabled), and you're able to watch DVD movies on any screens without inserting a disc.
Disclaimer: Digiarty Software does not advocate ripping copy-protected DVDs for any commercial purpose and suggests to refer to the DVD copyright laws in your countries before doing so.
Final Words:
As DVD disc has a certain lifespan, it's inevitable that DVD gets scratched. The only thing we can do is to slow down this process. Therefore, making a digital copy of DVD to store your DVD disc somewhere safe seems a nice option, which can minimize the chance of DVD scratching your disc or any other physical damages on DVDs. For that, WinX DVD Ripper Platinum is the easiest and fastest tool to convert DVD to any formats to fit any screens without DVD inserted or HDMI/Wi-Fi required.