[Solved] Why and How to Fix DVD Drive Won't Eject or Open
DVD Drive Won't Open or Eject? You're in the Right Place!
While optical drives are drastically decreasing on computers, many users still adhere to their desktops with optical drives for DVD playback, even if you cannot play/read DVDs sometimes. One of the most exasperating is that a disc get stuck in DVD drive, getting error messages like "An error occured while ejecting DVD RW Drive", "DVD disc load/eject error", "The disk wasn't ejected properly" etc. or nothing. It's both frustrating and more than a little panic-inducing as you pressed the Eject button but nothing happened since the disc and drive may be damaged.

What can you do to fix DVD disc won't eject error? Is there a way to get your disc out without scratching by DVD drive and distorying the original contents in the disc? Not much chance of that unless you have made a digital copy of your DVD in advance. Anyway, in this article, we'll figure out the causes of DVD drive won't open/eject error and all possible solutions.
How to Fix DVD Drive Not Opening Error?
Can't Eject DVD from Optical Disc Drive - Reasons & Solutions
Usually, you can press the Eject button outside the drive, or select Eject from DVD player app to open or delete the cd-rom drive. Unfortunately, it fails and your disc is stuck in the drive. Why? Here are some of possible causes for it:
The computer's power died, owing to a power cut, drained battery, or loosed power cable.
The disc is corrupted or inserted improperly, or drive tray/door is stuck open, which can be troubleshotted generally by manually opening tray and removing disc.
The DVD player app rejects to execute the Eject command. It indicates a possible electronic or control problem, and ejecting the disc within the operating system could does the trick to get the drive open.
DVD drive quits responding since a latest installed program, app, update, or driver, etc. messed with the DVD driver.
Parts of DVD drive not opening errors can be solved by with above tips. However, there is a possibility that your DVD get damaged. Is there an one-size-fits-all method to put an end to DVD drive not ejecting/opening without damage of the disc and drive?
Part 1. Convert DVDs to Digital to Play without "DVD drive won't eject" Errors
There's no reason to rush out and replace the disc or drive just because the eject button doesn't do what you expected it to do. After all, nobody wants to pay twice. Then you can surely force eject DVD drive tray with OS or a paper clip, but it sometimes damaged your DVD disc. To avoid that, digitizing DVD with WinX DVD Ripper Platinum is the fastest and most effective way to make a backup of protected DVD. And you're even able to discard optical drives and watch DVD digital copies on any media players, mobiles, tablets, TVs etc. without Wi-Fi or HDMI connection, rooting out the DVD drive not opening/ejecting issue completely.
All kinds of DVD supported, regardless of new/old DVDs, TV series DVDs, damaged discs etc.
Only 5 minutes are needed to rip a full DVD movie to digital with GPU acceleration enabled.
Rip DVD to MP4, MKV, MPEG-2, ISO Image, etc. with highest output quality, no dropping frames.
Update weekly to decrypt new DVD releases, DVDs with CSS, region code, Disney, Sony encryption.
Now, install the program following the onscreen instructions. Then, rip DVD to digital formats following the simple guide below:
Step 1. Put your DVD disc into the optical drive properly. Launch WinX DVD Ripper Platinum, and click "DVD Disc" button to load your DVD. The correct title is also automatically selected when the DVD is loaded.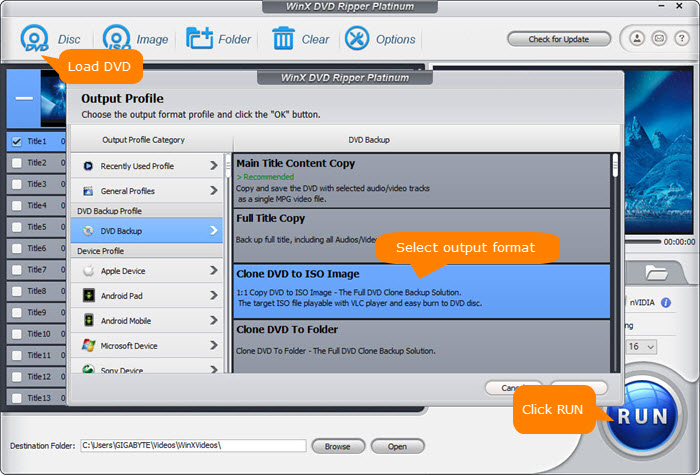 Step 2. Choose a desired output format for your DVD. This DVD ripper is built with 350+ premade output profiles, which caters to all the needs of users without manually setting audio video parameters. For example, you can rip DVD to MP4 for playing on portable devices, backup DVD to MKV with all video, audios, subtitles, menus and chapters, or clone DVD to ISO for later burning etc.
Step 3. Hit RUN button to activate the DVD digitizing process immediately. It can be finished within 5 minutes when you have an enabled hardware accelerated graphic card on your computer.
Disclaimer: Digiarty Software does not advocate ripping copy-protected DVDs for any commercial purpose. And don't make digital copies from rental DVDs! You're suggested to refer to the DVD copyright laws in your countries before doing so.
Part 2. Eject the Disc within the Operating System
If your computer has power and is working, but DVD jammed in the DVD drive, you can try to skip the physical button on the outside and ask your operating system to force eject the disc.
Step 1: Click Start > Power > Restart to reboot your computer
Step 2: Click Start, and open File Explorer by WIN+X menu on Windows 10/8. Or you can right-click Start button, and choose Windows Explorer in earlier version.
Step 3: Navigate to the optical drive from the menu on the left. Or find it under Computers category.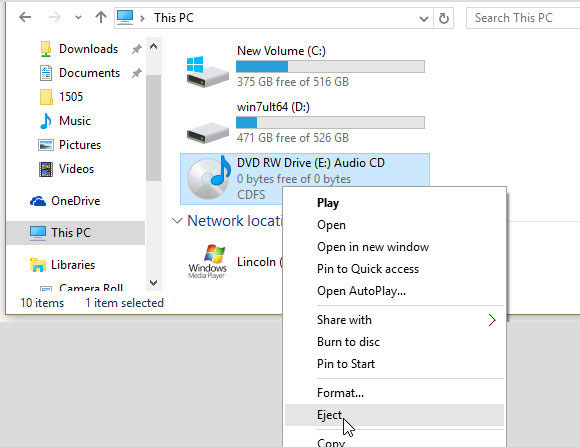 Step 4: Right-click or tap-and-hold on the optical drive and choose Eject from the menu that pops up or down.
Step 5: Then the drive bay or disc should spin down and eject within seconds.
Note: Slot drives that don't have Eject button can only ejected from Windows.
Go Back to the Easiest and Most Effective Solution

Related: Fix DVD Drive code 19 on Windows 10
Part 3. Open the DVD Drive with a Paper Clip
If the above method is not working, you can try to manually open the CD/DVD drive. But not all drives have this feature. If your DVD drive has a small hole on the surface, try the following tips:
Step 1: Close all programs and shut down the computer. This will interrupt and reset all component hardware and software controls.
Step 2: Find the small hole on the faceplate of the disc drive. The location of the manual release hole may vary on different drives.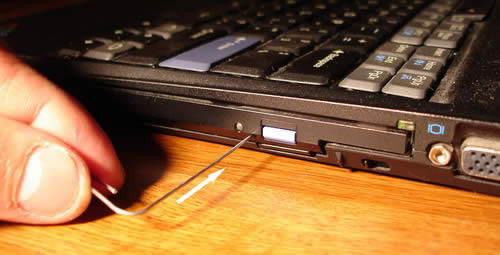 Step 3: Straighten a paper clip and insert it into the manual release hole until resistance is felt.
Step 4: Press in gently on the paper clip until the tray is released.
Step 5: Remove the paper clip and gently pull out the drawer until the disc is accessible.
Step 6: Then take out your DVD disc. Examine if there are physical damages on the disc, the tray guide rails, or the spindle.
Go Back to the Easiest and Most Effective Solution

Final Words:
Force ejecting DVD drive may damage your DVD disc and drive physically. And as optical drives goes a way of decline, less and less users are playing DVDs through DVD drive. In the long run, you're more recommended to digitize your DVD with WinX DVD Ripper Platinum, which not only fix DVD drive not working error, but also make your DVD playable on any media players, TVs, mobiles, tablets without HDMI and Wi-Fi required.