Posted by Donna Peng - Contact Author

DVD Player Not Working with TV [Why & Howto Fix]

Skip complicated fixes and check the easiest solution: The solution most recommended by us [85%]
No matter standalone DVD players or TV/DVD combos from JVC, RCA, Proscan, Emerson, Logik, etc., it happens sometimes that the DVD player is not working with TV. "Can't play disc", can't connect DVD player to TV, saying no signal, TV/DVD Combo says "No Valid Disc", DVD stuck in built-in TV DVD player, etc. are among the most common DVD player problems with TVs. In this post, we will focus on TV DVD player not working issues with effective troubleshooting tips.
For standalone DVD player
* Check the connection: There are HDMI, SCART, and composite video cables between DVD player and the TV. First, check if both ends of the cable are connected securely. Then make sure that you're using the right cable. E.g., to connect the TV with a new DVD player, you will need an HDMI converter instead of just a cable, or the DVD player won't work with the TV, no picture or sound.
* Check the DVD player's lens: Dirty lens inside the DVD player will cause DVD read errors. You can open the DVD player or clean the DVD player with a good DVD lens cleaner.
* Check the DVD: Make sure the disc is not inserted into the tray in the wrong way around. Take the DVD out of the tray and check if there are any damages or protections on it. Then you will need to fix the scratched DVD or remove DVD protections (e.g., regions).
* Check the TV settings: There are VCR, older camcorder (composite video source) and an older DVD player or cable box (component video source) for a TV. If the composite or S-Video signal is up-converted to a component or HDMI signal, you may see the DVD player not working with TV because of copyright protection encoded. Switch through the inputs on the remote to make sure you're using the right one.
For TV with built-in DVD player
* Bad laser diode: If the TV is still under warranty, send it back to the manufacturer for repair or replacement as the RCA TV DVD player troubleshooting is more complicated than a standalone DVD player. If not, you need to buy a DVD mech assy, remove the TV housing, and replace that part.
* Check the DVD: If the discs have stayed idle for a long time, like your old DVD collection, the discs age and dust deposits. Then the TV with built in dvd player not working problem occurs as it fails to read the discs. Take the DVD out of the player and check if there are any damages or protections on it. Also you can check the DVD player supported formats to see whether you can play it or not.
* Mechanical failure: If nothing above helps, there may be some inherent problem with the tray, lock mechanism, electric units, other parts. Then you're suggested to  pursue service options.
GET Rid of DVD Player not Working with TV Problems Convert DVD to digital files to avoid DVD player hardware/connection/mode issues. Easy & fast
TV DVD combo problems can be caused by various reasons, including aging discs, region-coded movies, frequent DVD drive spins, wrong connection, bad accessories... Combined with different TV/DVD player brands like JVC, RCA, Proscan, Emerson, logik, albra, bush, cello, things can be more complicated. Anyway, if you don't want to bother with TV DVD player not working troubleshooting tips, to convert DVD to digital can get you out of all these troubles.
Convert any damaged, old & latest DVDs, and decrypt DVDs encrypted by regions, CSS, RCE, Disney X-project, etc.
Convert DVD to ISO image (1:1), or (98% quality reserved) MP4, MOV, HEVC, AVI, WMV, FLV, 3GP, MPEG, etc. for Apple TV, HDTVs, iPhone, iPad, Android mobile, Xbox, PS4, etc.
Super fast speed to convert DVD into digital files: 5 minutes for one disc on a recent computer.

Download WinX DVD Ripper Platinum for Windows

to convert DVD to digital

Download WinX DVD Ripper for Mac

to convert DVD to digital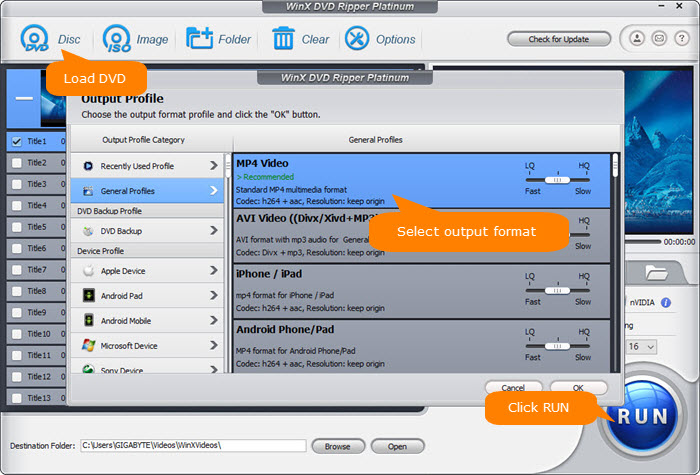 Disclaimer: Digiarty Software does not advocate ripping commercial DVDs for any illegal purpose. You're suggested to refer to the DVD copyright laws in your country before doing so.